It's the beginning of January, and for many of us, that means a renewed focus on our health. We vow to eat better and stick to exercise routines. Many of our Disney friends who did not veer off track are even running in the races today during Marathon Weekend at Walt Disney World.
But in addition to healthy eating and exercising, there is another factor affecting the health of Disney World guests who are forced to confront it every time they step into the parks — secondhand smoke. Each park has designated smoking areas, which makes sense and which I appreciate. I just wish some of these designated areas were relocated to less-busy sections of the parks so kids (and adults!) are not forced to hold their breath as they walk through the clouds of smoke.
Of the four theme parks, the Magic Kingdom seems to have some of the worst-placed designated smoking areas, in my opinion. I cannot believe that guests are permitted to smoke on the walkways that run alongside Cinderella Castle. Sure, it's a central location, but it makes little sense to me that crowds of smokers should be allowed where visitors want to pause to admire the castle and even take photos in front of it. After all, Cinderella Castle is practically synonymous with Walt Disney World and attracts all guests in the parks, especially young children.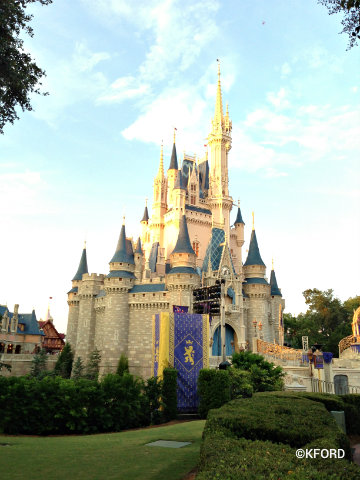 Another smoking spot that I find almost as egregious is the Plaza Landing, which is surrounded by the Rose Garden, Tomorrowland Terrace and The Plaza restaurant. That location is prime real estate for fireworks viewing, but I certainly wouldn't choose to sit there, knowing my family and I would have to breathe the secondhand smoke. Unfortunately, the smoke also drifts to one side of Tomorrowland Terrace, where the nightly dessert party is held, and the iconic tables with the yellow umbrellas in front of The Plaza, so we generally bypass those, as well.
The fact is that smokers probably are no longer the majority of guests who visit the Magic Kingdom, so why are they being given the preferred locations to light up? It would make more sense to place the smoking sections in less-crowded areas.
There actually is one such designated smoking area that I think is located in an ideal spot. It's along the walkway between Tomorrowland and Storybook Circus. This area is not well-traveled, and there are alternative routes for guests who want to visit either land of the Magic Kingdom. Plus, it's an open-air section of the park, between the Walt Disney Railroad tracks and the Tomorrowland Speedway.
Smoking sections at Walt Disney World should be located in places where non-smokers are least affected by the health risks. It's time for a change at the Magic Kingdom. At Hollywood Studios, two of the designated smoking sections recently were closed. Perhaps that's in order at the Magic Kingdom, as well.