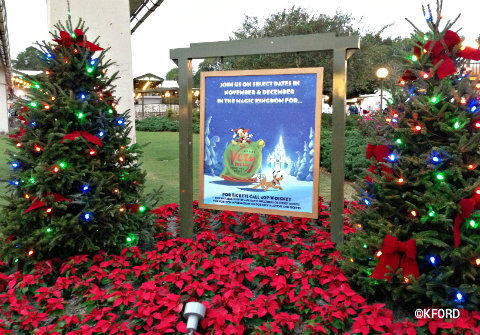 It's been a few years since I've attended Mickey's Very Merry Christmas Party, so I was excited to return to the holiday festivities at the Magic Kingdom this year. My elementary-school-age children and I showed up with a short list of things we definitely wanted to do, but we didn't have the jammed-packed schedule my family adhered to at Mickey's Not-So-Scary Halloween Party.
Judging by our experience at this recent party and others, it's a good idea to have a general idea of what you want to see and do rather than simply arriving at the front gate and then trying to decide about all the offerings. Take it from Santa: A list can guide you well.
Mickey's Very Merry Christmas Party is a hard-ticket event, which means you will need to buy a ticket separate from your other Disney theme-park tickets. Tickets are on sale now and have different price points because of variables such as dates and discounts. You can see the full breakdown here.
Because you're paying extra for this special event — which, by the way, I think is worth the price — you probably want to get the most for your money. For many of us, that means enjoying all the holiday activities and entertainment that can only be done at the party before spending time on the usual attractions that are open every day.
For years, party-goers have known that they could enter the Magic Kingdom beginning at 4 p.m., even though the party events don't start until 7 p.m. It was an unofficial policy designed to disperse all the arriving guests over time. This year, though, Walt Disney World has publicized the early entry, too.
If at all possible, you'll want to arrive at the Magic Kingdom at 4 p.m. to maximize your time. My favorite things to do during those extra hours are:
** Take a family photo in Town Square next to the large props of toy soldiers with Cinderella Castle in the background. The line grows as the party progresses, so doing this in the afternoon or early in the night will save you precious party time.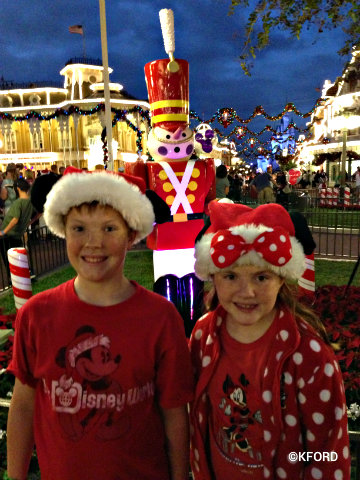 ** Stop by the adjacent Fire House and pick up your free Christmas Sorcerers of the Magic Kingdom card. You don't have to play the game during the party, but you can only collect this special themed card at the party. You must have your admission ticket (card or MagicBand) and a party wristband to claim your Sorcerers card. At the first 2013 Mickey's Very Merry Christmas Party, guests also were given last year's Christmas and Halloween cards as a bonus.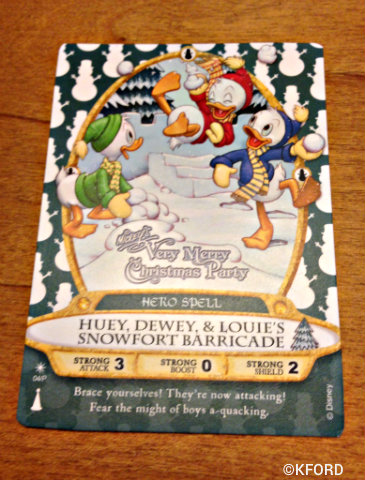 ** Ride the Jingle Cruise, which replaces the Jungle Cruise for the holiday season. (See a full report on the new holiday overlay in my previous blog post.)
** Eat dinner, but save room for the complimentary snickerdoodle cookies and hot cocoa served during the party. There are seven stations set up — see the official party map posted on AllEars.Net — and you may go to each as often as you like. The stations also serve packets of apple slices and Minute Maid apple juice. My children, who rarely have turned down a sweet, were as excited about the apples and juice as they were the cookies and hot cocoa. Maybe they were just trying to get on Santa's good list.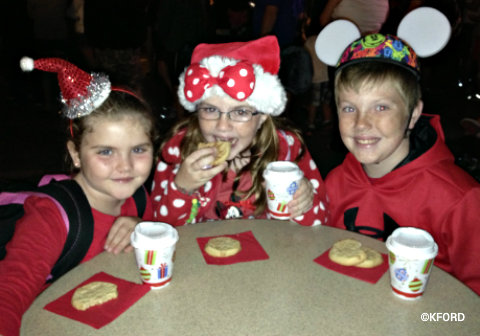 ** Cinderella's Holiday Wish takes place at 6:15 p.m. in front of her castle. This is a short show in which the Fairy Godmother comes out and grants Cinderella's wish to have the castle decorated for the holidays. That's when 200,000 lights are turned on and the castle shimmers with what looks like an awe-inspiring array of icicles.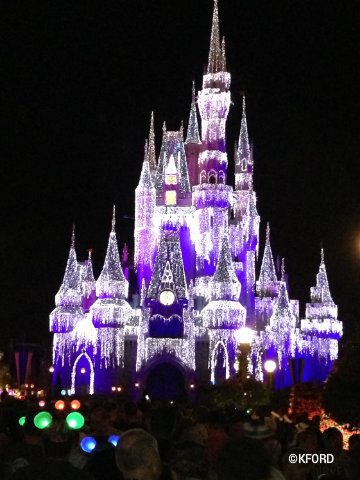 ** If you're interested in exclusive party merchandise — shirts and pins — you'll want to be at The Emporium on Main Street or any of the other four locations about 6:30 p.m. when cast members bring out the goods. Only guests with party wristbands will be allowed in the area to browse and purchase. Be prepared for crowds.
** Have your heart set on a special character photo? Line up by 6:15 to 6:30 p.m. to avoid longer queues once the party starts at 7 p.m. This is one of the few opportunities to meet Captain Jack Sparrow; the Seven Dwarfs all together; Mary Poppins, Bert and Penguin; many princesses with their princes; Mickey and Minnie in their holiday attire; Scrooge McDuck and Daisy; and Winnie the Pooh and friends in their winter garb. Also, Santa Claus meets guests in the outdoor spot next to City Hall.

Once the party starts, you can focus on the holiday entertainment. The highlights of the party, to be sure, are Mickey's Once Upon a Christmastime Parade, Celebrate the Magic castle projection show and Holiday Wishes fireworks. You won't want to miss any of these!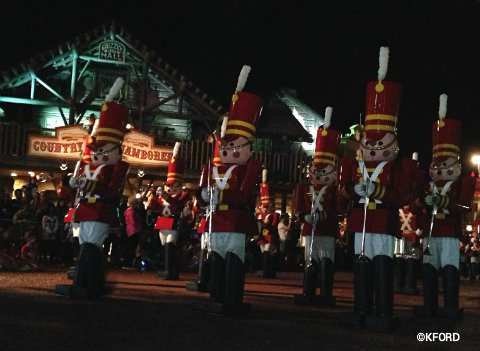 The parade steps off in Frontierland at 8:15 and 10:30 p.m. I'm often asked where the best spot is to view the parades, and I think a lot of that depends on personal preference. I almost always like to watch the special parades on Main Street, U.S.A., because I love having the castle as a backdrop for photos. That said, it is much more crowded there than other areas along the parade route. This year, we found last-minute, front-row seating in Frontierland, and we grabbed it. I appreciated not having other guests hovering over me or having to camp out for an hour for a great spot.
A bonus was being entertained before the parade by The Notorious Banjo Brothers and Bob in Frontierland. (You can see their performance in the video below.) Be aware that the first parade is always more crowded than the second, so if you have older children, you might want to wait to see it.
After the parade, we walked over to Main Street, U.S.A., to watch Celebrate the Magic projected on Cinderella Castle before the fireworks. It has a holiday segment at the end that is beautiful, and you can view it in our AllEars video below.
Then, it was time for my son's favorite, Holiday Wishes — Celebrate the Spirit of the Season. This 12-minute version of Wishes fireworks features six songs and fireworks that match the lyrics with different formations. It's just amazing when they form a Christmas tree around the castle during "O Christmas Tree." And the wow factor certainly matches the festivity of the season when the fireworks are shot off along the perimeter, a trick that is only used for special occasions. New this year: Glow With The Show mouse ear hats are synchronized to the fireworks, which makes a fun addition.
The party also includes two ongoing dance parties with characters: Woody's Hootin' Holiday Open House at The Diamond Horseshoe and Club Tinsel at Cosmic Ray's Starlight Cafe. Plus there are several showings of two stage shows — "Celebrate the Season" on the Cinderella Castle Stage and "A Totally Tomorrowland Christmas Show" on Rockettower Plaza Stage.
Not tired yet? There are always attractions to visit and the special-ticket events like this party can cut down on ride wait times. My daughter couldn't resist the 10-minute wait for Space Mountain at our sold-out party and rode it multiple times.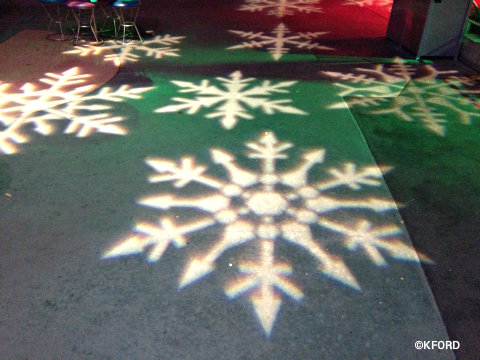 If you're vacationing at Walt Disney World after the last party on Dec. 20, you won't have to miss all the holiday fun. Beginning Dec. 21, Mickey's Once Upon a Christmastime Parade and Holiday Wishes are performed in the Magic Kingdom through Dec. 31 in place of the regular parade and fireworks. Santa Claus will appear daily until he returns to the North Pole on Christmas Eve.
So, if you're going to the party, make your list, check it twice, and then enjoy the holiday events most important to you and your family. What could be more very merry than that?

DISCLAIMER: I was a guest of Walt Disney World at a media preview of Mickey's Very Merry Christmas Party. This did not affect my story, and my opinions are my own.