Every year about this time, folks start to climb up into their attics to drag out boxes of outdoor holiday lights and inflatable decorations. That's all fine and good, of course, but if you and your family are looking for a really spectacular holiday light display, there's really only one show in town.
What began as one Arkansas family's Christmas lights is now a 5 million-light display at Disney's Hollywood Studios that guests to Walt Disney World won't want to miss during the holiday season. The Osborne Family Spectacle of Dancing Lights is a breathtaking display that covers the Streets of America and includes spinning carousels, angels, toy soldiers, and Santa and his reindeer. You might even see a few hidden Mickeys, too.
Unlike a stroll through your neighborhood, though, there are a few things you might want to know before you go:
** Cast members direct the flow of guests onto the Streets of America, and you'll be asked multiple times to walk with the crowds. This really is in your best interest, both for safety reasons and to lessen your frustration at trying to see the lights along with so many other people. You will be asked to walk past Star Tours, Pizza Planet, Muppet Vision 3D and the Phineas and Ferb meet-and-greet, before finally rounding the corner of the attraction. From there, you're on your own to explore the Osborne Family Spectacle of Dancing Lights at your own pace, exiting on the opposite end of the Streets of America and walking past the ABC Commissary.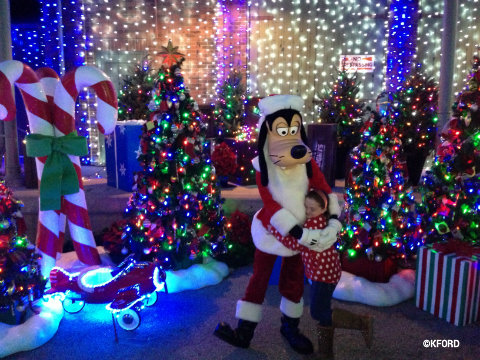 ** Guests also can enter the lights display by walking down Mickey Avenue, past Studio Catering Co. This may be the best bet for your family if you would like to meet Santa Goofy first in Tri-City Square. Goofy's Winter Wonderland debuted last year, and it's back again as a fun photo op. The backdrop for meeting Goofy is, of course, rows and rows of holiday lights, lighted Christmas trees and even toys covered in lights.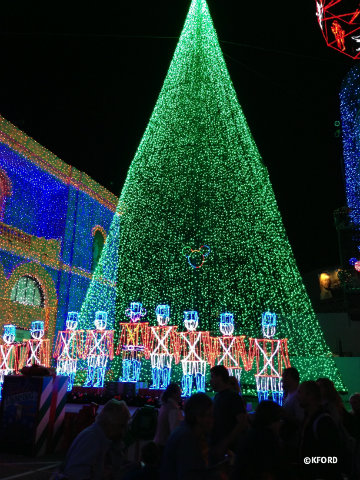 ** Speaking of photo opportunities, there is so much to capture here on your camera or videocamera so you can enjoy it again at home. Don't panic, though, if you forget your equipment or find your view blocked by others. Disney's PhotoPass photographers are set up in multiple locations on the Streets of America, in addition to the Santa Goofy meet-and-greet. One of the most popular spots year after year is in front of the 70-foot Christmas tree in the center of the display. We've also seen photographers roving by apartment steps, the lighted bicycle and other fun backgrounds.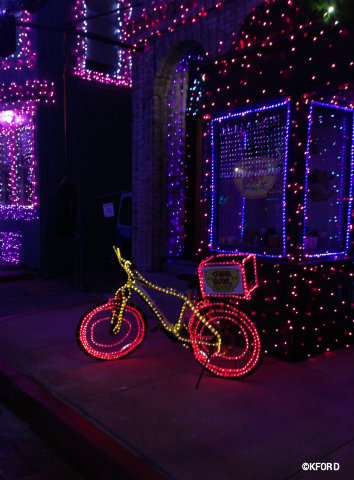 ** The Osborne Family Spectacle of Dancing Lights can get claustrophobically crowded on weekends, so if you have young children, be prepared to keep a close eye on them. Even seasoned park-goers may be surprised how easy it is to get separated in these crowds.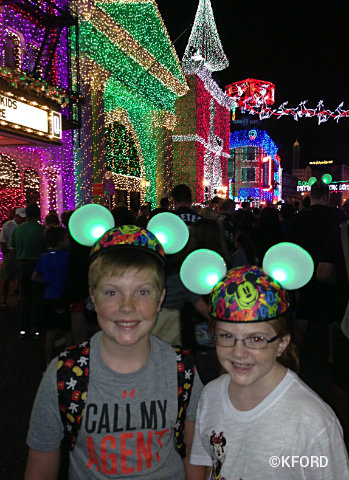 ** Light-up necklaces and other accessories are popular at this experience. New this year, though, are the Glow With The Show ear hats, whose colors are synched with the dancing lights for the first time. The hats and other accessories are sold at carts on the Streets of America, but if you purchase them in one of the merchandise stores ahead of time, you can apply any discounts you might have, such as one for having a Walt Disney World annual pass.
** Stay on The Streets of America long enough to see the lights dance and the snowflakes fall. After each choreographed song, there is an intermission of about seven minutes when the lights don't dance while other holiday music plays or characters talk.
** The Osborne Family Spectacle of Dancing Lights begin each night at 6 p.m. with a small opening ceremony when a lucky guest "flips the switch." The attraction usually stays on past park closing, so guests can linger a bit as the crowds clear. It stays in place through Jan. 5 and is included in regular theme-park admission.