It seems so incredibly long ago that I partook of Disneyland's One More Disney Day when the park was open for 24 hours straight beginning at 6 AM on February 29, 2012 and ending on March 1st at 6 AM. Unfortunately, I wasn't able to manage the entire 24 hours and fell short by hitting the 19 hour mark. Various members of my posse came out to play and Yoli even stayed up past her bedtime.
Having just made the last-minute decision to attempt the next all-nighter on May 24th at Magic Kingdom in Walt Disney World, there's barely any time to train. Yeah, I trained last year. Given my experience, preparing for the Monstrous Summer! All-Nighter includes but is not limited to weekend and after-work naps, stretching, striking up conversations with strangers, mapping, waiting in long lines, strategizing, and trying on hats.
Spending the morning, afternoon, evening, night, and early morning in Florida is going to be extremely different from doing so in California. The two major differences are weather and crowds. California can get hot but it's a dry heat and the temps in the morning and at night can be 20 degrees lower than daytime thermostat readings whereas Florida is humid, sticky, hazy, and of course (or curse), hot with little give when the sun hides. Most Disneyland visitors are locals so they showed up in the wee hours of the morning and camped out in the esplanade, ran around, went home for a nap, went to work, and then back to the park. Attendance levels shifted throughout the day. I expect that given Walt Disney World resorts are almost completely sold out, vacationers will approach things slightly differently. One advantage is Star Wars Weekends should pick up some of the numbers. My fingers are crossed that Guests will take breaks and return to their resort for hours at a time and then return to Magic Kingdom or arrive after dinner and play overnight. That gives crazies like me who intend to stay in the park from open to close a chance to do everything. Oh, and if I can't hang with the cool kids, I am in trouble because I don't have a hotel room Friday night to retreat to, so if you see me sleeping in a car, don't be surprised. And no photos!
As for careful calculations and planning, I'll be at the AllEars.Net meet and greet at 9 AM at Tomorrowland Terrace with Deb 1 and Deb 2. I'm treating myself to lunch at Tony's Town Square for the very first time. Criss crossing the park is out of the question because it's bad for my tootsies and in the blinding heat, makes me a target for sun poisoning, which last May (at Walt Disney World) caused me to miss several days of work. Air conditioning and seats will be my friends along with water, multiple sock changes, and my Monstrous Summer! All-Nighter survival kit.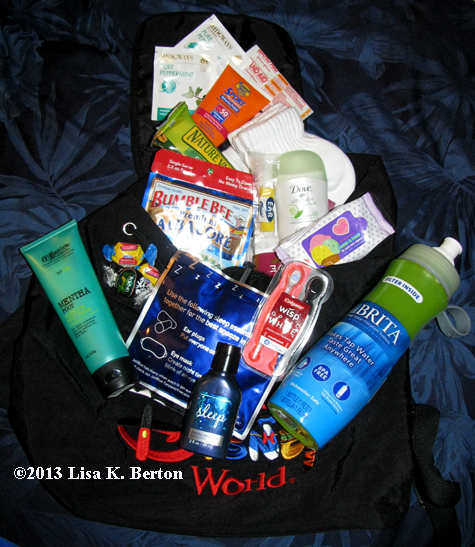 Pictured above: refreshing peppermint tea bags that do not contain actual tea, self-filtering water bottle , dark chocolate to fight off headaches, bubble gum because I like to blow bubbles, socks for my little feet, granola bar to eat, tuna for late night protein, ears plugs & eye mask for naps, "Sleep" hand lotion to psychology trick myself into think it'll work, my beloved peppermint foot lotion, bandages just in case, deodorant cuz I'm thoughtful, pre-filled toothbrush for teeth, and most importantly sunblock because I need it. Actual survival kit items may change.
Will you be there and can you bring me a pillow?
Training Update! Unintentional night of only 4.5 hours sleep, lasted 6 hours before wanting to climb into bed, pulled through after eating, attempted and failed napping 4 hours later, will go to bed 16.5 hours after waking up. Fatigue included severe drowsiness, lack of concentration, stuffy ears, confusion, and throwing a wrapper into the toilet instead of the trash can.
Photos from One More Disney Day 2012.
Come on over and "Like" my Facebook page or follow me on Twitter, my handle is lisano1.