Yesterday I discussed Sea Breeze Point to Seashore Sweets along the BoardWalk. Today I will continue my journey along this promenade of yesterday and today.
I am often asked to name my favorite Walt Disney World restaurant. I usually respond with, "What category of restaurant? Counter service?" Of course I know full well people are asking me about "signature" restaurants. My answer is this: Not counting Victoria & Albert's (which is in a class all by itself), it's a tie between Citricos at the Grand Floridian and Flying Fish Cafe at the BoardWalk.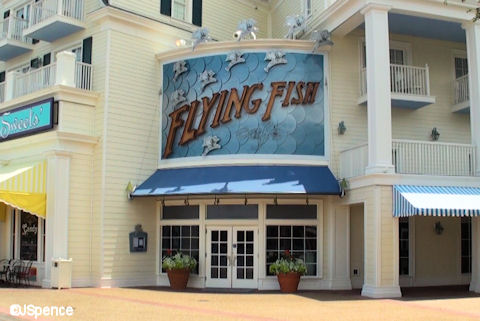 The Flying Fish Café is located on the "corner" of the BoardWalk with Seashore Treats on one side and Belle Vue Lounge on the other (sort of). Coney Island was the inspiration for this eatery and its décor is a fusion of nostalgia and contemporary. Here, stylized roller coasters dominate the walls complete with blue light bulbs that line the railing. Even the half-wall partitions curve up and down as to suggest the hills and falls of the famous roller coasters of the era. On the back wall is a large floor-to-ceiling back-lit Ferris Wheel. Large overhead murals depict the Steeplechase and other assorted carnival rides. Even the chandeliers are worth your attention. Pairs of fish are perched under parachutes as to suggest yet another Coney Island attraction. Pay close attention to the beautifully cloud-painted ceiling. If you look carefully, the stars change colors every several minutes.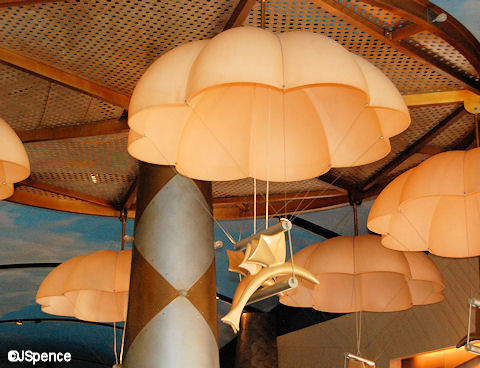 One side of the restaurant has large windows that overlook a charming courtyard. The other side features a show kitchen with ample seating along a beautifully tiled bar.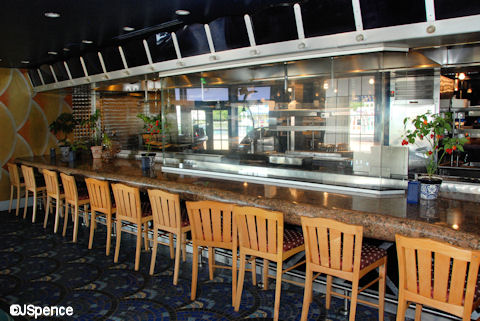 The tables are spaced nicely, allowing for plenty of room between parties. In the back of the restaurant is a small alcove. The tables located here afford a more intimate atmosphere. However, I prefer the ambiance of the main dining room to the alcove as I enjoy the "sky" with its ever-changing "stars" and the Ferris Wheel.
The Flying Fish Café does not have a lounge. If you would enjoy a cocktail before or after dinner, think about the Belle Vue Lounge located nearby.
As you might expect by the name of the restaurant, the Flying Fish Café specializes in seafood. The freshest selections are bought each morning so the menu is in a constant state of flux. But don't let this put you off if you're not a connoisseur of scaly and shelled creatures. The best New York Strip Steak I've ever eaten is served here. Yachtsman Steakhouse can't hold a candle to the flavor, and tenderness of the Flying Fish Café's preparation of this fine piece of meat.
Of course, the service is always excellent.
The Flying Fish Café gets its name from one of the cars found on a Coney Island roller coaster of yesteryear.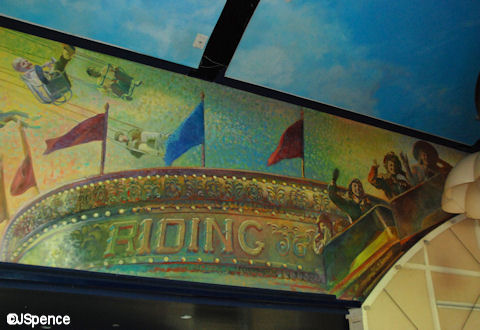 Being a signature restaurant, there is a dress code.
Men: Khakis, slacks, jeans, dress shorts, collared shirts. Sport coats are optional.
Ladies: Capris, skirts, dresses, jeans, dress shorts.
The Flying Fish Caf̩ is open for dinner only Р5:30pm to 10pm. Reservations are an absolute must. To see the complete menu, click here.
Back out on the water side of the promenade we find another free-standing food facility, BoardWalk To Go. This stand offers a nice selection of "on-the-go" foods. Corn dogs, onion rings, nachos, meatball sandwiches, and fried ravioli are just a few of the offerings. If you're in the mood for "cholesterol laden junk food that should only be eaten once a year while on vacation," this is the spot! To see the complete menu, click here.
Nearby are two street-party favorites, BoardWalk Caricatures and BoardWalk Hairwraps. At these two locations you can add a little pizazz to your tresses then be immortalized for posterity. Prices are posted on nearby signs.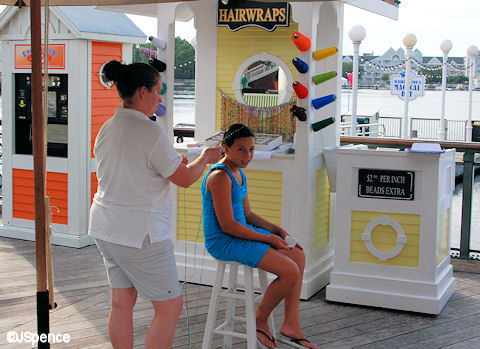 When the Boardwalk in Atlantic City officially became a street in 1886, all vehicles were banned from this thoroughfare. Sensing and opportunity, a local hardware merchant began to rent wheelchairs to those who preferred to sightsee while seated. The idea was a success and soon the chairs were redesigned to hold two and look a little less institutional. However, the herringbone design of the Boardwalk created quite a bumpy ride for the ladies. To alleviate this, sections of the herringbone planking were laid lengthwise to provide a smoother ride.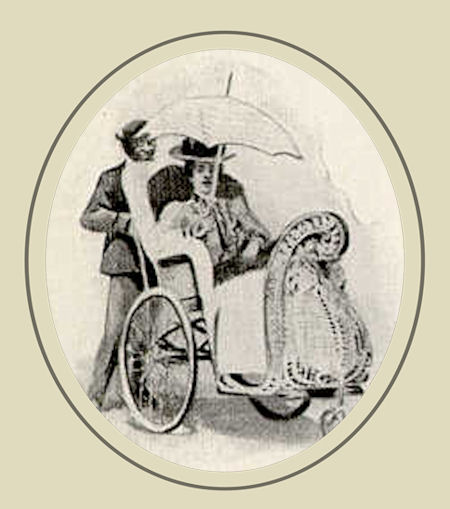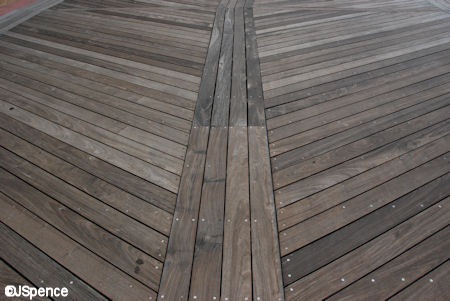 Now Disney's BoardWalk never had rolling chairs, but they do have the next best thing, surreys. Many of the Disney resorts now offer surreys for rent, but it all started here at the BoardWalk. These single and double-seat vehicles are a family favorite and never fail to bring a smile to both riders and pedestrians.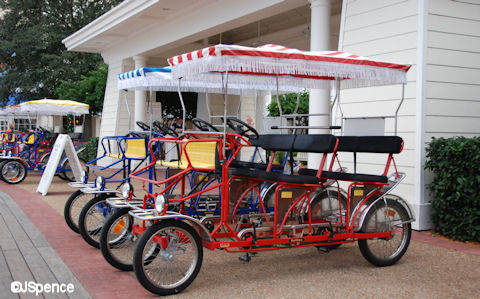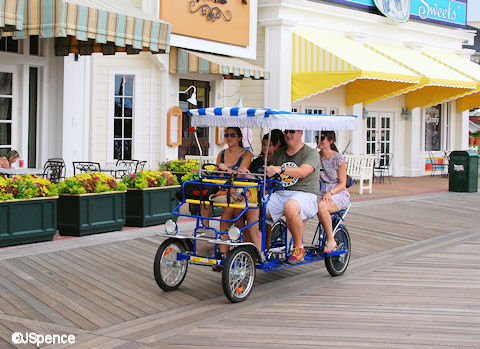 Rented by the half hour, a trip in one of these cute little contraptions takes riders on a one mile trip around Crescent Lake. Most of the route is level, but there are a couple of hills to contend with along the way. Remember, the power for these surreys is provided by YOU pedaling. There are no motors involved.
A quadracycle is a four-wheeled human-powered land vehicle. It first came onto the scene in 1853 at the Exhibition of the Industry of All Nations World's Fair held in New York City. Its intention was to offer a stable alternative to the bicycle. However, as improvements to the bicycle were made, the popularity of the quadracycle diminished.
In the late 20th century, quadracycles were redesigned with bench seats, canopy tops, and rack-and-pinion steering. They were renamed "surreys" due to their likeness to horse-drawn wagons sporting the same name.
Across from the Surrey Bike Rentals is Promenade Pier. This is where you catch a Friendship Boat to Epcot or Disney's Hollywood Studios. Other stops include the Yacht & Beach Club and the Swan & Dolphin. It takes approximately 30 minutes to travel all the way from Epcot to the Studio.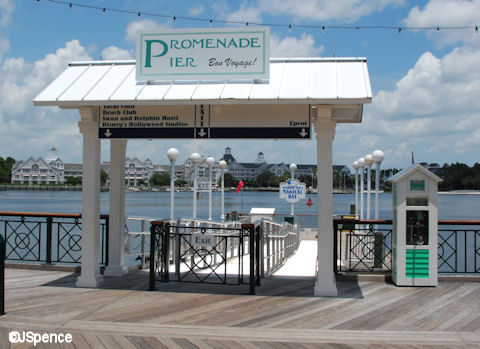 As I mentioned in an earlier article, there are pedestrian walkways to all of these locations. The walk from the BoardWalk to Epcot is reasonable and most people should be able to manage it just fine. However, the walk to Disney's Hollywood Studios is somewhat long and you should think twice before embarking on this "hike" on very hot days or when rain is threatening.
Along the fence of the BoardWalk Promenade are several coin-operated binoculars. These offer a few moments of fun as you "spy" on others around Crescent Lake.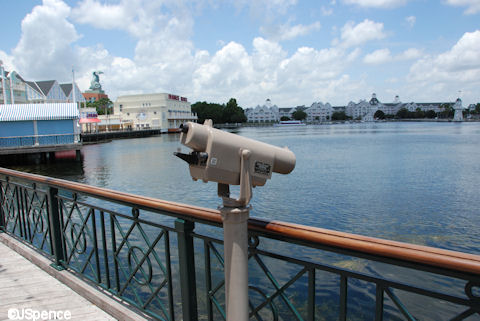 Although not officially on the BoardWalk, Wyland Galleries offers a wonderful chance to browse and purchase some really fine pieces of art.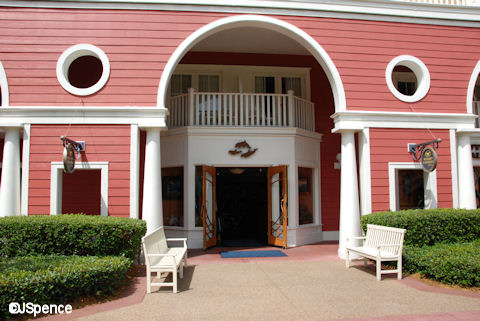 While the environmentally inspired works of Robert Wyland are showcased here, the gallery also features pieces by other renowned artists. The collection is varied and includes original paintings, giclees, sculptures, and jewelry. In addition, a large selection of art featuring Disney characters is also available.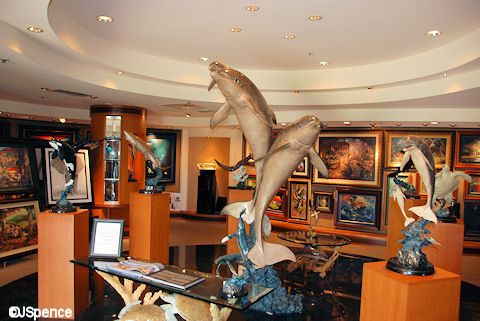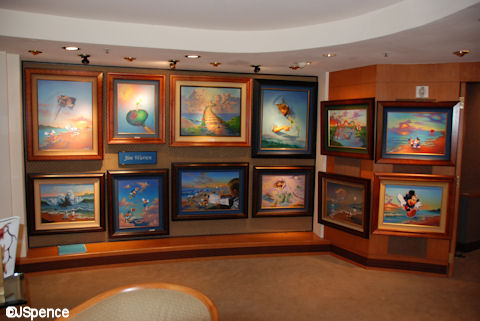 The prices in this gallery are not for the faint of heart. To give you an example, this hand-painted bronze Sorcerer Mickey by Bill Toma runs $10,000.
I encourage you to stop by Wyland Galleries even if this shop is out of your price range. Think of it as a museum where you can be inspired by magnificent works of art.
The main shopping opportunity on the BoardWalk is contained in three, connected shops. These are Screen Door General Store, Character Carnival, and Thimbles & Threads.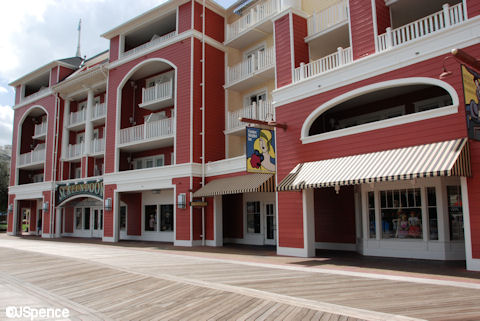 At first glance you might think the merchandise in these three shops is randomly displayed. However, the names of these emporiums provide an accurate description of what is offered inside.
Screen Door General Store is the spot for those staying in the Villas section of the resort and wishing to purchase food and drink to take back to their kitchens. A decent selection of wine is offered for those wishing a relaxing evening in their room. This store also sells Disney branded kitchen items, mugs, and glassware.
Character Carnival is the spot for kids. Toys, plushes, Vinylmation, and character costumes are just a few of the items to be found in this section of the shop.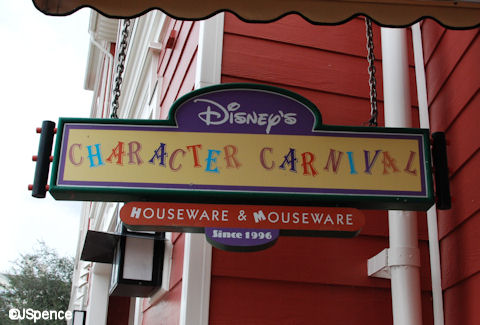 As the name implies, Thimbles & Threads is the spot for adult clothing, hats, and watches.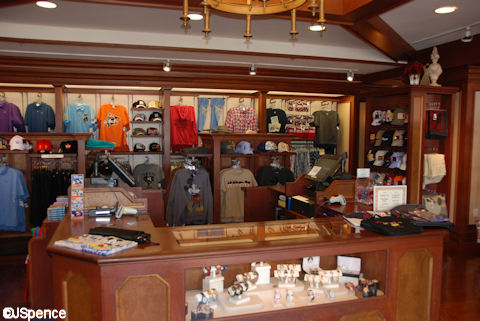 Another free-standing food location can be found across from the shops. Funnel Cake Cart offers funnel cakes (duh), fried ice cream, pretzels, and cotton candy.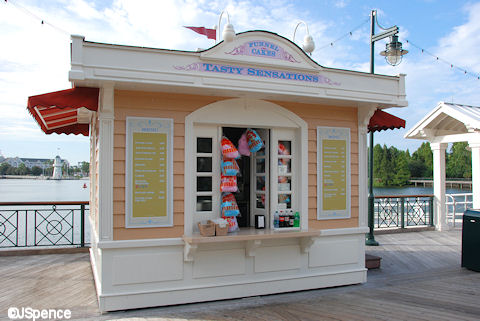 Near the Funnel Cake Cart is Midway Games and More. This mini-midway offers "skilled" players an opportunity to win a non-Disney plush.
Watergun Fun is the only game of the four offered where a prize will be awarded every time a match ensues. This is because you compete against others and a winner is announced with every play. In this game, contestants point their water pistols at small openings causing their jalopy to race towards the finish line.
Hoop Toss allows the shooter three or seven shots to make a basket. I will warn you, the hoop is smaller than regulation size. However, the hoop is round, not oval, as are used in some less than reputable fairs.
At Kewpie Doll Knock Down, athletes test their throwing arm by tossing a softball at cute little kewpie dolls who never did anyone any harm.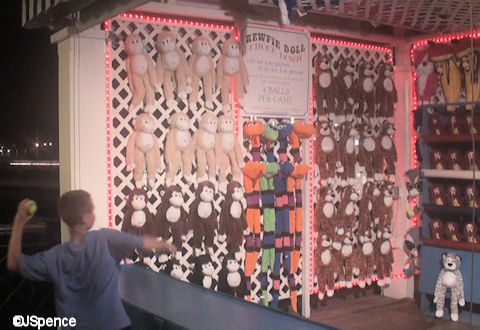 And finally, we have Lob-A-Lobster. This challenge has guests place a rubber lobster on a catapult. Then using a mallet, they hurl the crustacean into one of six rotating pots.
Midway games like these were a common sight at Coney Island in the heyday of amusement parks. How many were reputable and how many were subject to closer examination is subject to debate. At Disney's Midway Games and More, all of the diversions are winnable. All it takes is a combination of luck and skill. Midway Games and More opens in the late afternoon.
Big River Grille & Brewing Works offers up-scale pub-style fare. Sandwiches, pasta, salads, appetizers and desserts are all just waiting to tempt you. But the real draw of this restaurant is the micro-brewery located on the premises. The floor-to-ceiling glass walls provide a glimpse into the beer-making process. And the servers will be more than happy to discuss the various brews and make suggestions.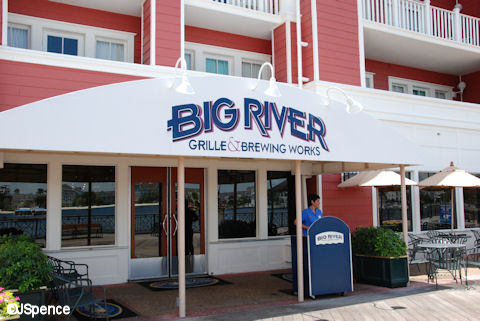 The Big River Grille & Brewing Works has a "sit down" bar and two small interior dining rooms. This is more than adequate for the lunch trade. At night, this restaurant really comes alive and crowds spill over into the many tables found along the BoardWalk. This spot does not take reservations so plan accordingly.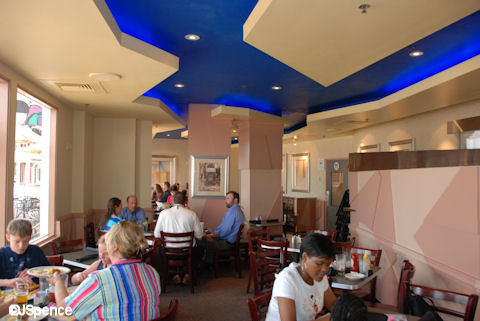 Disney has placed DVC kiosks in all of their parks and resorts. They want to make it as easy as possible to learn about this product and entice you to buy a "piece of the magic." Unfortunately, if you want to see a model unit, you must make arrangements to be transported to Saratoga Springs.
The BoardWalk Villas have been sold out for some time. However, Disney has kept a one bedroom unit open here for guests to examine with no inconvenient trips to another location. So if you're curious to see a "typical" DVC unit, stop by. The salesperson will not pressure you and will be more than happy to answer all of your questions.
Jellyrolls opens each evening at 7pm. This nightclub features "dueling pianos." Beginning at 8pm, two very talented musicians take the stage and entertain the audience with a wide array of styles and selections. You'll be amazed at the number of songs these maestros know. They take requests and the crowd will often try to stump these extremely well-versed pianists. At 9pm, a second crew takes the stage and continues to entertain for the next hour. They switch back and forth each hour until 2pm so there is never a dull moment.
Jellyrolls does have a cover charge of $12 and patrons must be 21 to enter. ID's will be required if you don't look your age. For the most part, this place really doesn't start to jump until after the Epcot fireworks and the crowds begin to meander over this way.
Jellyrolls strictly prohibits any photography, videotaping, or sound recordings – even when closed. I was given special permission to take the following indoor pictures.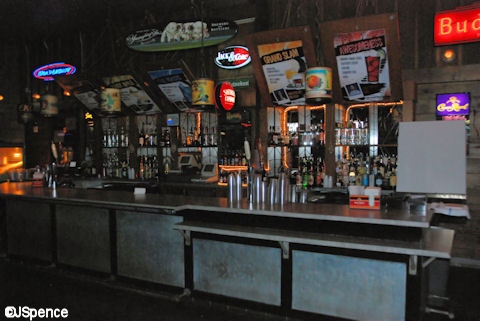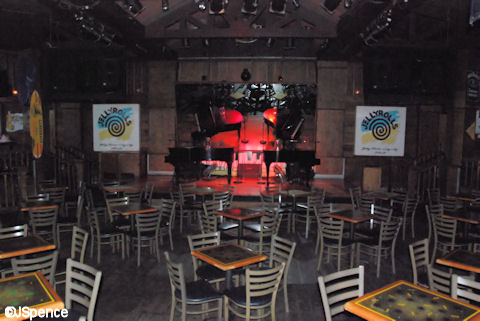 Jellyrolls was named after Ferdinand Joseph LaMothe, also known as Jelly Roll Morton. Jelly Roll was a pianist, bandleader, and composer. He is also credited with the invention of jazz music in 1902.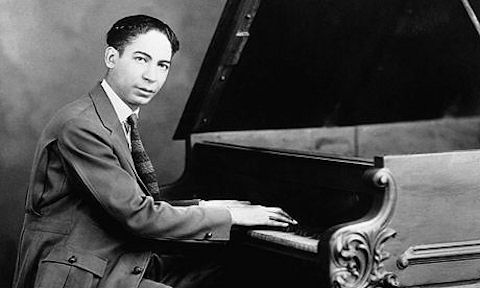 Our last stop along the BoardWalk is Atlantic Dance. This spot was designed to resemble the great art deco dance palaces of the 1930's. However, you won't find many guests doing the foxtrot, jitterbug, or the waltz at this spot. Atlantic Dance features state-of-the-art sound and lighting and has a DJ playing the hits of today.
The interior of Atlantic Dance is impressive. A large dance floor is surrounded by multiple tables and three bars. A grand staircase leads to a balcony and more seating. A giant monitor displays music videos. There is also a full stage available for special events. The ceiling is studded with "stars" that shine down on the dancers below and roving colored spot lights sweep the walls and floor.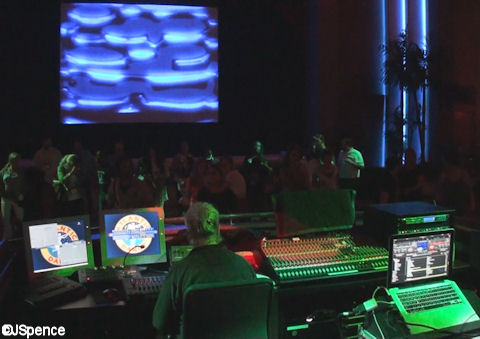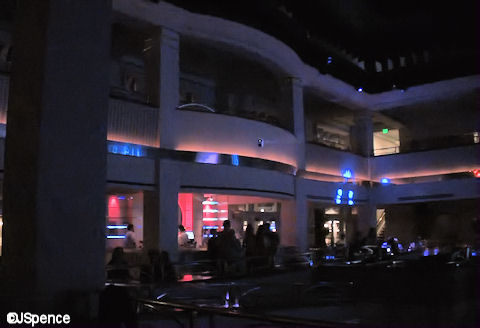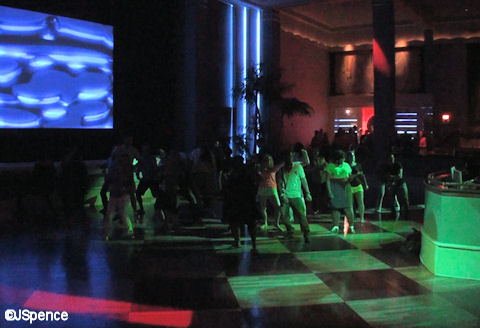 Atlantic Dance opens each night at 9pm, but unlike Jellyrolls, it does not have a cover charge or a minimum drink purchase. However, you must be at least 21 to enter. If all you want to do is listen to music and dance, it can be enjoyed here for free.
Atlantic Dance crowds are also subject to the Epcot closing times. Guests don't begin to arrive in mass until after the fireworks.
Each evening, the BoardWalk also plays host to an array of entertainers who perform impromptu shows all along the promenade. Jugglers, magicians, and musicians are all on hand and crowds surround them in anticipation of an enjoyable moment.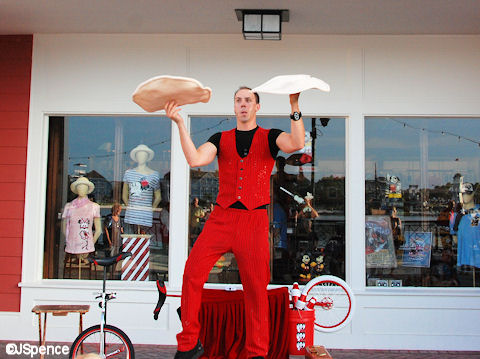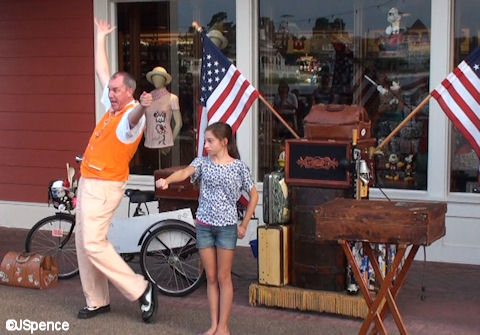 Although the Epcot fireworks can be seen from the BoardWalk, the view is someone obstructed. I think the best spot for viewing this nightly spectacular is over at the Yacht Club Marina.
The Epcot Resorts produce a guide map highlighting all of the activities found at the BoardWalk, Yacht & Beach Club, and the Swan and Dolphin. If you are not given one of these information guides when checking in to one of these hotels, be sure to ask. It contains a fantastic amount of information condensed into a trifold brochure.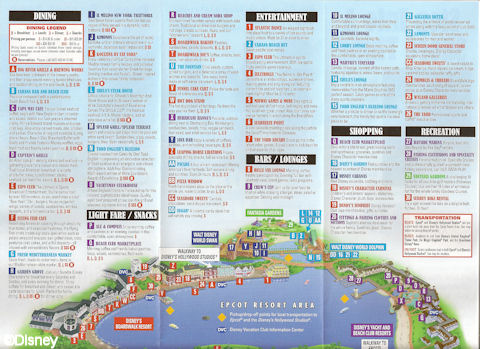 This completes my five-part tour of the BoardWalk Inn & Villas and the BoardWalk Promenade. I hope you've enjoyed this journey to a resort that is steeped in history if you take the time to soak in the details. To see a movie of the BoardWalk Promenade, check out my video below.
On past resort reviews, I'm occasionally reminded by readers that I forgot to mention "this" or "that." I can assure you, I have left out many facts and facilities offered at this wonderful resort. Many of the venues I discussed would require an entire blog to do them justice. What I've tried to do here is point out the highlights of the BoardWalk and give you some insight as to what the Imagineers and architect Robert A.M Stern were trying to impart on those visiting here.
Those of you who have read my column for any length of time know that the Contemporary is my favorite Walt Disney World resort. And although I also like the Polynesian and the Grand Floridian with their convenient monorail access, I would have to choose the BoardWalk as my second favorite hotel. No other spot on property offers so many diversions, dining possibilities, drinking options, and entertainment opportunities as can be found here. Couple this with the easy access to Epcot and Disney's Hollywood Studios and it becomes difficult to think about staying anyplace else. The BoardWalk even makes me second guess the Contemporary's first place standing – almost.