This will be the fourth year I have covered Mickey's Not So Scary Halloween Party (MNSSHP). However, I skipped last year because I needed a break from all the spooky festivities. LOL. If you've read my previous blogs on the subject, you'll notice that the event doesn't change much from year to year. But that doesn't stop MNSSHP from being a favorite of many people. This seasonal event is a "must do" for many families. They wouldn't dream of missing it.
For those of you who aren't aware of this event and are wondering what it's all about, let me give you a little history.
For many years, Universal Studios Orlando featured Halloween Horror Nights. This was a separate, ticketed event and the park was transformed each evening from its regular theming into a frightening park of terrifying sights and sounds. It was marketed toward teenagers and young adults and the idea was to truly scare their guests with monsters, vampires, werewolves, and other terrifying surprises.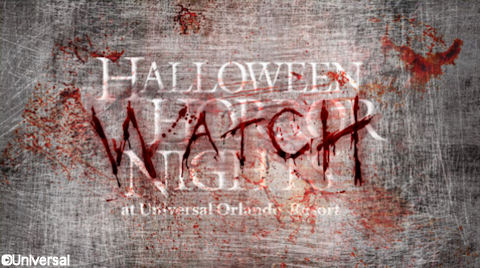 In response, Disney started their own Halloween party. But since Disney caters to a more diverse age group, they realized that their gathering would need to be more lighthearted than Universal's. Thus was born, Mickey's Not So Scary Halloween Party. All you have to do is look at Universal's advertisement (above) and compare it to Disney's (below) to realize these two very popular events are marketed toward different audiences.
MNSSHP is held at the Magic Kingdom on selected nights between September and November. During these evenings, the park offers special theming and shows intended to entertain the entire family. But before I start with a detailed description of MNSSHP, let's take care of some logistics and answer the inevitable questions.
MNSSHP is a "hard ticketed" event. This means you must purchase a separate admission ticket to attend. Your super-duper, all inclusive, park-hopper, Magic Your Way Ticket is NOT good for MNSSHP. You MUST buy separate admission. Tickets can be purchased online, at any guest relations window, or at the TTC ticket booths.
Here are this year's dates and prices:
Tuesday, September 11, 2012
Friday, September 14, 2012
Tuesday, September 18, 2012
Friday, September 21, 2012
Tuesday, September 25, 2012
Friday, September 28, 2012
Advance Purchase age 10 and up: $55.95 + tax
Advance Purchase age 3 to 9: $50.95 + tax
Purchased on Event Day 10 and up: $62.95 + tax
Purchased on Event Day 3 to 9: $57.95 + tax
Sunday, September 30, 2012
Thursday, October 4, 2012
Monday, October 8, 2012
Thursday, October 11, 2012
Sunday, October 14, 2012
Tuesday, October 16, 2012
Thursday, October 18, 2012
Sunday, October 21, 2012
Tuesday, October 23, 2012
Thursday, October 25, 2012
Sunday, October 28, 2012
Tuesday, October 30, 2012
Friday, November 2, 2012
Advance Purchase age 10 and up: $58.95 + tax
Advance Purchase age 3 to 9: $53.95 + tax
Purchased on Event Day 10 and up: $64.95 + tax
Purchased on Event Day 3 to 9: $59.95 + tax
Friday, October 5, 2012
Friday, October 12, 2012
Friday, October 26, 2012
Advance Purchase age 10 and up: $64.95 + tax
Advance Purchase age 3 to 9: $59.95 + tax
Purchased on Event Day 10 and up: $64.95 + tax
Purchased on Event Day 3 to 9: $59.95 + tax
Wednesday, October 31, 2012
Advance Purchase age 10 and up: $69.95 + tax
Advance Purchase age 3 to 9: $64.95 + tax
Purchased on Event Day 10 and up: $69.95 + tax
Purchased on Event Day 3 to 9: $64.95 + tax
Disney limits attendance at these parties so the park is never packed. However, the closer you get to Halloween, the busier the party will be. Although I've never attended on Halloween, I have heard complaints from others that this evening is too busy. The above prices should give you a clue. The more expensive the ticket, the busier the park will be. The parties are identical every night so it really doesn't matter what day you attend. You might want to keep this in mind when scheduling.
This next piece of information is very important.
MNSSHP and all of the special events, shows, and parades run from 7pm till midnight. However, you may enter the Magic Kingdom at 4pm with your MNSSHP ticket. If you call Disney and try to verify this, they will be evasive. All they will tell you is the "official" hours are 7pm till midnight. But trust me; you can enter as early as 4pm. I've entered at 4pm every year and I did it again this year on opening night.
Disney allows early entrance for a reason. Since the party is only five hours in length, they know that if they didn't stagger the opening, they would be inundated with everyone arriving at the same time. They could not handle this onslaught of people in an efficient manner. By allowing guest admission starting at 4pm, it balances out the arriving crowd.
When you pass through the turnstiles, you will be given a wristband. This will distinguish you from the "daytime" guests. The Magic Kingdom will cease its normal operating hours at 7pm. At that time, the cast members will restrict access to the various lands. Only those with wristbands will be allowed on rides, in shops, and in restaurants. Those without wristbands will be asked to leave the park.
In past years, I have received a number of letters from readers complaining that Disney does not remove all of the "day" guests from the park — and I'm at a loss on how to respond to your comments. All I can tell you is that Disney does the best they can. As far as I'm concerned, the cast members get a great big "A" in my grade book. If people want to cheat the system, they're going to cheat the system.
Is it fair that the couple waiting next to you for the Boo-To-You Parade didn't pay to see it? Of course not. But you have a choice. You can either let these cheaters irritate you and allow them to ruin your night, or you can forget about it and have a good time. However, if you're not able to release on this, then complain at City Hall. I cannot help you with this situation. Please note, if you send me a comment that contains references to this situation, I will either delete the reference or not publish your comment at all.
Some people want to spend the entire day at the Magic Kingdom, including MNSSHP in the evening – and that's fantastic. Of course, you will need two tickets to do this – your general admission ticket and your MNSSHP ticket. Sometime after 4pm, you will need to get a wristband. To do this, you can either return to the main entrance or visit the FastPass area at Stitch's Great Escape in Tomorrowland. The cast members here will process your party ticket and give you a wristband and trick-or-treat bag.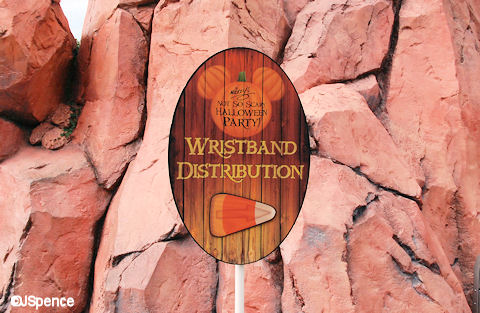 If you find you're in the park on a party night and don't have a MNSSHP ticket, but want to honestly partake in the events, you can buy a ticket at City Hall if the party is not sold out.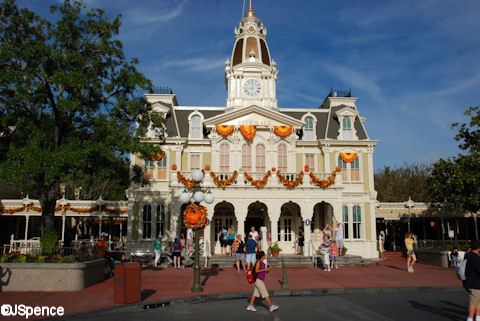 Most, but not all of the rides and restaurants will be up and running during MNSSHP. Here is a list of what will be available:
Adventureland
Pirates of the Caribbean
The Magic Carpets of Aladdin
Aloha Isle
Fantasyland
"it's a small world"
Dumbo the Flying Elephant
Mad Tea Party
Mickey's PhilharMagic
Peter Pan's Flight
Prince Charming Royal Carousel
The Barnstormer
The Many Adventures of Winnie the Pooh
Storybook Treats Ice Cream
Frontierland
Big Thunder Mountain Railroad
Splash Mountain
Golden Oak Outpost
Pecos Bill Tall Tale Inn and Café
Westward Ho
Frontierland Turkey Leg Cart
Frontierland Churro Wagon
Liberty Square
Haunted Mansion
Sleepy Hollow
Tomorrowland
Astro Orbiter
Buzz Lightyear's Ranger Spin
Monster's Inc. Laugh Floor
Space Mountain
Stitch's Great Escape
Tomorrowland Speedway
Tomorrowland Transit Authority People Mover
Cosmic Ray's Starlight Café
The Lunching Pad
Okay. Now that we have the logistics out of the way, let's have some fun.
The merriment begins at the TTC where signs welcome us to the event.
Upon arriving at the Magic Kingdom, more signs and decorations greet us as we approach Bag Check. On the other side of the ticket booths, Mickey's Forecourt is decked out with festive bunting, pumpkins, and autumn garland. Don't forget to pick up your wristband and trick-or-treat bag.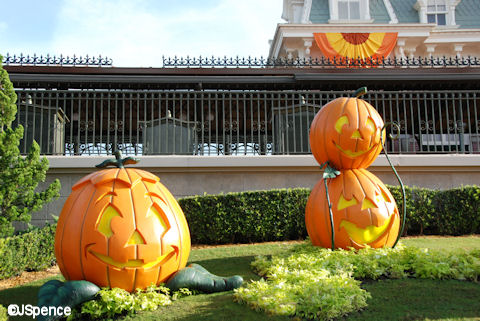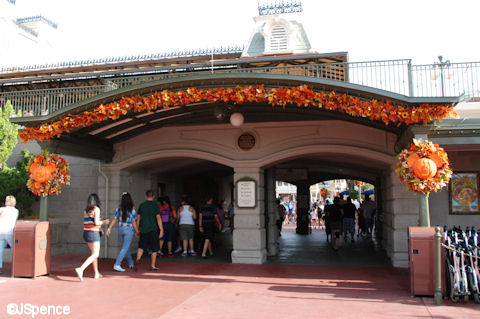 Disney has come up with a special cast member costume just for this party. Here we have two spooky crew members sporting the latest in Halloween fashion.
But Disney cast members aren't the only ones who get into the spirit with special attire. Party attendees are also encouraged to wear their favorite Halloween outfits. However, there are a few guidelines to be observed.
Costumes should be child-friendly and not obtrusive or offensive.
Adult guests may wear masks, but the masks must not obstruct vision (you need to be able to see where you're going).
Guest who dress like Disney characters are NOT to pose for pictures or sign autographs for other guests.
Do not bring large or dangerous props with you.
Generally, costumes are not allowed for anyone over the age of nine during normal operating hours. However, Disney relaxes this rule on party days for guests spending the entire day at the Magic Kingdom.
Here are a few pictures of some costumed partygoers.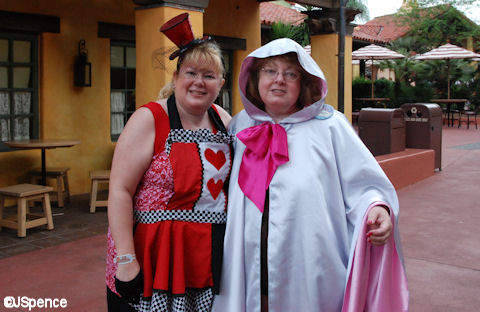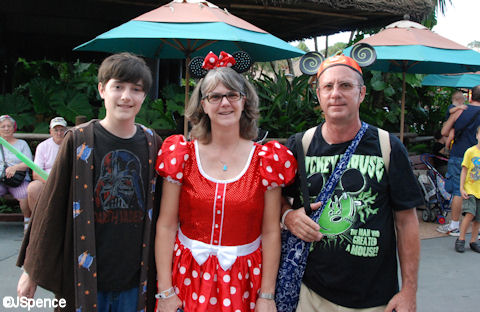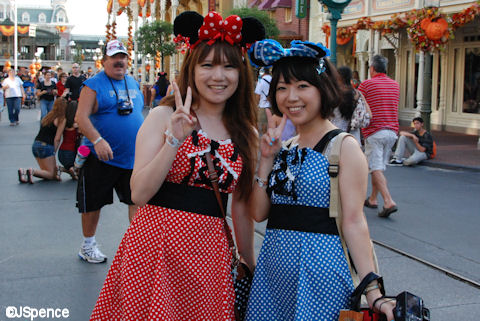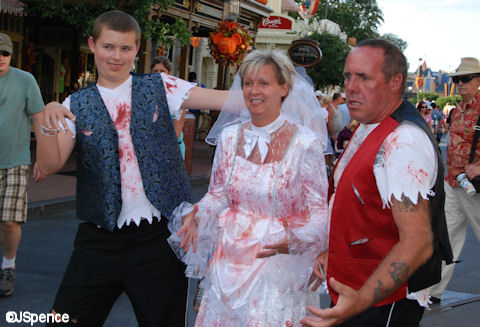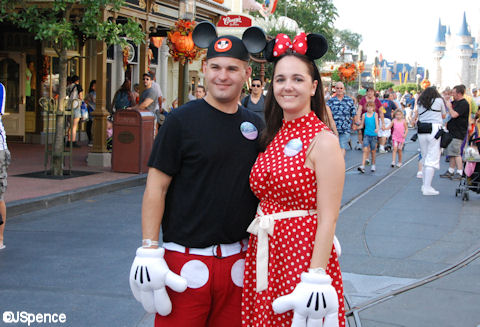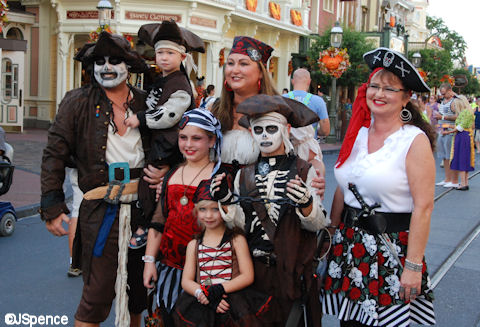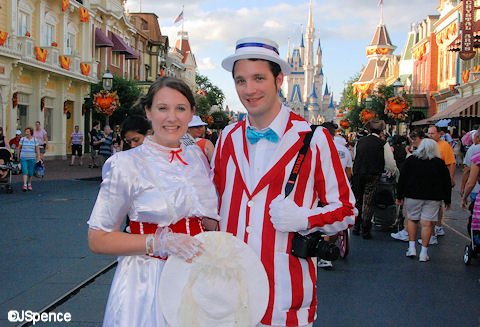 Since dressing in costume is a big part of the event, you might want to consider making reservations at Bibbidi Bobbidi Boutique or The Pirates League for a child makeover. Bibbidi Bobbidi Boutique accepts their last reservation at 7:30pm and The Pirates League is open until 8pm. However, I would suggest making an earlier reservation so your child can thoroughly enjoy the party in their princess or pirate garb.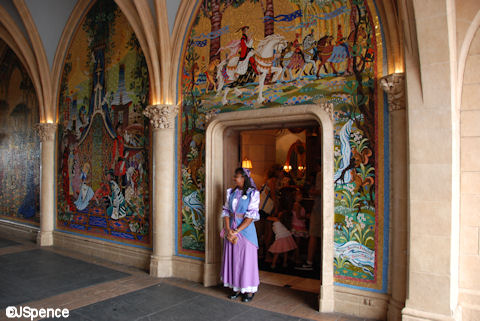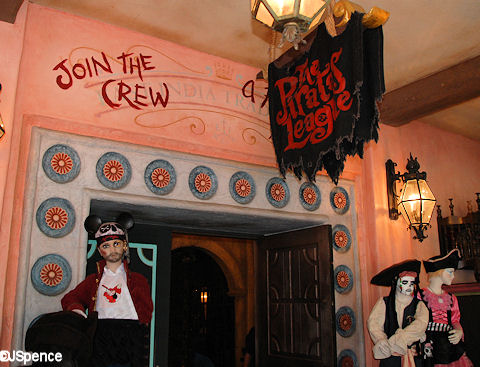 Main Street and Liberty Square are the only lands that are decorated for MNSSHP. We'll begin on Main Street with the pumpkin citizens found around Town Square. The first two fellows are part of the Walt Disney World Band.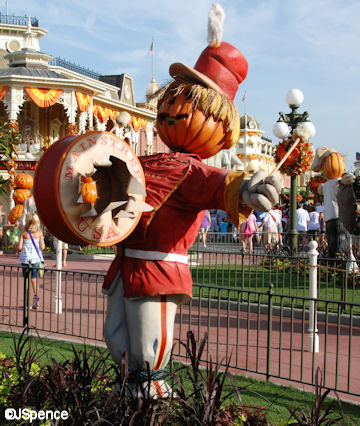 Here we have the Mayor and his lovely wife.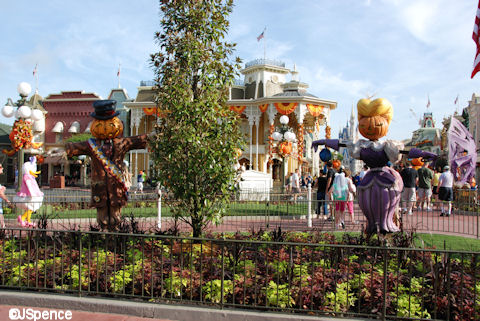 As we circle Town Square we find an Emporium shopper and a baseball player who has wandered over from Casey's Corner.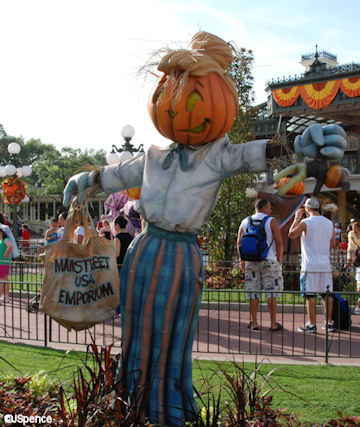 And finally we come to the two pumpkin-people cast members from the Main Street Confectionery.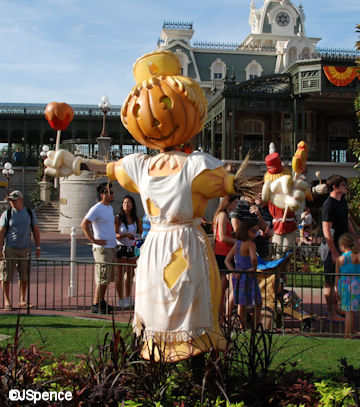 Disney has also set up a photo op on Town Square. The statue of Roy and Minnie has been removed and replaced by stacks of pumpkins that perfectly frame the castle in the background.
Pumpkins, pumpkin, and more pumpkins line the upper stories and windows of Main Street. Many of these are themed appropriated for their location. Above the Fire Station we see these. I especially like the pumpkin pointing the way to the restrooms.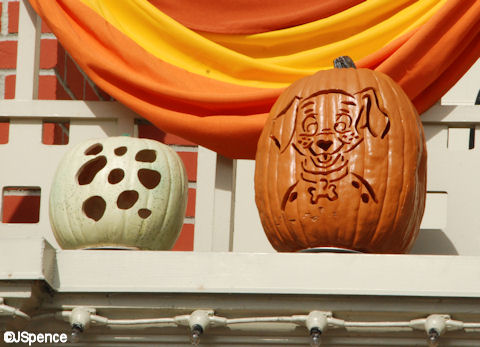 Above the Main Street Cinema we see a pumpkin filmstrip of Mickey.
Casey's Corner also gets into the act with a few sports and food related carvings.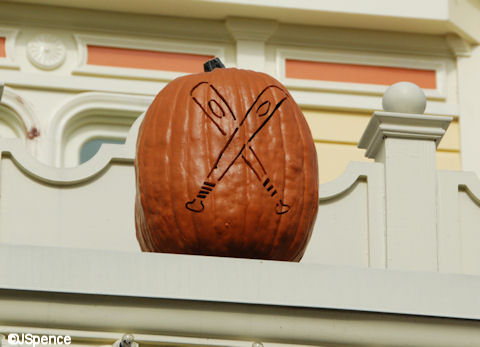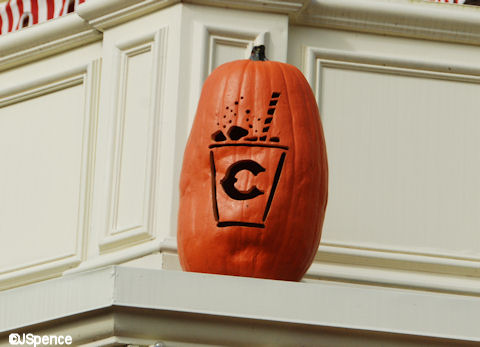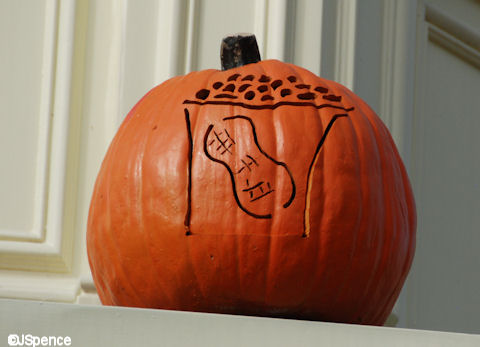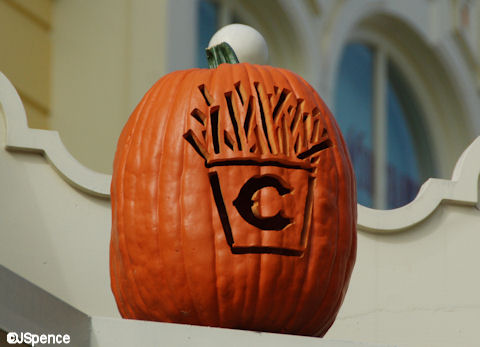 Across the street at Plaza Ice Cream Parlor, a few more specialty gourds can be seen. I think the fellow in the last photo is suffering from an ice cream headache.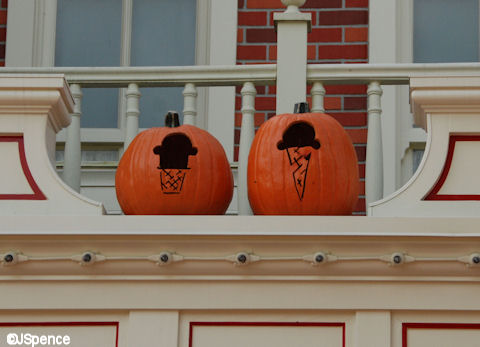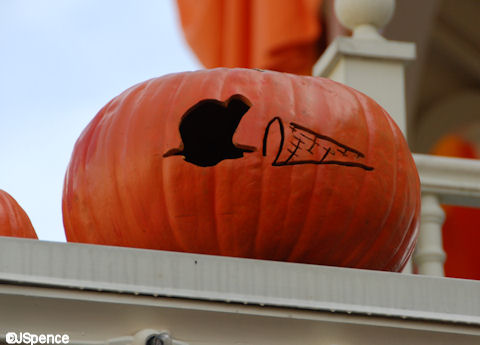 Don't forget to check out the Mickey adorned light posts.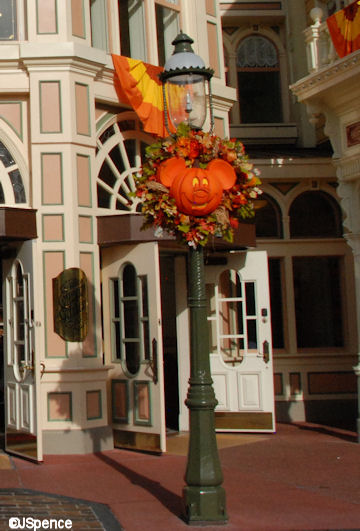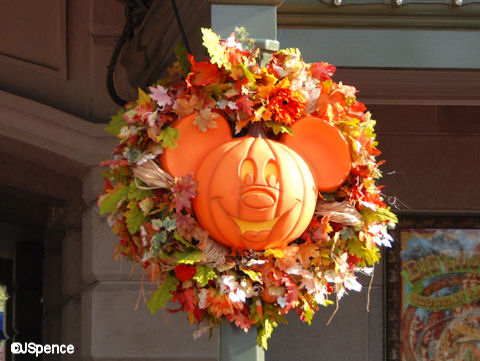 On the Hub, holiday statues of some of our favorite characters can be found.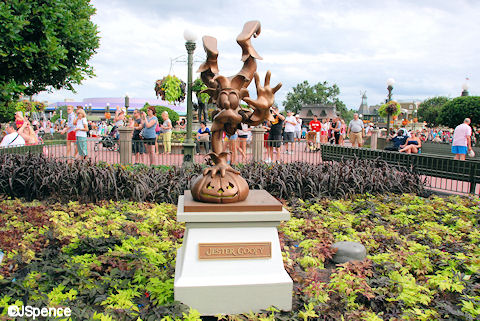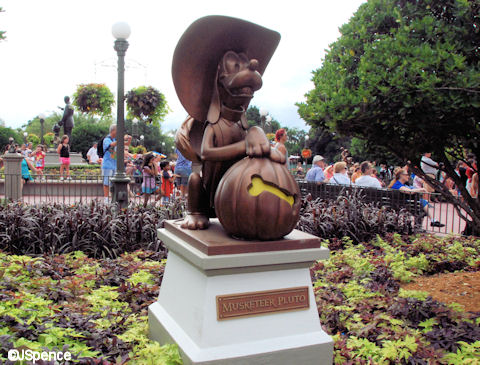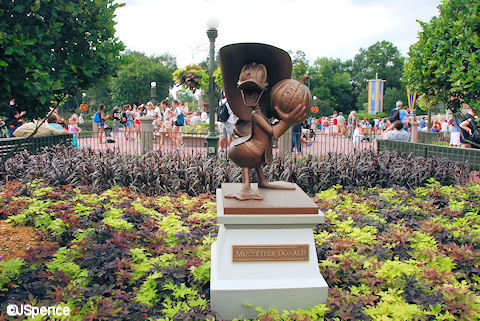 In Liberty Square, some pumpkins, garland, and other autumn decorations have been added to give this "land of freedom" a Halloween touch.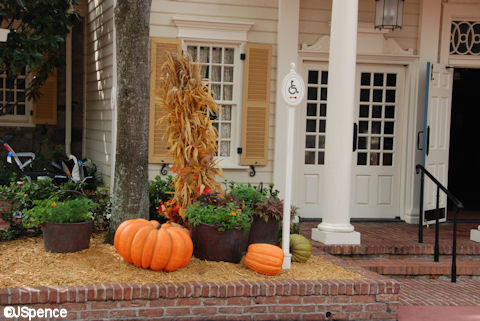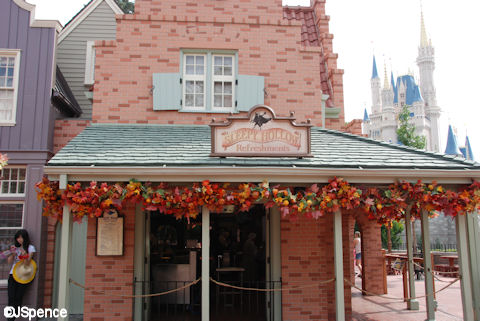 The cast members working the Haunted Mansion also get a makeover. Besides their regular, somber costume, their faces are made up to look ghoulish. Also, a "spirit from beyond" takes center stage on the lawn of the mansion and entertains guests with wonderful stories of her life, both living and dead. Many let others pass them in line so they can stand longer and listen to her tales. To add to the creepiness, the gravestones are given a spooky look with the addition of low lying fog.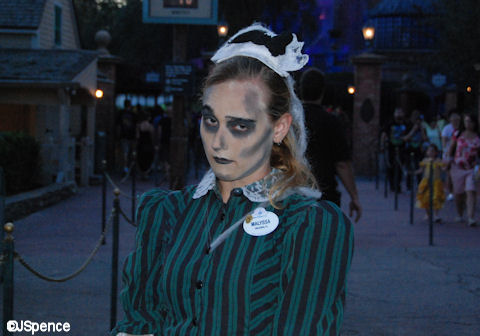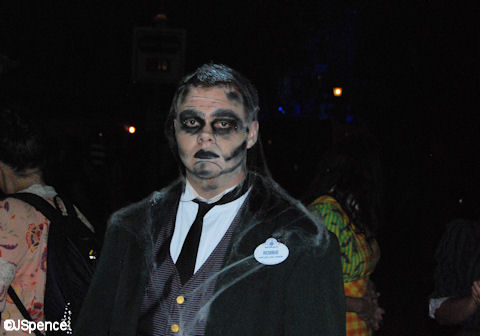 Be on the lookout for impromptu Halloween games like this Spider Web Toss.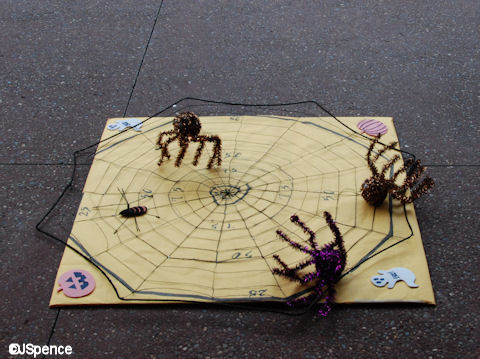 For those of you who play the Sorcerers of the Magic Kingdom game, a special collector's card is available at the party. Note, Disney will punch your MNSSHP ticket to insure that you only get ONE, and only ONE card.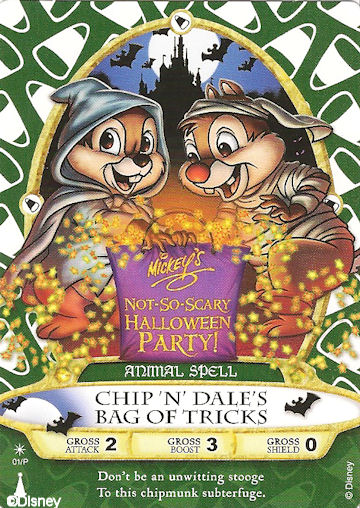 Now let's get to the real purpose of Halloween, CANDY. Throughout the park are a number of trick-or-treat candy stations. These are clearly marked on the handout you receive when entering the park. However, Disney has also made it easy for you. At each trick-or-treat spot a cast member will be stationed nearby holding a Mickey Pumpkin sign. Also, an illuminated Mickey Pumpkin clearly marks the spot for goodies.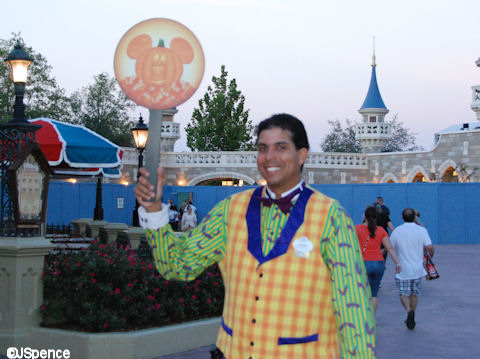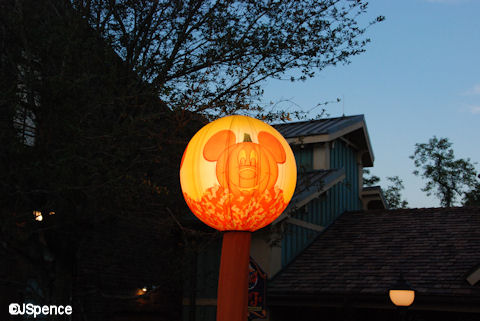 To see the handout for the party, click here.
At the beginning of the party, lines for candy are long as the kids want to get the good stuff immediately. But later in the evening, lines disappear for the most part. The candy offered is the small, bite sized pieces, but good brands are provided. Also, the cast members are generous with their handouts.
Each of the candy stations is mildly themed to the area. Here are a few of the location banners.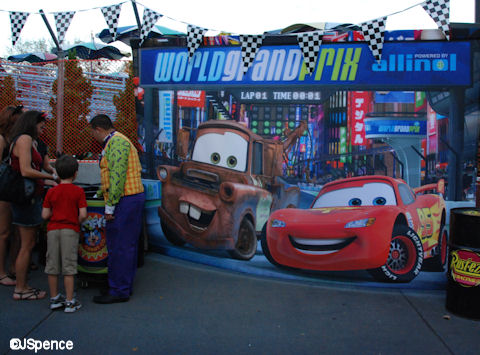 Halloween merchandise is also a big seller and Disney is ready.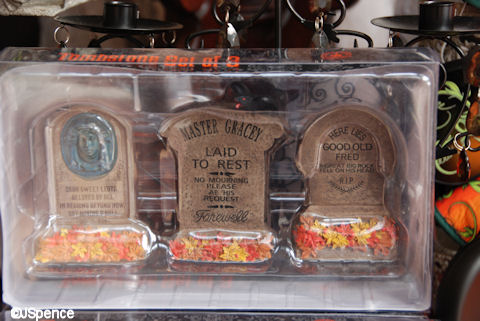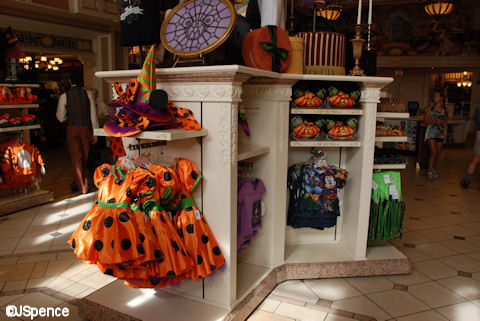 A particularly popular item is this Ghost Mickey popcorn tub that can double as a trick-or-treat bucket once you get home. These are only available at the popcorn wagons. They sell for $12 – including popcorn.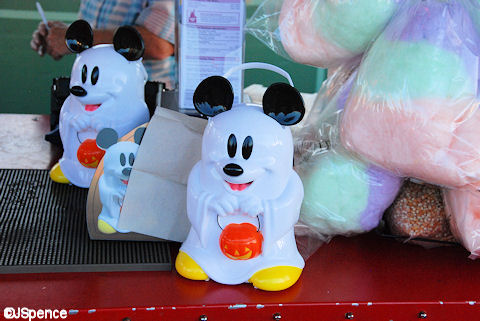 There are two Character Dance Parties. Rock-It Out"¦Stitch's Club 626 can be found at the Tomorrowland stage. Here, a very energetic DJ gets the entire group goovin' with Stitch, Goofy, and Pluto.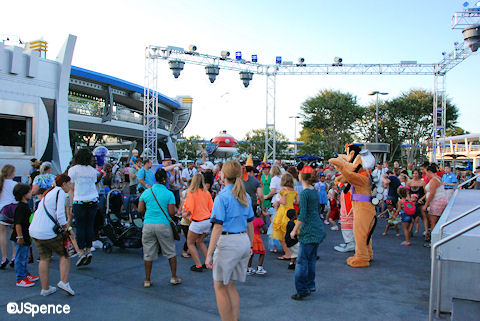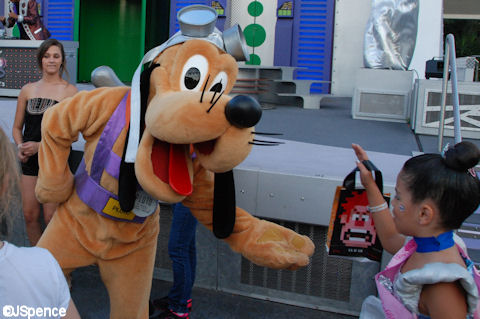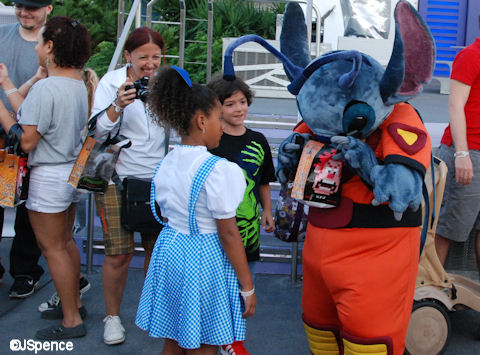 Over at the Diamond Horseshoe in Frontierland we have Woody's Happy Harvest Roundup. Another DJ is on hand to liven things up with Woody, Jessie, and Bullseye.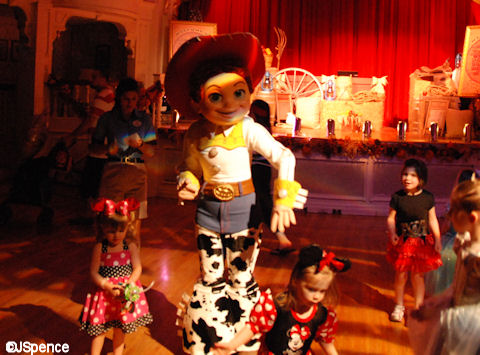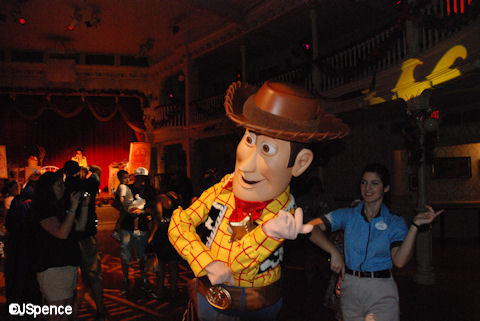 These Dance Parties are a fantastic opportunity for your kids to interact with the characters. It's a lot more fun than standing in a long line waiting for a photo and autograph.
Presented on the Castle Stage is the Villain's Dance Mix and Mingle show. Here, some of Disney's greatest bad-guys and gals dance and rant and try to impress you with their evilness. This show is presented at 7:45, 8:50, 10:05, and 11:15. This show is far more entertaining than scary and kids should have no problem with it.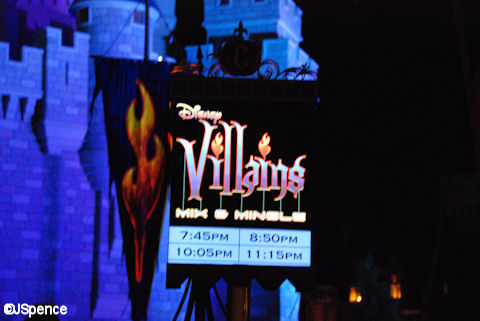 After the show, the villains come down from the stage and pose for pictures with guests. However, they will only be available for about 15 minutes and they are mobbed by enthusiastic fans.
I think most people would agree that Mickey's "Boo-to-You" Halloween Parade is the highlight of the evening. Shown twice each night (8:15 & 10:30), this spectacle is a hoot. Be sure to find your viewing spot by the announced beginning time as the Headless Horseman makes a mad dash along the parade route to the cheers of the crowd. If you're not there in time, you miss him. Also note, the second parade is significantly less crowded. If you're planning on staying late, skip the first parade and enjoy the park.
The beginning of the parade starts off tame enough with some of the not-so-scary characters, but then the villains take over for a haunting good time. Toward the end of the parade, several Goofy's Candy Company carts stroll by and a number of his minions pass out treats to the crowd. I filmed the entire parade and it can be seen here.
At 9:30, a special fireworks show called Happy HalloWishes is presented. A Ghost Host introduces villain after villain and the castle is illuminated appropriately while color coordinated fireworks burst overhead. Once again, I filmed the entire show for your enjoyment.
That's it for my review of MNSSHP. This event is a favorite of thousands and a "must do" every season. If you think this event is for you, then by all means, get yourself a costume and go. You'll have a ghoulishly good time.