Last week I discussed the BoardWalk Inn & Villas. Today I'm going to describe all of the wonderful and exciting shops and restaurants along the BoardWalk Promenade. As I mentioned in my previous article, the concept for a "boardwalk" was born in Atlantic City, New Jersey in 1870 as a way to keep sand out of the establishments that lined the beach.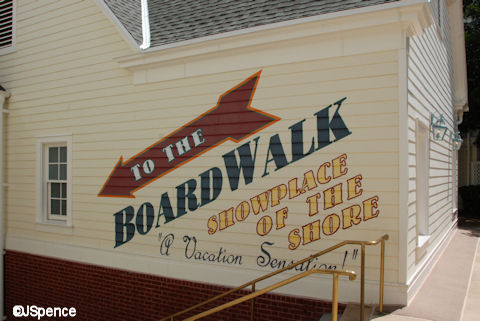 The buildings along the BoardWalk Promenade (from here on, simply to be known as the BoardWalk) resemble those found at the great amusement centers of Atlantic City and Coney Island. It was the intent of architect Robert A.M Stern to create a seaside resort that appeared to grow over time during the decades of the 1920s and 1930s. As each new establishment was added, the popularity of the overall venue grew. At the real Atlantic City and Coney Island, the offerings could be rowdy to lavish and everything in between. But at the Disney version, we only find a wholesome collection of restaurants, shops, and games.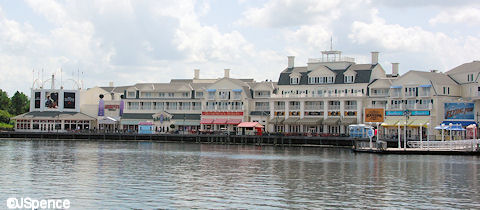 The Disney BoardWalk is 35 feet wide and 1,300 feet long. It is laid out in a herringbone pattern and used 300,000 screws to secure the boards in place. The wood is treated to be resistant to decay and acids and features good weathering characteristics. The retail and entertainment area of the BoardWalk contains more than 9,000 square feet of space.
For continuity, I will begin my tour of the BoardWalk on the east side of the Promenade – the side closest to Epcot — and work my way to the west. I'll begin with a structure that technically isn't a part of the BoardWalk, Sea Breeze Point Pavilion.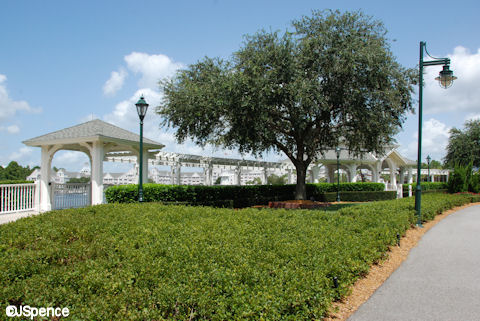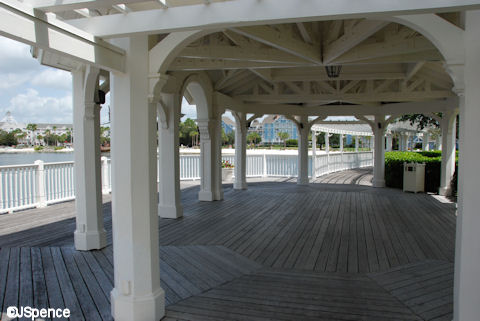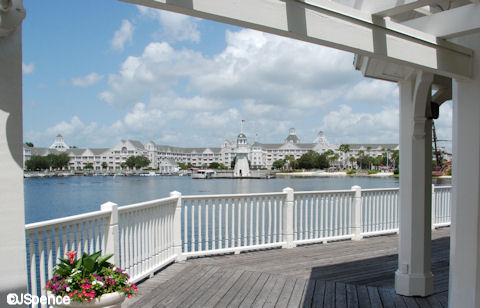 Sea Breeze Point Pavilion is a gazebo/arbor that sits on the shores of Crescent Lake. It can be rented by any group for any function, but more often than not, it is reserved for weddings and wedding-associated events. Much of this has to do with its fantastic and romantic location. The views of the resorts lining Crescent Lake create a magical backdrop and the Friendship boats sailing by add a touch of international flair. When an event is not taking place at the Pavilion, this spot provides a nice, shady respite on your walk back from Epcot in the afternoon.
"Perfect Experiences" at Sea Breeze Point can be arranged through Disney's Event Planning. For more information as to what Disney experts can orchestrate, click here.
The first building actually on the BoardWalk is ESPN Club.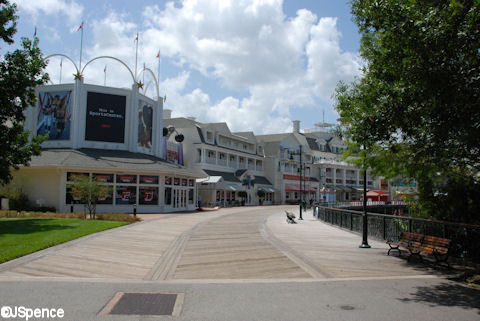 I like this restaurant, even though I know absolutely nothing about sports. The reason? The menu. This spot offers good ol' American favorites like hot dogs, hamburgers, sandwiches, and wings. In addition, the menu is large. Compared to the Turf Club lunch menu at Saratoga Springs which only offers 8 entrees and Kona Café at the Polynesian which offers 12 lunch options, the ESPN Club presents 18 meals. And many of their appetizers are large enough to be considered an entree. I appreciate the larger selection.
When arriving, a host or hostess will greet you and give you a "team" name. For instance, when I ate here last month with friends, we were Team Spence. Once at our table, our server introduced himself as Coach Anthony.
The ESPN Club has two sections. You enter into "Sidelines." This area features the main bar and has a number of tables and booths located nearby.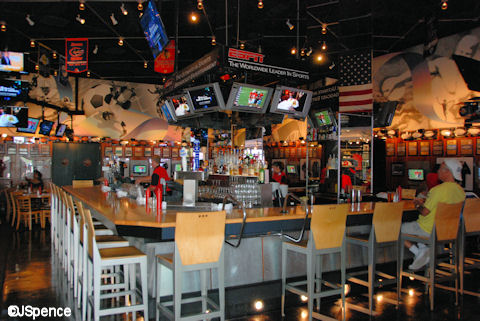 The second section of the restaurant is called "ESPN Central" and is themed to resemble a sports arena with tables on several levels. This area is also "broadcast ready" and will occasionally feature live feeds for television and radio.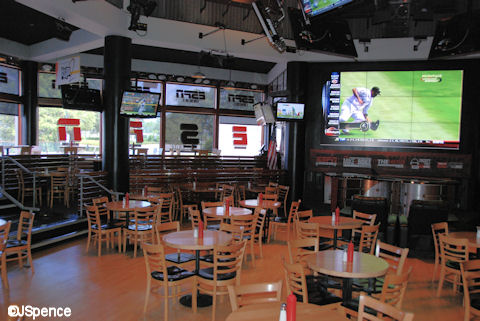 Being a sports bar, the ESPN Club broadcasts sporting events. In fact, there are 108 TV monitors linked to 25 satellite feeds. There are even monitors in the restrooms so you'll never miss a moment of the World Series or Super Bowl.
Since I'm not interested in sports, I especially like the tables that line the windows. This allows me fantastic opportunities to people watch along the Promenade.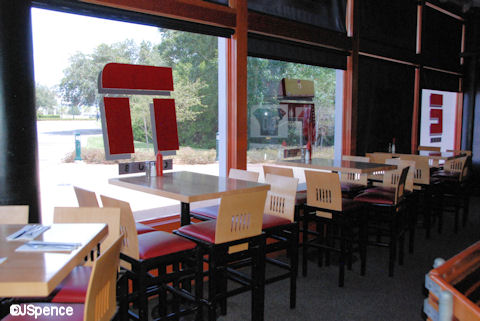 ESPN Club is open for lunch and dinner. Reservations are not accepted. This is rarely a problem at lunch unless there is a big game being played. To see the complete menu, click here.
Next to the ESPN Club is "The Yard at ESPN Club." This combination shop and arcade sells sports related Disney and ESPN merchandise. There are also a number of sports related video games to test your hand-eye coordination.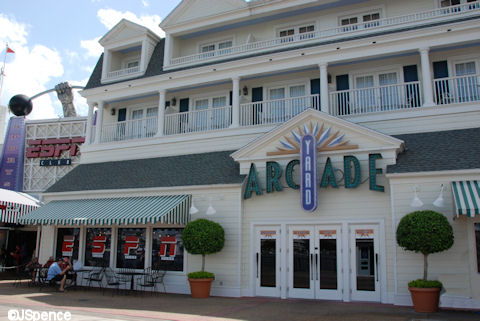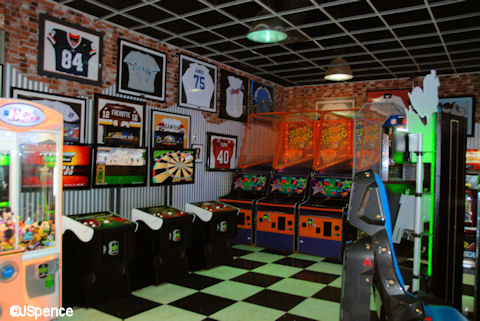 Across from the ESPN Club is Novelty Photos. This free-standing booth allows individuals or couples the opportunity to take four silly or romantic photos in quick succession. The pictures are instantly developed and two strips of four photos are provided.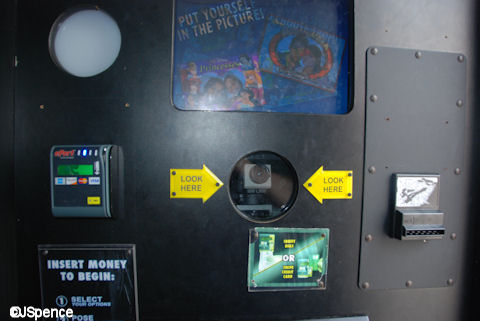 The first known working photographic machine was exhibited at the 1889 World's Fair in Paris. The first "modern" concept of a photo booth appeared on New York's Broadway in 1925. For 25¢, patrons would receive 8 photos. Despite the fact that the pictures took ten minutes to develop, the machine was an instant success and within six months over 280,000 people had used this new marvel.
Next to ESPN Yard is BoardWalk Bakery. This is as close to a counter-service restaurant as you'll find at the BoardWalk. Although extremely small, this establishment is quite popular so be prepared for a line at peak times. In the morning, breakfast sandwiches, pastries, cereals, and fruit are available. At lunch and dinner, a nice selection of meat and vegetable sandwiches are offered. And being a bakery, dessert type items are served all day long. Behind the counter you can see the large kitchen where many of the items are baked fresh each day.
To see the complete menu, click here.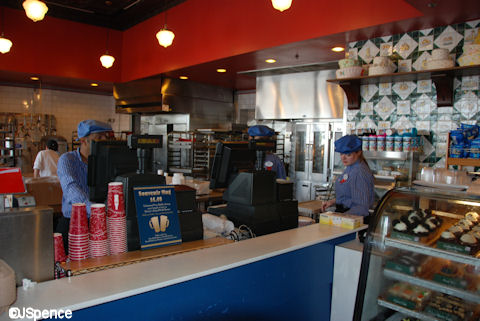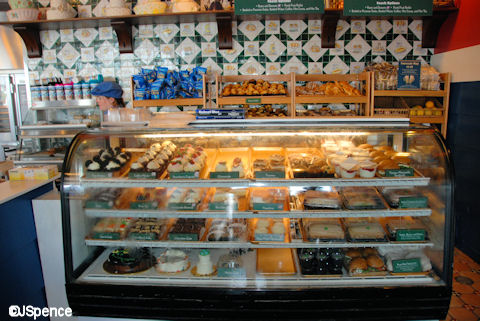 The proprietor of BoardWalk Bakery is Hue G. Krozont. Mr. Krozont is known for his invention of the Pie Stretcher in 1923. He ran a small café known as Krozont's Kitchen in Philadelphia and was famous for his homemade apple pies. Always looking for a way to increase his profits, he came up with a device that would "stretch" a fully baked pie to 1/3 again its original size, thus enabling him to serve two additional slices at no additional cost. Krozont patented his machine the following year and later sold all rights to his invention to Medville College. With his windfall, Krozont unloaded his café and move to Miami. Unfortunately, he fell victim to the Florida Land Boom and lost all of his money. He died penniless.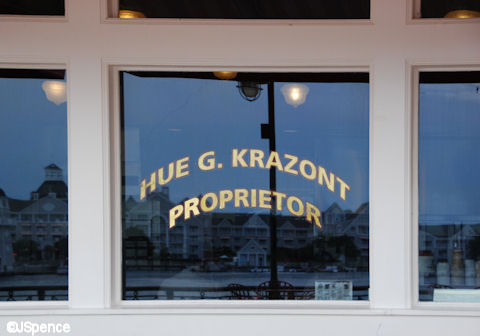 Now I hope you all realize, the above paragraph is a complete work of fiction. Hue G. Krazont is a play on words. When read as the Imagineers intended, it would be "Huge Croissant."
However, I tell the story of a pie stretcher for a reason"¦
When I started working at the Blue Bayou Restaurant at Disneyland at age 18, my title was Miscellaneous Kitchen Helper. My sole job was to transfer food, pans, and other kitchen utensils from the Main Kitchen located in the basement of New Orleans Square to the Blue Bayou Restaurant found on the first floor. All day long, the cooks at the Blue Bayou would instruct me to go downstairs to the Main Kitchen and pick up some needed item.
On my second day on the job, I was instructed to go to the Main Kitchen and retrieve a pie stretcher. Of course, there is no such thing. But not knowing this, I dutifully went downstairs and asked one of the chefs. He told me he didn't have it, but check with Joe. Of course Joe didn't have it either and suggested I check with Al. After about ten minutes and ten chefs, it finally dawned on me that a practical joke was being played on me and everyone was in on the gag. This prank was an initiation right of the Blue Bayou and in the years that followed I myself sent many a new, young, naive cast member on a hunt for a pie stretcher (and a few items not suitable for print here).
Our next stop on the BoardWalk is the Pizza Window. Here you can order cheese, pepperoni, and veggie pizza by the slice or by the pie. Extra toppings like mushrooms, sausage, onions, and black olives are also available for an additional charge. Soft drinks and sangria help wash it all down. A single slice of pizza is decent sized and is adequate for a light meal.
This is strictly a "walk-up" establishment. No table service is available, but there are a number of tables nearby for al fresco dining.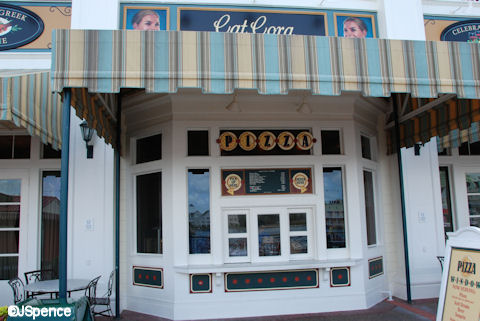 Across from BoardWalk Bakery on the water side of the promenade is BoardWalk Joe's. From 7:30am to 11am this kiosk offers Danishes, muffins, and egg croissant sandwiches. In the late afternoon and evening this spot sells six varieties of margaritas, draft beer, wine, Coke products, chips & nacho cheese, soft pretzels, and a few other goodies. BoardWalk Joe's is closed during mid-day. To see the complete menu, click here.
In the early years of the BoardWalk, a restaurant known as Spoodles was one of the promenade's favorite eateries. Opening on July 1, 1996, this restaurant offered a Mediterranean menu that was dubbed "Cuisine of the Sun." Selections included regional specialties from Spain, Greece, Italy, and Northern Africa.
On August 15, 2009, Kouzzina replaced Spoodles. Owned and operated by Disney, this Cat Cora restaurant features Mediterranean cuisine that highlights her Greek roots and Mississippi upbringing. Chef Cora's philosophy is to create simple yet sensational meals. "Kouzzina" is Greek for "kitchen"
Kouzzina was remodeled slightly from the days of Spoodles, but much of the original atmosphere still remains. An open kitchen with its wood-burning grill and oak-fired ovens still entertains and enchants guests. Dark wood flooring and furniture combine with light tan walls to create a cozy and inviting environment.
I have eaten here a number of times and have always been pleased. I even like Cat's Brussels sprouts, a vegetable I normally avoid at all costs. Kouzzina is open for breakfast and dinner. Reservations are suggested.
I was fortunate enough to be invited to the grand opening press event in 2009. Although the menu has changed somewhat since then, my review still speaks to the tastes and charms Cat brings to this establishment. To see my article, click here. To see the complete breakfast menu, click here. To see the complete dinner menu, click here.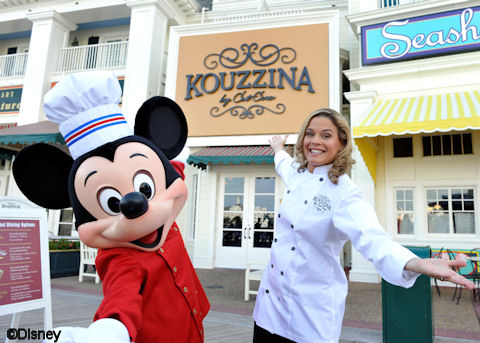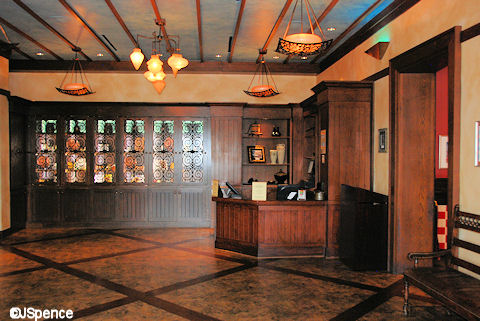 After receiving her Bachelor of Science degree in Exercise Physiology and Biology at the University of Southern Mississippi, Cat Cora followed the advice of her famous mentor Julia Child and enrolled at the Culinary Institute of America in Hyde Park, New York. After graduation, she continued her education in Europe apprenticing with two of France's three-star Michelin chefs, George Blanc of Vonnas and Roger Verge. (Roger Vergé is one of the founding chefs of the Les Chefs de France restaurant at Epcot.) Cat accomplishments and awards continued to mount, but perhaps her most famous achievement was being the first and only female Iron Chef on the Food Network's hit show "Iron Chef America." Cat began working with Disney in 2008 by creating a Disney Video-on-Demand series to showcase ways to help families develop more healthy eating habits.
Next to Kouzzina is Seashore Sweets'. This combination ice cream fountain and candy store is the perfect spot to satisfy your sweet tooth. The stores motto: "Confections served with Affection."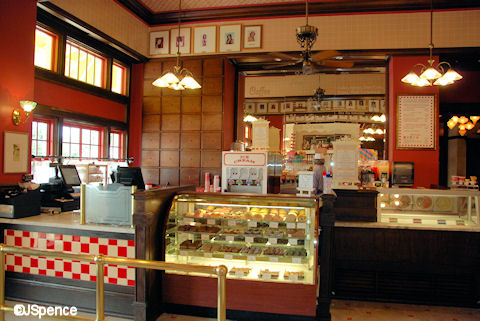 One of the store's signature products is salt water taffy, an Atlantic City institution for years. But this wasn't always the case. Although plain ol' taffy had been a staple along the Boardwalk for many years, "salt" was not a part of the tradition. This came about quite by accident. In August of 1883, a large storm hit the Atlantic Seaboard and flooded the Boardwalk candy store of David Bradley. As a result, his entire stock of taffy was soaked with salty ocean water. As the story goes, a young girl entered the store the following day and requested taffy. As a joke Bradley said, "Sure. We have some salt water taffy." Not understanding the sarcasm, the girl bought a bag full and left the store happy and did not return with any complaints. The rest is history.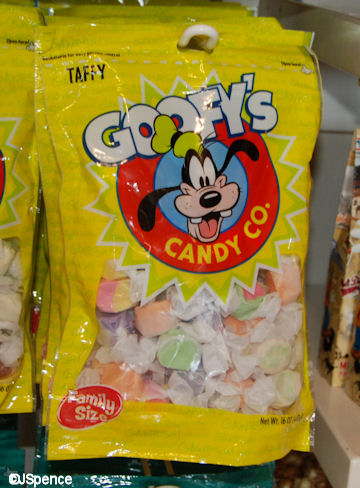 Besides salt water taffy, Seashore Sweets' also honors another Atlantic City institution, the Miss America Pageant.
Traditionally, the "summer season" ended on the Boardwalk with Labor Day weekend at which time vacationers went home. In an effort to entice people to stay a little longer, Mayor Edward L. Bader and local leaders suggested holding a two-day publicity extravaganza to extend the season for a few more days. So on September 6, 1921 a beauty contest to be called the "Atlantic City Pageant" was held. That first year there were only eight participants. The girls were judged in a number of events, including the Rolling Chair Parade and the Bathers' Revue (a swimsuit competition). After two days of good natured rivalry, the judges selected sixteen year old Margaret Gorman from Washington D.C. to be the first winner of the pageant.
When the event was over, the city leaders and local businessmen could see that the event was a success. Tourists had stayed in Atlantic City past Labor Day and continued to spend money. It was then decided to make this an annual event.
The following year, the pageant name was changed to "Miss America" and fifty-eight contestants participated. In addition, brass bands and orchestras were added to the festivities. Among the distinguished panel of judges in 1922 was famed artist Norman Rockwell. The pageant continued to grow and flourish over the years and became an American tradition.
Next time you're in Seashore Sweets', look around. Lining the ceiling are pictures of all the Miss America winners. In addition, an actual robe, crown, scepter, and trophy used in a ceremony are on display.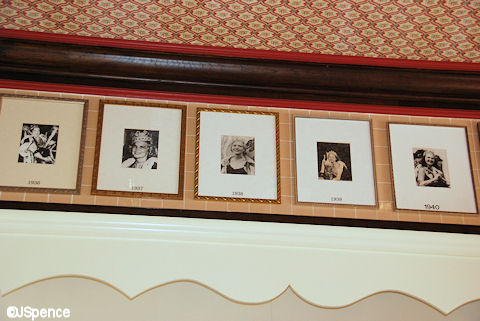 That's it for Part One of the BoardWalk Promenade. Check back tomorrow for Part Two.