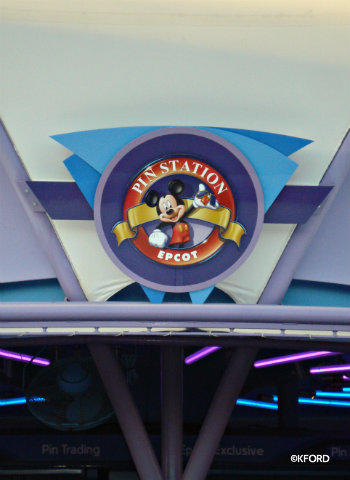 My son and daughter have been trading pins at Walt Disney World for almost four years now and the excitement of it hasn't dulled. As a parent, I think it's a fun hobby for them, and it adds a bit of excitement to our trips into the theme parks. I'd like to share a few tips we've learned along the way, in case pin-trading is something you're considering.
First, be aware that Disney does have some basic rules for pin trading:
** Teach your child to ask to view a cast member's pins. Do not grab at lanyards.
** Pins must be metal and represent a Disney event, character, location or icon, and be in good condition.
** There is a limit of two trades per guest with the same cast member.
** No money can be involved in the trade.
** Cast members with green lanyards can only trade with kids ages 3 to 12.
Allowing your child to approach the cast member while you listen is a great way for them to learn and practice social interaction skills in a safe, controlled environment.
The start-up costs for pin-trading may seem expensive if you're buying for more than one child. This activity certainly can be pricey for the serious collectors. But if you're just trading for fun, there are some ways to lower expenses.
First, you'll need something to display your pins. Many guests choose lanyards, which typically are the least-expensive option. You can purchase them in just about any Disney World gift ship, or perhaps you already received some as part of a Disney promotion. For example, Disney Cruise Line gives lanyards to returning cruisers and Disney World passholders received them one year as well. Another option is a soft album, and these come in various sizes and prices. The smaller ones actually have straps and can be worn as a bag or purse.
My children have multiple lanyards — one for pins they want to save and one for pins they are willing to trade. After losing a few pins that were near-and-dear to their hearts, we invested in the locking backs — about $10 for 10 backs. Now, though, I almost wish we had bought the more expensive album-type bags because I think they would allow easier access to the pins — no locking backs needed — and there would be less opportunity for loss because of the zippered closure.
The other big expense is the pins themselves. Pins in the parks start at about $7 and increase in price. This can add up quickly if you want to give your child a handful to get started. You can purchase a starter set, which contains several pins and a lanyard. Those prices begin at about $30.
But, if you're not picky about the design, many guests recommend purchasing pins on eBay for the best deal. Typically those lots contain anywhere from 25 to 100 pins, making the average cost less than a dollar per pin. Don't need 100 pins? Perhaps you can split the lot with friends. Be aware, however, that some of these sellers are offering scrappers, which are pins not authorized by Disney and cannot be traded on property.
Guests who are really into pin trading look forward to an annual event at Epcot that is just for them. This year's "Disney Trade Celebration 2012 – Mickey's Circus" takes place from 9:30 a.m. to 6 p.m. on September 7 and 8. Event admission is $120 per person plus Epcot admission, and registration has opened. For all the details, check out here.
Also, Downtown Disney Marketplace's Disney's Pin Traders is continuing to host monthly events with Disney Design Group artists. Artist Adrianne Draude, who is behind the creation of a number of Walt Disney World pins, will be meeting with fans and signing pins from 5 to 7 p.m. on July 27, August 10, and September 28. (Be sure to subscribe to the AllEars.Net newsletter for all the latest news of special pin-trading events.)
For answers to many other questions, check out Disney's official pin-trading site, and please share your pin-trading tips and experiences in the comments.