During the Flower & Garden Festival at Epcot, the Gardens of the World tour is offered. I went on this tour on April 1, 2011.
We met in front of Guest Relations at Epcot- this is to the far right of the turnstiles before you enter the park, not the Guest Relations inside the park. Around 8:50 AM, several Cast Members broke us into our tour groups – there was another tour that was meeting at Epcot as well.
We were given name badges to wear for the tour: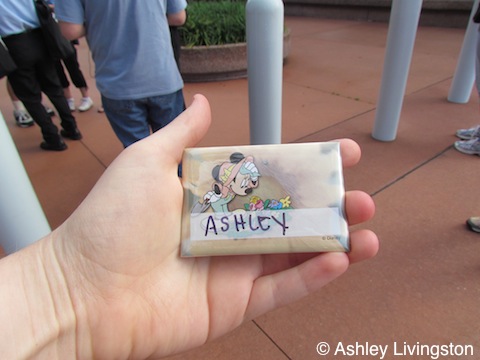 We were also given a pin that is exclusive to the tour: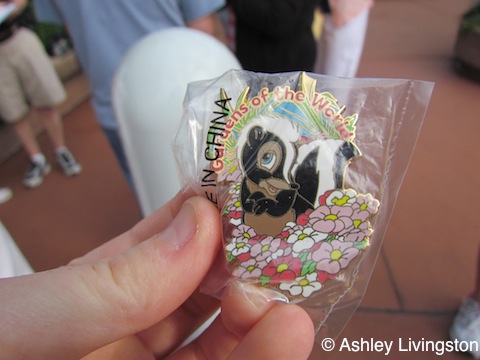 Headsets were distributed for everyone to wear. We were glad to have them because the music and noise of the park made it difficult to hear at times.
We got a late start because we had a couple of people who were running late. When everyone got there, we gathered in a group – there were about 20 of us – and he asked us our names, where we were from and why we were interested in the tour. We had several avid gardeners in our group.
We went into Epcot around 9:30. The first stop we made was near one of the flower towers. Rickie told us that there were 40 of these in Epcot and they were easy to create. The tower holds the flower pots inside it so it makes assembling and disassembling the towers easy.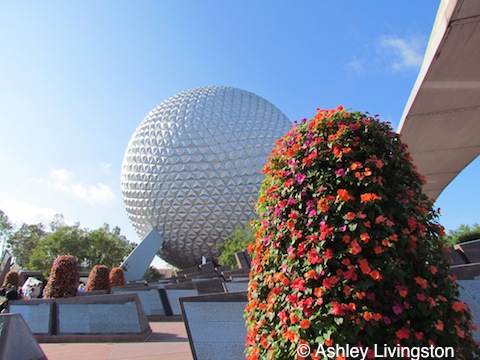 Then, we went over to the area near the stroller rental. This plant (the name of this plant is escaping me) was around when dinosaurs roamed the earth. The leaves are thicker than you would have expected.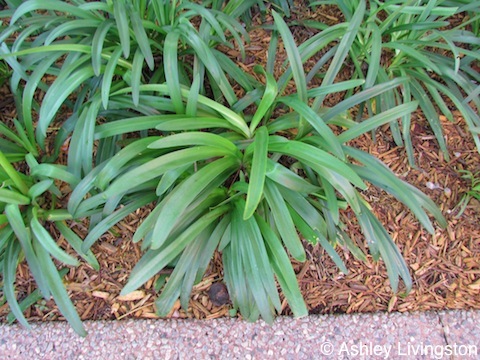 The theme for Future Wold is the future. Therefore, the design team keeps flowers to a minimum except during Flower & Garden. Several different types of palm trees are used in this area.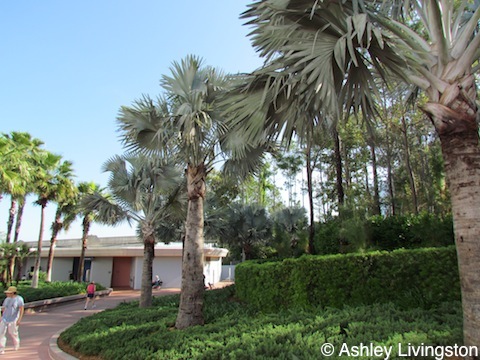 When we walked through Pixie Hollow, he pointed out the eco-friendly mulch underneath the play area. This material is actually recycled tires and it won't hurt the kids if they fall. The 'grass' is actually artificial turf with padding under it.
The Pooh topiary area has bloomed nicely. He pointed out the various types of plants that made up Rabbit's garden.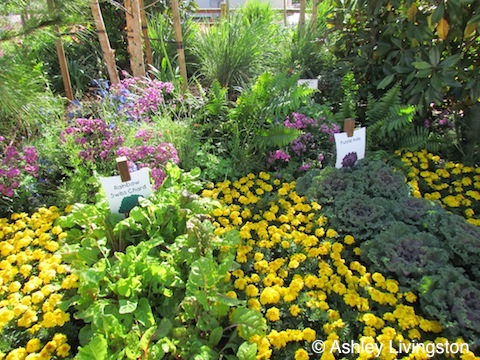 He said that the flower blanket took about a night to plant. They had an entire team that evening. There is a staging area behind the Germany pavilion where it was all set up and then brought in.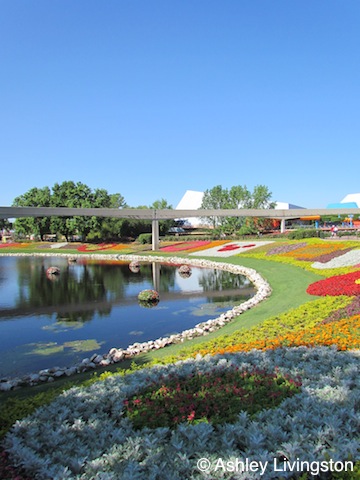 At Bambi's Butterfly Garden, he talked about how the monarch butterfly tastes bitter to predators because of the nectars they consume.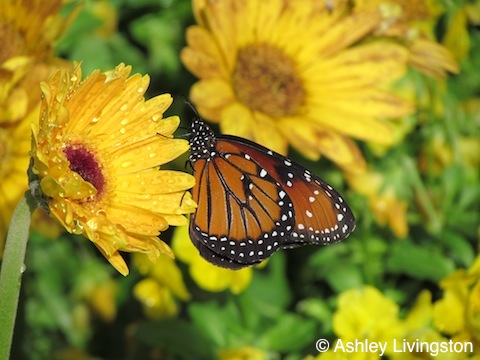 At the Mexico pavilion, he discussed how the jungle theme was created by using various tree and flower and types.
He said there are some plants/trees that are look-alikes at the pavilions because they won't survive in the Florida climate.
At China, he discussed the Zodiac figures. They are all made out of seeds. But my favorite part was when he discussed the gardens. He said that Chinese gardens are all about tranquility, very little movement and letting the garden be. The grass is longer at this garden because of this.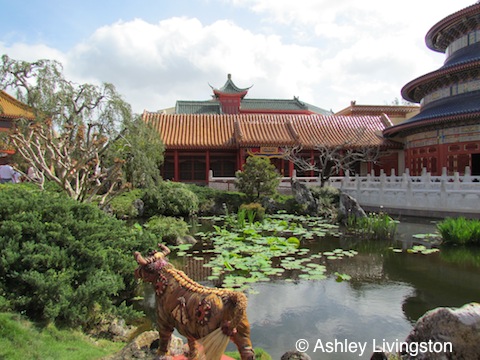 In contrast, Japanese gardens are all about movement. The koi pond and waterfall help to create constant movement in this garden.
I never knew that this lantern at the Japan pavilion was a gift to Roy E. Disney from the emperor of Japan.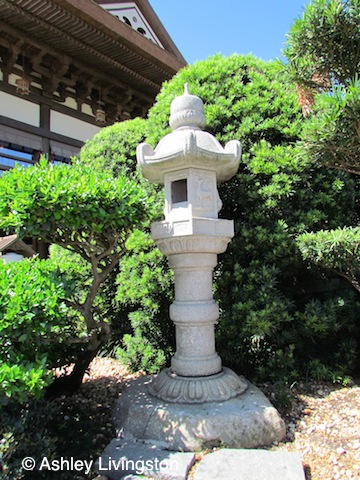 He said that the Aladdin topiary is one of his favorites because it incorporates so many different plants and textures. Some of the plants are secured to the topiary using hair pins. Aladdin's hair is coconut fiber.
We spent some time at the Victoria Gardens area at the Canada pavilion.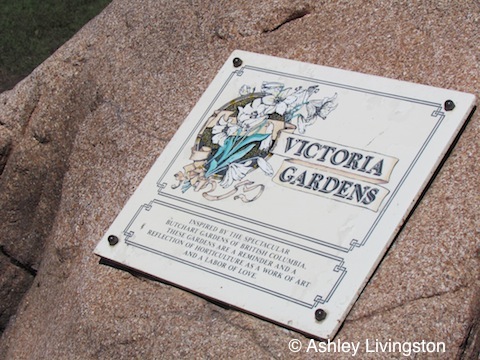 The tour ended with a backstage look at the Canada pavilion. No pictures are allowed backstage. We were given the Flower & Garden poster as a keepsake, which was unexpected and a nice surprise.
Overall, I enjoyed the tour and I'm glad I did it but I didn't love it. The focus was more on how to do similar things at home in your garden and plant types and that wasn't of as much interest to me as hearing about the hows and whys Disney creates things the way they do. We spent a decent amount of time in Future World but made it through World Showcase very quickly because we got going late. Our guide was wonderful about answering questions and making sure our curiosity was satisfied before moving on. He was very enthusiastic and knowledgeable. I would do this tour again if someone really wanted to go but it would not be on my 'must-do' list.
The Gardens of the World tour is $60 per person ($63.90 with tax) for guests ages 16 and older. This tour is during Flower & Garden Festival only. Be sure to ask about Annual Passholder, Disney Visa or DVC discounts as well. The tour is offered on Tuesdays, Thursdays and Fridays at 9 AM. Call 407-WDW-TOUR (407-939-8687) to book.
To read reviews of the Gardens of the World tour, or to post your own, click here.