Andrew Rossi returns with a review of the ESPN Club at Disney's Boardwalk Resort.
If you are a sports fan like me then you always want to keep track of how your favorite teams are doing, even when you are on vacation. This, however, is sometimes easier said than done. What if there is a major sporting event like the World Series or Super Bowl that you really don't want to miss? Sure, you could probably go back to your room at your resort and watch the game there, but where is the fun and excitement in that? Fortunately for guests at Walt Disney World, the ESPN Club at the Boardwalk Resort offers the perfect location to enjoy a game and celebrate a big win with your fellow fans. Whether you are just looking for a drink and a couple of appetizers at the bar or a full sit-down meal, the ESPN Club completely immerses you into the world of sports.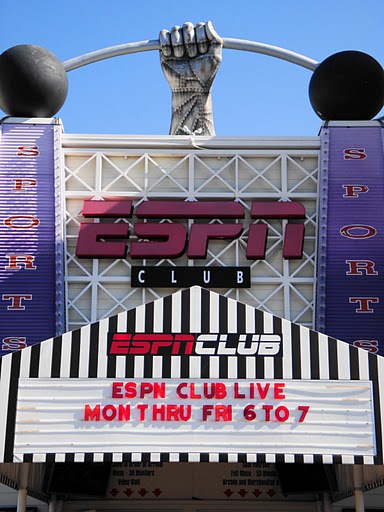 Overview:
Nestled at the far end of the Boardwalk, the ESPN Club may appear quiet by day but at night it is transformed and comes alive with the raucous cheers of the many sports fans rooting for their favorite teams. The ESPN Club has become a very popular location in Disney World for sports fans who do not want to miss a big game when they are on vacation. Much of its popularity is also due to the fact that it is the only real sports bar/restaurant in Disney World (there is the ESPN Grill at the Wide World of Sports Complex, but its location makes it much more difficult to get to). In addition, the ESPN Club's location at the Boardwalk makes it easily accessible, being just a short walk from Epcot or a quick boat ride from the Hollywood Studios.
The ESPN Club should not be confused with the ESPN Zone, like the one found at Disneyland in California. The ESPN Club is smaller and more intimate in size and does not have some of the added features of an ESPN Zone, such as a rock climbing wall, massive sports arcade, and rooms for private functions like the one in Disneyland. The ESPN Club's smaller size, however, does not limit the fun and excitement of this dining location, especially during a big game.
Atmosphere:
As soon as you enter the ESPN Club you are given the option of sitting in the bar side or the restaurant side. The bar features open seating with booths, high-top tables with stools, as well as regular tables and chairs. The bar area can get very loud, especially when there is a major sporting event being shown. It can also seem more crowded because the tables are placed closer together in this area.
If you are looking for a slightly more quiet meal, the restaurant side may be better for you.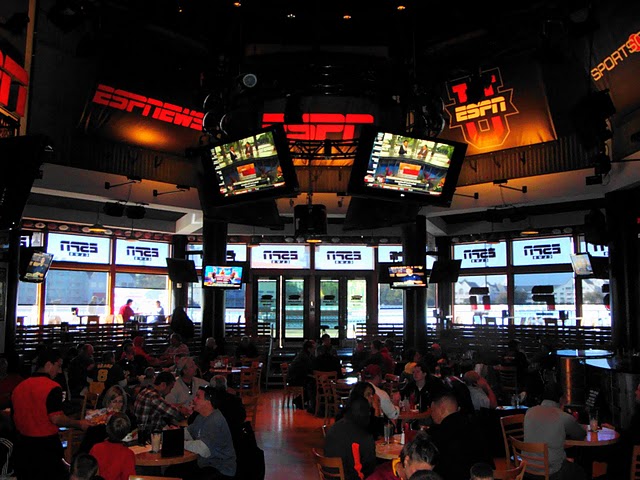 One important note: The ESPN Club can get very crowded at night and especially during major sporting events like the World Series and Super Bowl. If you are hoping to catch a specific game while you eat, it definitely helps to show up early so you will be able to get a table.
The ESPN Club is a restaurant that is just as much (if not more) about the atmosphere as the food. Everywhere you look throughout the restaurant you will see pieces of memorabilia from every major sport, both college and pro. There are jerseys representing almost every professional hockey, basketball, football, and baseball team, many of which are autographed.
The walls are also covered with balls, helmets, and photographs signed by sports legends of both past and present. Its almost as if you are eating in a sports museum rather than a restaurant.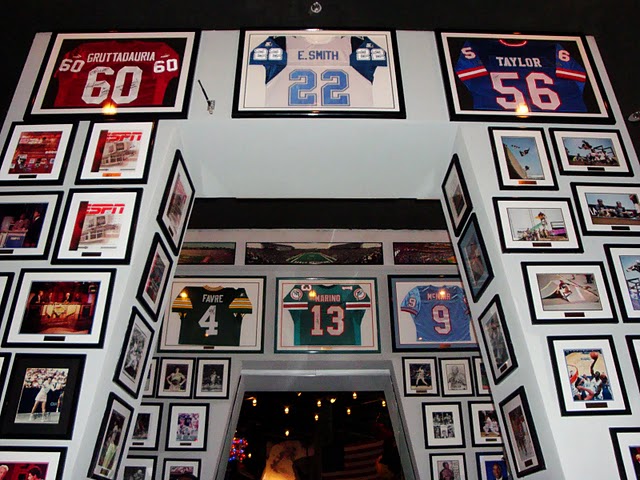 Another major feature of the restaurant's atmosphere is the hundreds of televisions throughout the dining room and bar. From your table, no matter which way you look, you will be able to see multiple televisions showing different games. The numerous amounts of televisions ensure that you do not miss a moment of the action, even when you are in the restroom.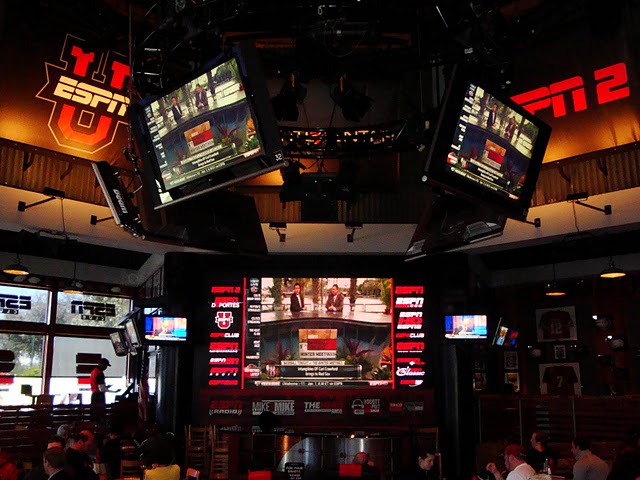 With so many televisions showing different games, different sections of tables throughout the restaurant receive the audio from different televisions. When it is not crowded, and there is a particular game you are interested in, they will seat you so that you will be able to see and hear the game of your choice. One of the best parts of the televisions is that they actually turn the audio off during the commercials.
The restaurant's atmosphere, with the noise from the televisions and cheering fans, can make it difficult to have a conversation with the other members of you party. If you are looking for a more quiet meal, consider coming for lunch when it is less crowded. This might not be the best restaurant if travelling with smaller children, but it is great for teenagers and adults. It is a very laid-back dining location that makes it a great place to relax, escape the theme parks, and enjoy a good game with friends or family.
The Menu:
The ESPN Club is not the type of restaurant you would go to if you are looking for a gourmet meal, but this does not mean that the food is not of good quality. Quite the contrary, I was very pleasantly surprised by the wide selection of offerings on the menu, which offers classic Americana and ballpark fare kicked up a notch and provides new twists on many traditional favorites. In this way, the menu pairs perfectly with the atmosphere of the restaurant, providing diners the type of food you would want when watching a sporting event.
The appetizer selections are great for sharing, especially if you are going to the ESPN Club just to sit at the bar and enjoy a game without having an entire meal. Among the appetizers are Red Wings ($11.49), which are chicken wings served with your choice of medium, hot, flame, teriyaki, or barbecue sauce and accompanied by celery and blue cheese dressing. A slight variation on this are the ESPN Dingers ($8.99), which are chicken breast nuggets served the same way. There is also a Black Bean and Spinach Dip ($8.49) served with Tortilla Chips, Macho Nachos ($9.99) topped with chili, cheddar cheese sauce, pico de gallo, sour cream, and jalapenos, and the Overtime Fries ($8.99) featuring a generous portion of French fries topped with chili and cheddar cheese sauce.
The entrée selections include a lot of variety and offer something for everyone. If you are in the mood for a burger, the menu features not only a traditional hamburger or cheeseburger, but also a Cuban Burger ($11.99) topped with dijonaise sauce, ham, Swiss cheese, and pickles, the Southwestern Burger ($11.99) served with jalapenos, pico de gallo, avocado, cheddar, and lettuce, and the Muffalata Burger ($12.49) which comes with prosciutto, cappicola, salami, provolone, and olive tapenade.
The menu also includes several different sandwiches. There is the Championship Chicken Sandwich ($13.49) topped with sun-dried tomato pesto, greens, and goat cheese on rosemary focaccia, the Triple Play Turkey ($11.49) with brie, greens, and cranberry mayonnaise on multigrain bread, and the Extreme Reuben ($10.49) with sliced corned beef, sauerkraut, and swiss on sliced rye.
If you are looking for some seafood there is the Salmon "Club House" ($14.49), which is a BLT Sandwich with a fresh grilled salmon fillet, as well as the Fish on the Bun Sandwich ($14.49) featuring fresh grilled mahi mahi on a whole grain roll. For vegetarians there is the Vegetable Sandwich ($10.49) with chilled, grilled zucchini, onion, and portobello mushrooms with greens, tomatoes, and roasted red pepper hummus on multigrain bread.
If you are looking for something more than just a sandwich the menu also features Rack 'em-Ribs ($20.99) topped with a tangy barbecue sauce and served with coleslaw, corn on the cob, and French fries, a Sports "Center Cut" Top Sirloin ($20.99) served with chipotle-lime butter, macaroni and cheese, and spicy green beans, as well as a Grilled Salmon Fillet ($20.99) accompanied by buttered Yukon potatoes and spicy green beans.
You may want to save room for dessert because there are some delectable options available. The Rocky Road Cake ($5.99) is a chocolate cake layered with chocolate mousse, walnuts, marshmallows, and fudge sauce. There is also a Lemon Meringue Pie ($5.49) with a graham cracker crust, fresh lemon filling and a toasted meringue, as well as a Boston Cream Pie ($5.99).
As I was perusing the menu I was greatly intrigued by the Italian Hot Dog. Although a hot dog is not something I would typically order when going out to eat, it was so unlike anything I had heard of before (topped with roasted potatoes, sautéed onions, and peppers) that I decided to give it a try.
While $10.99 might seem like a lot for a hot dog, it was absolutely huge. Its size also made it a little difficult and sloppy to eat; it was so big that I needed to eat it with a knife and fork and I was only able to finish about half. The hot dog did not come served on a typically hot dog bun, but rather on an Italian roll that was just slightly toasted so that it was a little crispy on the outside.
The hot dog itself was very thick and was cut in half to make it easier to eat. The onions and peppers were cooked perfectly, not too hard and yet not mushy, and their flavor really blended well and complimented that of the hot dog. Actually, although there was a good amount of onions and peppers topping the hot dog, I would have liked it if there had been even more. The combination of roasted potatoes and a hot dog may seem odd, but their flavors actually blended together very well and the potatoes added a little contrast in texture. There was also mustard topping the hot dog, but just enough to add a little extra flavor without being too overpowering.
For dessert I decided on the Bananas Foster Cream Pie ($5.99), which after a very filling entrée provided a nice, light contrast. The pie was layered with fresh bananas and custard over banana bread and topped with white chocolate whipped cream.
The pie was extremely creamy and smooth with a flavor that was sweet without being overpoweringly so. The bananas were soft, but not mushy, and there were actually fewer bananas in the pie than I thought there would be. Personally, I would have preferred it if there were more bananas and less custard. The pie came drizzled with caramel and chocolate that added a little extra flavor and sweetness, but did not overpower the flavor of the bananas. There were also white chocolate flakes atop the pie that added some extra texture. This was actually a much more elegant dessert than I was expecting, providing a contrast to the more simple, traditional offerings found throughout the rest of the menu.
Service:
Matching the restaurant's atmosphere, the service is very laid back and casual. I noticed that many of the servers seemed to be rushing around the restaurant serving a lot of different tables. As a result I really did not see my server too much throughout my meal. I was very surprised that the server never even checked with me during my meal to make sure I was enjoying everything. While the food was brought out in a timely manner I did find the service to be a little slow as I had to wait a while for the table to be cleared when I was finished and even longer for the check to be brought out to me. However, this slow service was not necessarily a problem because it allowed more time for watching the various sporting events on the restaurant's televisions. If you are looking for a quick meal this is probably not the restaurant for you, but if you have time to relax and enjoy a game then the ESPN Club is the place for you (and the service is geared more toward the latter).
Dining on a Budget:
While the prices on the menu may seem a little steep for ballpark food, you get what you pay for in terms of both quantity and quality. The portion sizes of my meal and every other dish that I saw being brought out of the kitchen were absolutely huge. One great way to save money, especially if you are dining with a group of two or more, is to just order appetizers. The menu features a wide assortment of appetizers and if you split two or three you could easily have a filling meal at a very reasonable price.
If you are looking for something more than just appetizers, the hot dogs and hamburgers offer another affordable option. Ranging in price from $10.99 to $12.49, you are getting much more than your typical hot dog or hamburger as they come piled high with various toppings. When you consider a quarter-pound cheeseburger at a Disney World quick-service dining location will cost about $7, then $11.99 for a burger at ESPN Club is not too bad because you are getting a larger burger, with more toppings, and at a better quality. In addition, you are getting a restaurant atmosphere better than any counter service location.
The Overall Experience:
The ESPN Club at the Boardwalk Resort is a really unique restaurant because it is one of the only dining locations in Disney World that offers the opportunity to enjoy various sporting events. It is a great place to escape from the hustle and bustle of the theme parks, relax, and enjoy a good meal along with a good game. If you are a sports fan then the ESPN Club is a must, especially if there is a big game that you do not want to miss. It may not be the place to go if you are looking for a quiet, gourmet meal, but it does deliver a lively, exciting, and laid back atmosphere along with a menu that provides a new twist on traditional ballpark fare that is of good quality and large portion size. It may not be my favorite restaurant at Disney World, but it is a restaurant that serves a specific purpose and does it very well. If I am ever looking for a place to enjoy some good food while watching a major sporting event, I know exactly where I will be going.
Check out Reader Reviews of the ESPN Club and post your own too!