RADP – Day 2 – Epcot!
Actually we didn't make the early meets at all today – we *really* needed to get out and run this morning (since we have this pesky marathon/half marathon coming up in four weeks!), so we went out and ran for 45 minutes or so this morning. If the weather is like this in January (~50 degrees) I will be pretty happy.
So we didn't make it into Epcot until after 11:00. We were walking around World Showcase and went by the new Karamell Kuche in Germany.
For a change it didn't have a huge line when we went in. As annual passholders we were able to get a free small sample of caramel corn, but also got a bag of it and a big chocolate caramel cookie. Yummy. I love Storck's chocolates (Riesen is my favorite), so I'll have to get back there again and see what they have that I haven't tried before. The stuff in the display case looks really decadently delicious!
Today's weather was beautiful – sunny and in the low to mid 70s. Definitely the nicest day we have had. Not quite shorts weather for me, but it was comfortable in a t-shirt and jeans – and actually I was getting too warm when just standing in the sun.
We went to the "It's 5:00 Somewhere" Meet at the Cava del Tequila in Mexico, only to find that it didn't open until 12:00! Sean, Pam, Julie, Kevin, Lee and I decided some food would be a good idea first, so we went over the the newly remodeled cantina. We were able to eat inside the dining room (because the table service restaurant wasn't open yet). It's really quite nice, and the tables on the water side should have a good view of IllumiNations!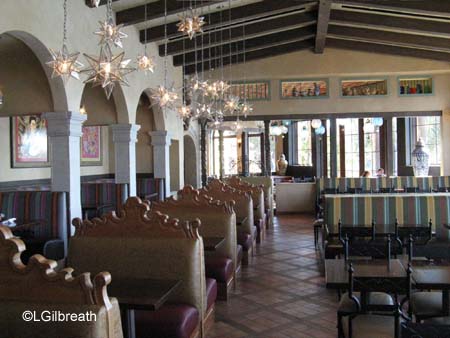 The menu is quite a bit different. We had the Emapandas de Queso and the Tacos de Pollo. They were both pretty good.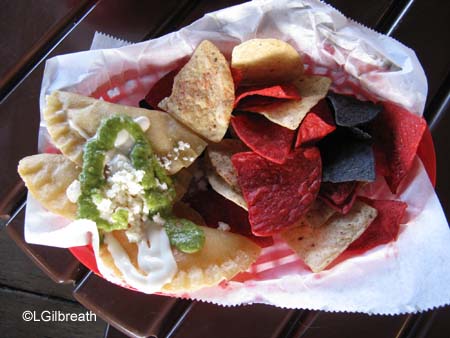 When we got back to the "Cava", the tequila meet was in full force. 🙂 The menu has all kinds of different (and unusual) types of margaritas – avocado, cucumber and jalapeno to name a few. Lee stuck with beer, but I had a pomegranate margarita that was very good – pretty strong, though.
We'd already eaten, so we didn't have any of the food, but others said that it was pretty good. We had a very good server, David, who seemed to really enjoy our group. So let's just say that it was a very happy group that left there about 90 minutes later. 🙂
The "Big Meet and Greet" (BMAG) was at the International Gateway at 1:30 – I was told that there were 52 people there. We missed those of you who couldn't make it. And I think most of us thought of our friend Randy Birbaum, who passed away several years ago.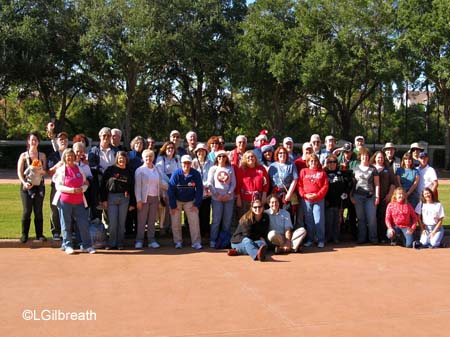 (Click on the photo to see a larger version of it.)
The BMAG is always a time to connect with people you haven't seen in a while, or to finally meet in person people that you've been talking to on-line for years, who seem like old friends once you finally meet face-to-face.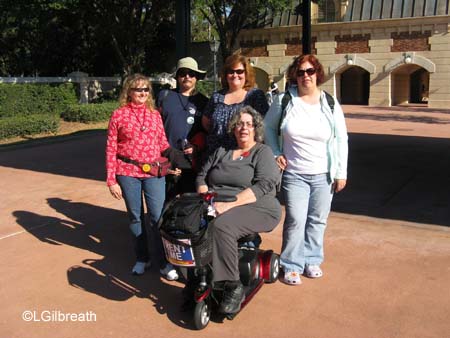 It was about 3:00 by the time the meet broke up. Lee and I decided we really needed an afternoon nap, so we went back to our room – it was very nice to have a break, and yes, we did take a nap! We left again about 5:45 and went back to Epcot, which was a LOT more crowded than it had been any other day this week. Warm weather and it being a weekend day will do that, I guess.
The 5:15 Candlelight Processional had just gotten out right before we arrived, so we felt like salmon swimming upstream as we tried to get to the Japan pavilion. And the people were lined up all the way to Morocco waiting for the 6:45 show. And those were the people with the Candlelight packages, who were guaranteed entry to the show.
We had dinner at the Yakitori House – the evening had cooled off a fair bit already, and something hot tasted good. I had the Tempura Shrimp Udon. Lee had the Japanese Curry, but that really does not photograph well…it looks like mud.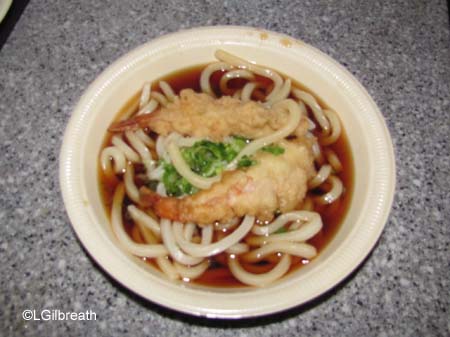 Our friend Tony was singing in the Cast Choir at the 6:45 Candlelight Processional – we didn't even try the standby line, but instead stood all the way at the back, like we did the other night. There were a lot more people doing that, too! Whoopi Goldberg was tonight narrator, and I think that was also a big draw for people coming to the park. For the most part she played it straight, though at the beginning, when she said the line about Caesar Augustus' decree that "all the world should be taxed" she paused and then added "What a surprise". 🙂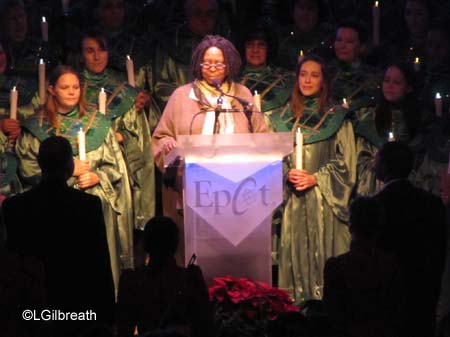 Our friends Kevin and Lori found us back there and watched the show with us.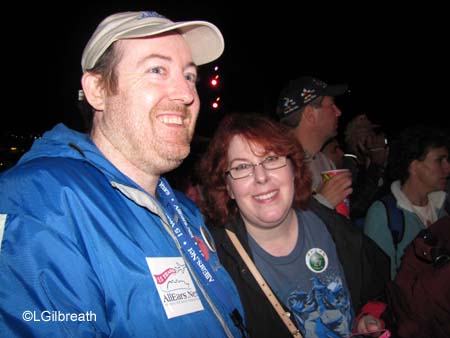 The show was terrific – as we had noted the other night, there are some differences in some of the arrangements this year. And the Candlelight Overture has several changes (we hadn't arrived early enough to hear it until tonight).
We'd planned to go the Magic Kingdom afterwards, since there was a RADP Meet to watch the Main Street Electrical Parade, but Kevin and Lori were getting Facebook posts and text messages which made it sound like MK was wall-to-wall people. So we decided to go have something to eat instead. We started off at Beaches and Cream, but it was going to be an hour(!) wait, so we went to the Dolphin Fountain instead, and were seated fairly quickly. Kevin, Lee and I ordered milkshakes – don't these look yummy?
Lee and I had eaten earlier, but we were hungry again and decided to split the Salmon Salad, and that was very good. I've always been pleased with the food I've had at the Fountain. Kevin and Lori enjoyed their "Build-Your-Own" Burgers, too.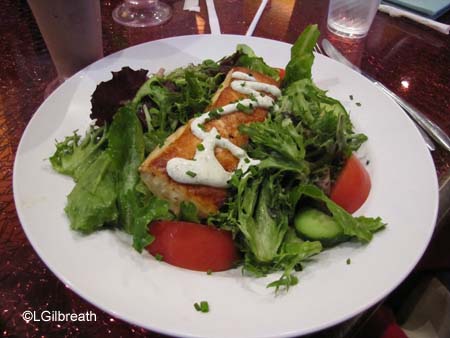 We said goodbye to Kevin and Lori – Kevin was headed off to Magic Kingdom anyway, since it's open until 1:00 a.m.! As we walked back to the Boardwalk we could see IllumiNations going, so we stopped along Crescent Lake in front of Jellyrolls to watch the finale and the holiday finale. I think you actually see the holiday finale better if you are a little further away – it's SO huge that you really can't see it all if you're around World Showcase Lagoon. It's still very impressive, and one of my very favorite things about the holidays!
Tomorrow is Magic Kingdom day – that's always fun. I'm getting to bed early enough tonight that we should be able to make the morning meets this time.
One more photo from the Iluminations holiday finale: