I think this is going to be short – it's been a very long day and I'm tired!
Today was Magic Kingdom day. The day started off absolutely beautiful, with a cloudless blue sky.
First meet of the day was Splash Mountain and Thunder Mountain. Fortunately they had turned off most of the real excessive splash effects. We had 19 of us on Splash Mountain, and we walked right onto the logs – there was no line even though it was almost 10:00 by then.
There were 25 of us for Thunder Mountain – several people who didn't want to do Splash Mountain joined us.
We had time before the Hall of Presidents meet so we're walking, we're walking over to Haunted Mansion. Notice that it's still sunny. When we came out of Haunted Mansion 20 minutes later (no line, but the ride stopped 6 times while we were in there!) it was completely overcast and the wind had really come up – and the temperature had dropped.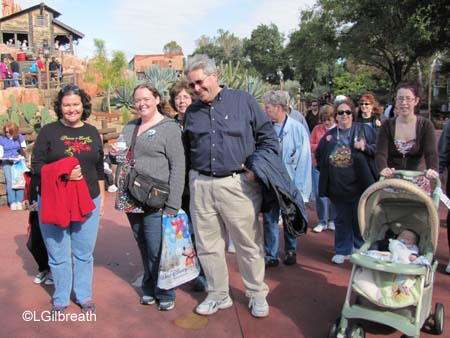 Instead of doing Hall of Presidents we opted to have an early lunch, hoping to beat the crowds who would descend on Columbia Harbour House when it started raining. And it started raining just as we headed over there so our timing was good.
The theme of the meet was "Hall of Mediocre Presidents", so we were all charged with cheering for various not-so-well known presidents when they were introduced, like William Henry Harrison, Millard Fillmore, and Calvin Coolidge.
It was raining when we got out of there, though fortunately it never rained all that hard. Our next meet was Pirates of the Caribbean, followed by a stop at the Dole Whip place. We had 29 for our ride on Pirates – we filled several boats. There were actually a number of takers for the Dole Whips – though several of us opted for egg rolls instead.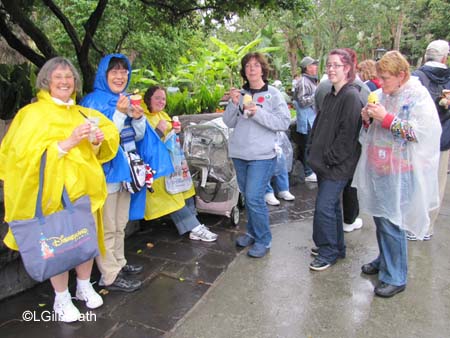 Lee and I did a little shopping before meeting back with the group at Stitch's Great Escape. (We did a LOT of attractions today!) The group kept getting smaller every time – the rain had stopped by then, but the temperature kept going down, too. Quite a few of us defended the galaxy against the Evil Emperor Zurg. I've gotten so used to the lasers in California (that are not fixed to the console) that it was hard to use the ones here.
The TTA (now Peoplemover) Ride-a-thon was next – the idea was to go around 5 times. Lee did twice, and I did three times – I think there were only seven people that went around all 5 times.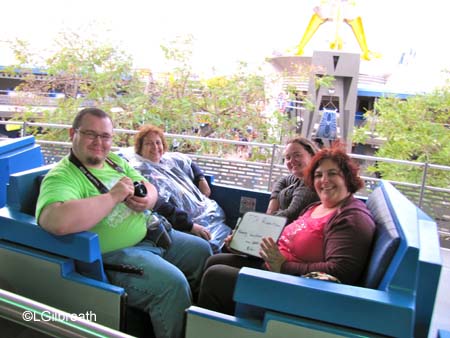 We'd gotten Fastpasses for Space Mountain before riding Buzz Lightyear, so we did that. I don't think Lee and I had ridden it since it was refurbished. It seems a little smoother than it used to be.
Kevin, Lee and I wanted to see the Castle Lighting show at 6:15 – we were able to get a very nice spot in front of it – there weren't a whole lot of people. It's a beautiful castle…much more impressive than the one we have at Disneyland.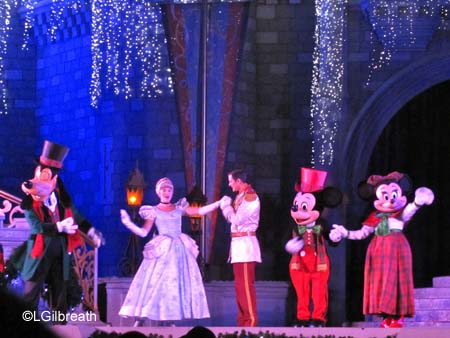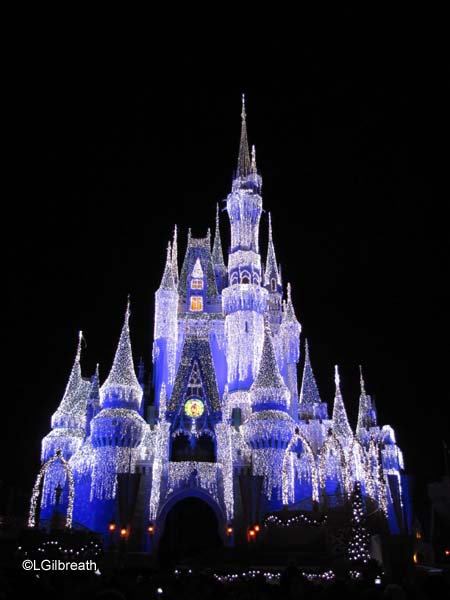 It was really getting chilly…We took the first bus that was going back to any of the Epcot Resorts, which happened to be Yacht Club/Beach Club. Walked over to the Dolphin where we had dinner with Kevin at the Dolphin Fountain again – it was early enough that we were able to walk right up and be seated. We were all interested in something WARM – no one had ice cream this time! 🙂
Lee and I came back to the room to put on the warmest clothes we had before going to Epcot. Yikes, it was cold in the wind!!! We did a little shopping, and found a Christmas Mickey sweatshirt for Lee that we'd seen at the Magic Kingdom, but not in his size. Then we met up with the faithful (or foolish) few who had braved the elements to come out for the RADP Illuminations Meet. There were only six of us. We started at Norway, but the wind was blowing straight at us so we moved to Germany…and so did the wind. We stuck it out anyway – it really was a great spot. We had a very moving sing-a-long of "We Go On" and "Let There Be Peace on Earth" – when we weren't dodging fireworks shrapnel. 🙂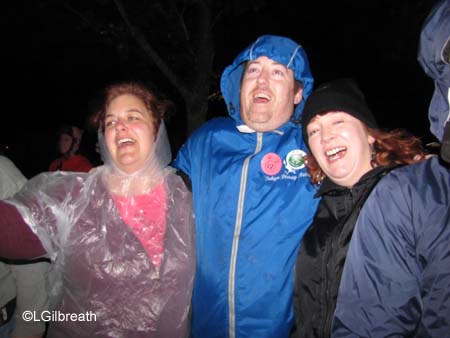 That holiday finale is still an insane amount of fireworks.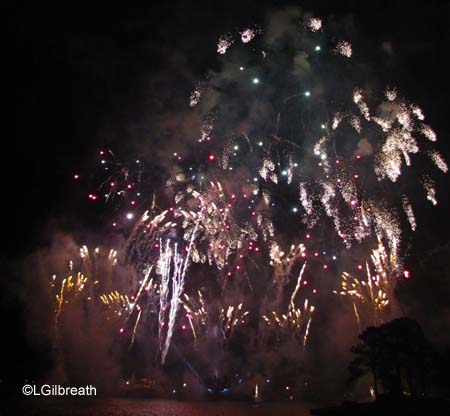 Tomorrow is Studios day – and is supposed to be one of the coldest days of the year. Down to the 30s tonight, and supposed to be windy and barely in the 50s tomorrow. This is Florida??? (It was 80 in San Diego today!)