RADP Day at Disney's Hollywood Studios. It was COLD today. Windy all day, and I don't think the temperature ever got above 45. How cold was it? It was so cold that the gardeners were covering a lot of the plants because they are expecting a hard freeze tonight.
It was so cold that I think everyone (even the Canadians!) was wearing at least three layers.
It was so cold that a priority seating was not to be had anywhere in the park, and even the ABC Commissary had a 30+ minute line to order.
And, if you can believe this, it was so cold that there was a line to get into Sounds Dangerous!
Still, about 20 of us braved the cold and came out for the Rock'N'Roller Coaster and Tower of Terror meets at 9:30. The line for RnRC was 10 minutes when we went in, and 40 minutes when we came out. And it was chilly in the building when we were zipping around in that super-stretch limo. My fleece earband really protected my head and neck on those corkscrews, though – usually I get banged around a lot on those.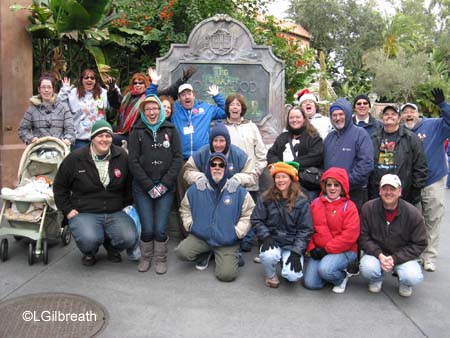 Our group of 14 had its own library room on the Tower of Terror – that was fun. We didn't get our own elevator, though – we felt a little bit sorry for the 7 poor unsuspecting folks who had to ride with us.
Because of the cold, several of the meets we'd planned were canceled or changed. We were supposed to do the Backlot Tour, but that sounded like torture on a cold day. So a lot of us went into One Man's Dream instead – I hadn't seen the current version of it. Some of the exhibits were different, but the movie was still the same. There was a family behind us who all fell asleep during the movie – a couple of them were even snoring!
Lee and I went to Mama Melrose for lunch with some of the group. It was inside, and, bonus, the food was really good, too! We had a very nice meal. I ordered the goat cheese ravioli and Lee ordered the Chicken Parmagiana, and we shared. They were both good. We also shared a half carafe of Sangria – it tasted good even if it wasn't warm. 🙂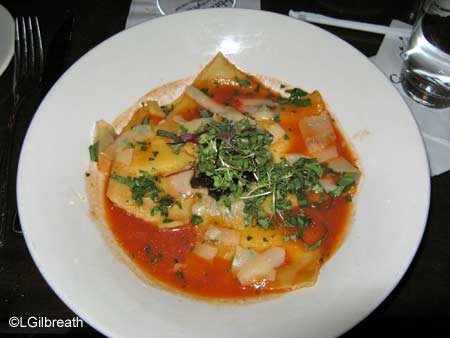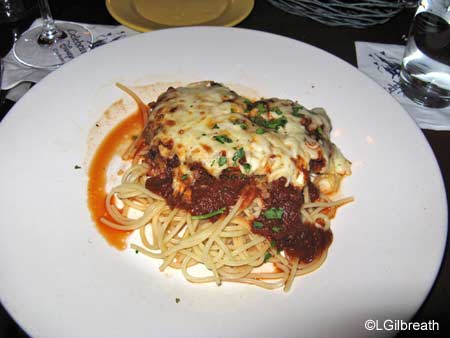 A couple of our table mates ordered this Tomato Mozzarella salad – doesn't it look wonderful?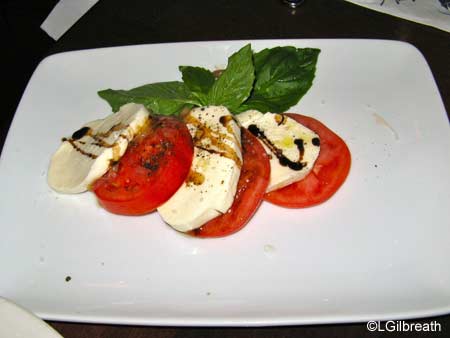 After lunch was the "Bad Santa Tacky Gift Exchange". This was another meet that was moved indoors – even though the sun was out it was way too cold and windy back at the Backlot Cantina. So we went to the ABC Commissary instead. Which was busy, but we managed to find a place for most of us to sit. The idea was to bring a tacky white elephant type of gift, preferably from your hometown. So we had snowglobes from Pennsylvania and Nashville, keychains and magnets from Cape Cod, a shot glass, some chocolate candies, and even a couple of souvenirs from Canada. It was fun.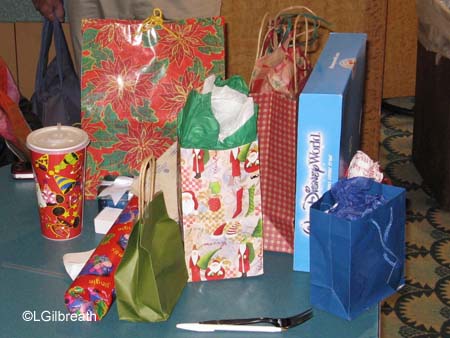 Afterward we posed with some of our gifts at the statue of Betty White, who has a special place in our hearts after one of those "you had to be there" meets two years ago.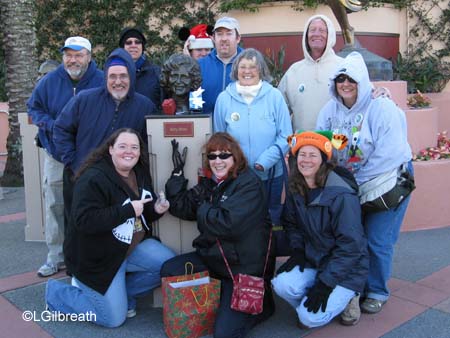 Most of us went to the Great Movie Ride – it was indoors! Not much of a wait, and we got the cowboy side, which I prefer.
Every time we went back outside after being indoors for a while it felt colder! We had some time before the last meet of the day so Lee and I went to the Backlot Cantina, which is selling some specialty drinks for the holidays, and we got the Captain's Hot Cider – hot apple cider with a shot of Captain Morgan's. It tasted really good – but even in an insulated cup it didn't stay warm for very long! We wander along the Streets of America, where the Osborne Lights are, while we were drinking it. Even during the day when the lights are off there were some things to see. We found this Jack Skellington-themed ornament – appropriately enough it was outside the office of the Funeral Director. 🙂 We also found the Halloween cat that they place somewhere different every year.
The final meet was the Toy Story Mania meet, where we used the Fastpasses that we'd all gotten when we arrived that morning. The standby line was 120 minutes!!! Maybe at that point people didn't mind standing in line for two hours as long as they could be inside where it was warmer.
It was even colder when we came out (the sun was completely gone by then), so several of us went to see MuppetVision. Ahhh…warmth! Sean and Pam had the idea to have a quick dinner at the Tune-In Lounge and then go to the Osborne Lights – but lots of other people had that same idea and it was packed. So we went back to the Backlot Cantina for some more holiday cheer (Lee got the Bailey's Coffee this time, though), and then went onto the Streets of America – it was less than 10 minutes until the lights came on. It started snowing – it was cold enough tonight that it really could have been REAL snow!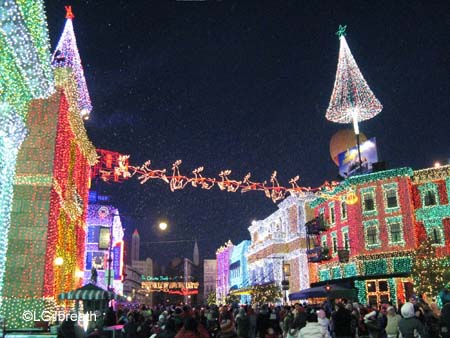 We also found Catherine and Amy back there – one positive thing about the cold is that it really keeps the crowds down!
By that time it was 38 (wind chill of 29) and it wasn't really getting colder, but we'd been out in it enough that we were feeling it a lot more, so after watching the lights "dance" several times we called it a day. We walked over to the Dolphin with Amy and Catherine (that was a LONG walk in the cold!) and had a nice mellow dinner at Picabu. There were very few people in there so it was quiet. And the food was pretty good (and the 20% DVC discount is nice, too).
The usual final RADP meet is for miniature golf, but I think it was a unanimous decision that mini golf would be No Fun tonight. So after dinner we walked over to Kimono's in the Swan, where part of the group had gathered, and were planning to sing Karaoke later. Even that short walk between the Dolphin and Swan felt very cold! But it's really windy along that causeway. I said my goodbyes early but Lee decided to stay. And it's been over two hours and he's still not back, so he must be having a good time. 🙂
It's hard to believe that the RADP Meet is over, and that our trip is also over – we leave tomorrow. 🙁 It went so fast! It was wonderful to spend so much time with terrific friends who are so much fun to be around. It would have been nice to have weather that was a little warmer, but I know that the joy of friendship warmed all of our hearts over the last four days. I enjoyed the meets, and the impromptu get-togethers, and the opportunities to spend time with some people that I didn't know quite as well.
Each RADP meet is different, and they all have their special and memorable moments – I'm sure we'll all remember the cold weather this year, and the Mediocre Presidents meet, and of course Kevin and Lee appearing as Santa Claus, and how good baby Anthony was on his very first trip to Walt Disney World. Until next time, my friends!
We'll have a little bit of park time tomorrow, but not much.