All good things must come to an end…and today was the last day of our trip. It went way too fast!
This was our coldest morning yet – 28 degrees at 8:00 (but felt like 20!). Still, it was a beautiful clear sunny day – hard to believe it was so cold until you went outside. Not nearly so windy as yesterday, though, so if you were in the sun it felt a lot warmer.
We packed our bags (bought lots more stuff this time than we usually do – but some of it is Christmas gifts) and lugged them out to the car – it was up to 30 degrees by then. Then we met our friends Paul and Ilene for breakfast at Flying Fish. They have been serving a scaled down version of the Kouzzina breakfast menu while Kouzzina is closed (it opens tomorrow – we were very disappointed to miss it).
I'd tried to call for a Dining Reservation but they said nothing was available – but the restaurant was pretty empty when we arrived. So maybe they just never managed to get it completely into the system since it was for such a short time. Paul, Ilene, and Lee all had the American Breakfast – eggs any style with bacon or sausage and toast or croissant. It also comes with breakfast potatoes, but Lee and Paul asked to substitute the sweet potato hash instead.
I had the scrambled eggs with feta, tomatoes, and spinach. Those were quite good. They came with bacon or sausage, breakfast potatoes, and a croissant.
We said goodbye to Paul and Ilene, who were headed to Animal Kingdom (cold day for that park, since there aren't very many indoor spaces), and we walked into Epcot, since we wanted to do some shopping. Something we hadn't done much of because it had just been too cold at night – once we got back inside the room we didn't want to go out again!
As I mentioned it was a beautiful day, end even though the temperature was not much about 34 by then, it felt pretty good if you were in the sun – as long as you had some kind of jacket on. But the temperature dropped a LOT if you got into the shade.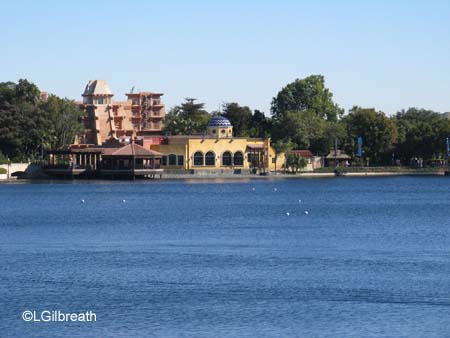 A lot of the ground coverings and the topiaries had been covered to protect them from the cold – the white covering looked like snow from a distance. But it was strange to not see any of the topiaries – and I'd never gotten a photo of them on this trip, either. Oh well.
I was surprised that the fountain was going – though I don't think it was as high as usual.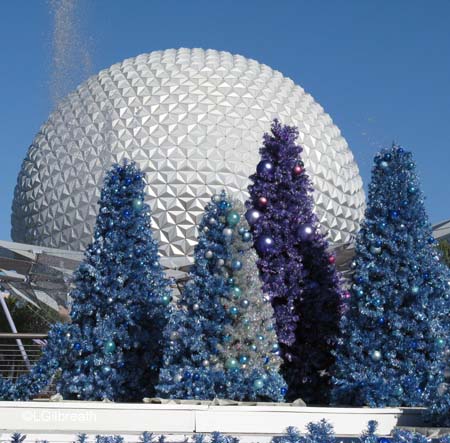 We finished our shopping, but still had about 40 minutes before we needed to be back to our car, so we wandered the long way around World Showcase, and I took some photos along the way. It didn't seem to me like some of the pavilions were decorated as much as they have been in the past.
We saw the outside of the new Via Napoli restaurant in Italy.
And the big gingerbread house inside the Liberty Inn.
But all too soon it was time to leave for the airport. Along the way we went through one toll station that was showing some holiday spirit.
It seemed like a very quick trip, with so many things that we didn't get a chance to do – we never had a chance to resort hop and see the holiday decorations at the monorail resorts, and didn't even spend as much time (or take as many photos) in the Epcot resorts as I usually do. We never saw the Voices of Liberty – I think this may be the first trip that I've never seen them at all!
Despite all we didn't do, we still did a lot of things, and had a wonderful time with friends – and that was really the main purpose of this trip – the parks are just an excuse to get us all together.
Lee and I will be back in less than a month, since we are doing the Goofy Challenge on January 8 and 9. Hope the weather will be a little warmer than it was this time!