Friday – the first day of the official RADP meets. Today was Animal Kingdom Day. The RADP Meet is really not about riding rides and doing things – it's about spending time with friends that we might not see more than once every year or two. We have a good time being silly. The cast members seem to enjoy it, too, when we do something that involves them.
The first meet this morning was for Kilimanjaro Safari. Lee and I were a little late, and I arrived just as the meet photo was being taken. But I wasn't too late to be in it! 🙂 (Lee was off getting us Everest Fastpassses for later, so he missed it.)
I mentioned the cast members – one of them walked us around the back and to our own safari vehicle! Though with 27 of us, we were going to almost fill one up anyways. Our driver asked if it was a first safari for any of us – nope. So then she tried to stump us with questions. And the first thing she asked actually got us: "What does Harambe mean?" None of us knew that it means "working and pulling together". But we knew about reticulated giraffes, the difference between horns and antlers, what rhino horn is made of, and the shape of the island occupied by the flamingoes.
It was a pretty good safari with quite a lot of animals out. One of the interesting things was seeing the observation platforms that are under construction for a new Wild Africa Trek that opens next month.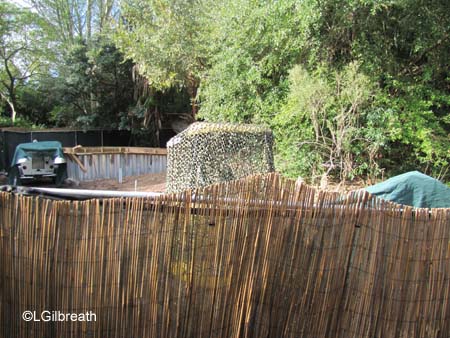 And we also saw some baby sable antelope.
And we saw the newest baby elephant.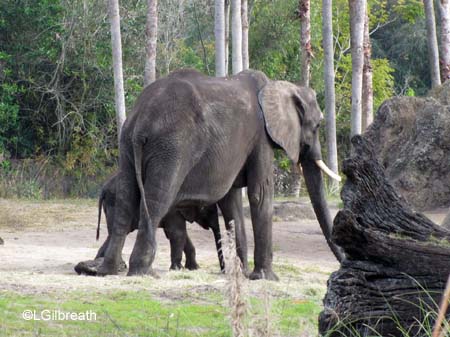 After the safari was an unscheduled "photograph the gorillas" meet, since two of the bachelors were out in full view.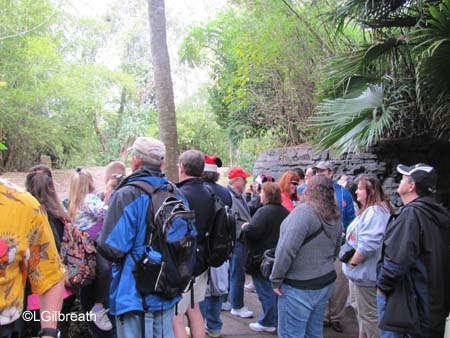 Oh, I guess I should give today's weather report – it was warmer – in the upper 60s, and mostly sunny. I still wore a light jacket just about all day, though. The park seemed a bit crowded to me today, more than I would expect for an early December day.
A smaller group of us took the train to Rafiki's Planet Watch: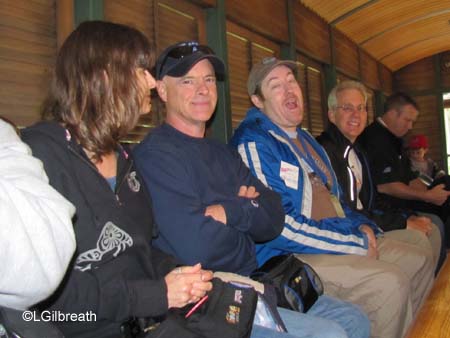 Unfortunately(?) we had missed the 10:30 veterinary procedure – a toad enema.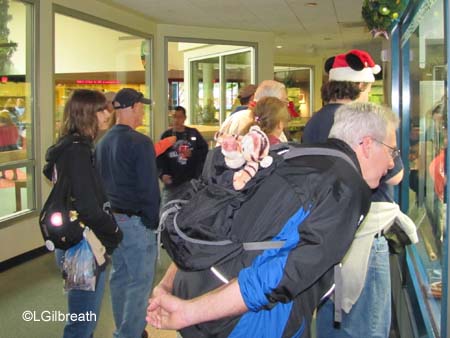 But we got a group photo with Jiminy Cricket!
We got to spend a little more time with DebK before she had to leave to catch her flight home. 🙁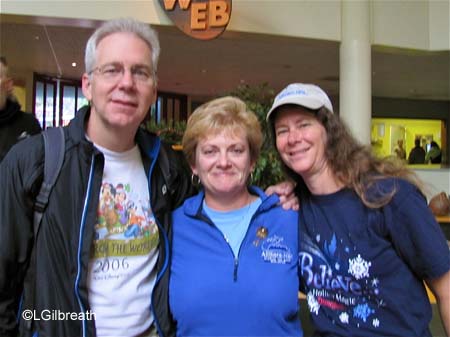 Most of us had lunch at Yak and Yeti – I don't really care for the food there, so I had a chocolate muffin from the nearby Tea Shop. There's a nutritious lunch for you! After lunch we went to the Maharajah Jungle Trek.
We saw these blackbuck mock-fighting:
There was lots of activity over where the white-cheeked gibbons are – it's a family group with mom, dad, 10-month-old baby, and 3-year-old daughter. The baby was initially clinging to mom, but we also saw him swinging on the ropes on his own!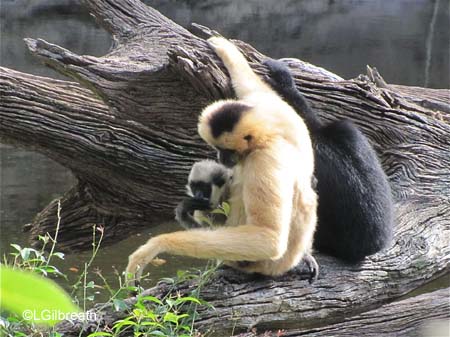 We were supposed to ride Expedition Everest at 2:00 but it was down. REALLY down, as in they had to walk people off of it – even the ones who were in this train!
Some people went to find Nemo – Lee and I wandered through Dinoland and Camp Minnie-Mickey – I always enjoy seeing the character-themed Christmas tree they have there at this time of year. (This is Pocahontas' tree.)
We met the group back at the Dawa Bar, and watched Mickey's Jingle Jungle Parade from there.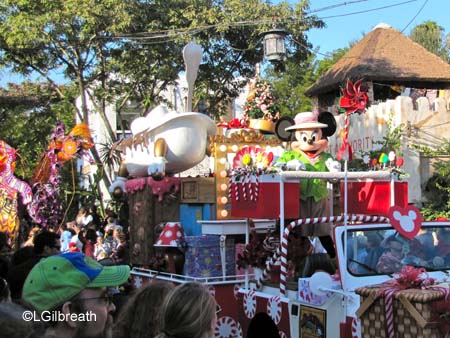 I hadn't noticed the "Naughty" and "Nice" lists posted on Santa Goofy's float – interesting that Donald seems to have made both lists, and Stitch is definitely on the "Naughty" list!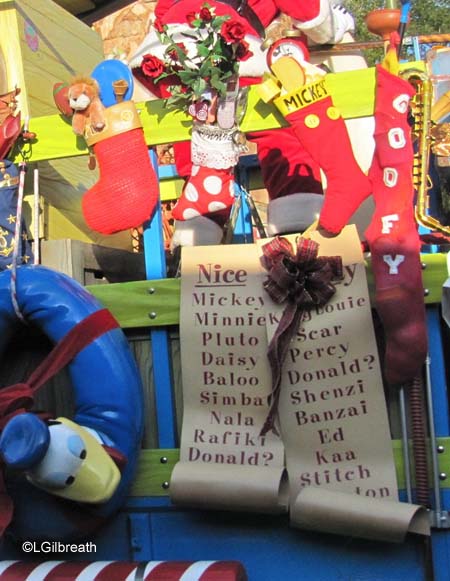 Tonight was one of the highlights of the meet – the Open House hosted by Charlotte and Jan at Old Key West. They put out quite a spread, though other people bring some food and drinks to share, too. But they (and their husbands!) do most of the work. There were about 45 people this year, and we all had a wonderful time.
We had an unexpected surprise this evening – an appearance by Santa Claus! Kevin, one of our RADP friends, is Santa at his local mall, and he had brought his costume with him. Most of us took turns sitting on Santa's lap and telling him what we wanted for Christmas.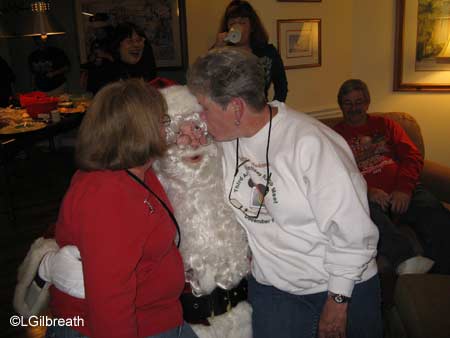 The "Santa-razzi" were in full force! 🙂
After a while Santa said goodbye, but a little while later Kevin came back – but so did Santa! I didn't know who it was until he spoke, and then I realized that it was Lee! He was a really good Santa, too.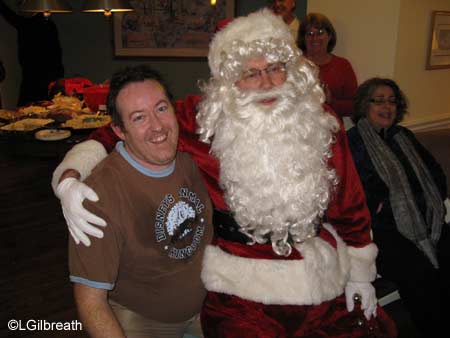 It was a great day – it's so much fun to get together with this terrific group of friends.
Tomorrow is Epcot day.