This is the second part of my 2010 Holiday Storytellers blog. In case you missed Part 1, I will repeat the introduction:
The Holiday Storytellers in Epcot have become a wonderful, must-see, tradition for me. Each country around the World Showcase has a very talented storyteller who shares the holiday traditions in his or her country with all that gather around. The Storytellers are entertaining and sometimes quite comical, but always tell a story to help get you into the holiday spirit.
Even the countries that don't celebrate Christmas have storytellers. They tell of similar holidays, and the traditions that are celebrated in their countries; such as New Year's, Hanukkah, Kwanzaa and Ramadan.
It's important to pick up an Epcot "Times Guide" as soon as you enter the park. The times for Stoytellers are listed on the back. It's not easy to see all of the Storytellers in one day, but with careful planning, and a lot of walking, it can be done. Unfortunately the times are not set up so you can just walk from one country to another and listen to the stories.
Without further ado, here are a couple pictures of the from each pavilion along with a video of the Storyteller. I've included a brief description taken from the Holidays Around The World Guide.
Japan Pavilion: "Hear the fascinating story of the Daruma doll and the Japanese customs of the New Year!"
Times: 12:50, 1:25, 2:15, 3:05, 4:00, 4:50, 5:35: 6:45 PM *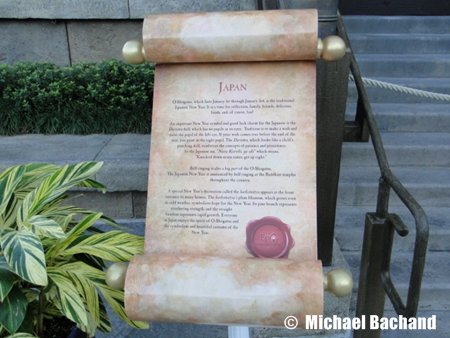 Morocco Pavilion: "Drum with Taarji as he celebrates the customs of Ramadan and Ashura."
Times: 3:00, 4:35, 5:40, 6:30, 7:20, 8:10 PM. *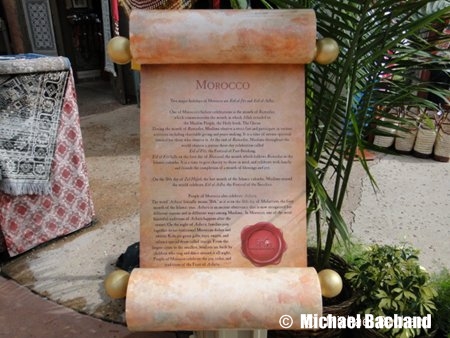 France Pavilion: "Listen as Pere Noel's letter from a little girl, Babette, recreates the magic of Christmas through the eyes of a child."
Times: 11:20, 11:55, 12:30, 1:15, 2:05, 3:30, 4:20, 5:05 PM. *
United Kingdom Pavilion: "Spend a moment with Father Christmas, as he makes traditions from Christmas past just as fun today!"
Times: 2:45, 3:55, 4:35, 5:25, 6:10, 6:45, 7:30, 8:25 PM. *
Canada Pavilion: "Be amazed as Nowell (Papa Noel), a Canadian lumber jack, tells of his journey to find Santa at Christmastime – and wait for the journey's end and a big surprise."
Times: 11:15, 12:00, 12:45, 1:30, 2:30, 3:30, 4:30, 5:15 PM *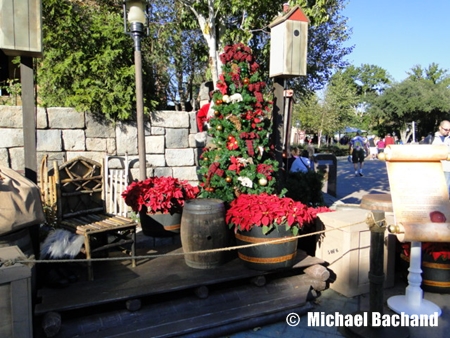 * Please note that the times posted are from the Times Guide for Nov. 28 – Dec. 4, 2010. The times may or may not change from week to week so please check pick up a copy of the Times Guide as you enter the park.
Well, I hope you enjoyed the photos and videos! Let me know if you have and comments about these wonderful storytellers. I'd love to hear from you!
NOTE: When you comment it is now necessary to enter the word "blog" (without the quotations) in a box that's located just below the "Comments" box.
Did you know AllEars® has a huge area called Rate and Review where you can share your dining reviews with fellow readers? Check it out!
Finally, be one of the first people to hear when my newest blogs go live on AllEars.net by joining "DisneyMike's World" Facebook group.
Well, that's all for now. As my good friend says, "see ya real soon"…DizneyMike
Hey, see this little green button? Well, it allows you to share this blog with your family and friends quite easily. Give it a try; it's pretty neat!