Taking a Family Member with an Autism Spectrum Disorder to Walt Disney World
A trip anywhere with a family member who has an autism spectrum disorder is sometimes a challenge, but there are few places better able to handle that challenge than Walt Disney World.
Disability Access Service Card
A few years ago, the Disability Access Service Card (DAS) took the place of what was formerly known as the Guest Assistance Card. It is intended for those whose disability prevents them from waiting in a conventional queue. The DAS allows them to schedule a return time comparable to the current queue wait for the given attraction. Once this "virtual wait time" is issued, they are free to do other things until their listed return time. Return times are valid until they are redeemed prior to park closing. This service can be used in addition to Disney FastPass+.

NOTE: The DAS card and any other special accommodations must be arranged in person, on site, at Guest Relations. Accommodations cannot be made in advance of a visit. However, there are a few very popular attractions (Slinky Dog Dash in Toy Story Land, 7 Dwarfs Mine Train in Magic Kingdom) that now have cast members stationed at a checkpoint near the queue where you can arrange for the Disability Access Card (and rider switch, also known as child or "baby swap"). Look for the sign near the queue.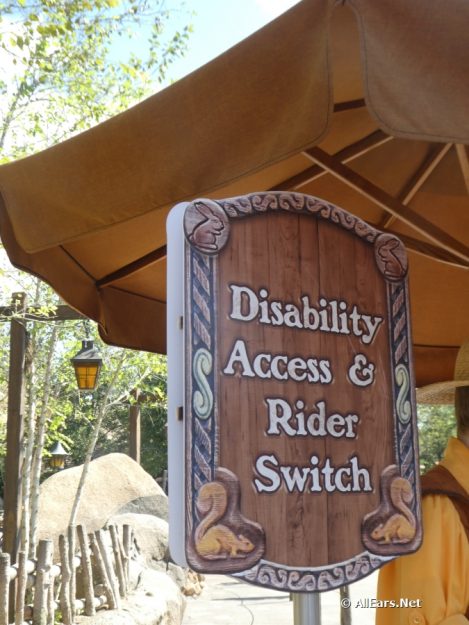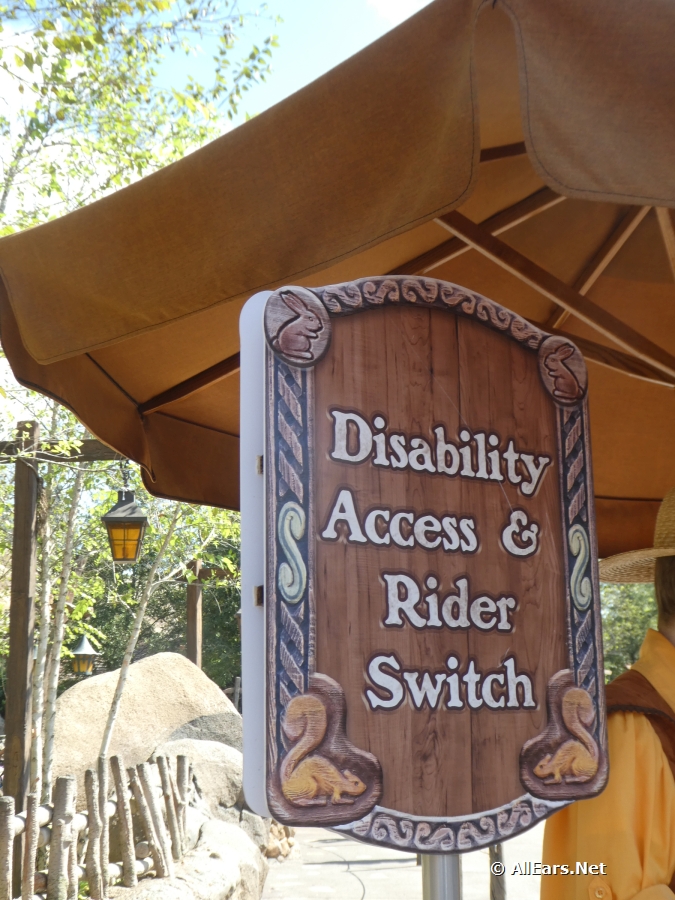 The process to obtain the DAS Card is as follows:
1. Visit Guest Relations at the theme park of your choice.
— In the Magic Kingdom: City Hall
— In Disney's Animal Kingdom: Guest Relations Lobby (near main entrance)
— In Disney's Hollywood Studios: Guest Relations Lobby (near main entrance)
— In Epcot: Guest Relations Lobby (near Spaceship Earth)
2. Explain that you need a DAS card because your child/family member has a disability that prevents them from waiting in a conventional queue. You do NOT need to have documentation from a physician/therapist regarding the disability.
NOTE: Be sure to have everyone in your party present when you go for the DAS card, so the cast member can make sure everyone's MagicBands (or My Disney Experience accounts) are linked.
3. In some situations, Guest Relations staff will discuss special accommodations for those who are concerned the DAS Card doesn't meet their needs (e.g., for those whose disability limits the duration of their visit to the park or limits their choice of attractions). Based on your specific needs, other accommodations may be provided.
NOTE: Guests whose disability is reliant on using a wheelchair or scooter do NOT need a DAS Card. Depending on the attraction, guests using a wheelchair or scooter will either wait in the standard queue or receive a return time at the attraction comparable to the current wait time. Guests with additional needs should discuss them with Guest Relations.
4. Once you are given a DAS Card, the DAS Cardholder will be registered by having a photo taken. (A photo may be taken of the guardian instead.) The Guest Relations Cast Member will then review the card and ask for a signature. Once you get a DAS card at one park, it works for all the others as well for the length of your stay. You do not need to go through this process at every park, or every day of your vacation.
5. The cast member will then ask which attraction you want to ride first. Based on the current wait time for that ride, the cast member will schedule your first return time, in effect giving you a "virtual wait time" that allows you to do other things instead of waiting in the queue.
6. At your return time, go to the attraction. Enter through the FastPass line, not the Standby line.
For the rest of your stay, the DAS card works like this: If your family chooses a ride that has a long wait, ask the cast member there for a return time for your party for that ride. They will scan your MagicBand (or MDE card, if you're not using MagicBands) and the system will record your return time for your entire party. For example, if the wait is one hour for Space Mountain at noon, you might receive a return time of 1 p.m. You and your party can come back anytime after 1 p.m. to ride Space Mountain. This means anytime until the park closes, unlike FastPass, for which you have just a one-hour return window.
During that hour (or longer), you can use your time as you'd like. Once you come back to the ride, you enter through the FastPass line. You must complete the ride for the return time before you can book a return time for another attraction. You can also use FastPass+ for other attractions while you are waiting for your DAS return time. This allows your child/family member to ride other rides without having to endure the really long wait times. When you do go for your DAS return time, the family member who has the DAS card MUST be there. (This should be obvious, but unfortunately there are some who try to take advantage of this accommodation.)
A DAS Card is good for 14 days based on the type of ticket you have. (Annual Passholders can obtain DAS Cards that are good for up to 60 days.) Once the card expires, you will need to return to Guest Relations when you need to have a new card issued. If possible, bring your expired card to help expedite future visits.
Things to Consider from Stacy Dunn, mother of a child with an autism spectrum disorder:
Should you go?
The first question you should ask yourself is, "Should I go?" If your child is hyposensitive, has a Disney perseveration and needs a lot of stimulation to learn, you'll have a great time, provided you plan ahead.
On the other hand, if your child is hypersensitive, afraid of crowds and noise, and afraid of large, stuffed characters, think about it carefully. If you think it will work out, though, give it a try.
How should I plan ahead?
First, decide what you can afford in the way of lodging. Staying either at a hotel on the Boardwalk or the Monorail line, if you can afford it, makes it MUCH easier to get out of the parks in the middle of the day.
Make sure you speak to your child's doctor(s) before the trip to get their advice.
NOTE: You do NOT need to have documentation from your physician/therapist regarding your child's disability.
Before You Go:
Call in advance for dining reservations. A hungry, waiting child can get cranky, and short waits for mealtimes are useful. This is especially true if your child wants to attend Cinderella's Royal Table for breakfast (a difficult reservation to secure), or if your child is on a GFCF diet, so that the restaurants know.
A picture schedule of the whole trip, including a picture of your airline's itinerary and the hotel, and any interim stops can be useful, particularly if you have some kind of icon or sticker your child can move when s/he gets to the destination/completes the action. Many airports have websites so you can determine what restaurants are there and set your child's expectations accordingly, or bring food if necessary.
The airport and its security lines can be a difficult experience both for autistic and typically developing children. Be sure to familiarize yourself with your local airport's restrictions. Get copies of every one of your child's prescriptions, if s/he takes any kind of regular medication. It may make your trip through the airport speedier.
If you need to have a lot of stuff on hand to get your child through an extended plane trip, remember to allow plenty of time to get through the checkpoint, and in addition to goodies for the plane, make sure you take enough distractions to get them through the endless lines at the airport.
Obviously, bring all important "lovies" and toys. Start your packing list at least two weeks before you go, then if you find you've forgotten something important, you can add it before it becomes a problem.
Any Shoulds/Should Nots?
Consider making some business cards describing your child's condition and asking people not to make eye contact, attempt to jolly the child, etc. because they are making matters worse. Keep these in your pockets for tantrums. My husband and I jokingly call them "buzz-off" cards, (or sometimes other names when we're really in a bad mood). They are also useful to give to hotel detectives if your child has a really off day.
Under no circumstances spend the whole day in the parks! You'll be really sorry by 5 p.m. There's a lot of stimulation here and your child will need some time to process it. We usually try to go early, come back in the afternoon and then go back in the evening when you can. This is much easier if you're staying at a Boardwalk or Monorail hotel.
I was also told to show the DAS to the handlers during character visits, so that the characters know the situation with the child — it gives the character a better idea of what to expect. Some cast members may have some training with regards to autism, so they may be more aware of what's going on.
I have not had a big problem with this, but I have heard other parents complain that sometimes people will glare at them (or make rude comments) when they use the card. I only had this problem once (and never at Walt Disney World.)
Do: Get out of the park in the middle of the day. Don't spend your whole day there or your child will be in full tantrum mode by afternoon. If you are traveling with an adult who has autism or Asperger's, as well as a child, be even more sure to set up some breaks from the crowds and noise.
Do: Get a copy of the Walt Disney World Official Guide for Kids. It has really useful information about noise levels and darkness in the rides, so you can judge whether or not a ride is appropriate for your child.
Do: Bring earphones or earplugs if your child is noise-sensitive — it can really make a difference.
Do: Leave yourself open to miracles. My daughter's first words, first snuggles, great vocabulary improvement and first full use of the toilet all happened at Walt Disney World or on the plane ride back. Something about the place has been magical for us, at least.