Disney's Hollywood Studios Archives Sounds Dangerous
NOTE: This attraction currently operates seasonally.
INTRODUCTION
Sounds Dangerous, which debuted spring 1999 at the ABC Sound Studios, allows guests to experience the use of three-dimensional sound and "binaural audio technology." This attraction features comedian and actor Drew Carey, star of the popular ABC-TV shows The Drew Carey Show and Whose Line Is It Anyway? and is located opposite Echo Lake, just beyond the ABC-TV Theater.
ATTRACTION
Sounds Dangerous – As you enter the dimly lit theater, you'll be instructed to put on the headsets you'll find at your seat. The show then begins with a short video to set up the premise: Drew Carey is an actor working on a pilot television series called Undercover Live, in which the actor wears a hidden camera in his tie. Of course, Carey damages his camera, so that much of the attraction's 12 minutes are in complete darkness. The sounds, however, are vivid and in many cases hair-raising, from the hum of a barber's clippers on the back of your neck to a bunch of angry bees buzzing in your ears. Finally, Carey bungles his way to successfully solving the crime, video is restored and you are free to exit the theater and explore the Sound Works.
Mini-Review: Many guests have criticized Sounds Dangerous as being rather unimaginative, particularly because it is performed mostly in the dark. If you're a Drew Carey fan, or if you're interested in the images mere sound alone can evoke, you may enjoy this attraction; otherwise you may want to skip it, or save it for when you've done most of your "must-see" shows/rides.
Sound Works — A hands-on area where guests can experiment with various sound effects, including creating their own sound track for different videos, such as a space battle. There are also darkened sound booths in which visitors can listen to high-quality sounds, similar in nature to the Sounds Dangerous show. Sound Works can be entered directly from the street as well as from the Sounds Dangerous theater.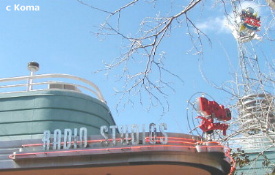 Disney Radio Studios — To the left of Sounds Dangerous, tucked away in a quiet little corner, are the working Disney Radio Studios. In addition to allowing local stations to visit, the studio broadcasts the popular Radio Disney weekday show "Mickey and Minnie's Tune Time" starring B. B. Good, as well as the nationally syndicated "Super Gold with Mike Harvey." Although the studios aren't open to the public at large, occasionally cast members come out to talk with passers-by, and sometimes even allow folks to peer inside for a quick look around.
TOURING TIPS
More than half of this attraction takes place in complete darkness. Those who have a fear of the dark should either avoid this attraction, or should sit near the rear of the theater in case they feel the need to exit suddenly.
The sounds coming through the headsets are very loud and quite realistic. Some guests, especially children, may find some of these sounds uncomfortable, in particular a segment featuring angry bees. Removing the headsets at these times should alleviate this problem.
It's possible to skip the show and head directly to the Sound Works hands-on area through the Sound Works back door.
This attraction is wheelchair accessible.
Assistive Listening Devices from Guest Services Can Be Used Here.
Restrooms and telephones are located right next to the Sounds Dangerous theater.
KIDS AND CHARACTERS
There are no characters associated with this attraction.
Kids will enjoy playing at the Sound Works after exiting the show. Be sure to allow a few minutes so they can experiment with the different effects at the sound stations.
DINING
There is no place to eat in the immediate vicinity of Sounds Dangerous, but there are several restaurants across Echo Lake and the Backlot Express counter service restaurant is just a short walk away.
Disney's Hollywood Studios Restaurants At A Glance
Menus From Around the World
Vegetarian and Other Special Diets
SHOPPING
Golden Age Souvenirs, with a wide assortment of Disney merchandise, is located right next to the Sounds Dangerous theater.
INTERESTING FACTS
To help achieve the full, 3-D sound in this show, Drew Carey wore small microphones in his ears while filming.
Watch for actress/performance artist Ann Magnuson as the director of the Undercover Live! TV show.
Sounds Dangerous replaced the short-lived One Saturday Morning sound show. That in turn had replaced the Monster Sound Show, which featured a short film with comedians Martin Short and Chevy Chase.
If you have comments or tips to share with others about Disney's Hollywood Studios' Sounds Dangerous, please email us. Thank you.