Hurricane Ian impacted various areas of Florida, but the hurricane is still moving and impacting other places in the United States.
We shared what it was like to be in Disney World during the storm, how much rain it dumped on Disney World, and how it impacted Disney World's operations for a short period of time. But now another Disney property is expected to be impacted.
As of earlier today, Hurricane Ian was accelerating toward the coast of South Carolina. The National Oceanic and Atmospheric Administration noted that there is a "danger of life-threatening storm surge" today (September 30th) along the coasts of the Carolinas within the identified storm surge areas.
Hurricane-force winds are also expected.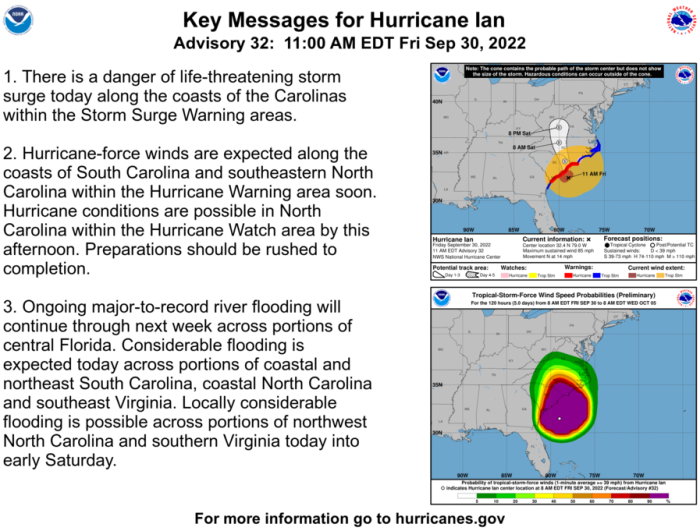 Disney's Hilton Head Island Resort is located in South Carolina and a notice now appears on the Resort's website regarding what steps are being taken due to the storm.
According to the notice, the resort is continuing to monitor the progress of the storm and prepare for adjustments.
Disney has indicated that starting September 30th, all resort amenities will be unavailable as they are planning to shelter indoors.

All resort restaurants will be closed and Cast Members will NOT be able to deliver food to guests while there is a shelter indoors guidance in place. They have advised guests to make sure they're prepared with enough food and water in their rooms to last throughout the storm.

In addition, Disney's Hilton Head resort will NOT be accepting any incoming arrivals on October 1st. You can reschedule or cancel your trip as needed, and no cancelation fees will be imposed.
You can see Disney's full message below.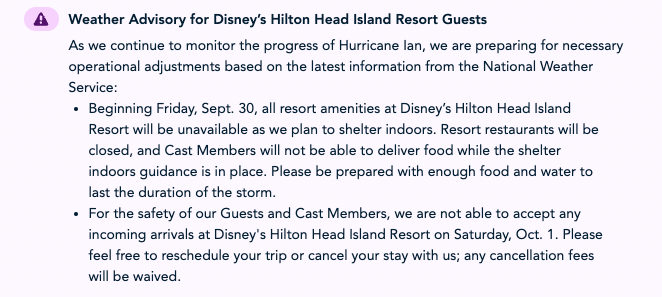 If you were planning a trip to Hilton Head, keep these changes in mind. For more details about Hurricane Ian, check out the posts below.
And stay tuned for more details.
Have you ever been to Disney's Hilton Head Resort? Tell us in the comments.