Planning a Disney World vacation includes tons of different factors, from choosing parks to ride plans to hotels to dining reservations — and more.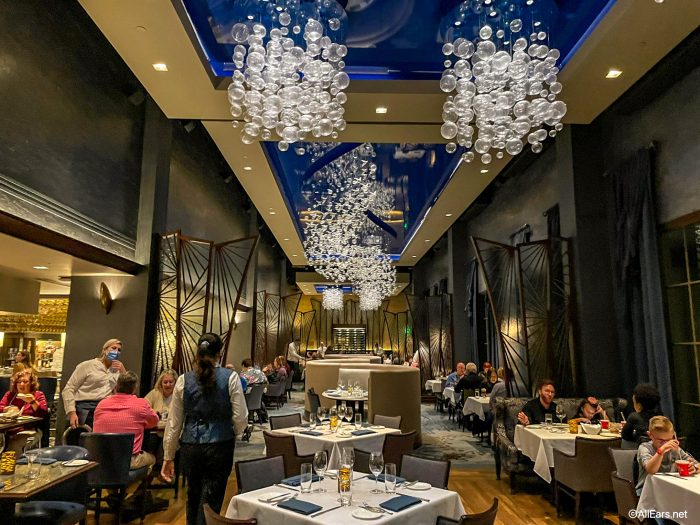 You might think scheduling your dining reservations is as simple as selecting your date and time of choice, but there are several factors you want to take into account before getting those important reservations!
Here's everything to consider before making your Disney World Dining Reservations!
Time Constraints
Advance Dining Reservations
One of the most important things to know is that advance dining reservations open up 60 days before you check in to Disney World, and if you don't mark your calendar and set an alarm, you might miss out on your reservation of choice.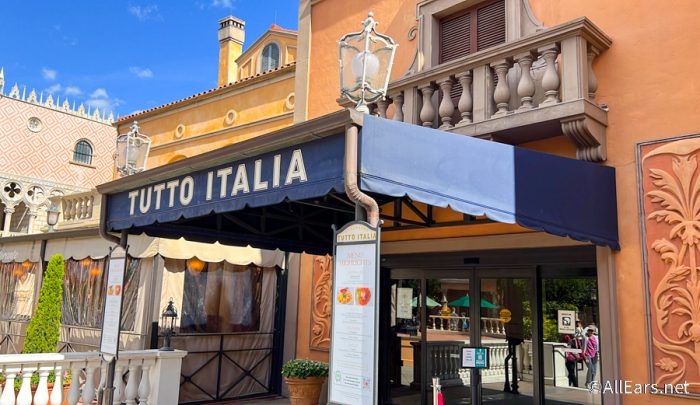 New Disney World dining reservations generally open around 5:45AM, but that's not always the case. But also, keep in mind that if you miss out initially on a reservation, you can keep checking back to see if more reservations open up. Don't give up!
Don't make a reservation for an impossible time
In order to avoid stress and a headache, give yourself a break and don't schedule any dining reservations at difficult times. If you're not a morning person, an 8AM dining reservation is probably not the best idea, and if you don't like staying late, you probably should avoid a 9:30PM reservation.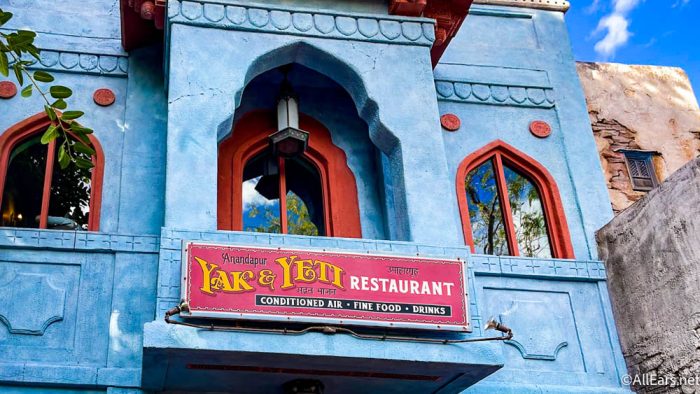 Don't schedule a reservation for very early in the morning without researching transportation options. We'll get into this more in a bit, but note that depending on your transportation method of choice, there are a few factors to consider, like when the park's parking lot opens, or when you can get in line for Disney transportation.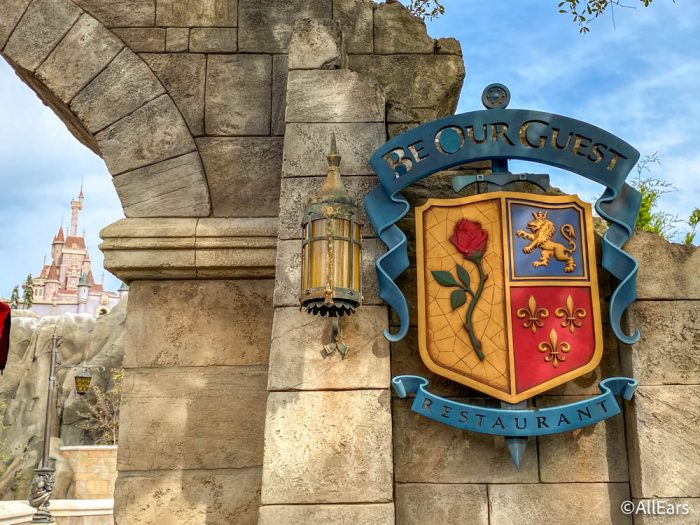 And don't forget to factor in lines! Pretty much everything you do in Disney World will take a good amount of time, so let's get into that a bit more.
Consider how long transportation takes
Travel time in Disney World can be much longer than you expect. Not only can there be long lines for transportation, especially at peak times like early in the morning, but the travel time itself can take a while.
You might think it's as simple as boarding a Disney bus for a brief 10-minute commute, but it's not. Some Disney hotels have multiple pickup areas that can add quite a bit of time, and the distance between parks like Magic Kingdom and Animal Kingdom can be substantial.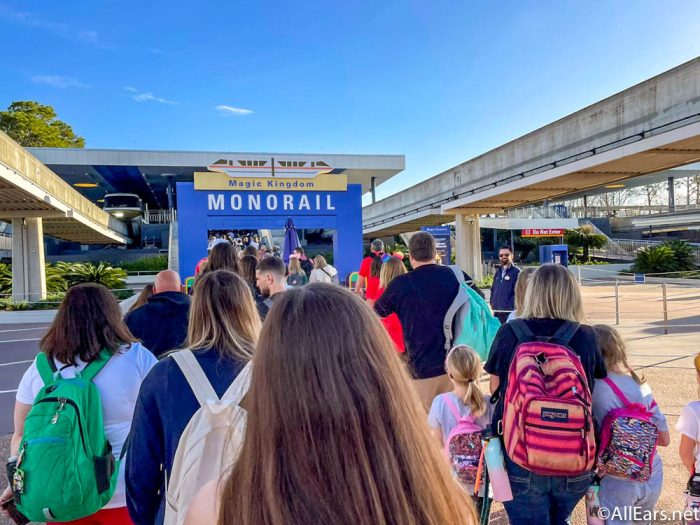 And if you choose to drive, it might not be as smooth sailing as you expect. Lines can build up at the park toll plazas, and the walk from your car can also add time. Not to mention that if you park at Magic Kingdom's Transportation and Ticket Center, you need to take another mode of transportation to get to Magic Kingdom's gates.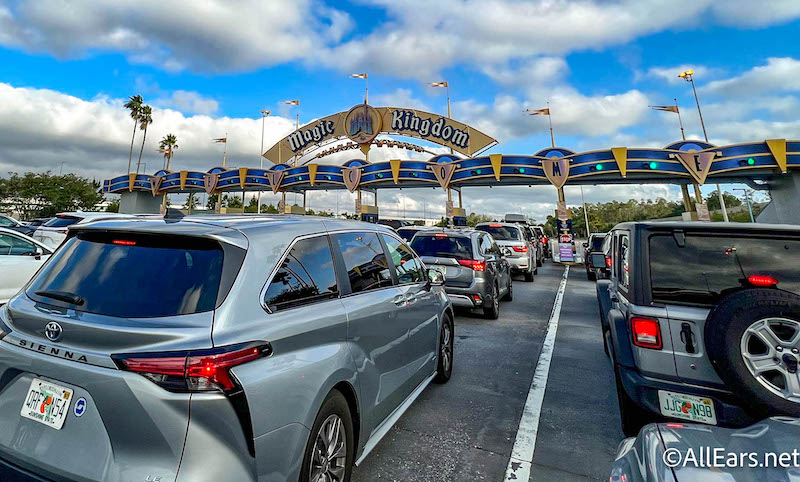 If you estimate 30 minutes for travel time to get to your dining reservation, you're probably better off adding at least another 30 minutes to that time just to be safe.
Think about what you want to do in the parks
If you tend to prioritize rides, don't schedule multiple dining reservations in one day. And perhaps most importantly, don't get in a long ride line too close to your reservation time.
Although Disney rides usually have posted wait times, they are more of an estimate than an exact time. If your dining reservation is in exactly 140 minutes and you get in line for a ride with a 130-minute wait, you're probably going to be late. Don't cut it too close!
What if you can't make it?
While Disney Parks generally have a 24-hour cancellation policy for restaurants, it can be difficult to cancel your reservation within that 24-hour window. If you're running late, it's not easy to get through to a restaurant to let them know, because calling will direct you to the general Disney dining line.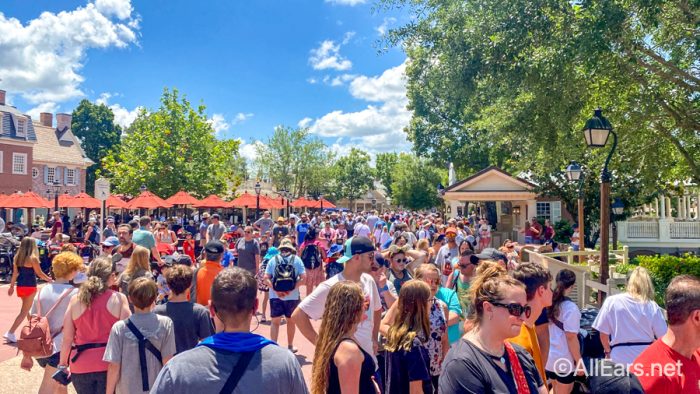 You might be able to get a last-minute cancellation if you're experiencing an emergency (like an illness), but if you're in a ride line or underestimated travel time, you might not be approved to cancel without a $10 fee (per person).
Budget
Prix Fixe vs A La Carte
Not all Disney World restaurant prices are created equal, and some restaurants feature prix fixe menus with a set number of courses for a set price, while others have a la carte menus that let you order as many items as you choose, all priced separately.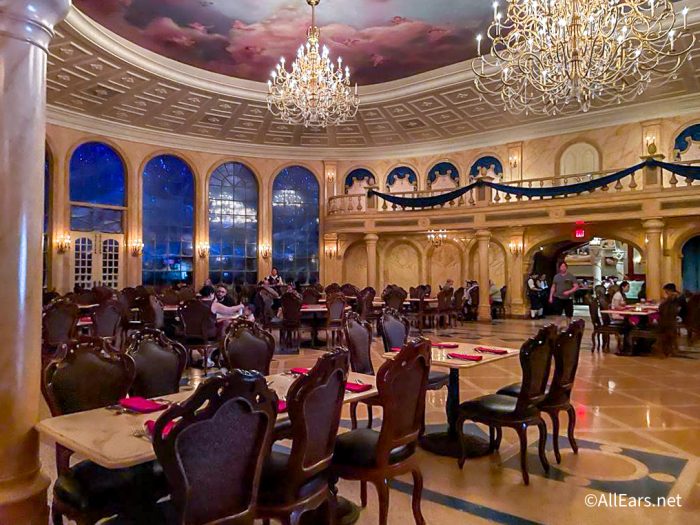 Note that some prix fixe menus include more dishes than others. For example, at EPCOT's Space 220, the lunch prix fixe menu is $55 per adult, and it includes an appetizer and an entree. For dinner, it costs $79 per adult, and you get an appetizer, an entree, and a dessert.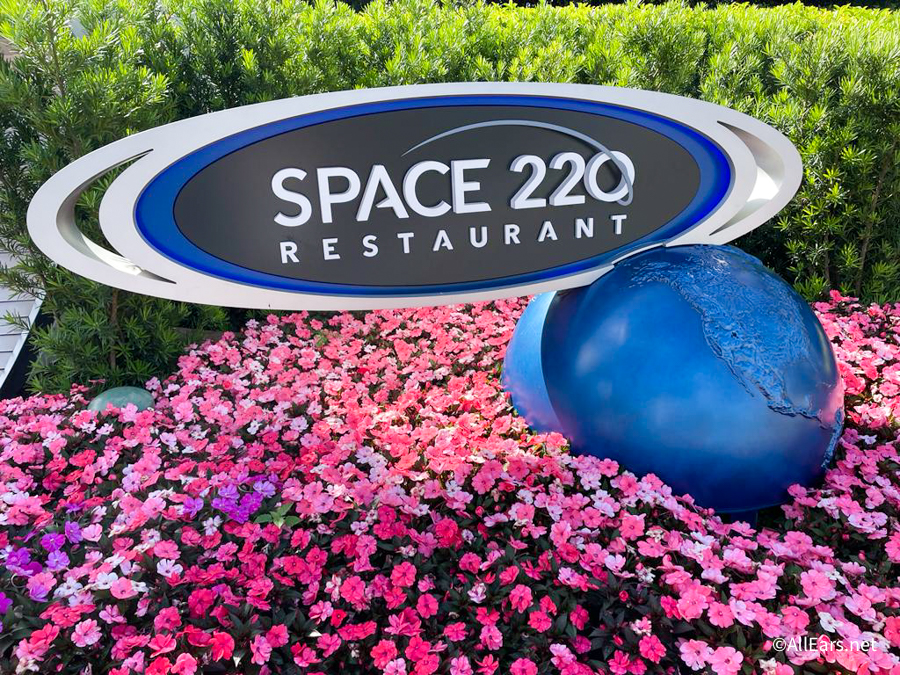 It's not a bad idea to review the menus (for each mealtime) at every Disney World restaurant you're considering, so you know exactly what you're getting into and there are no disappointments. No one wants to sit down at a restaurant and learn there that none of the menu options sound good, or that the prices are above your budget.
Buffet/All-You-Care-to-Enjoy
if you want to make the most of your food budget, buffets or all-you-care-to-enjoy family-style restaurants are good options to consider. You might be looking at a pricier bill, but it can be worth it if you really want to get your money's worth.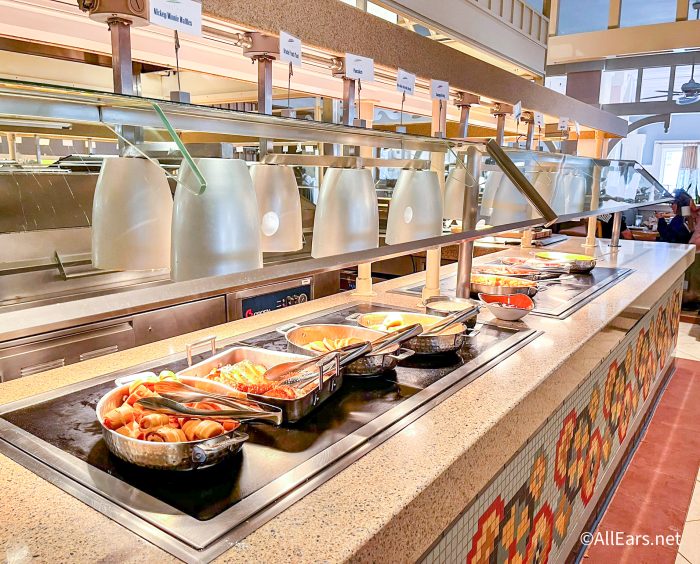 At a buffet, you're responsible for getting up to browse the food and fill your plate, whereas at a family-style restaurant the food is all-you-care-to-enjoy, brought to your table by a server.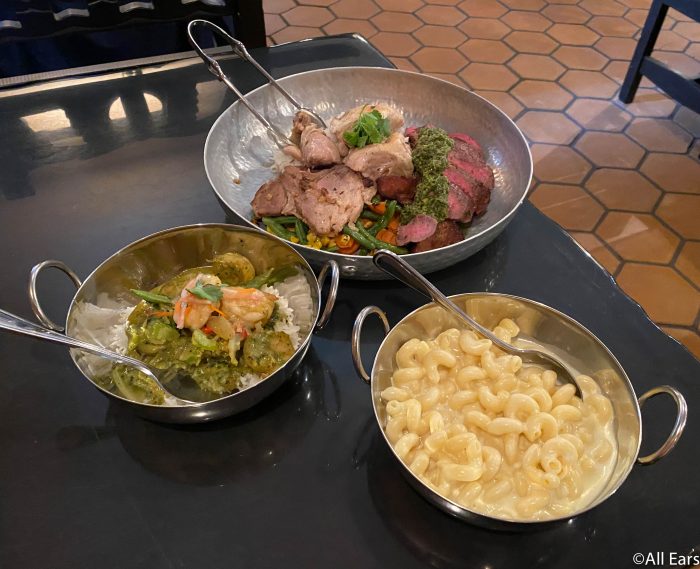 Buffet restaurants around Disney World include spots like Crystal Palace in Magic Kingdom, Biergarten in EPCOT, and Boma in Disney's Animal Kingdom Lodge (among many others), while you can grab family-style meals at restaurants such as 'Ohana in Disney's Polynesian Resort, Liberty Tree Tavern in Magic Kingdom, Chef Mickey's in Disney's Contemporary Resort, and several more.
Parks vs Outside Parks
If you don't want to purchase a park ticket just to visit a restaurant, there are plenty of restaurant options outside the parks, and in fact, some people believe you can find better meals outside the parks than you can inside them. You can visit Disney Springs for several restaurant options, with extremely popular options like Chef Art Smith's Homecomin', Wine Bar George, and Raglan Road Irish Pub.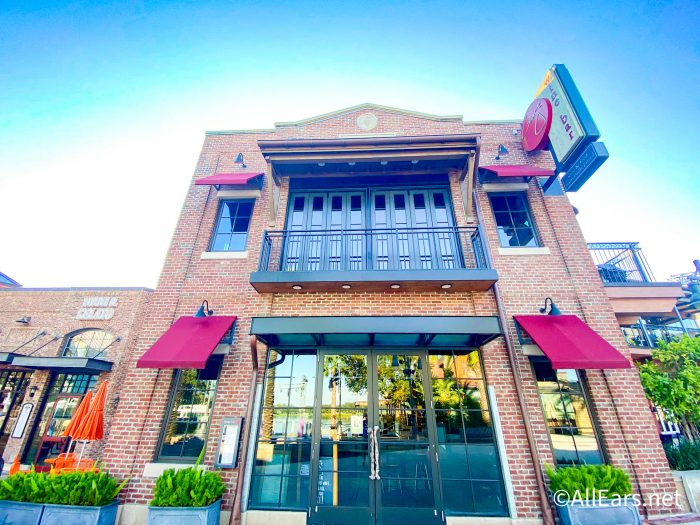 You can also find some of the most incredible Disney World restaurants inside hotels! 'Ohana, as we mentioned above, is a popular restaurant inside Disney's Polynesian Resort, and Chef Mickey's inside Disney's Contemporary Resort is a favorite character dining spot.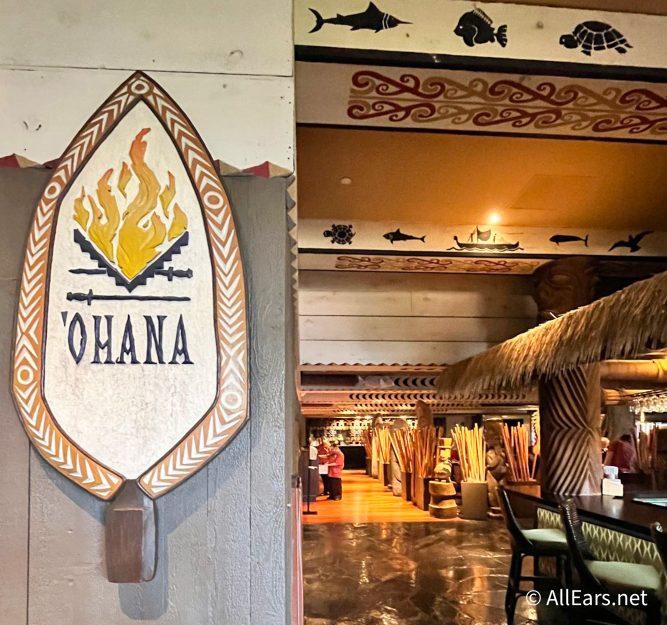 You can also find special dining spots like the Hoop Dee Doo Musical Revue in Disney's Fort Wilderness Resort (which reopens soon!) for dinner AND a show. It's important to remember that you don't need a park ticket for every restaurant in Disney World.
Park Plans
Park Reservations
Even if you have a dining reservation, remember that you still need a park reservation to get through the gate and to your restaurant. Disney's Park Pass system requires all visitors to schedule their parks in advance, and it's something you want to schedule as soon as you can.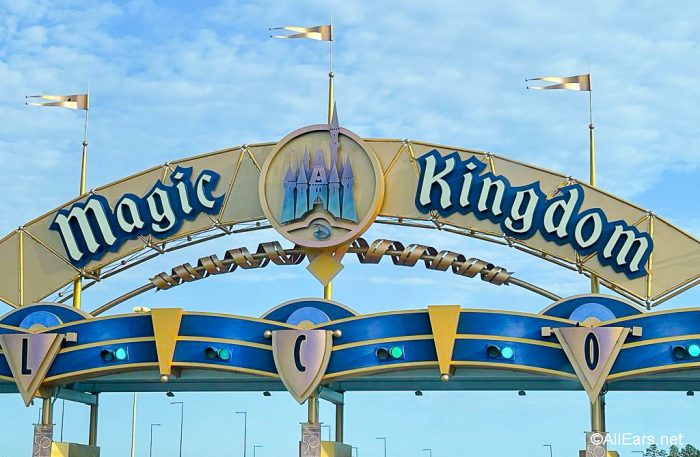 Although it's another thing to add to your planning list, it's important to have your park reservations match your dining reservation locations unless you plan to park hop (which we'll get into next!).
Tickets
It may seem obvious, but you need to have a park ticket to enter a park for your dining reservation. Just having a dining reservation and a park reservation aren't enough to enter a Disney Park.
Now, if your dining reservation is located in a park other than the one you reserved, make sure it's scheduled after 2PM and that you have a Park Hopper ticket. You need to take this into account when scheduling both your dining and park reservations in order to avoid a time conflict.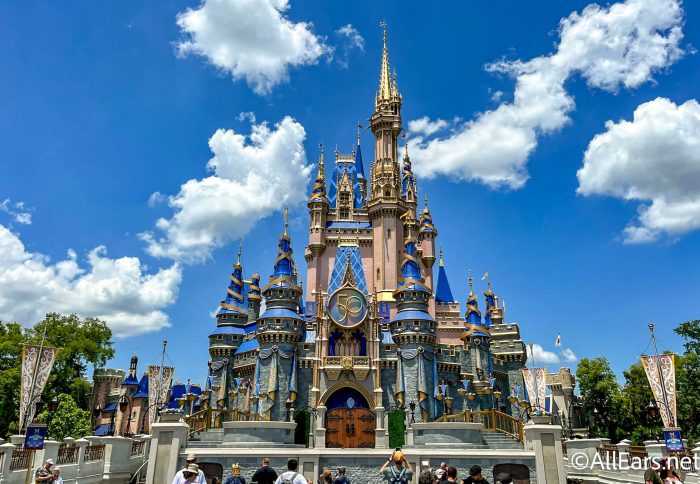 And in order to park hop, you must first scan into the park you have reserved, even if you don't arrive until after 2PM. Considering travel time (which we talked about above), you probably don't want to schedule any dining reservations until 3PM or later if you intend to park hop.
This might be a LOT to take in when you're already planning a Disney World trip, but it's important to think about these factors before making your reservations!
Keep following AllEars for more Disney dining tips and news!
Join the AllEars.net Newsletter to stay on top of ALL the breaking Disney News! You'll also get access to AllEars tips, reviews, trivia, and MORE! Click here to Subscribe!

Have you made a dining reservation in Disney World recently? Tell us in the comments!