There are lots of restaurants all around Disney World, but deciding where to eat in EPCOT can be particularly difficult.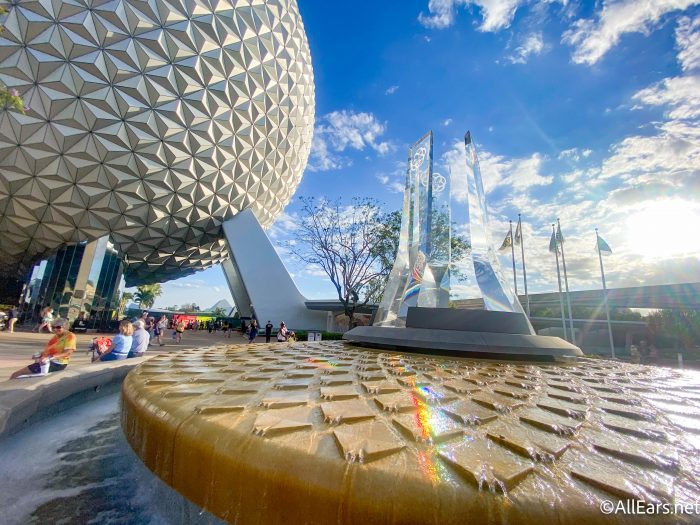 Should you go for the cuisine at La Hacienda de San Angel? How does Le Cellier rank against other restaurants? What's the #1 spot in the park? While we have shared our thoughts on some of the best things to eat in EPCOT, today we turned to YOU! Specifically, we took a look at our AllEars reader reviews and  your ratings of all of the restaurants in EPCOT (both quick service and table service).
Below is our list of every single EPCOT restaurant from best to worst according to your reviews, with direct quotes from your reviews mixed in. Let's check them out!
Here's Your Ranking of the Restaurants in EPCOT!
SCORE: 5.00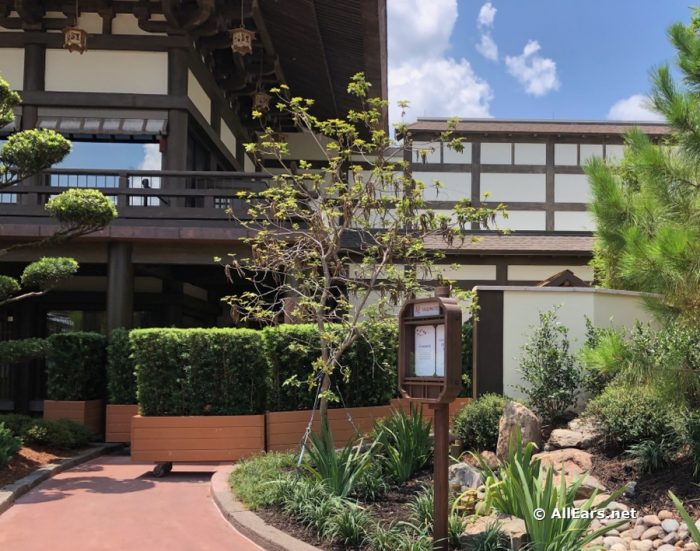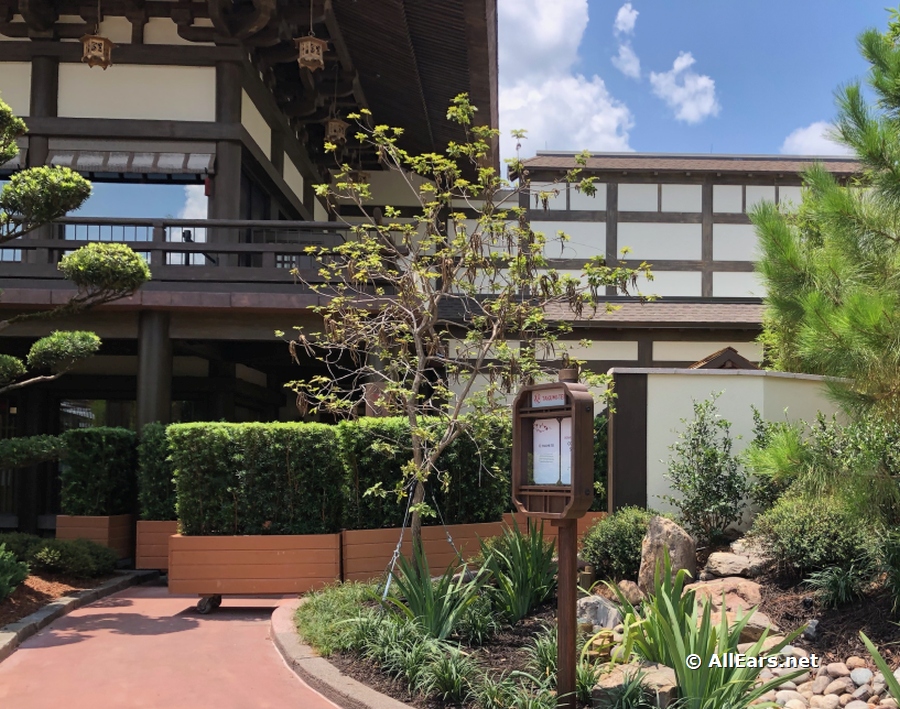 "When I saw previews of this restaurant, I knew I had to go. Unfortunately, I was somewhat underwhelmed given the prices. Everything inside is wonderfully themed to Japan, and the staff are so incredibly friendly that it gets some big points from me on that front. That being said, the food was good… but the portions we small. Very small. Itty bitty. I believe the wagyu my wife and I ordered was only 5 slices or so. The other major issue Takumi Tei has is the price. For that tiny wagyu plate and some Japanese water cake (which was not great), my wife and I spent above $300. Even for signature dining, with price tags like that I have to say it isn't worth. If you're really into Japanese culture like I am, this may be worth doing once to say you did it… but I won't ever be back unless I win the lottery!"
SCORE: 6.06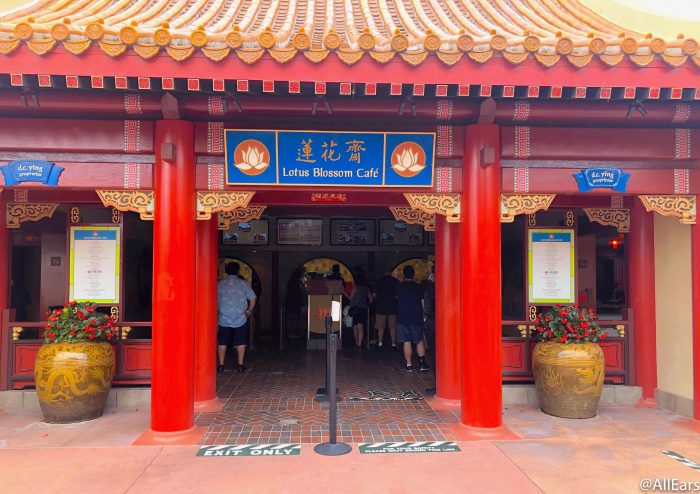 "Boring and unoriginal food. It's fine if you are starving or have picky eaters that want average Chinese food. I've had 10 times better food at the Chinese restaurants by my house."
"Southern US version on Chinese food. Great sweet and sour chicken."
"A good quick service stop while drinking around the world. It's not super authentic; definitely leans toward American Chinese food. Nothing here you can't get outside of the park."
SCORE: 6.67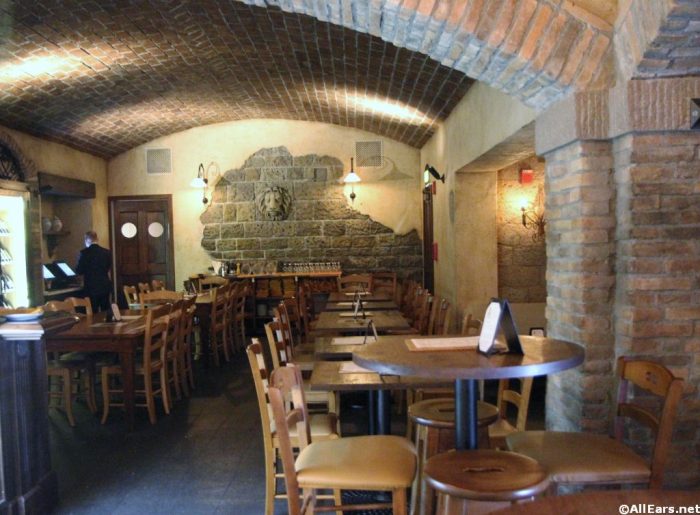 "Sadly I can't rely on this place. No reservations which is great if they aren't busy. If they are busy it's tiny and feels packed, and the wait staff is easily overwhelmed. The menu of small bites is pretty good and the wine list is huge, but I wish there was some consistency here because it has potential to serve as an EPCOT oasis."
"Wonderful place to sit and relax. Small plate menu, selection of meats and cheeses is great. Food is much better than average Italian resturants. Enviroment is authentic. Service has never been a problem. Wines are wonderful but can be pricey."
SCORE: 6.96 (note that Nine Dragons is temporarily unavailable)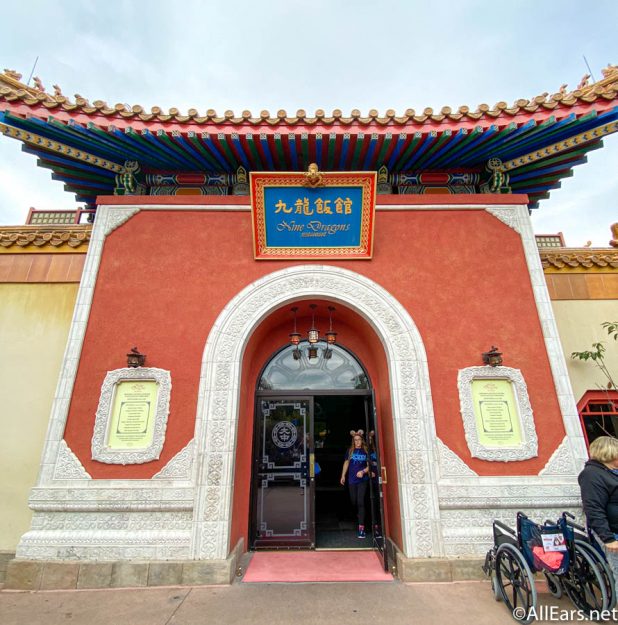 "Nothing authentic, reminds me of a local Chinese takeout place except that this is sit-down. I can say that the food is mediocre and not terrible, but the desserts are not appealing. It does have some nice views though!"
"My wife and I ate here in October of 2019. The restaurant itself was easy to get to, very clean, and the staff was friendly. The food itself was pretty good, but its not a \"Disney\" experience by any means. You end up paying the \"Disney tax\" to get food that you've definitely had before at any Chinese restaurant across the U.S. I think the most interesting part of Nine Dragons really is the alcohol options. Some of the cocktails and Chinese beers are somewhat unique and could be fun for someone who appreciates either. I don't really have any complaints, but the best way I could describe this experience was \"welmed\". I wasn't over or under whelmed. I think there are better places to eat in Epcot, especially if there are food festivals going on. If Chinese cuisine is a must have, its a good option; if you want something uniquely \"Disney\" or something that will knock your socks off, this may not be it."
SCORE: 7.00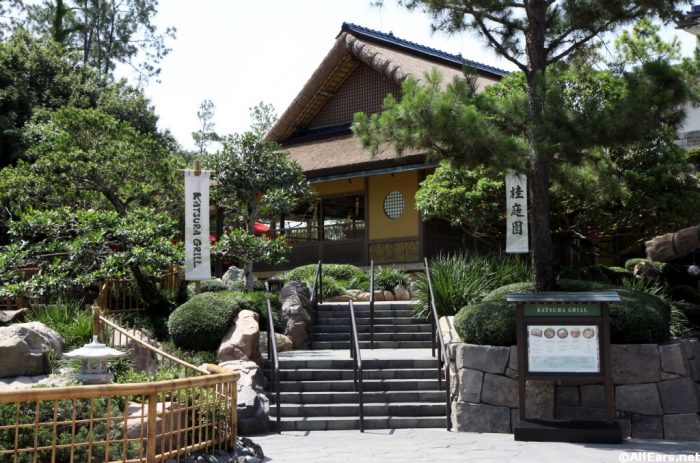 "The food is the equivalent of your hometown mall sushi/Japanese. It's not bad, but nothing exciting or out of the ordinary either. My main problem is the outside seating areas, which others have mentioned as well. While the area itself is nice, guests rarely clean up after themselves and leave trays, food and garbage on the tables."
"I enjoy chicken teriyaki. I have had it at take out Japanese and in fine Japanese restaurants. The dish had no resemblance to the picture on the menu board. No flavor. Vegetables minimal."
SCORE: 7.06
"Great views, great staff, great food, great price"
"The idea of the aquarium was great but we were disappointed with the menu selection. Even though it's obviously a seafood restaurant, there weren't many other non fish options especially for the kids. It was tough with our picky eater and it was extremely cold in there so overall we had a bad experience."
"This was our least favorite restaurant in Disney. This restaurant was loud, crowded, and kind of felt like you were in a giant box. If you were not sitting next to the fish tank, it is very lack luster. Seafood was mediocre at best especially if you live somewhere that you would be used to great seafood (ex. new england)."
"Overall good experience. Atmosphere was fun for the kids, and service was excellent. Meals were also good, although overpriced. Fun one time experience, but if you miss it, that's okay too."
SCORE: 7.27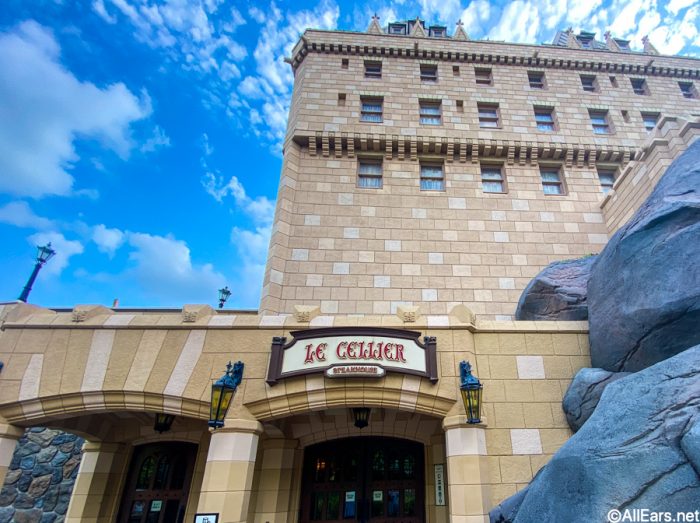 "Best ribeye I've ever had."
"Went here week of Jan 11th for dinner. Husband and I ordered the filets and whiskey cocktails on the menu. Thought it was good but service felt rushed. I don't like to rush my filet dining experience."
"Beautiful atmosphere and even better food. We were celebrating a milestone birthday on our visit, and this dinner made it all the more special. The breadbasket and cheese soup are delicious, but the steak is the reason to come back again next time we are visiting WDW."
"We love Le Cellier! The filet with mushroom risotto is one of my favorite meals in all of Disney World. If you like sweet wine, the Ice Wine flight is also very good. I also recommend the maple whiskey Brussels sprouts. This restaurant is a must do every time we go, though it is expensive as I would expect for a steakhouse."
SCORE: 7.34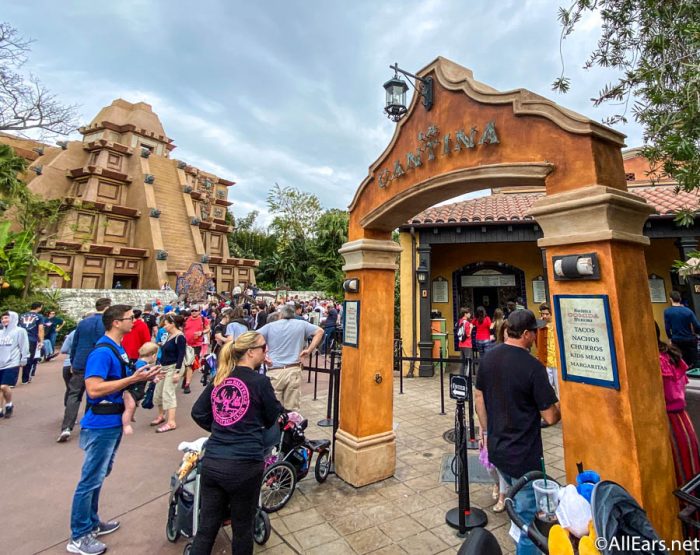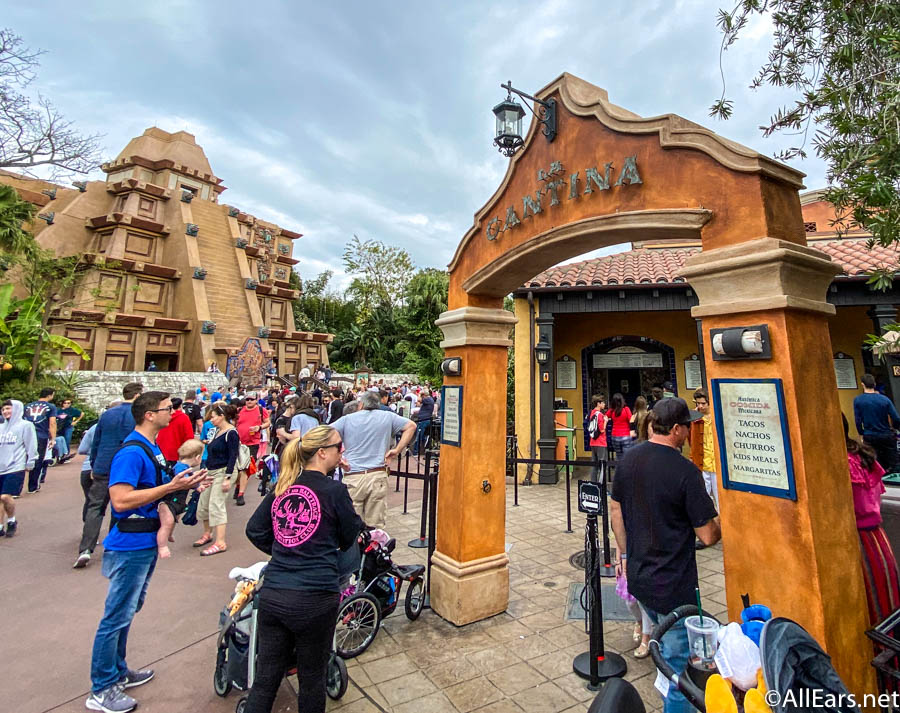 "I ate here for lunch last time I went to Epcot and it was great! I got the chicken tacos and they were awesome. Not a ton of options here, but the options they have taste great. I absolutely LOVE the seating by the water. My friend and I sat there and it was beautiful. The overall vibe of this patio seating area was AMAZING. I will definitely be going back. This is a great quick service location."
"We had the beef and chicken tacos, they were really good."
"if you want quick, Mexican food. This is your go to."
SCORE: 7.38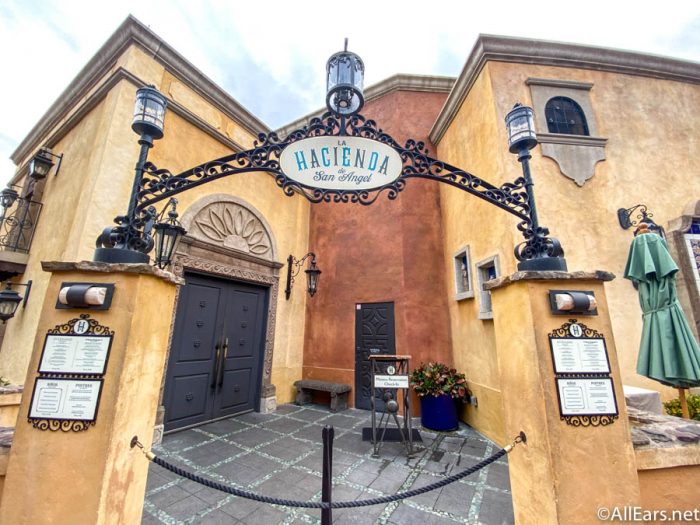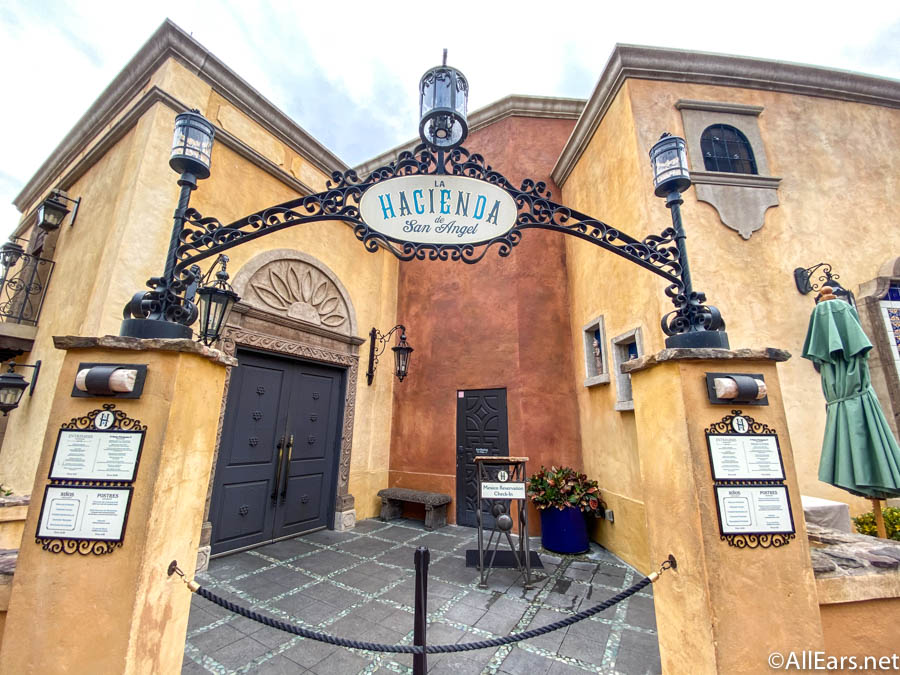 "I was so disappointed in this restaurant. I got the flautas and I couldn't even eat them. They had chunks of gristle and rubbery fat…I traded plates with my husband. He ordered the fish tacos. They were ok, but way way to sweet with that pineapple relish and didn't have enough aoli sauce. Also, the flour tortillas were thick and doughy."
"I enjoyed this restaurant! Our server was from Mexico and gave great recommendations for our entrees. I love the décor in the restaurant. I will definitely be returning. It also had beautiful views of Spaceship Earth."
"If you don't have good Mexican food where you live, then maybe this works. However, for everyone else, La Hacienda is subpar food with a huge price tag. For the ambiance, I give in a 9 out of 10. But the quality of the food is so much better at your local mom and pop taco shop. Overall, I would give La Hacienda a pass."
SCORE: 7.45 (note that Restaurant Marrakesh is currently unavailable)
"This place was beautiful and the entertainment was amazing. We ate a late lunch here and the restaurant had very few guests. The belly dancer and musician had the kids that were in the restaurant dance with them on the floor during part of their set. The restaurant itself is very beautiful. The food is adventurous and if you are a picky eater, like me, you may not enjoy it. My husband who is more adventurous wasn't a big fan of the quinoa which he has never had before."
"I ate here for the beautiful Moroccan design and to experience the belly dancing. The atmosphere did not disappoint. It brought me back to La Alhambra in Spain! Unfortunately we had to leave right before the entertainment was to begin. I was really disappointed my children couldn't see that. I knew we'd be eating unfamiliar food and knew that would be a part of the novel experience. We weren't thrilled with the food, but I wasn't expecting to love it. All in all I think it's worth it for the out of the box cultural experience."
"This is what Epcot is all about!!! This beautiful palace tucked away from all the hustle and bustle is truly like stepping into another world. I remember when I first booked this my family was very skeptical of the food options. I am so glad I proved to them all how amazing it was! The chicken falls off the bone and the desserts were incredible. Step out of your comfort zone and give this hidden gem a try. You'll be glad you did, and if you wish you didn't…at least you saw some beautiful belly dancers!"
SCORE: 7.53 (note that Akershus is currently unavailable)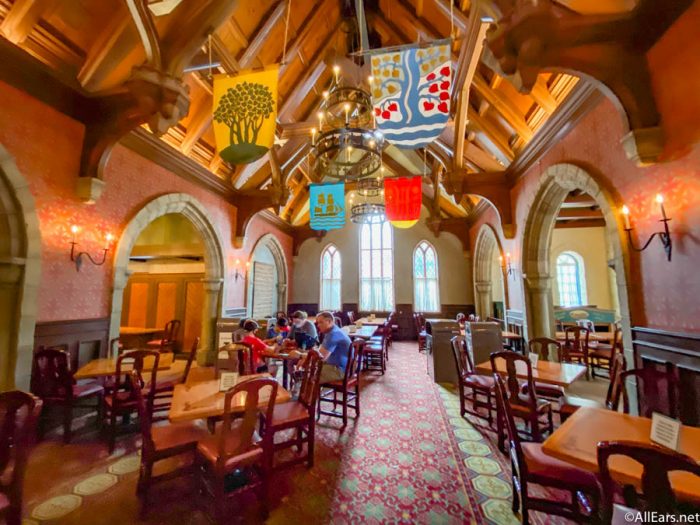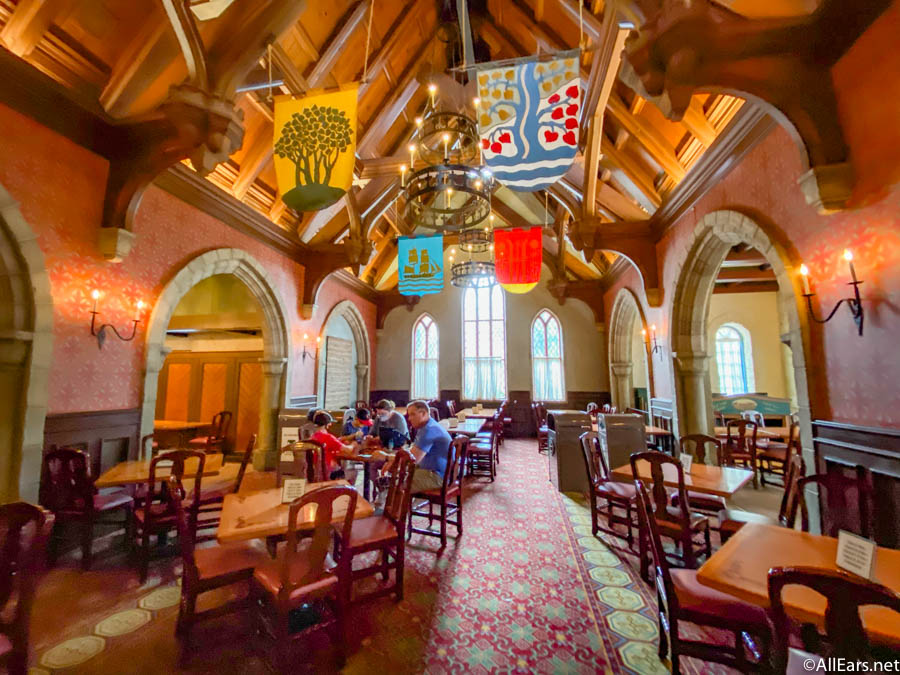 "This restaurant is a great way to meet all of your favorite princesses without paying the expensive price of Cinderella's Royal Table. The cast members were super friendly and the food was exciting and something new to try! They even had an antipasto station!! It would totally make it a stop especially if you have princess fans in your group."
"Great princess experience. The food is actually good, but not for everyone. We always enjoy the experience."
"Not great for picky eaters."
SCORE: 7.64
"Had the lager and bratwurst week of Jan 11th. Large portion size and tasty. No major complaints."
"Just a hole in the wall with average sausages. Nothing to write home about but when you're hungry it will do in a pinch to tide you over until your real meal lol."
"Good for a quick grab and go snack when it isn't festival time. The large pretzel or bratwurst were tasty options. Not the most exciting food but it was okay"
SCORE: 7.77

"Me and my family went here on our most recent trip and it was just about amazing. The service and food was amazing, and the whole aesthetic of it was truly astonishing. Our waiter was very kind, and was from Italy. The only thing is, there isn't a lot of options on the menu. Otherwise I would say, it might be my favorite [I]talian restaurant in Walt Disney World."
"The staff was very pleasant and attentive, without being overbearing. I had the lobster ravioli, which was pretty good. It wasn't anything amazing either, but I enjoyed it. My husband had an eggplant dish, and he enjoyed that. We opted for the salad instead of a dessert since we were on the dining plan, and the salad was very good. It was definitely a one time place, I don't feel a need to go back, but I am glad we tried it."
SCORE: 7.86 (note that Tokyo Dining is temporarily unavailable)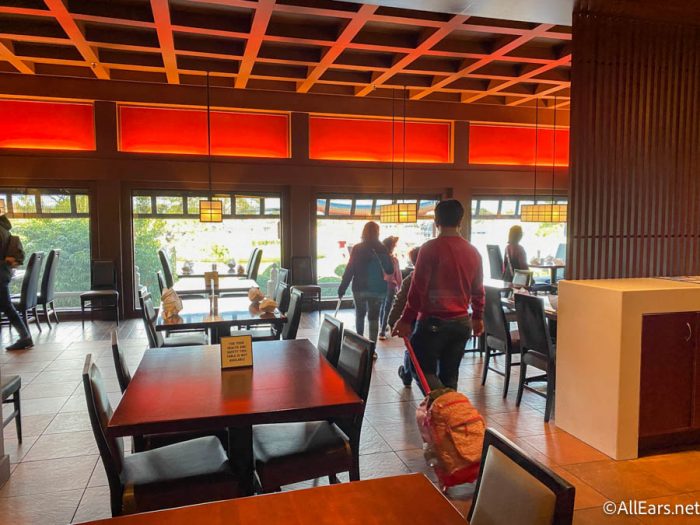 "This restaurant ALWAYS has the best, freshest food! It can get a little loud at peak times in the dining room. The cast members are so pleasant and knowledge about the menu."
"The menu needs to be refreshed as it is getting boring for repeat diners. The food needs to be more authentic, as well. That said, Tokyo Dining is one of our favorites in the World Showcase. Food is well-prepared, and service is superb. It's unfortunate that the restaurant shares an open hallway with the loud teppan tables at Teppan Edo, because it makes Tokyo dining equally loud, when it could easily be a serene experience with a few walls and doors…Don't bother with desserts – they are not part of a Japanese meal and the selections show that. I wish that the sushi were not so outrageously priced, and that a sushi combination dinner were offered. Soups, both as appetizers and entrees, are good. The alcoholic beverage choices are unique and welcome."
SCORE: 7.92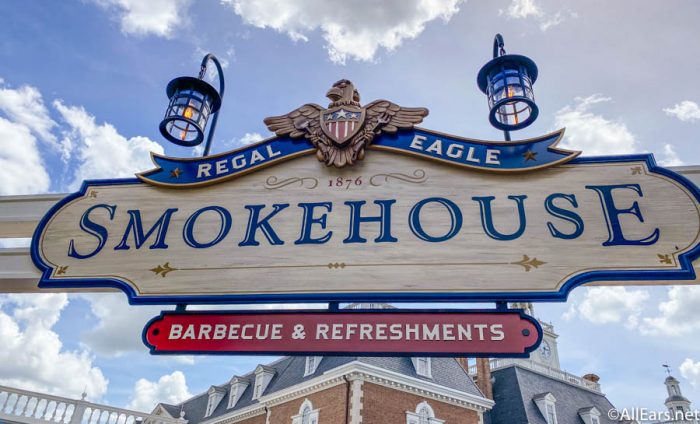 "Very good BBQ. had the burger with pulled pork on top which was one of the best burgers [I] have ever had. You have to choose your sauce and i got the spicy one which really added to the sandwich. The fries were good as the side. Lots of seating inside and out"
"Average BBQ at best. Beef brisket was ok but had a strong Smokey flavor. If you really want BBQ while at Epcot then go here. Otherwise there are much better QS places to eat at."
"Went week of Jan 11th and thought it was great quick service. High quality ribs, sides, and sauces. Must get the pickles!"
SCORE: 7.97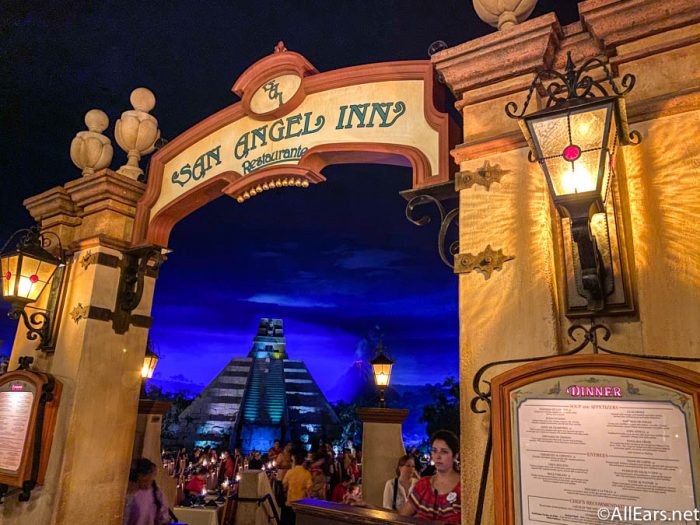 "I love San Angel Inn! I know a lot of people don't like this restaurant, but I really enjoy their menu items and theming. Sit by the water if you want to see guests on the Gran Fiesta Tour boat ride! It is expensive and sometimes hard to get reservations, but I really do love my experiences there!"
"Food was mediocre at best. My husband ordered the queso, which was just melted shredded cheese. My chicken had way too much cheese. It was also pretty expensive for what you get. Would not come back."
"The chips and salsa (which were free) were the best I've had in a while from other Mexican restaurants. We ended up splitting (my mom and me) the fish tacos which had a GREAT sauce on them. Wish we had the stomach room to try more food! Oh, the margaritas were super tasty as well."
SCORE: 8.01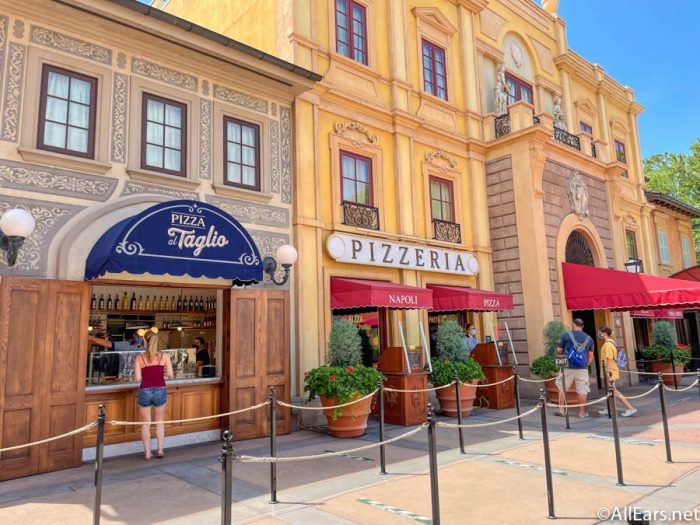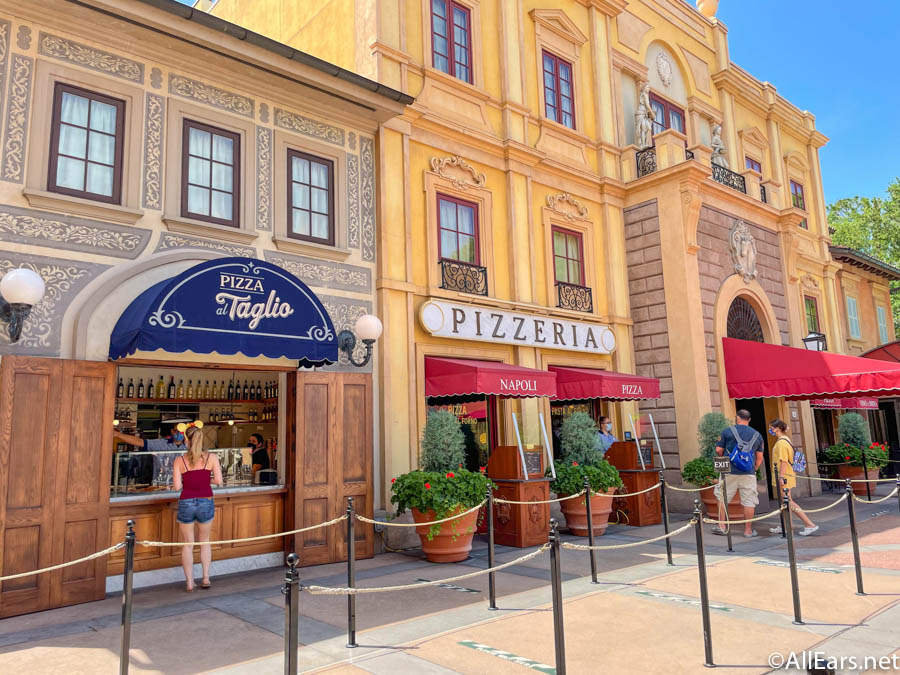 "This is the best pizza on property full stop. The year it opened we went here 3 times during our week visit. I wish I could order this to my home."
"The pizza here is to absolutely to die for- best I have ever had in my life. My boyfriend and I got the Quattro formaggi pizza and added the sausage on top as our meat. The pizza was huge!! Much bigger than I expected and the crust is unbelievable-coming from someone who hates pizza crust normally lol."
"Via Napoli easily worked its way into one of our families favorite resteraunts. The food was great, hot and fresh, and the service was great as well. The portion sizes were huge for the price and the atmosphere was family friendly. We loved the wood-fired pizza oven. This is a must do for our family every time we come to Epcot."
SCORE: 8.05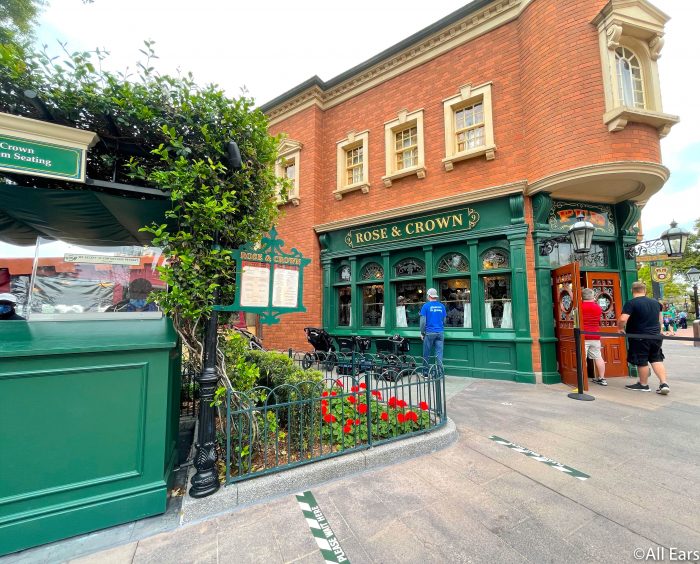 "Wife and I were undecided between the Fish and Chips or the Bangers and Mash. Our server suggested getting one each and sharing between the two. Wow! Why didn't I think of that? She brought us 2 plates and then the two entrees. Both were excellent and worthy of a 10. The fish portion was huge and delicious and the mash potatoes with the bangers were fantastic in taste. Definitely would return there."
"Fantastic shepherds pie at this restaurant. Loved the food and the atmosphere. Will definitely return to the Rose and Crown."
"Rose and Crown is a favorite of ours, the food and service has always been outstanding"
SCORE: 8.09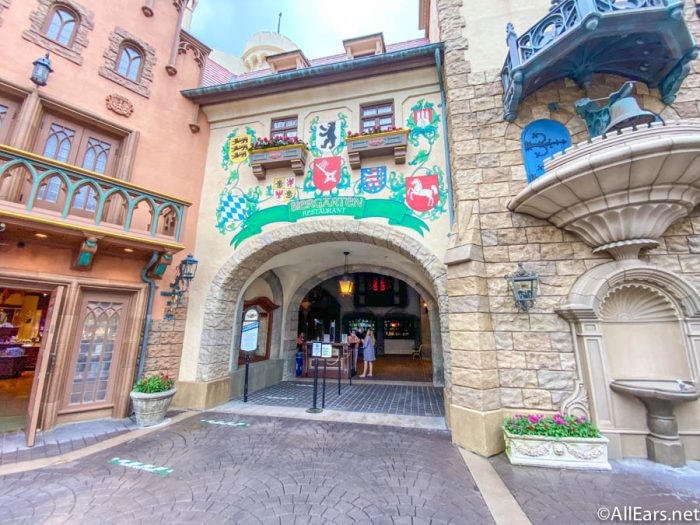 "Always a must to eat here. The food is good but heavy. Some picky eaters may not enjoy. The pretzel rolls are delicious. Love the fact at this point you dont eat with other families and they bring the food to you. The meatballs and roasted chicken are delicious and the desserts are great especially the streudel. Server was great"
"I can believe it took us so long to go here. We've lived in Germany and just thought it could never measure up but wow, this place is great. I'm so glad it's served family style now instead of a buffet. We got so much yummy German food and beer. The kids menu was perfect for picky eaters."
"Immersive theming , live entertainment and delicious array of food! What's not to love??!!"
SCORE: 8.14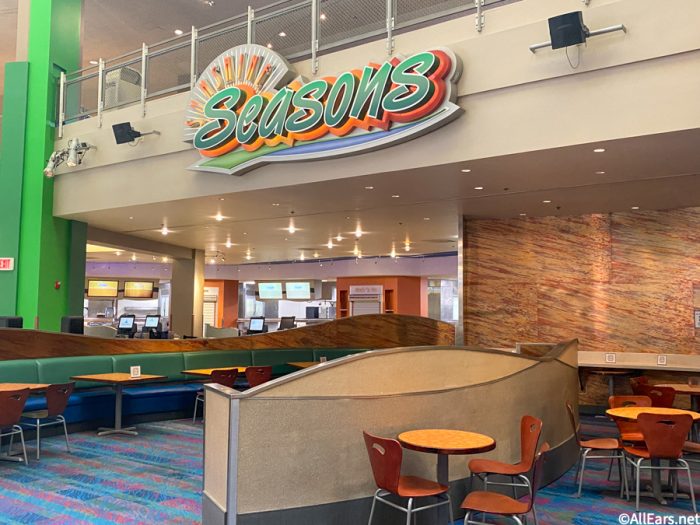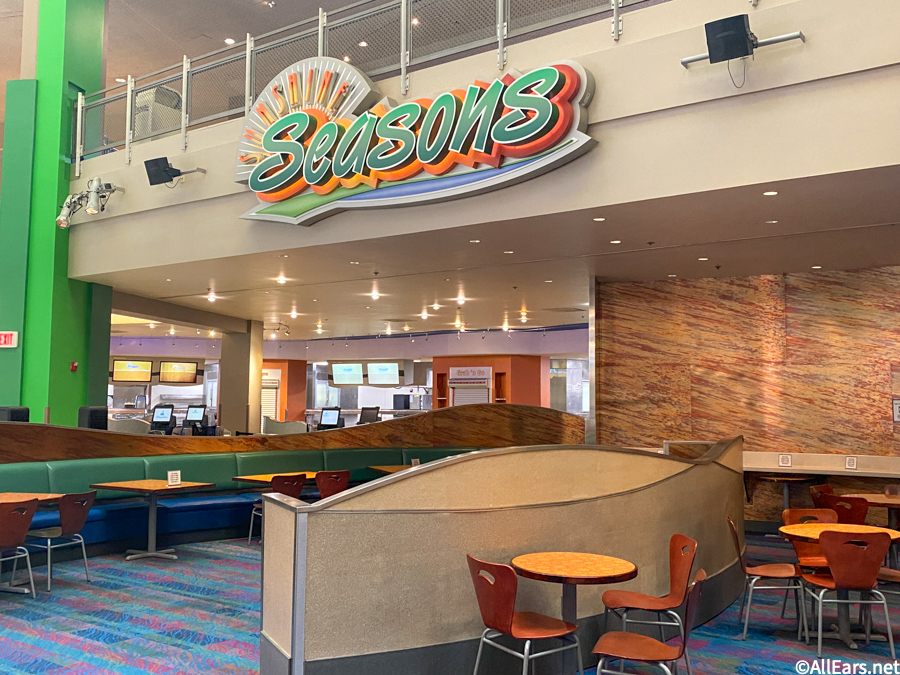 "Went here for a quick lunch…got burgers…not great. Just kind of meh. Not terrible, but not really good either."
"Something for everyone, lots of choices, easy quick service location. Food is actually quite decent…Cons: Lower quality food than some other places in EPCOT and seating area can be chaotic and crowded."
SCORE: 8.14
"Delicious food, excellent service in a unique and beautiful location. Feels like dining in France!"
"WOW! Let me just say, I did not think I'd love authentic French food so much but everything was great. Our waiter, Dylan, was the sweetest. We did the Pre Fixe menu and got one app, one entree, and one dessert, plus a glass of wine and a glass of soda. We did the snail (better than I thought, the garlic sauce it is in WAS AMAZING), the beef bourigneou (spelled that wrong), and some chocolate dish. Honestly, everything was great. No complaints at all. Highly recommend"
"For appetizers we tried the lobster bisque and French onion soup. Both were fine…The beef bourguignon was very tender but lacked flavor. I typically never salt and pepper my food but this needed it. It was so much better once seasoned…I didn't love this meal but it wasn't bad either."
SCORE: 8.19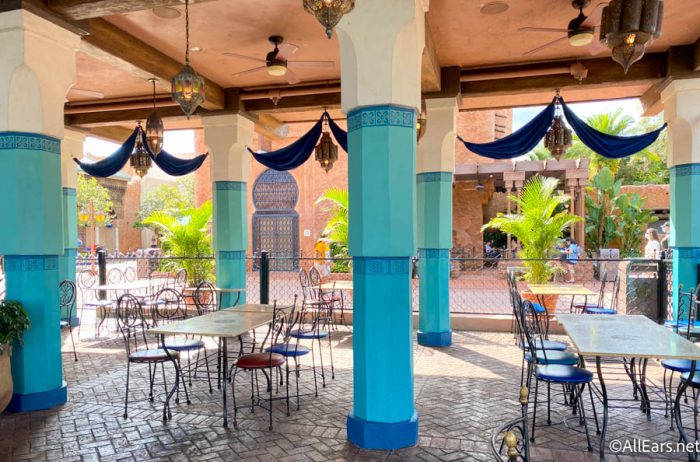 "We got a reservation on a whim. And it was the most pleasant surprise at all of WDW. The food quality and taste was a 11 out of a 1-10 scale. The service and wait staff was beyond word friendly and wonderful. I would rate the flavor taste one of the best in all of Disney World. Just a wonderful experience"
"LOVE the variety!! Especially if you're vegan they have so many light and fresh options!! The falafel isn't the best thing ever but they have soo many good sides and desserts!"
"We love stopping here to grab a quick drink and some small bites during our Epcot day! Love the hummus platter. Go here if you want something fresh and unique."
SCORE: 8.31 (note that Monsieur Paul is currently unavailable)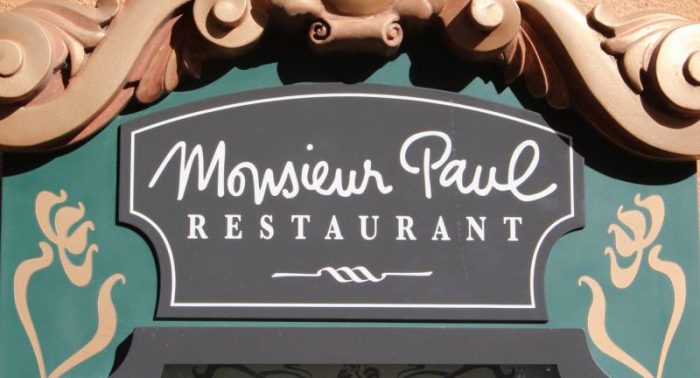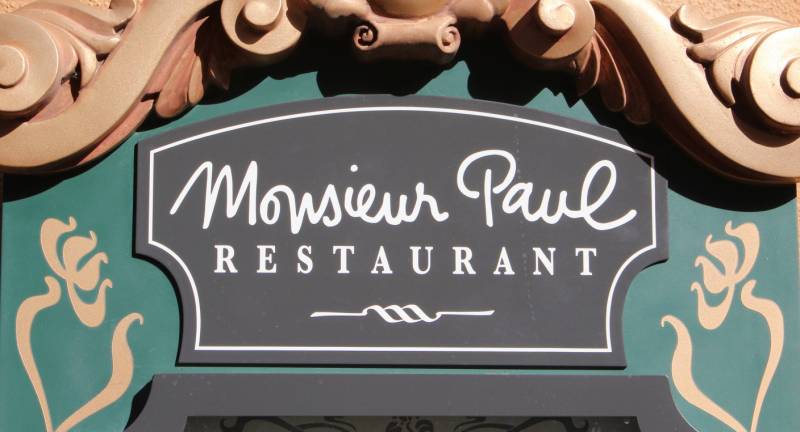 "This place is delightful…When I went by myself I had their fixed 7 course menu which is my recommendation! Everything is paired to complement and makes a wonderful experience. I also let my server make recommendations as what wines would pair best with the meal…This will be an expensive experience be warned…(Not a place for picky eaters or kids(In my opinion!))"
"We ate here for our tenth wedding anniversary and it was the special evening we were looking for. Our server was amazing and the food was incredible. The black truffle and ox tail soup was so worth the extra cost"
"We've been to Monsieur Paul several times and I always think of it as a hidden gem. We've always loved the quiet atmosphere, excellent service and great food. I don't know what happened! It's still lovely and quiet and our server was wonderful, but the food was not of signature quality. I ordered a seafood dish and it literally tasted like the scallops had been pre-cooked – they were cold and chewy."
10. Chip and Dale Harvest Feast at The Garden Grill Restaurant (lunch/dinner) (Future World)
SCORE: 8.43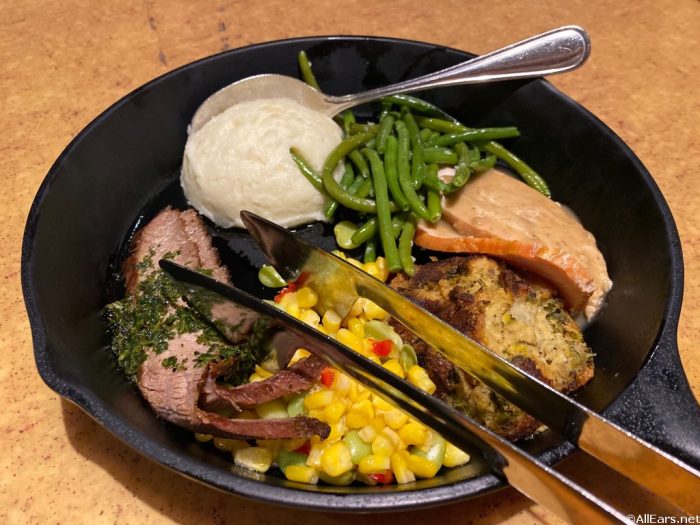 "A yummy all you can eat meal with Characters. This is alot like what you get at Liberty Tree, a Thanksgiving style dinner. The characters come around behind you and interact some. You can take selfie pics with them or just pics of them. Its very nice to see them in any way. The price isn[']t too bad since its all you can eat and its real good food"
"Food was great, as always, but not oustanding. It was tasty and well prepared, but pretty basic. And the service was excellent; didn't feel rushed and characters came around 3 times during ou[r] meal…I think everyone that is intrigued by the setting should eat here once, but paying that much for what I would consider a basic Sunday dinner has become a little too much."
"Garden Grill is one of our favorite restaurants! We do not miss a visit to Disney World without a delicious dinner at Garden Grill."
SCORE: 8.47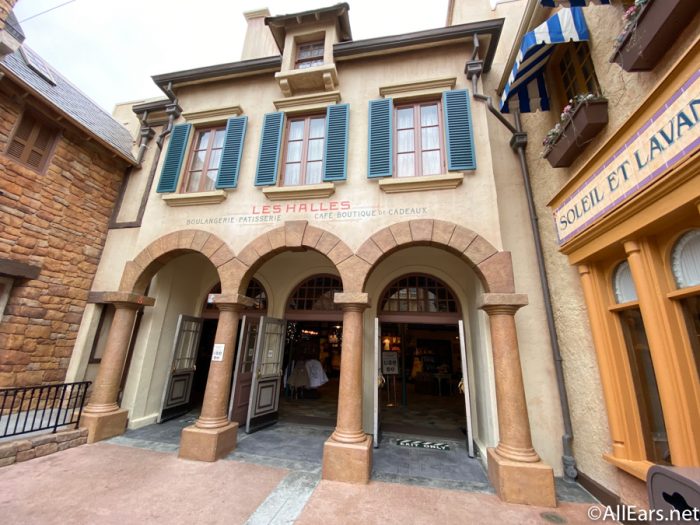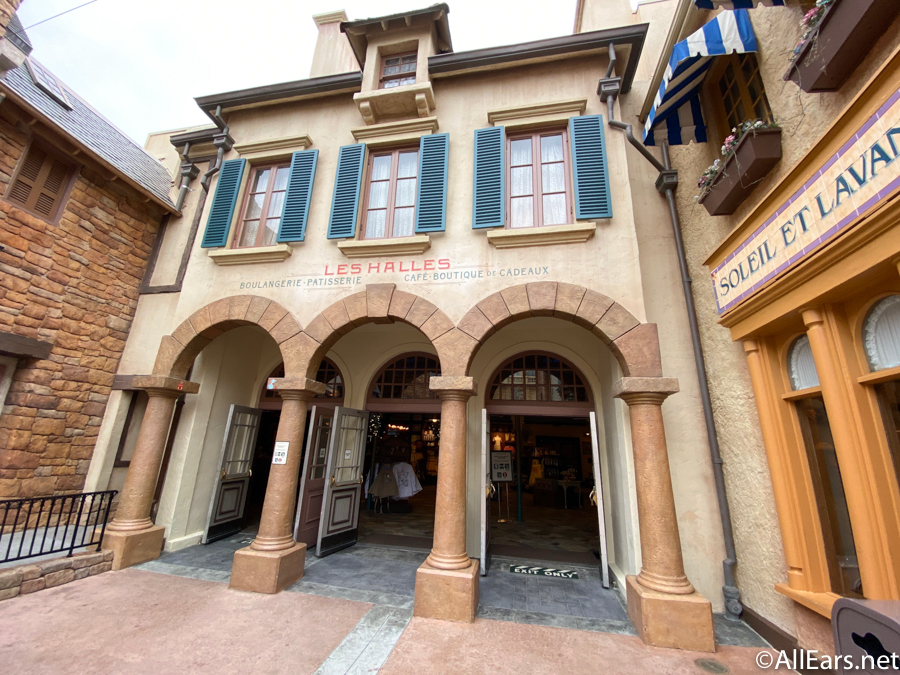 "Everything here is always delicious and amazing! The cast members here are always so nice, and everything is fresh and delicious. I can't leave Epcot without coming here on more than one occasion. It's the only place I HAVE to go to, No exceptions. Such great pastries and savory items too!"
"I dont know, maybe I had an anomalous experience here, but I wasnt very impressed…the line was out the door and very slow moving…There was a tiny seating area with maybe four table with seats and a few pub height table to stand next to, but they were all full…I ordered the Jambon Beurre, which was Ham, Cheese, Dijon on a Baguette. While the Ham and Cheese were quality, the bread was hard as a rock…Anyway, the pastries did look good, so I would give it another chance just getting one of those instead and eating elsewhere."
"Favorite place to get food in Epcot! Everything I've eaten here has been fantastic! Takes me back to Paris every time I eat here! Must try for anyone who wants an authentic French experience!"
"This is my favourite place to get a snack in Epcot! I have yet to eat something that I didn't like."
SCORE: 8.5 (note that Akershus is currently temporarily unavailable)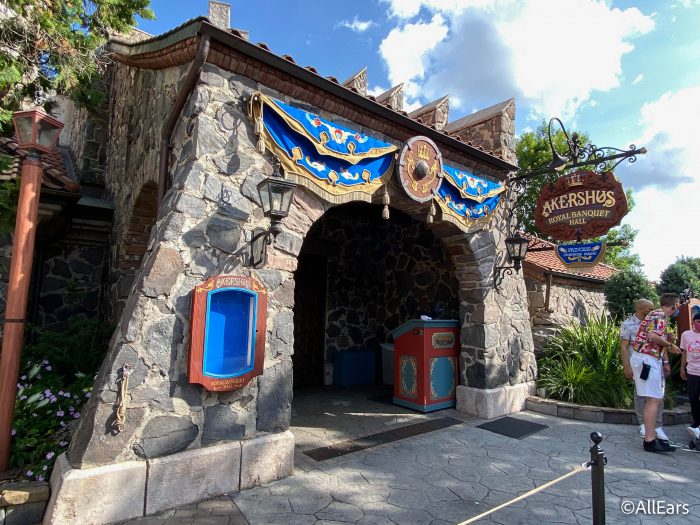 "This was a nice experience for my daughter because she was able to see all her favorite princesses in one spot. However, the experience was very rushed. We didn't really get to enjoy our breakfast. The princesses came by our table so fast. One right after the other, it was too rushed. The food was good but we really didn't get to enjoy."
"We visited here the last week of February, and it was one of the best meals of our trip. The service was amazing. Our server was amazing! The food was really good. I'm an adventurous eater, so I tried all of the pickled fish and loved it! The typical breakfast options were very tasty too and well prepared. The princesses were great! Ariel paid special attention to my 10 year old son and led him around with her in the parade. He loved it! The look on his face is a memory I'll cherish forever. We will definitely eat here again in the future!"
"[I] could've had a bad experience but they were out of many of the foods, [I] had to wait a super long time even with reservation"
SCORE: 8.55 (note that Tangierine Cafe is temporarily closed at the moment)
"Had the Chicken Shawarma Platter here the last time I was in Epcot. Hands down…best Disney meal I've ever had!"
"Solid food, great choices for vegetarians. Consistently good."
"Fresh, yummy Mediterranean food. I actually enjoyed the lentils. Falafel was a bit dry. Tabouli was delicious."
SCORE: 8.65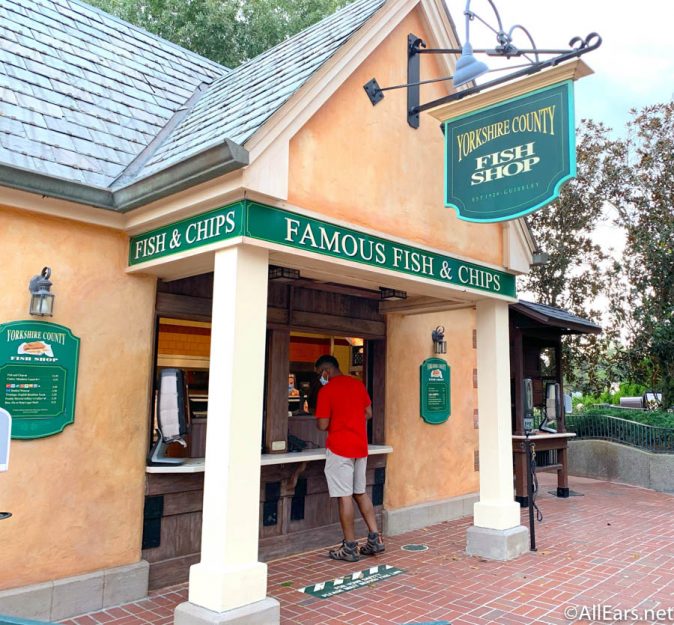 "The name says it all – great fish and chips. Quick service with little to no line. No complaints here"
"I'm normally lukewarm towards fish and chips, but my wife and I cannot visit Epcot without a visit to Yorkshire County Fish Shop. The batter they use on the fish is next-level. I highly recommend checking this quick-service location out and grabbing a table near the water."
"So three of us shared this and I was wishing I had more. The fish was hot, flaky and crisp. The fries also were salted just right. Even my kids, who typically do not care for this type of batter, enjoyed the Fish and Chips."
SCORE: 8.76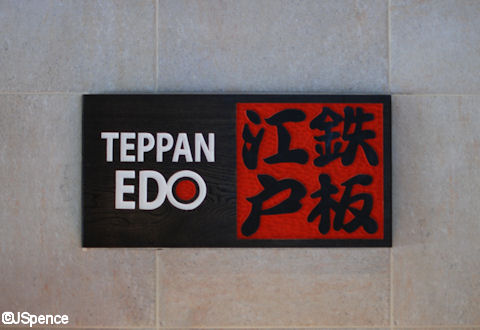 "I love Teppan Edo! It has always been a go-to for me and my family…You can do entree combinations like steak and shrimp, chicken and shrimp, and chicken and steak, as well as filet mignon and salmon. The desserts in my opinion are not appealing but I'm sure you'll be full after the entrees! Also, it is a hibachi-style restaurant, with a fun and entertaining chef for the kids and adults alike. Overall, this is an excellent restaurant in EPCOT!"
"This is like your local Benihana, and to me that is good thing. I love the food here. You do have to sit with other guests around the grill."
"Our chef, Akira, was very personable and entertaining. This meal was like having dinner with a show. He did juggling tricks and made a volcano with the onions. We saw at the other tables that the other chefs did the same kind of show, nevertheless it was still a fun meal."
SCORE: 8.8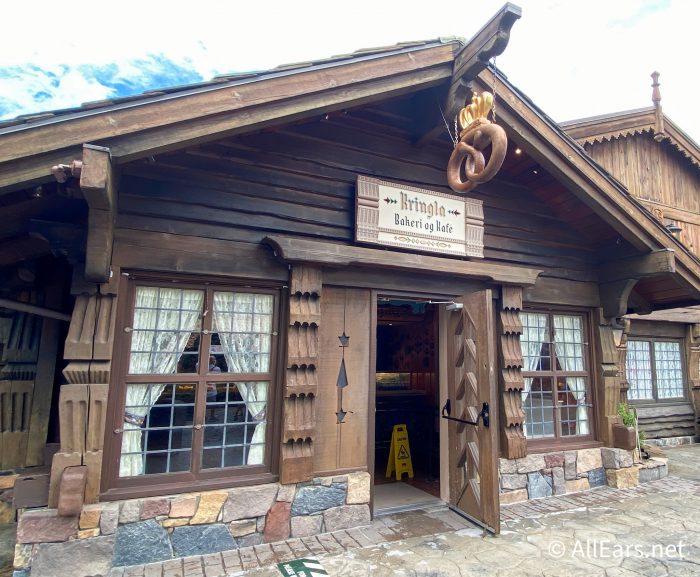 "School bread is life. We tried it based off of pictures and recommendations online. The soft bread with the creamy filling and coconut topping are the perfect combination. We also tried the almond pastry and it was good but nothing to write home about."
"Kringla is a MUST when eating around the world at Epcot! As someone who isn't a fan of coconut, I was shocked at how much I loved the famous School Bread. It's light, the dough is soft, the filling is creamy, and the coconut with icing completes it perfectly. It is one of my favorite snacks on property, especially for the price! Lefse is another great snack if you're wanting something super simple to satisfy a sweet tooth. Everything I have tried at Kringla has never been disappointing!"
"Try the apple treat here called Eplekake! It's an apple cake with caramel sauce, kinda like a spongecake apple pie with loads of caramel. I never tried the school bread but it looks great! It's a tiny hidden secret in Norway, but definitely a must do!"
3. Chip & Dale's Harvest Feast at The Garden Grill Restaurant — Breakfast (Future World)
SCORE: 9.30 (note that breakfast is not currently available at Garden Grill)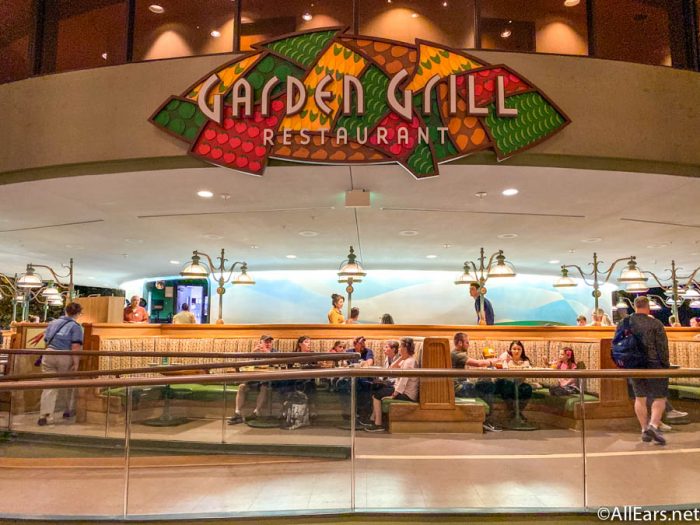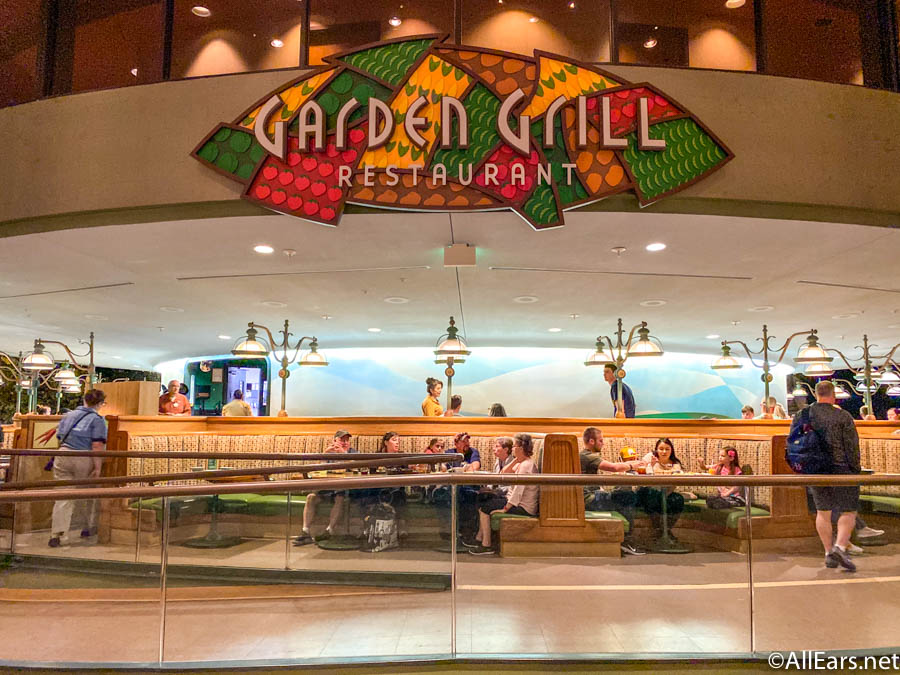 "The family style breakfast was delicious! With the size of the restaurant you also get to see the characters so much more than you would at other character meals. Also the views of Living with the Land as you slowly rotate are so cool."
"One of my favorite breakfasts! Love the selection of food served family style. This is an awesome pick for families with kids too since you do not have to get up to get your food and the cast members will make sure that all the characters have stopped by at least once!…If you get motion sick I would definitely recommend requesting a booth on the lower section."
"My mom and I had breakfast at Garden Grill and loved it! The food was delicious and filling and meeting the characters was so cool! The sticky bun was especially good. The portion size is huge for two people. I just wish the actual restaurant décor would be updated to be more modern. It is cool that you get to see into Living with the Land though."
SCORE: 9.40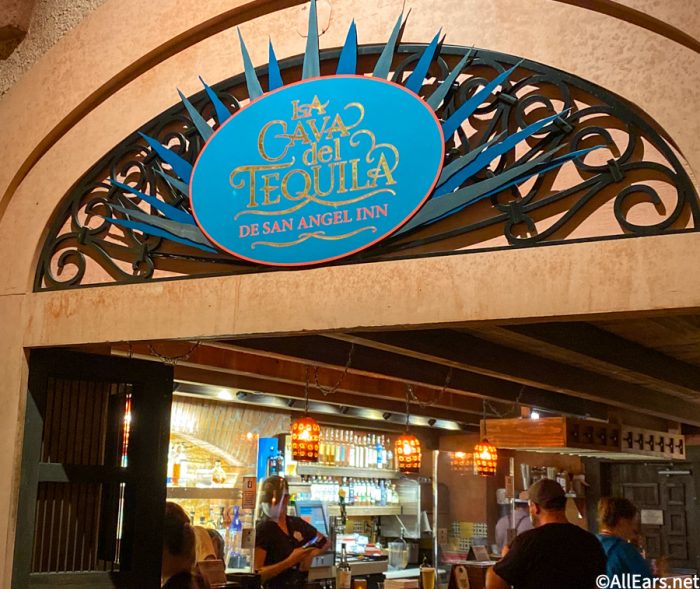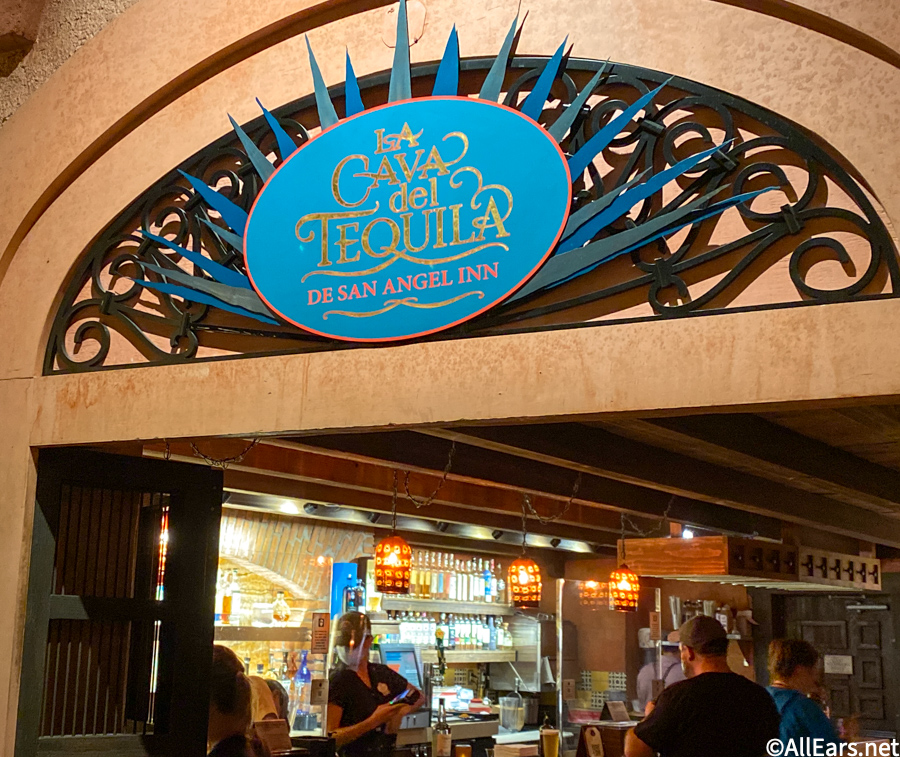 "If you like a margarita, DO NOT pass this place up! This is our absolute FAVORITE place for drinks in all of Epcot. The drinks here are so good, no doubt the best tequila and margaritas I've ever had. The avocado margarita is one of my favorites, but we've tried many of them and they are all good!"
"An absolute must do! The margaritas are amazing and adventurous!"
"Went week of Jan 11 and had the top shelf margarita. Not sure if it's always like this, but I expected each margarita to be hand mixed to order for the price. It tasted fresh but made in bulk pitchers. Overall a tasty margarita but expensive considering it wasn't made to order"
SCORE: 9.55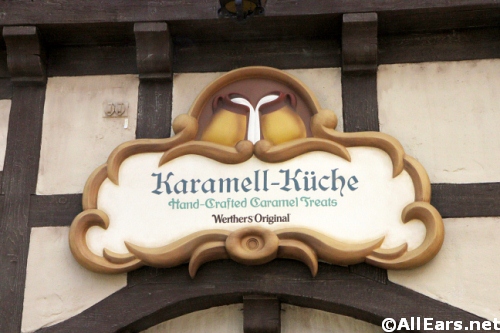 "We stopped in here solely because the smell drew us in and it was 100% worth it. We ended up getting the caramel popcorn and kept snacking on it the whole day. The only bad part was that it doesn't keep well so if you plan on getting it home then airtight wrap it. All the other treats looked delici[]ous too!"
"What an amazing place. So many choices to make but whatever you select will be great. We made more than one trip to this place. WOW"
"We went out of our way to visit twice. The caramel chocolate square is that good."
And that's a full look at the rankings of every EPCOT restaurant according to the AllEars reviews our readers have left. Do you disagree with these rankings? Let us know in the comments below and be sure to leave your own reviews for these restaurants and more on our reviews page!
Join the AllEars.net Newsletter to stay on top of ALL the breaking Disney News! You'll also get access to AllEars tips, reviews, trivia, and MORE! Click here to Subscribe!