It's almost time to throw on your superhero outfit and test your skills at Disney's Avengers Campus!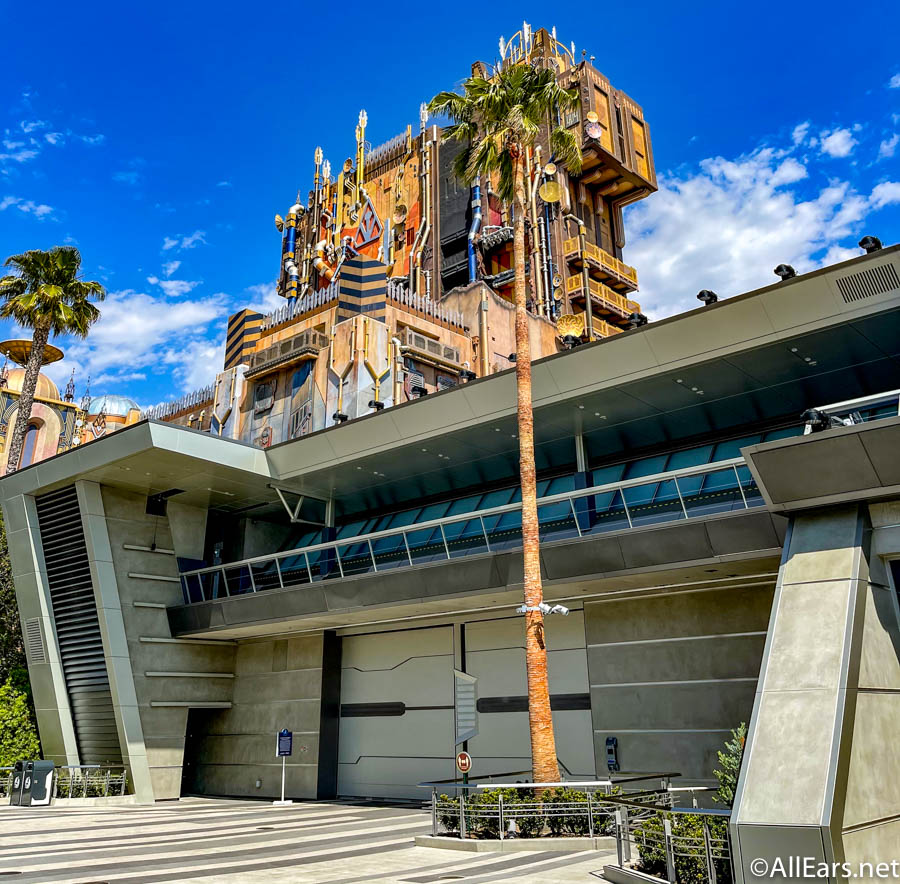 The new land opens in Disney California Adventure on June 4th and will be home to brand new character experiences, rides, and, of course, FOOD! We've already taken a look at all the menu options and novelties (like the Iron Man Infinity Gauntlet!), and now we have a first look at what all these eats and drinks actually look like! So, pull up those stretchy pants, and let's get to it!
First up we're headed into Pym Test Kitchen where scientists (or cooks) are using Pym Particles from Ant-Man and The Wasp on a huge assortment of eats and drinks.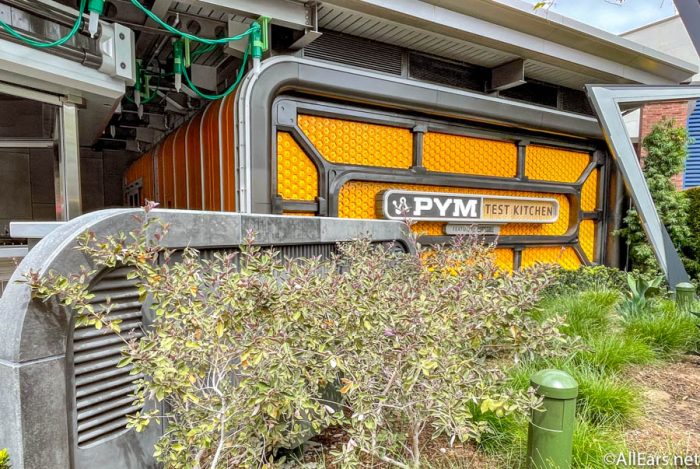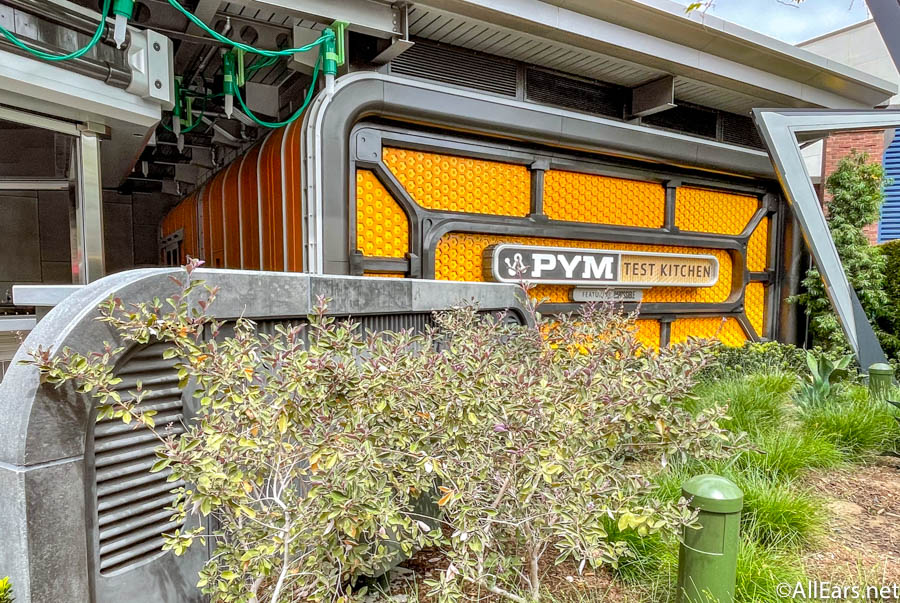 On the menu, you'll find two GIANT pretzels that are made to be shared including the Atomic Fusion Pretzel that is a Buffalo-style pretzel loaded with Chicken, Hot Sauce, Ranch Dressing, Blue Cheese Crumbles, Celery and Dill-pickled Carrots for $10.49…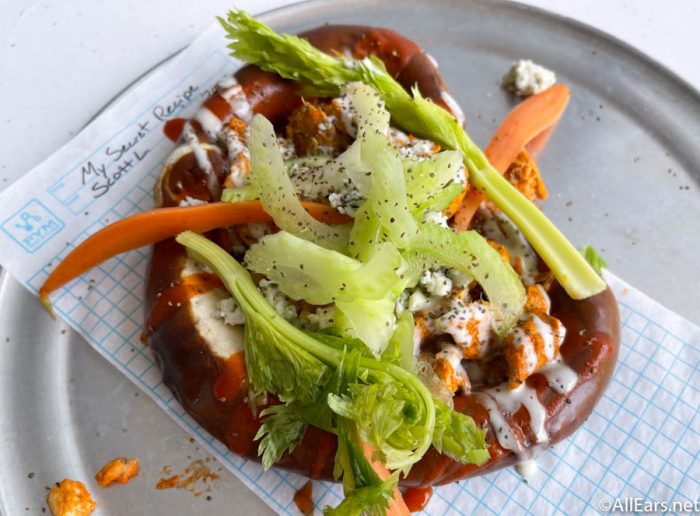 …and the Quantum Pretzel, which is a Bavarian-style pretzel with Sharp Cheddar Cheese-Beer Sauce and weighs approximately 453.8 grams for $12.99.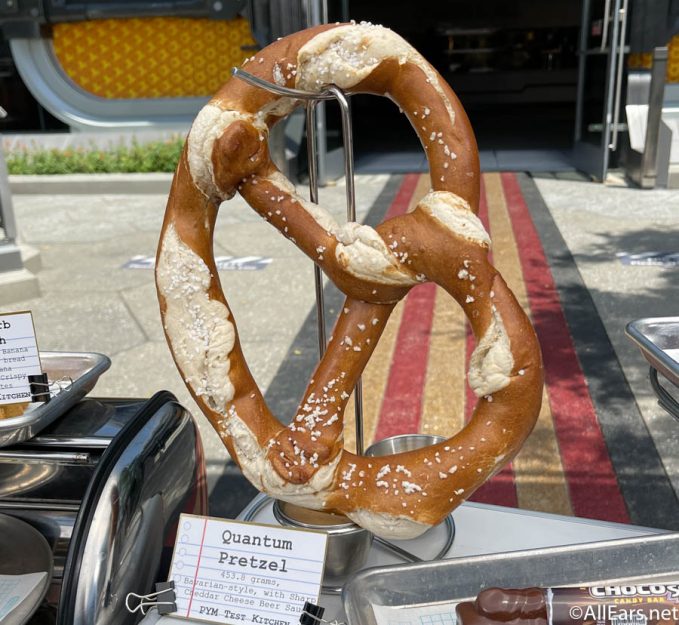 When it comes to the main course, there are six options that feature some HUGE and teeny tiny ingredients. The Not so Little Chicken Sandwich is one of those and is made with a Fried Chicken Breast, Teriyaki and Red Chili Sauces, and Pickled Cabbage Slaw on Brioche, served with crispy Potato Bites for $15.49.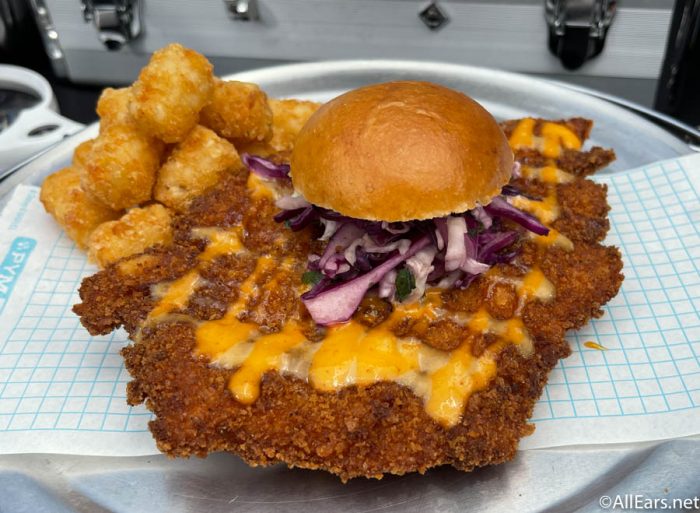 For all the spaghetti lovers (and plant-based eaters) out there, the Impossible™ Spoonful is your best option! It has Rigatoni and Ditalini Pastas, Plant-based Meat-balls, Tomato Sauce, Dairy-free Parmesan, and Micro Basil and costs $13.99.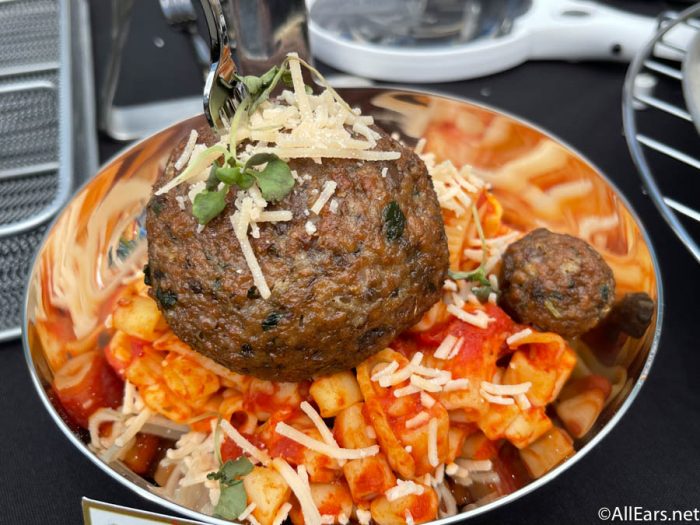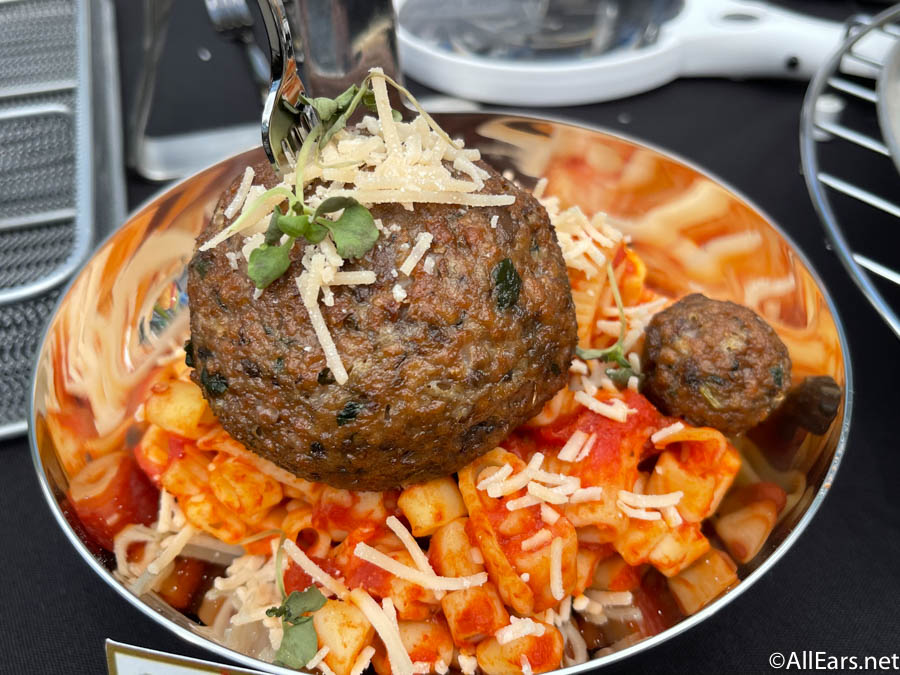 There is also a Pym-ini Sandwich that is made with Salami, Rosemary Ham, Provolone, and Sun-dried Tomato Spread on Toasted Focaccia, served with Marinara Dipping Sauce and Arugula Salad for $14.49. Or, you can opt for the Family-sized Pym-ini that serves 6-8 guests…it'll just cost you $99.99.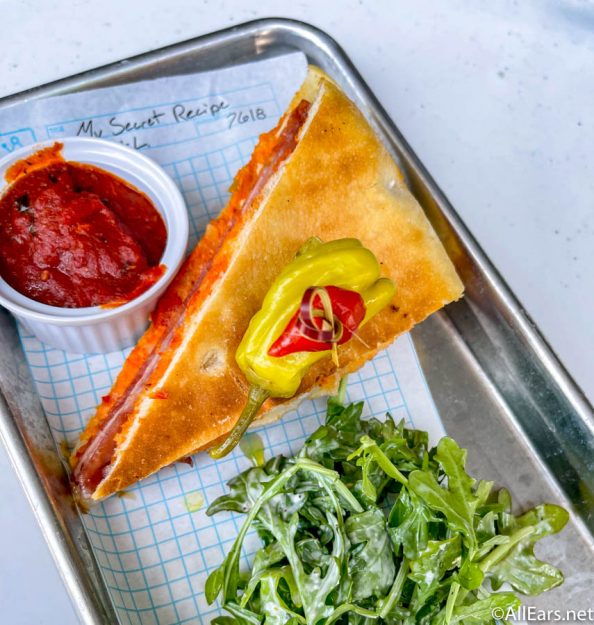 The salad option here is the Caesar Salad and Colossal Crouton which is a little on the creative side. It has Hearts of Romaine, Kalamata Olives, Pickled Onions, Caesar Dressing, Garlic Crouton, and Parmesan Crisps for $12.49, so you'll have to do a little cutting before you can dig in.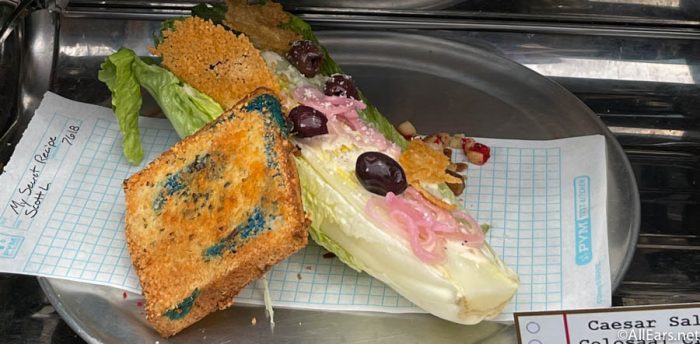 Or, you can go for a twist on an American classic — the PB3 Superb Sandwich for $12.99. It is a warm PB&J with Banana and Candied Bacon on Pym Particle Bread, served with Micro Banana Smoothie and crispy Potato Bites.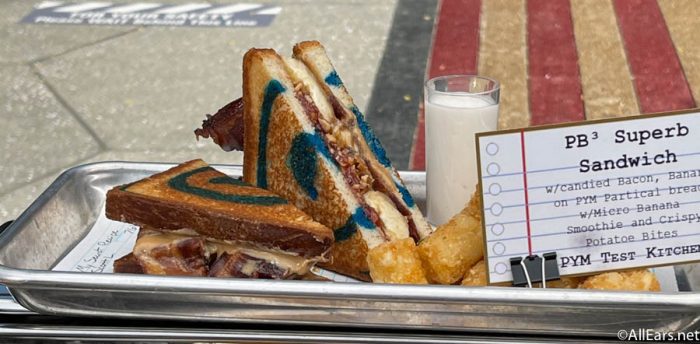 For all the "little scientists" coming to Avengers Campus, Pym Test Kitchen also serves a PB&J Flavor Lab that comes with smooth Peanut Butter, Strawberry Jelly, and Pym Particle Bread that kiddos can have fun making for themselves. Plus, it comes with a Cuties® Mandarin, Yogurt, and choice of milk or water and costs $7.99.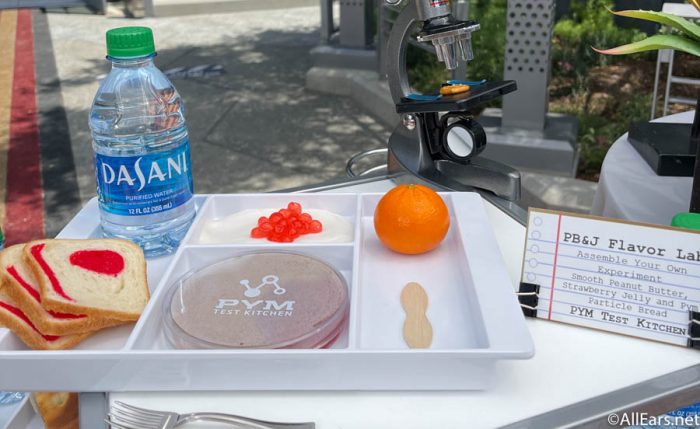 Dessert here is the Celestial-sized Candy Bar: Choco-Smash CANDY Bar that is so big it is bursting out of its candy wrapper! It is made with Dark Chocolate, Peanuts, Caramel, Nougat, and Chocolate Brownie and costs $7.99.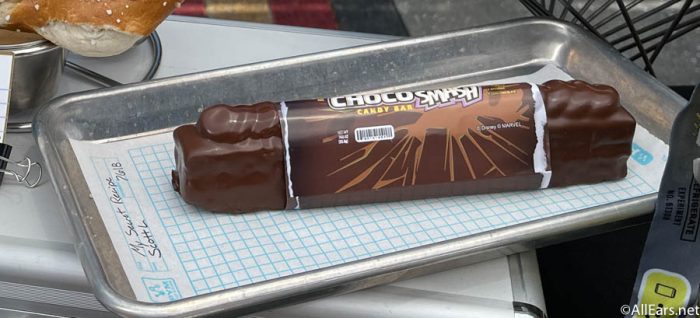 There are also a few specialty items that you can grab here including the Enlarged Pingo Doce Soda Can, which can be filled with your choice of Pingo Doce or other soda beverage for $22.99.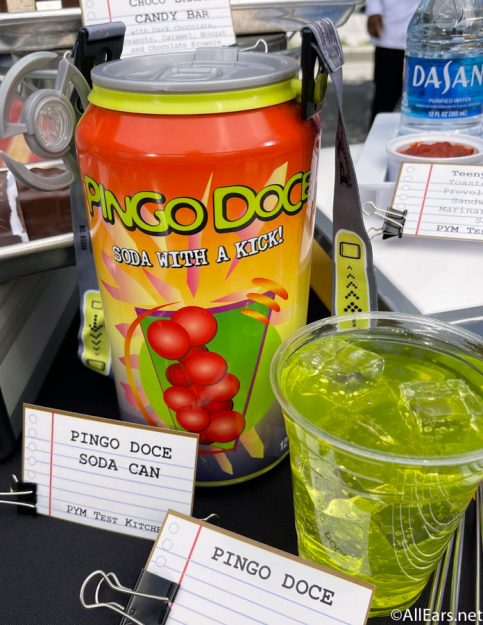 Not too far from Pym Test Kitchen, you can stop by Shawarma Palace which is themed after the iconic "Shawarma Joint" that the Avengers ate at in a post-credit scene.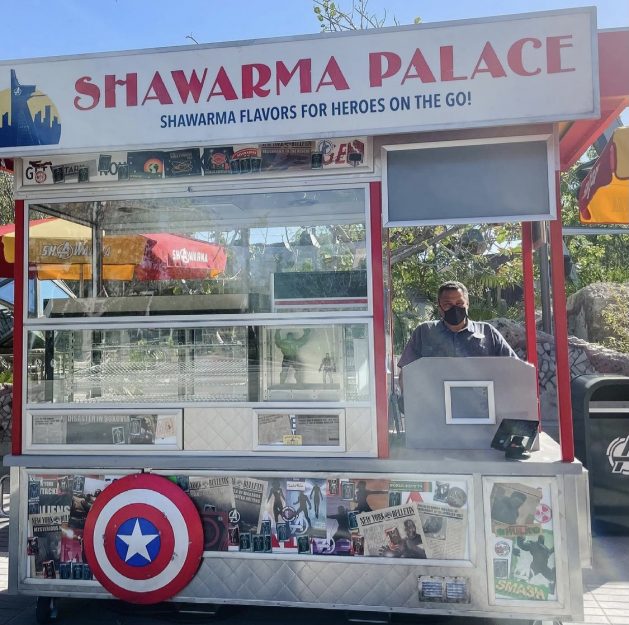 Here you can find two savory wraps including the Impossible Victory Falafel, which is a Plant-based Falafel and Cauliflower Wrap, Garlic Spread, Hummus, and Coconut Yogurt-Tahini Sauce with Pickled Vegetables for $12.99…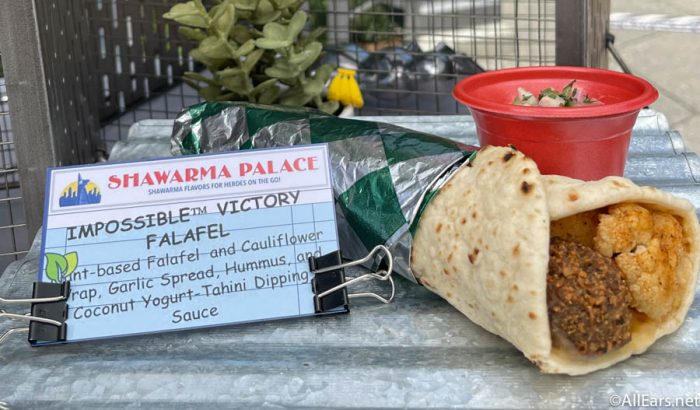 …and the New York's Tastiest, which is a Chicken Shawarma Wrap, Garlic Spread, and Coconut Yogurt-Tahini Sauce with Pickled Vegetables for $12.99.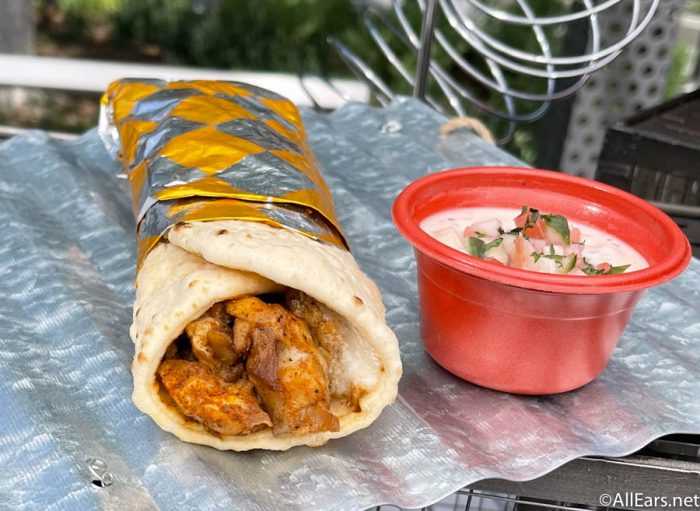 And, if you're on the hunt for the new Iron Man Infinity Gauntlet, you'll find it here! It's got all the details that you might remember from Avengers: Endgame and it can even hold a soda!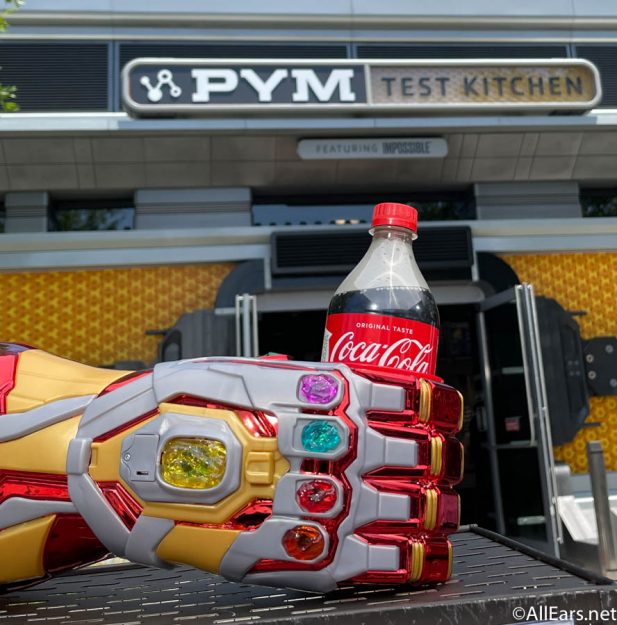 We've also spotted another new Marvel-inspired dining location outside of Avengers Campus called Shawarma Palace Too, so we might see these menu options available in another area of the park!
If you've got a craving for some sweets, then Terran Treats will be the place that you want to visit! It is located at the entrance to Avengers Campus from Hollywood Land near Guardians of the Galaxy — Mission: BREAKOUT! and features two tasty desserts.
The Cosmic Cream Orb is a crisp Terran Cream Puff filled with Whipped Raspberry Cheesecake for $6.25…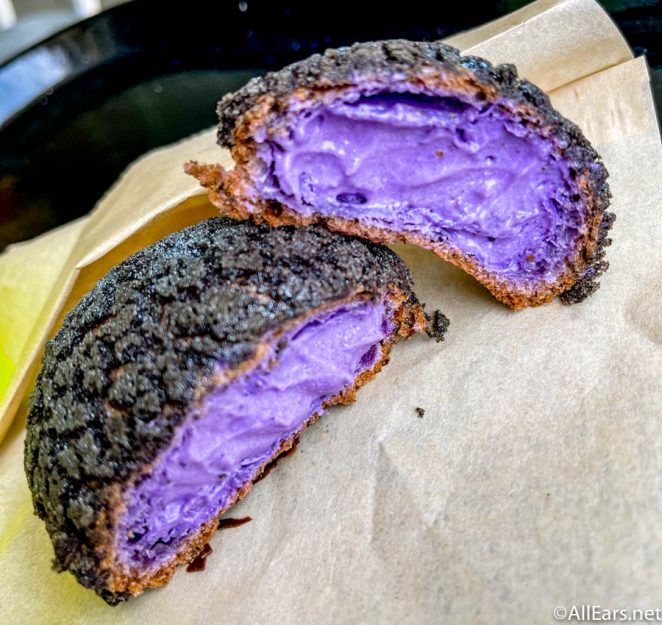 …and the menu will also have a Sweet Spiral Ration for $5.75 which are small pineapple churros spiraled into a ball!
So, it doesn't seem too bad to eat like a superhero, now does it? Of course, there are even more new eats and drinks coming to Avengers Campus when it opens this week and we'll be bringing you along with us as we try it all! Stay tuned for more coverage from Disneyland!
Join the AllEars.net Newsletter to stay on top of ALL the breaking Disney News! You'll also get access to AllEars tips, reviews, trivia, and MORE! Click here to Subscribe!

Disclosure: We were invited by Disneyland to attend a media preview of Avengers Campus. This did not affect our reporting of the event — our opinions are our own.
What new food item are you looking forward to trying? Let us know in the comments!