We know you're probably already excited about the fact that Disneyland and Disney California Adventure will be opening on April 30th after being closed for a year.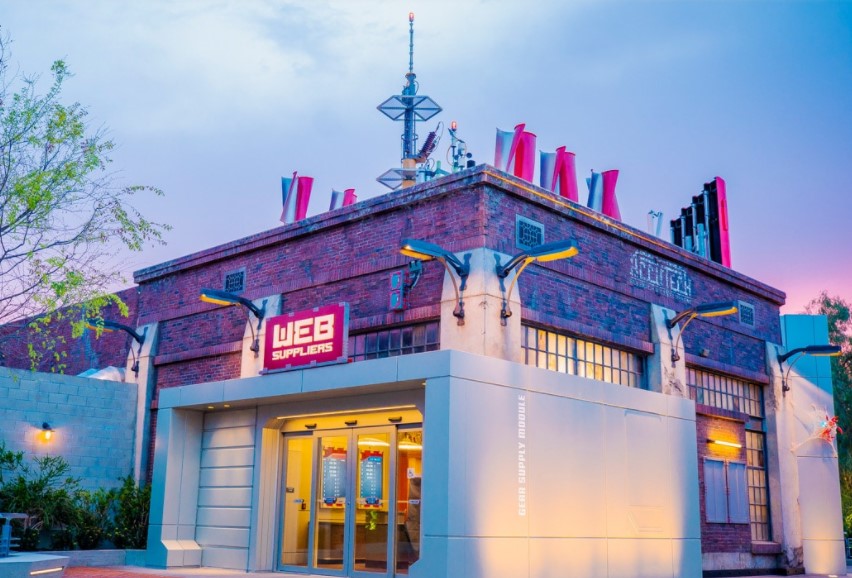 BUT, we are also mega hyped over the fact that Avengers Campus will have its grand opening around the corner as well this upcoming June. There are a LOT of details to break down when it comes to the attractions, restaurants, experiences, and more that will be debuting in the Marvel themed land.
And, we're making sure you know everything about Avengers Campus before it welcomes fans of all ages. Curious to know the details? Read on!
What's the official opening date for Avengers Campus?
When Disneyland first announced its reopening, fans were bummed out to learn that Avengers Campus wouldn't be opening along with it. The finishing tweaks and details were still being added around the area. But, Disneyland still had big plans in store!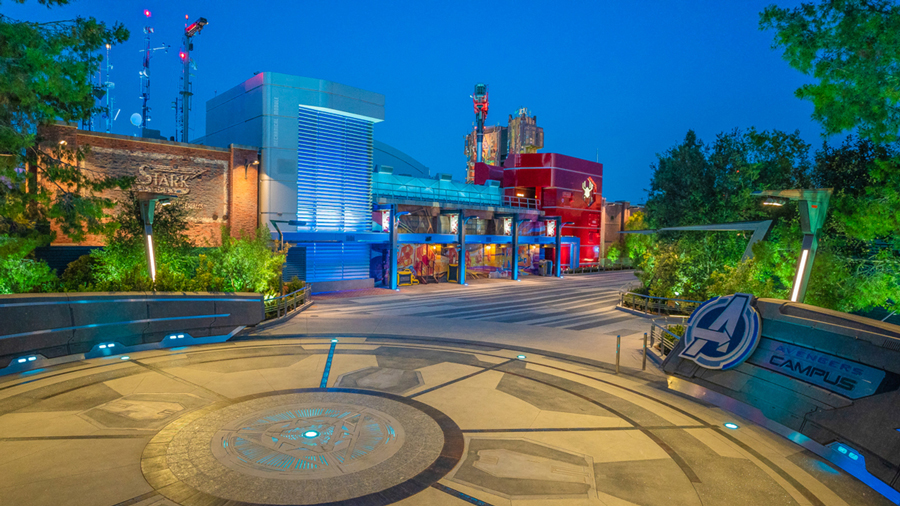 Since California residents will be the only guests able to visit the parks when they first reopen, Disney held off on having Avengers Campus make its debut "later this year." While the summer usually brings more crowds, we're sure fans will be thrilled to make their way over to Avengers Campus when it has its grand opening on June 4th in Disney California Adventure.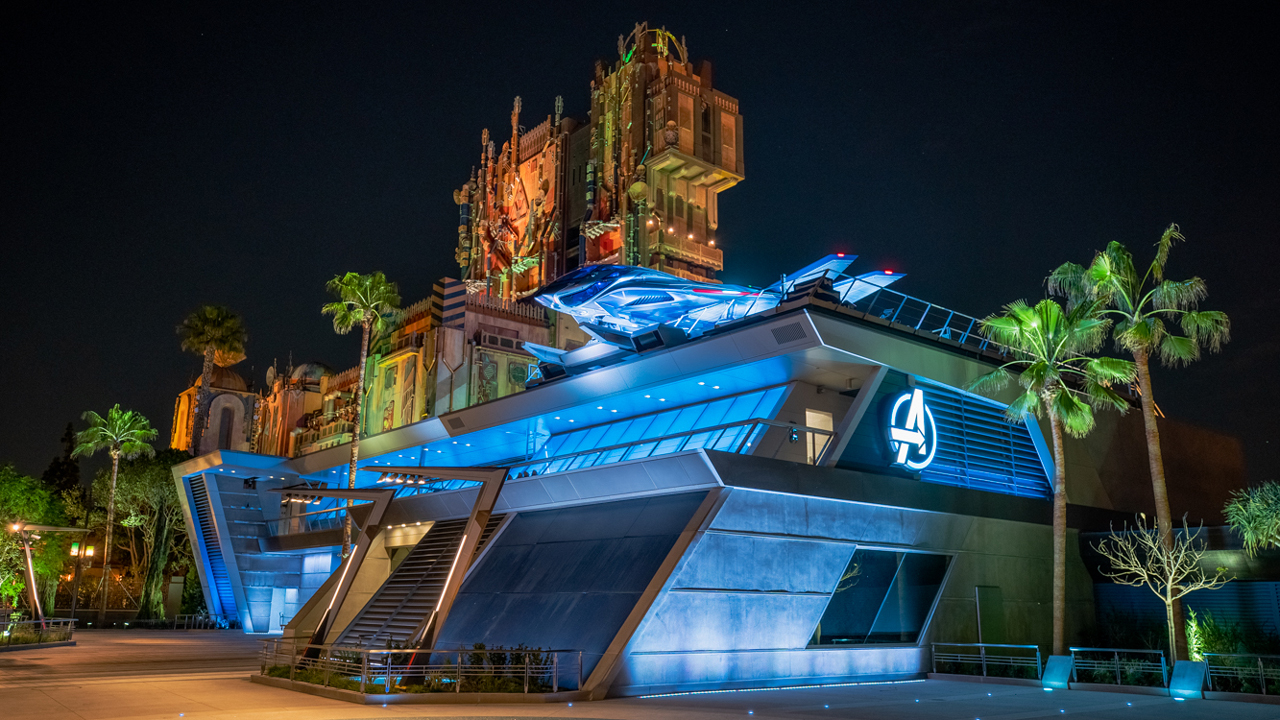 We know we are VERY hyped (and can't wait to meet the Avengers in person)!
What Attractions and Experiences Will Be in Avengers Campus?
Guardians of the Galaxy — Mission: BREAKOUT!
It may not be new, but Guardians of the Galaxy — Mission: BREAKOUT! will fit right into the new Avengers Campus area. The old Tower of Terror attraction was repurposed ahead of the Avengers Campus announcement and debut (and we've been LOVING it ever since). Disney has already confirmed that Guardians of the Galaxy — Mission: BREAKOUT! will be one of the rides reopening on April 30th in Disney California Adventure.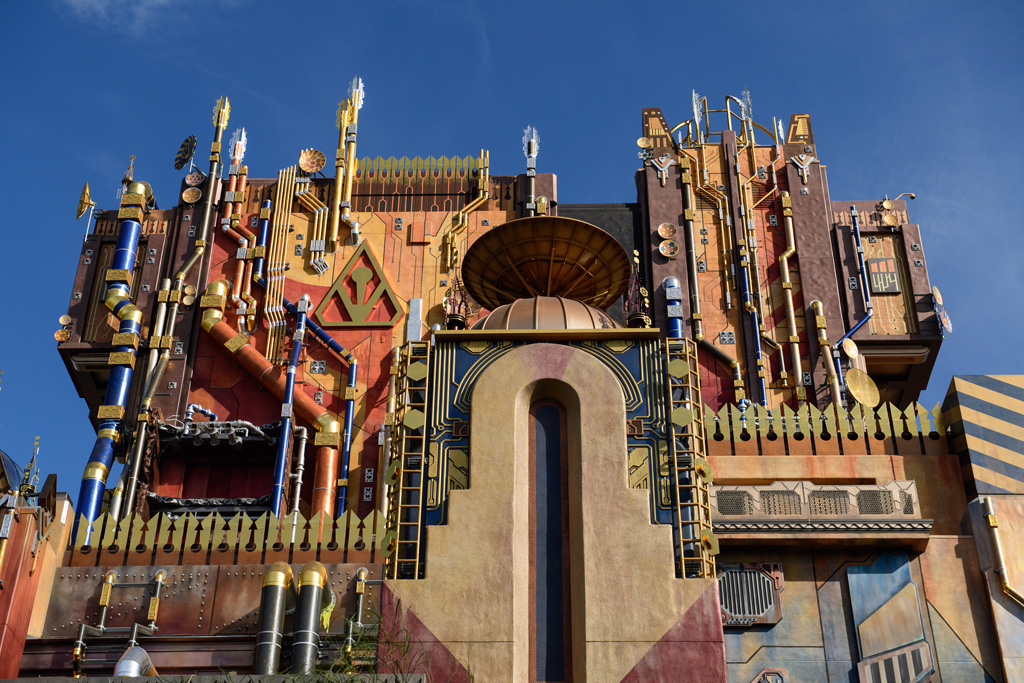 There won't be any major changes to the ride other than its switch from being a part of Hollywood Land to now becoming a feature of Avengers Campus. But, the ride will play into other parts of the new land, so keep an eye out for those details when you visit!
WEB Slingers: A Spider-Man Adventure
We are huge Spider-Man fans here at All Ears. And, that's why the brand new WEB Slingers: A Spider-Man Adventure looks so epic to us! The attraction will be opening with the rest of Avengers Campus on June 4th as guests join Peter Parker to take down his rogue Spider-Bots.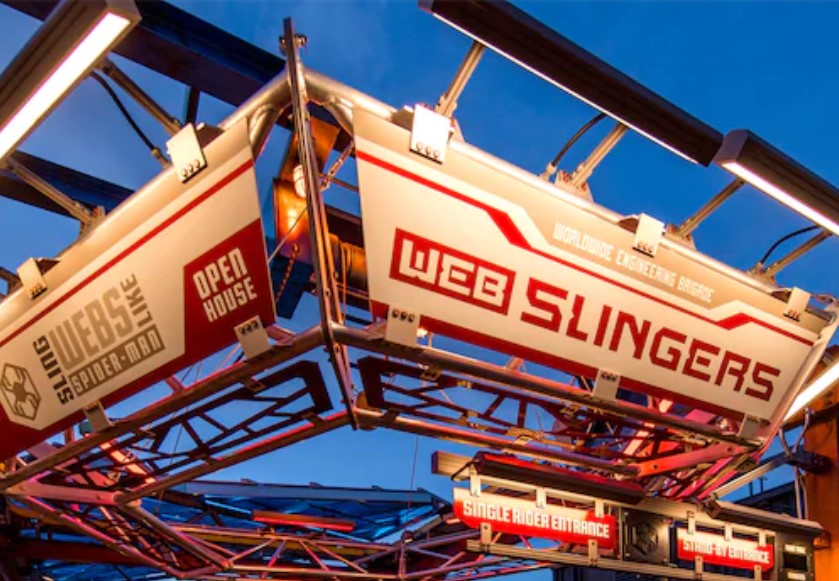 Tom Holland has returned to reprise his role as Spider-Man, as Disney has already teased us with a behind-the-scenes look at the interactive ride. As we've been checking out the construction around Avengers Campus, we've even spotted a few Spider-Bots on the loose!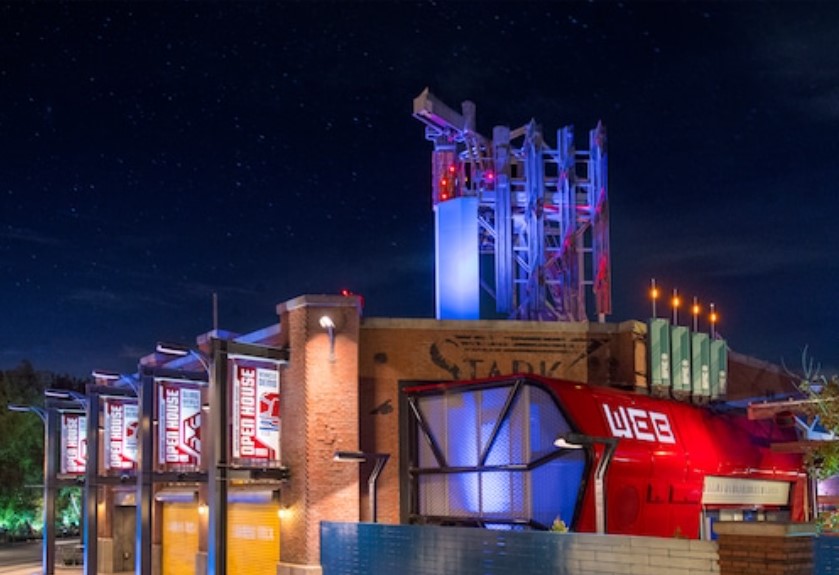 Of course, we'll give you a FULL break-down of the attraction when it officially opens.
Character Encounters
There will be PLENTY of opportunities to meet your favorite Avengers around Disney California Adventure. And, we're giving you a quick guide to the places (that we know so far) you'll be able to find them! Over at the Sanctum, you can meet Doctor Strange as he teaches everyone about the mystic arts. While you're there, you can explore ancient ruins and the Orb of Cagliostro, which will look even MORE amazing at night.
The Dora Milaje have also traveled all the way from Wakanda to train young heroes to join the elite group of female warriors. Daily training sessions will take place in the park, similar to the Jedi Training Academy found in Disneyland's Tomorrowland and Disney World's Hollywood Studios. We aren't sure when this experience will be opening, but we'll keep you updated with more details!
Guests will even be able to witness Spider-Man, Black Panther, Captain America, and Black Widow during a rooftop stunt show that will take place on the buildings in Avengers Campus. Other characters will be walking around like Star-Lord, Gamora, Thor, Loki, Ant-Man, Wasp, Dr. Strange, and Captain Marvel. Disney has even teased at a walking Baby Groot animatronic that could make an appearance in the park! Villains, like the Taskmaster, may even appear as our heroes defend Avengers Headquarters.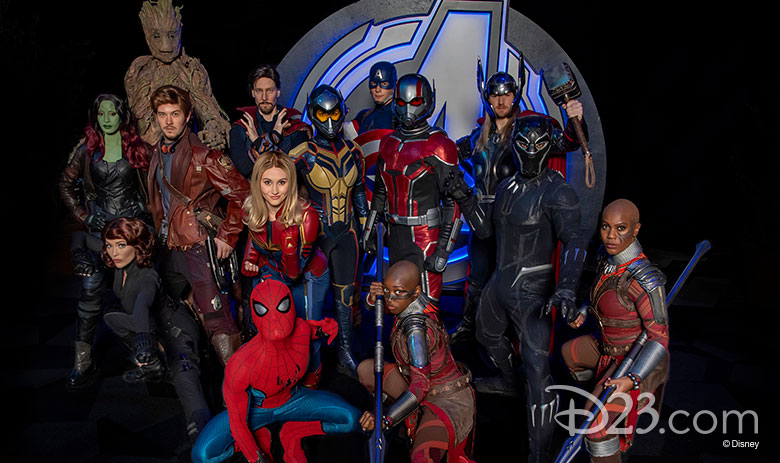 One of the most excited features of the character interactions happens to be the flying (we're not even joking) Spider-Man animatronic, who will be swinging around Avengers Campus.
We can hardly wait until summer rolls around so we can see it in person for ourselves!
Second Quinjet E-Ticket Attraction
We've already seen the Quinjet make its arrival at Avengers Campus last year before we were able to check it out for ourselves. Yet, guests will be able to board the Quinjet during a second E-Ticket attraction that will transport them to Wakanda. They will join up with a team of Marvel heroes in a battle similar to what we saw in Avengers: Endgame, where the attraction's seats will double as a weapons system and jet packs.
Disney hasn't released details on when this attraction will be debuting in Avengers Campus. But, you will be able to spot the famous Quinjet when the land has its official grand opening!
What Dining Locations Will Avengers Campus Have?
We were able to get a sneak peek of the potential of the PYM Test Kitchen during the D23 event in 2019. Since then, Disney has given a few hints about what over-sized and teensy dishes you'll be able to find at the restaurant inspired by Ant-Man and The Wasp.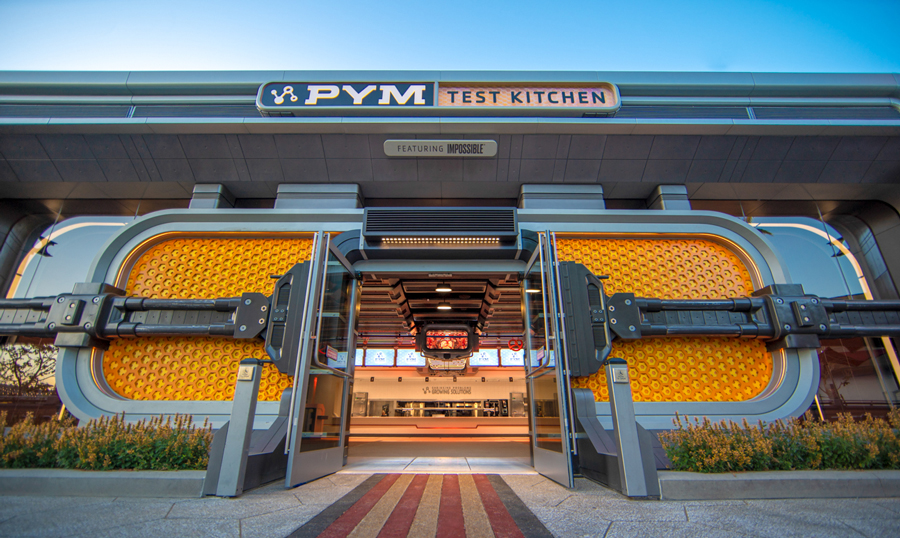 Disneyland does have three menu pages created for the restaurant, even though no full menus for PYM Test Kitchen have been revealed. There will be Lounge, Snack, and Lunch and Dinner options for visitors with items like the Not So Little Chicken Sandwich, Quantum Pretzels, the plant-based Impossible Spoonful (maybe the biggest meatball we've ever seen), PYM-ini Sandwich, a Teeny PYM-ini, a deconstructed PB&J, foot-long candy bars, and even more on the way.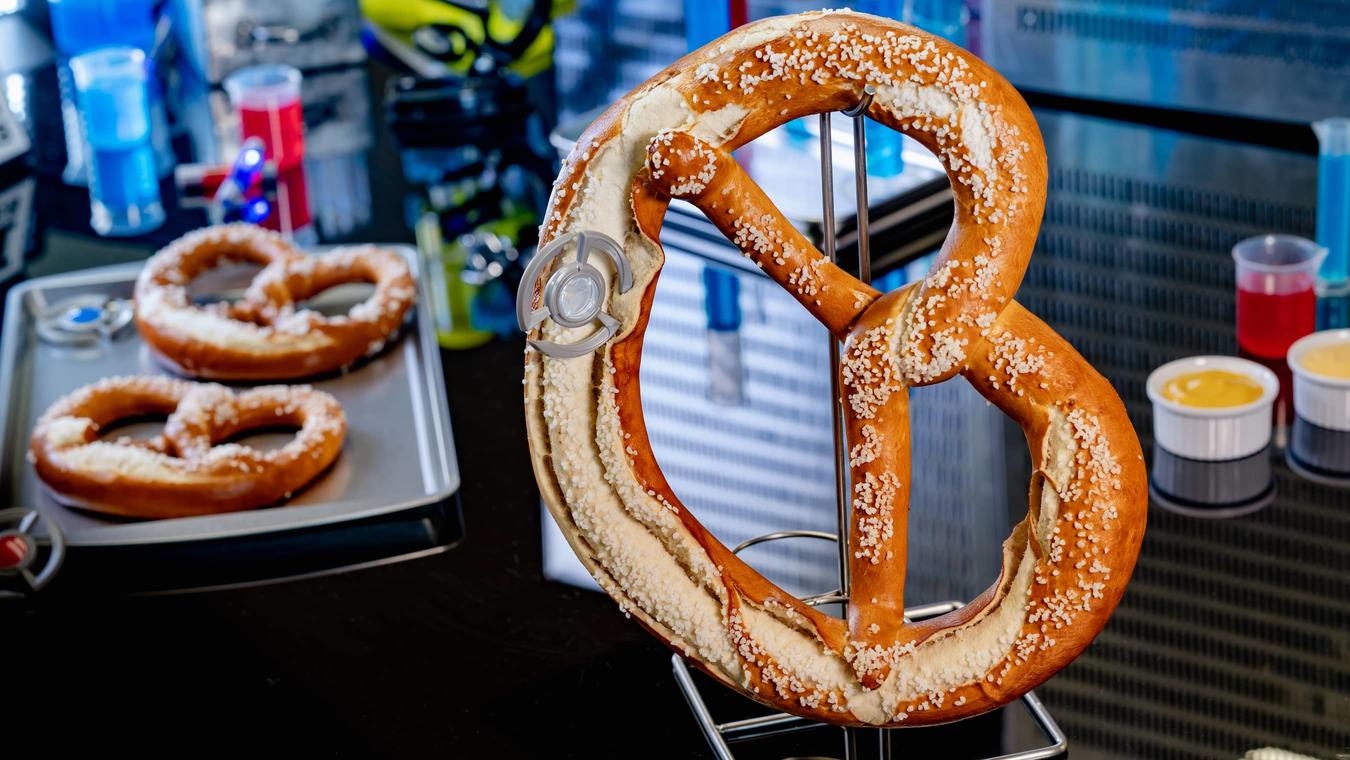 And, you'll even be able to stop by PYM Test Kitchen with Mobile Order when the restaurant makes its debut with the rest of Avengers Campus.
Located next door to the PYM Test Kitchen, the PYM Tasting Lab will be a bar serving up drinks the Avengers would even love! The beer-based cocktails and hard seltzers will be poured from the bottom up (AWESOME) with drinks like the Regulator —  a Golden Road Mango Cart Wheat Ale with Patron Silver, lime juice, and habanero-mango syrup — and the Honey Buzz — an Elysian Space Dust IPA, Plymouth gin, lemon juice, and honey syrup with an edible straw — on the menu.
There will also be bar bites called "Snack Molecules" at the restaurant that will consist of a mix of caramel popcorn, mini-pretzels, peanuts, and Sriracha or strawberry cheesecake-flavored popped sorghum.
We know that Shawarma has been an icon in the Marvel Cinematic Universe after the Avengers all visited the restaurant in a post-credits scene. And, The Shawarma Palace will officially become a reality as a food cart at Avengers Campus!
You can gather your team of rag tag heroes to snack on a warm chicken wrap with garlic sauce and vegetarian Impossible Victory Falafel with hummus and crusted cauliflower. You can finish off your meal with a lemon tahini sauce that's bound to make your tastebuds go wild!
Along with the other awesome eats, treats, and drinks around the park, Disney will be taking a fan-favorite item and giving it a Marvel flair! Over at the Terran Treats cart near Mission: BREAKOUT!, you'll be able to find spiral churros in bright colors of blue, green, pink, purple, orange, and yellow that are out of this world!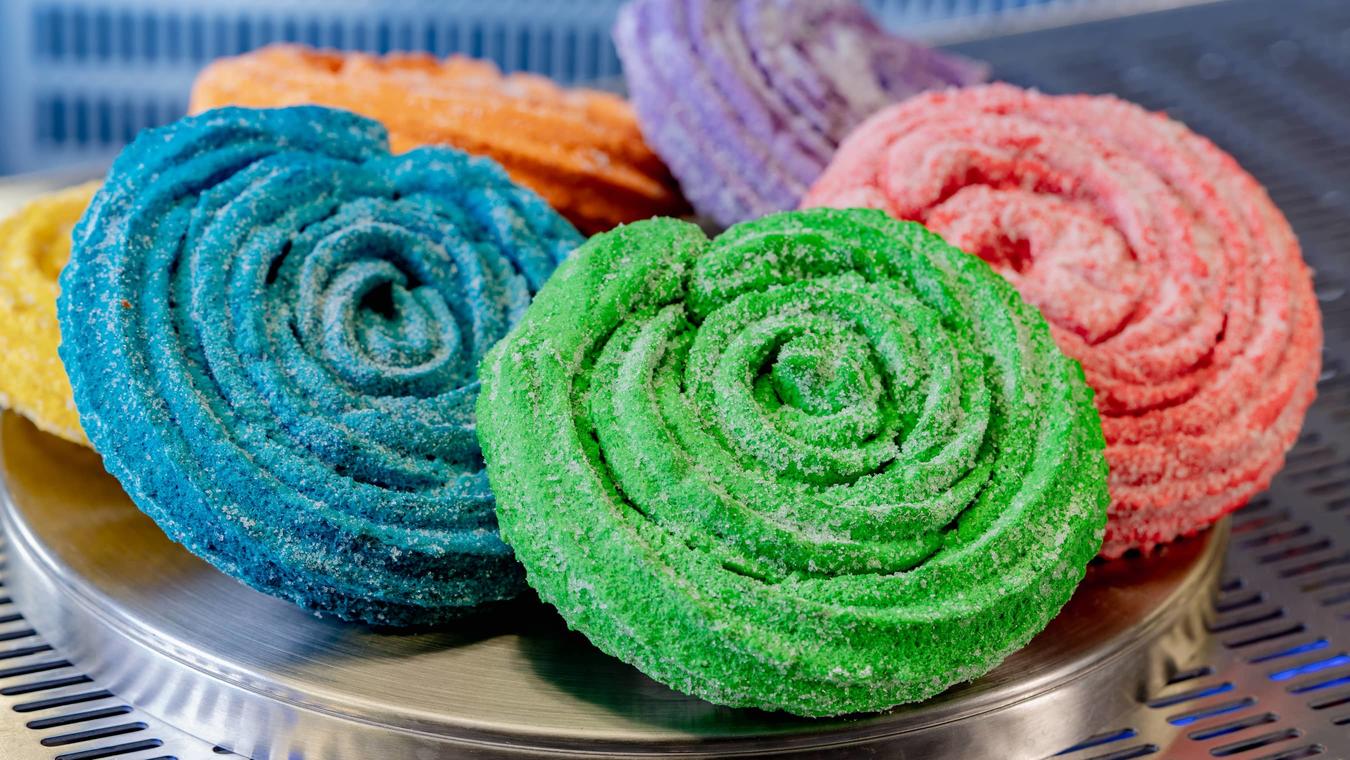 There will also be Cosmic Cream Orbs that are basically a raspberry cheesecake pate a choux for another sweet treat during your stop.
What stores will be at Avengers Campus?
WEB Suppliers and The Campus Supply Pod
We've spotted the Spider-Bots for sale in Disneyland previously, but they will find their official home at WEB Suppliers! Guests can customize their Spider-Bots and even pick up a specialized backpack for their new robotic friends. Kits to create your own spider webs and spider light goggles will also be stocked on the shelves.
The store will show off Peter Parker's inventing skills as the WEB Suppliers will have an array of "cutting-edge inventions and other up-to-the-minute technologies developed by the Worldwide Engineering Brigade's brightest minds."
The Collector's Warehouse
After you exit Guardians of the Galaxy — Mission: BREAKOUT!, you can still visit The Collector's Warehouse as a part of Avengers Campus. The store has Marvel merchandise like clothing, toys, comic books, and more that you can take home with you as a souvenir.
Of course, Avengers Campus may even have a few other spots along the way to pick up new items. And, we'll give you a full tour when the land officially opens!
We honestly can't wait to see Avengers Campus in all its interactive glory after we've followed the construction for so long. We're sure that Disney still has a few surprises to show off when Avengers Campus opens. And, you can bet that we'll be giving you a FULL look at the Marvel inspired land when it debuts on June 4th. Stay tuned with All Ears for more Disney news!
Will you be visiting Avengers Campus when it opens? Let us know in the comments below!