We are SO CLOSE to the grand opening of Avengers Campus in Disney California Adventure!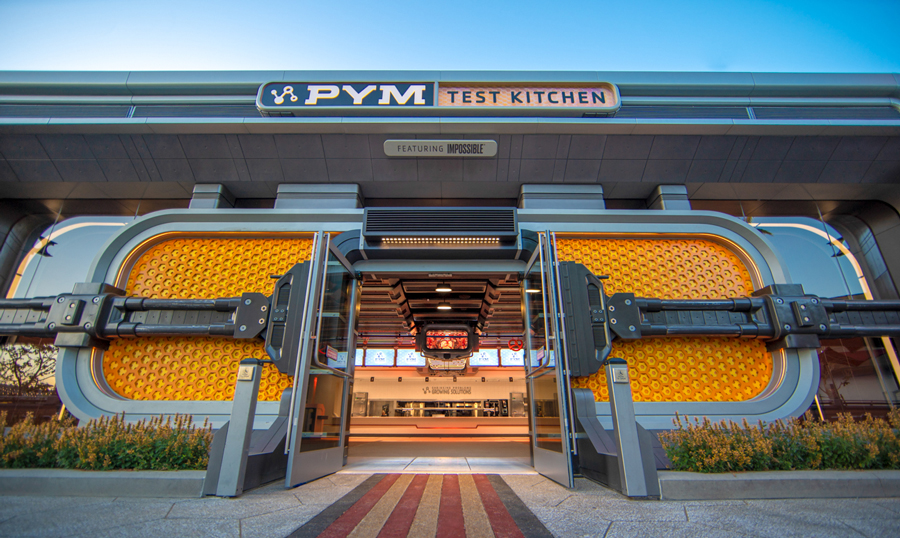 While we've been able to get a look at the costumes and the attractions that will make the new land so incredible, we've also had our eyes on all that Marvel-inspired food.
And, we've finally got a full look at the lunch and dinner menu and the prices you'll be able to find at PYM Test Kitchen when Avengers Campus opens! If there's anything that sounds like a great appetizer to us, it's an oversized soft pretzel. And, they're are TWO options for guests heading to PYM with the Quantum Pretzel (which is a huge pretzel with beer cheese sauce) or the loaded Atomic Fusion Pretzel.

If you're looking for a hearty meal, PYM won't disappoint with regular run-of-the-mill options like a chicken sandwich, caesar salad, and special PB&J, all with that unique Avengers-style twist. But, the BIGGEST part of the menu (quite literally) is the Family-sized Pym-ini! There's a normal-sized version of the sandwich for $14.49, but if you want to feed more people, the $99.99 version serves 6-8!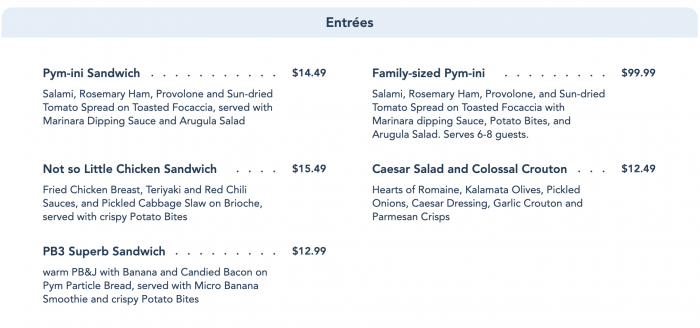 PYM will also have the plant-based Impossible Spoonful available to guests…
…along with LOTS of sides, ranging from potato bites to candied bacon and even more beer cheese (yes, please).
Of course, it wouldn't be a trip to PYM without wrapping up your meal with an oversized dessert! And, guests can indulge in the "celestial-sized" Choco-Smash Candy Bar made with dark chocolate, peanuts, caramel, nougat, and chocolate brownie. So, basically, you can satisfy all those chocolate cravings in one fell swoop!

Kids also have Disney Check meals like the PB&J Flavor Lab and Mini Pasta and Impossible Meat-balls, as well as Red Particle Mini-Meals for smaller versions of the chicken and Pym-ini sandwiches.
While PYM's food is already unique enough as it is, you can take home a special glow cube designed after a PYM particle capsule or disc. Plus, there's even the option to opt for an Enlarged Pingo Doce Soda Can (as Disney makes Marvel comparisons of the ever-popular detonator Coke products in Star Wars: Galaxy's Edge).

Alcoholic beverages are available at the restaurant…

…as well as non-alcoholic options, like a Coca-Cola Freestyle drink, cold brew coffee, banana smoothie, and Proton PB&J Punch.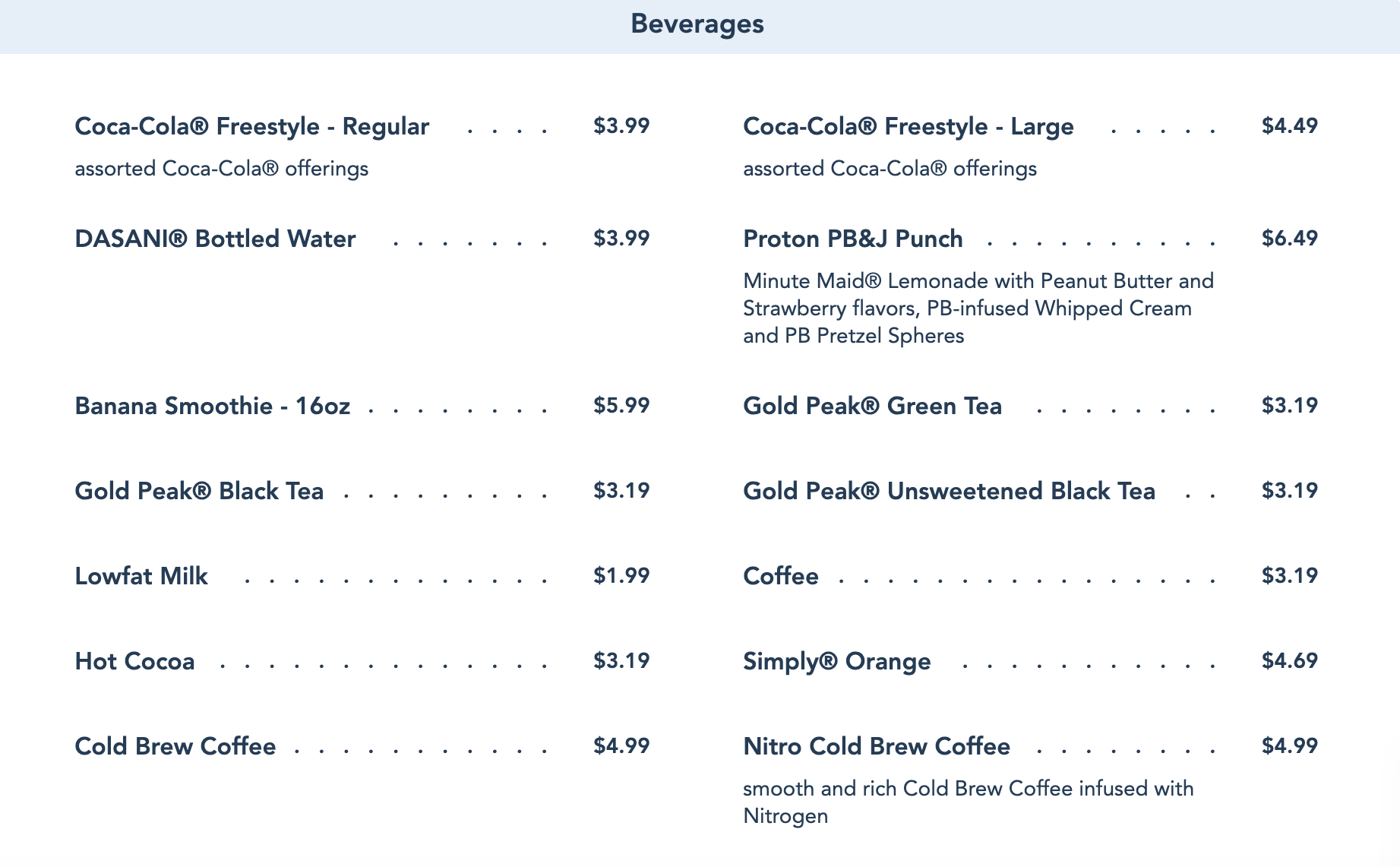 If you're stopping by earlier in the day, then make sure to check out the breakfast menu. It's filled with entrees like the Calculated Breakfast for $10.99, the Impossible Quantum Garden Breakfast for $12.49, the Ever-expanding Cinna-Pym Toast for $12.49, or the Spoonful of Cereal for $6.99. You can also order sides of smoked or turkey bacon, potato bites, or a Cuties mandarin.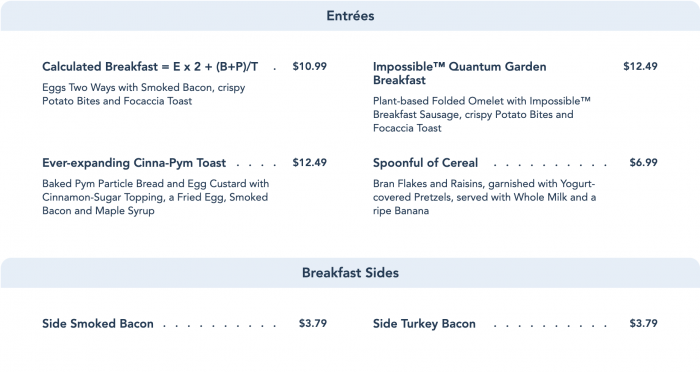 For the kiddos, the Nano Eggs-periment 101 offers a health option to kick off the day, or they can get their own smaller version of an adult's meal with the Cinna-Pym Mini Toast. Each of these choices is $7.99.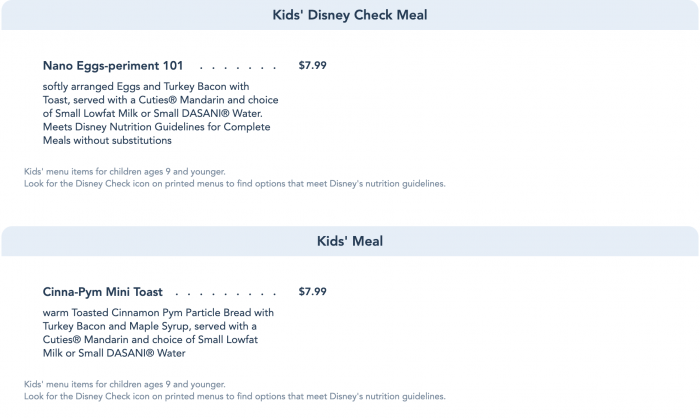 Want to see the menu in action? Here's a video of Avengers Campus Cast Members testing it out!
We're just a few short weeks away from the grand opening on June 4th, so we'll be sure to keep you updated with everything you need to know! Stay tuned with AllEars for the latest Disney news!
Have you been back to Disneyland yet? Let us know in the comments below!