We try every food, ride every ride, see every show, and stay in every resort at Walt Disney World so we can help you make your vacation decisions. But every once in a while we make a mistake — specifically when it comes to getting to and from the parks.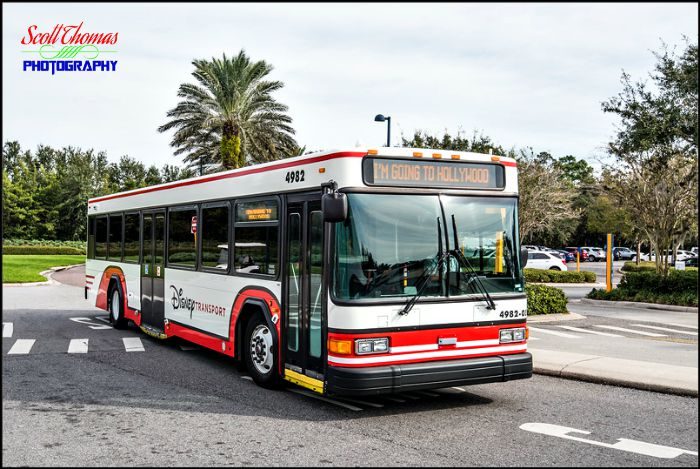 At Walt Disney World, two factors typically come into play with regard to transportation: the park to which you're going and the resort from which you're coming. There are boats, trains, buses, gondolas, and Monorails.
Here are some of the mistakes we've made — and our recommendations for avoiding them!
Buses
Shared transportation is particularly challenging when it comes to buses. At times, all three All Star Resorts share a bus line to the parks. At the beginning and end of park days, this can result long waits at bus stops and standing room only (when transportation is operating at full capacity). If you're staying at the All-Stars and want to cut down on time spent on the bus, check out the layouts of the three resorts. Sometimes your room can actually be closer to one of the others' bus stops; you may be able to board or disboard a bus sooner by using a different bus stop.
Another shared bus issue can arise at resorts with multiple bus stops — Port Orleans — Riverside Resort and Caribbean Beach Resort spring to mind. These resorts are spread out over large areas, and buses shared between stops can make for some long waits.
Mistake Made? We've made the mistake of not checking for a closer bus stop or not learning the loop of an internal bus stop system. Save time by researching both before you leave home or as soon as you know what building you've been assigned.
Skyliner
The Skyliner gondola system is another form of transportation that is shared between resorts. One line runs from a shared station for Art of Animation Resort and Pop Century Resort. Riders need to change from that line to a park line (either Hollywood Studios or EPCOT) at Caribbean Beach Resort (Skyliner's hub). Riviera Resort has a station on the EPCOT park line, which can slow things down a bit if you transfer to the EPCOT line. Know that depending which resort you stay in on the Skyliner system, you will likely need to include time to transfer at Caribbean Beach.
Note that Skyliner gondolas board nonstop (barring delays or mechanical problems), so lines tend to move fairly quickly at the stations. Still, transfers can add time if you're on a tight schedule.
Mistake Made? Not taking time to learn about the three Skyliner lines and their associated end points plus the need to transfer lines at Caribbean Beach Resort can lead to lots of confusion and time lost. Check out our page for Skyliner here; we've got information on all the stations and how to connect from place to place.
Boats
Now, if you are in a real rush, you may want to avoid this form of transportation altogether. No matter what park or resort you are trying to get to the boats are usually not the most efficient choice. Boats are typically slow, and they don't run as frequently as the buses or monorails.
We do enjoy a Magic Kingdom Ferry Boat ride to or from the Transportation and Ticket Center, but otherwise, boats tend not to be a good choice for those in a rush.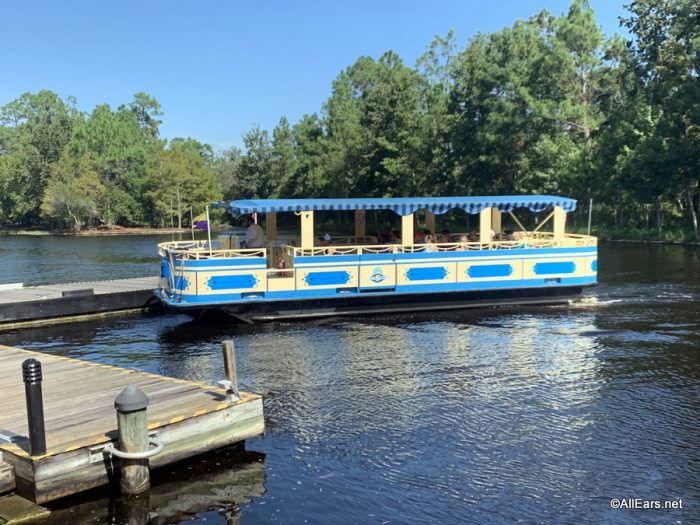 Mistake Made? Boarding a boat — particularly a Friendship Boat in the EPCOT resort area — at all can be a huge time suck. With the exception of the Ferry Boat across Seven Seas Lagoon, boat rides will pretty much always take you more time than other forms of transportation — sometimes including your own feet!
What to Do?
Buses
Most resorts only have Disney buses for transportation, and fortunately they do run with regularity. At present, social distancing measures mean you won't be crammed into standing room-only on the buses, but that also means waits can be longer than usual (and ask anyone who's used the buses — waits can be very lengthy at times).
Don't want to spend a lot of time in a line at the bus stop? Check your My Disney Experience app for bus wait times at your resort, or look for the screens at your bus stop that share wait times.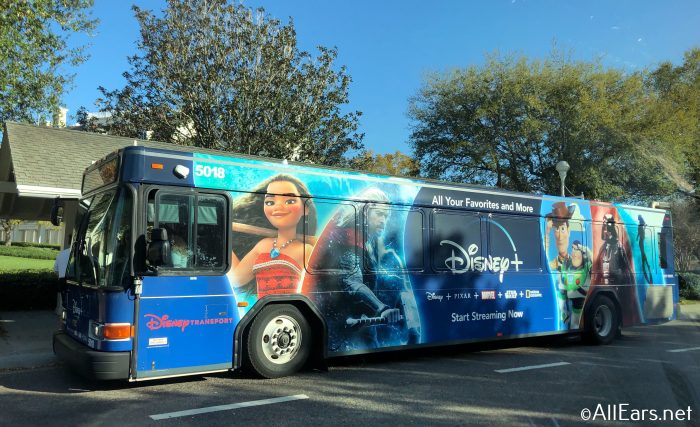 Paid Transportation
If buses, boats, the Monorail, and the Skyliner won't work when you're in a rush, you can get a cab or summon a ride share service. All of the resorts, on or off Disney property, can call you a cab, and you can request a ride share (like Uber and Lyft) to come pick you up. They can take you pretty close to the entrance of the parks (with the exception of Magic Kingdom, which drops off at  TTC). You can also get one of Disney's Minnie Vans via the Lyft app when they're operating.
Renting a Car
If you want to control your own transportation, renting a car is your best bet. We've got more information about that here. There are some hassles to renting a car — namely the unpredictability of traffic and the distance from parking lot to park entrance — but if you want to be in command of your own destiny, this is the way.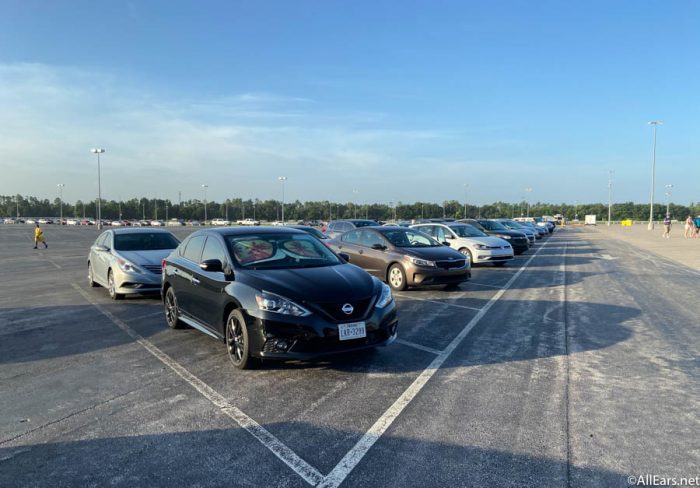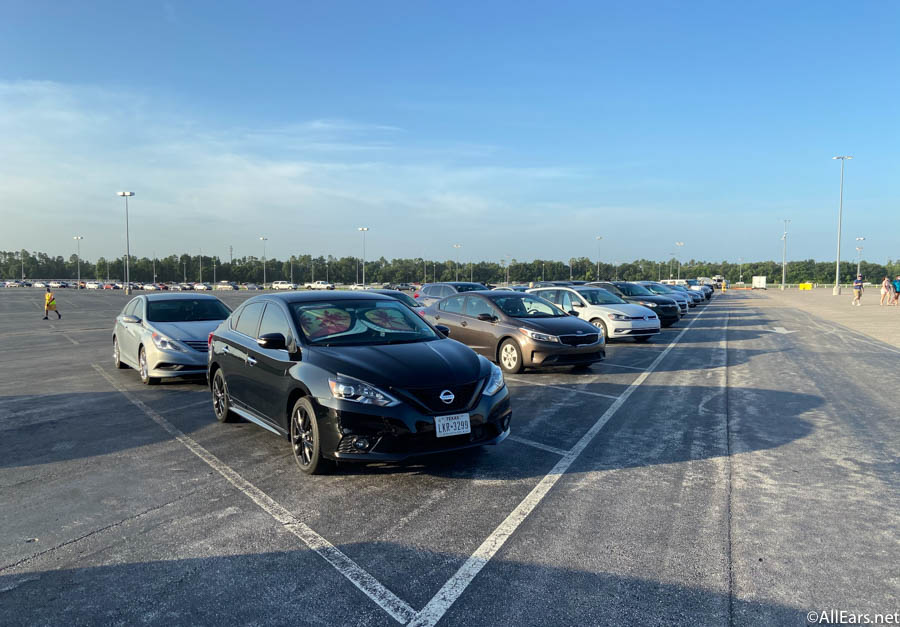 Plan Ahead
The most important thing to remember when travelling anywhere in Disney World is to avoid needing to rush in the first place. Whether you're heading to a dining reservation, trying to make it in time for a FastPass+, or trying to Park Hop, leave yourself plenty of time. Try to plan ahead before you leave home, then, remember to be flexible once you're on site.
What are some of your favorite transportation hacks in Disney World? Let us know in the comments.
Join the AllEars.net Newsletter to stay on top of ALL the breaking Disney News! You'll also get access to AllEars tips, reviews, trivia, and MORE! Click here to Subscribe!