Did you even go to Walt Disney World if you didn't eat 1,000 treats and snacks?
While we definitely love all of the attractions and entertainment around Disney World, the food is sometimes the highlight of a particular day or trip! But some Disney snacks have been cursed with rather hideous appearances (despite being actually delicious underneath their terrifying exterior) or have sadly been discontinued.
Here's our list of 10 Disney World snacks that totally deserved better!
1. Pork Shank — Gaston's Tavern — Magic Kingdom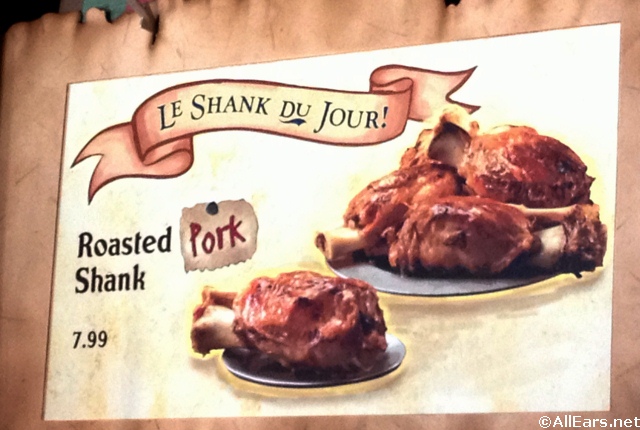 MOVE OVER TURKEY LEGS! The moist and delicious pork shank is coming through (or rather, it came through, and now it's gone). The pork shank was a dish initially served at Gaston's Tavern when it opened up back in 2012. For $7.99 you could get a good amount of fatty, salty, yummy meat that would literally fall off the bone and was totally shareable with the family for a great snack.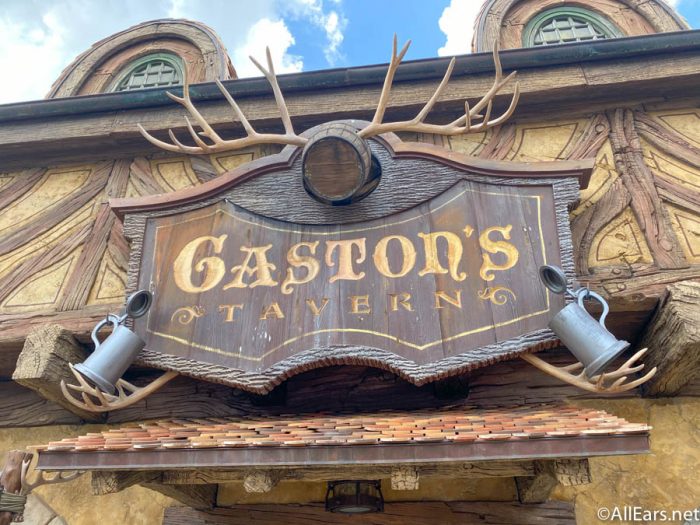 Although somewhat comparable to the turkey leg (it is a giant piece of meat on a bone), it had a different flavor profile and level of juiciness, especially with the fattiness of the meat. It was also pretty unique to this location (although it was served at another spot for a time), making it much more exclusive than the Turkey Leg which you can find at a lot of spots. Plus, who could resist grabbing a giant piece of meat by the bone and sitting in Gaston's chair for a photo op, doing just as you know he would have done?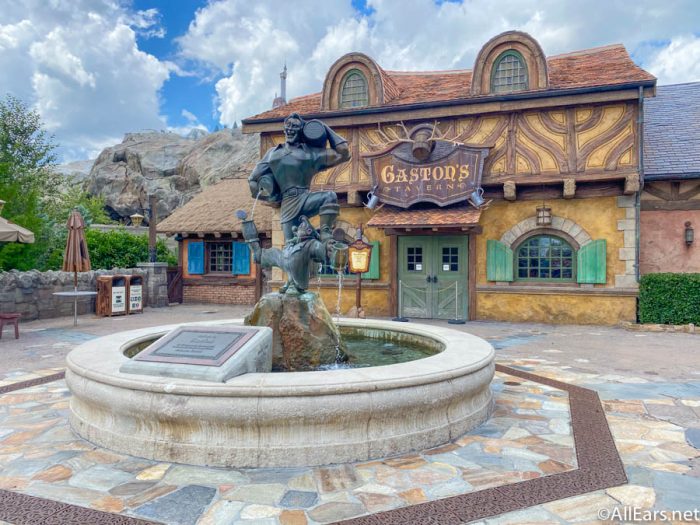 But, sadly, around 2015 the pork shank was taken off the menu at Gaston's Tavern, and although we have hoped for its return, it has yet to be found again at this spot. Sure, you can still get a turkey leg throughout Disney World, but it's not the same as snacking on this delicious treat. This snack deserved so much better. Dear Disney: please bring back the pork shank as the ultimate 2020 surprise.
2. Original Carrot Cake Cookie — The Writer's Stop — Disney's Hollywood Studios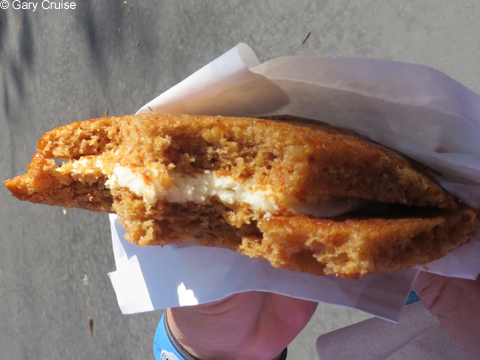 Another beauty from the past taken away from us far too soon is the original Carrot Cake Cookie from The Writer's Stop in Disney's Hollywood Studios. This cookie sandwich was a big favorite for many Disney fans. It was formed by two soft carrot cake cookies (think like a whoopie pie or cake) with a THICK filling of cream cheese frosting between them.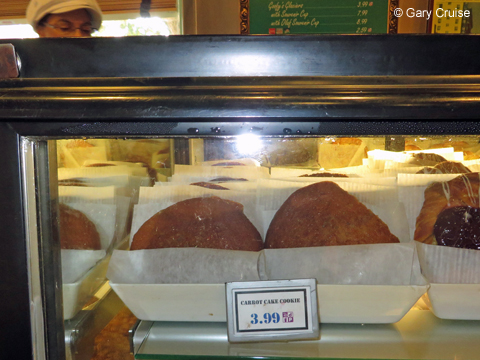 And the best part? You could then take that cookie, grab a seat in The Writer's Stop, and kick back with a cool book while you relaxed for a few minutes. It was a quiet and somewhat hidden hideaway.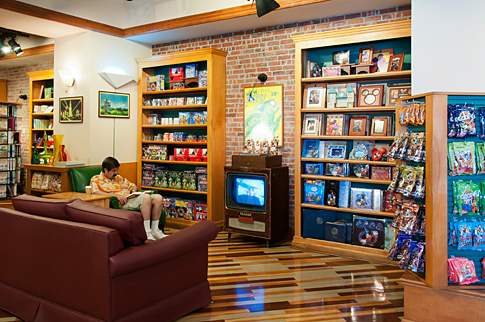 But now, The Writer's Stop and the original carrot cake cookie are just a memory. This spot is actually now the home of BaseLine Tap House, and while there have been other carrot cake cookies in Disney World, none has really used the same recipe. The closest replica can be found at Trolley Car Treats in Hollywood  Studios, but if you're in it for the frosting, the updated version will leave you wanting more.
The only consolation? We do have a recipe for it so you can try to make it at home! It may not be exactly the same as having a fresh one in the park, but it'll do for now.
3. Going Batty Cupcake — Wilderness Lodge
The "Going Batty Cupcake" is a Halloween treat that has popped up a few times at Wilderness Lodge. This treat is made out of a chocolate cupcake with cookies and cream filling and ganache icing, with a little bat on top. Here's what Disney Parks Blog has shown the cupcake should look like…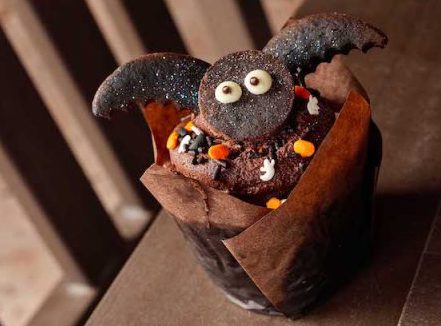 …but when we got it this year, it wasn't quite as cute. Instead, it was a little spooky looking with some eyes that were bulging out instead of just cutely decorated!
The cupcake itself tasted very good and the filling served up some serious Oreo milkshake vibes, but sadly the exterior of this treat looked like it was the thing going batty! We definitely hope we see this treat come back next year, perhaps with some eyes that bulge out a bit less. It's alright, little cupcake, 2020's been hard on everyone.
4. Figaro Fries — Pinocchio Village Haus — Magic Kingdom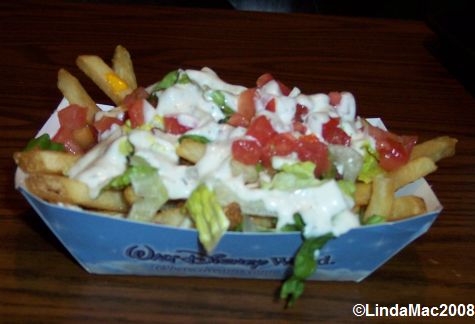 Let's be real, Pinocchio Village Haus isn't exactly winning any awards in the Quick Service category, BUT its Figaro Fries were a menu MUST-HAVE! It even made our list last year of the top snacks we wish Disney would bring back!
If you never had the pleasure of trying these beauties, they were fries (makes sense) topped with cheese, lettuce, ranch dressing, and tomatoes. Simple, delicious, perfection.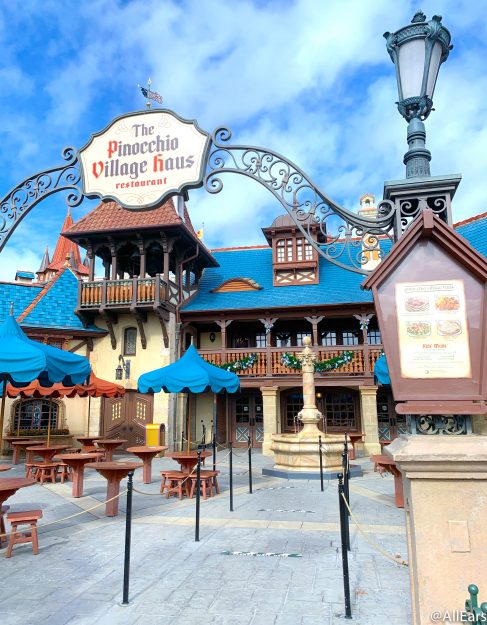 This fantastic snack was eventually discontinued from the menu but kept coming back for limited time periods. Eventually, however, these fries said their final goodbye from Pinocchio's.
They have, however, popped up as "Plaza Loaded Fries" at The Plaza Restaurant, so not all hope is gone! At the Plaza, you can get these as Crispy Fries with Melted Cheese, Bacon, Lettuce, and Tomato, as well as Ranch Dressing. YUM.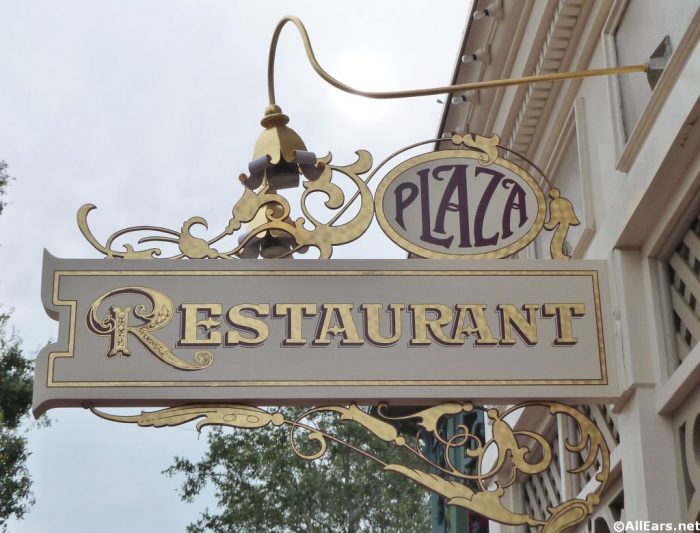 While having these beauties at the Plaza is definitely nice, we would absolutely LOVE to see Disney put the Figaro Fries back on the Pinocchio Village Haus menu so we could gobble them up whenever we want to, without the need for an Advance Dining Reservation.
BUT at least we sort-of can have them whenever we want IF we make them at home! Check out our recipe and you can bring some of this delicious magic to your next meal.
5. Match the Species Poop Candies — Zuri's Sweets Shop — Disney's Animal Kingdom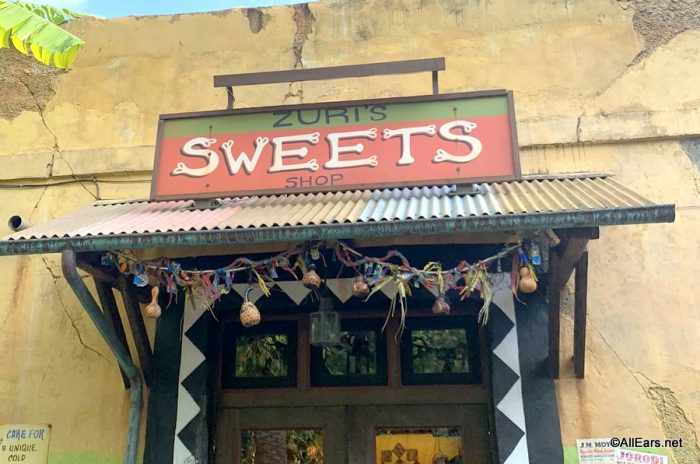 Ever wondered what Giraffe Poop looks like? Okay, maybe the answer to that is yes. Ever wanted to EAT something that not only looks like, but is SOLD AS "Giraffe Poop"?! WHAT?! Yes. For a time, Zuri's Sweets Shop in Animal Kingdom sold treats called "Match the Species" where the "poop" snacks were modeled after real animal poop, and you could play a fun "which animal 'poops' like this" game. Ew. Giraffe, Hippo, Elephant, and Cotton Top Tamarin "poop" treats were all up for grabs at this spot.
Why do we think this snack deserved better? The treats were actually GOOD! The elephant poop, for example, (chocolate peanut butter fudge with sweet rolled oats and yellow coconut flakes) had an unappetizing look, but was actually quite yummy!
Eventually the "poop" snacks were removed from this spot (we can't imagine why), but we totally think this could have worked out these items were shaped like cute little animals or something, literally ANYTHING except a creature's poop.
6. Pot Roast Mac and Cheese — Friar's Nook — Magic Kingdom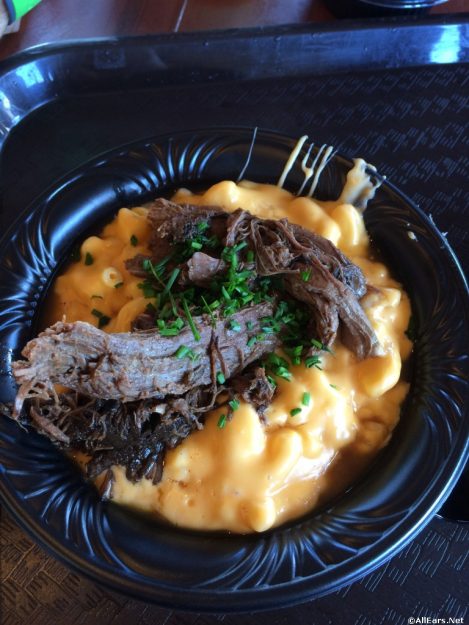 Any cheese lovers in the house?? Alright, well this next one is for you! Just LOOK at ALL of that melted goodness in there! While Friar's Nook is still serving up some cheesy goodness, sadly the pot roast mac & cheese has said goodbye.
Although the sheer amount of cheese in this dish could make it a bit too heavy for some (particularly after a long morning in a hot theme park), it was still a filling, satisfying, and totally yummy snack! We definitely wish it could make a comeback. But, for the time being, we'll fill up on loaded tots and some other speciality mac & cheese dishes at Friar's Nook.
7. Some Star Wars Snacks — Star Wars: Galaxy's Edge — Disney's Hollywood Studios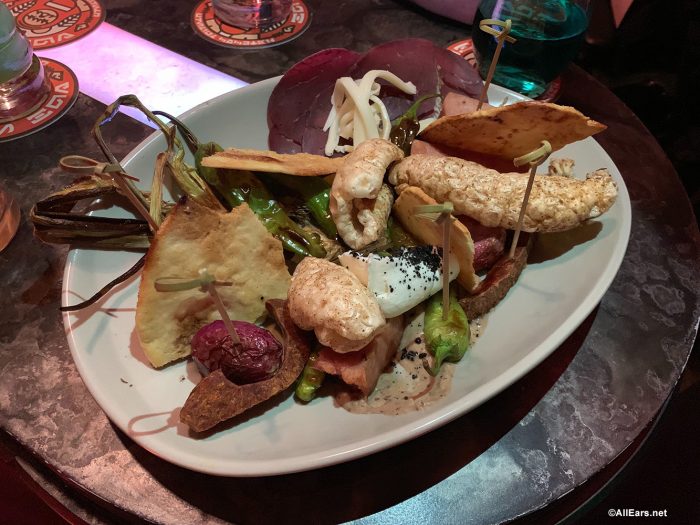 Okay, let's be really honest here. Out of ALL of the treats in the galaxy, some of the ones chosen for Oga's Cantina at Star Wars: Galaxy's Edge could have been a bit better — we're looking directly at you Happabore Sampler. This sampler dish is made of "cured and roasted meats, cheese, and pork cracklings." And that may sound good, but let us assure you — this is a SKIP SNACK FOR SURE.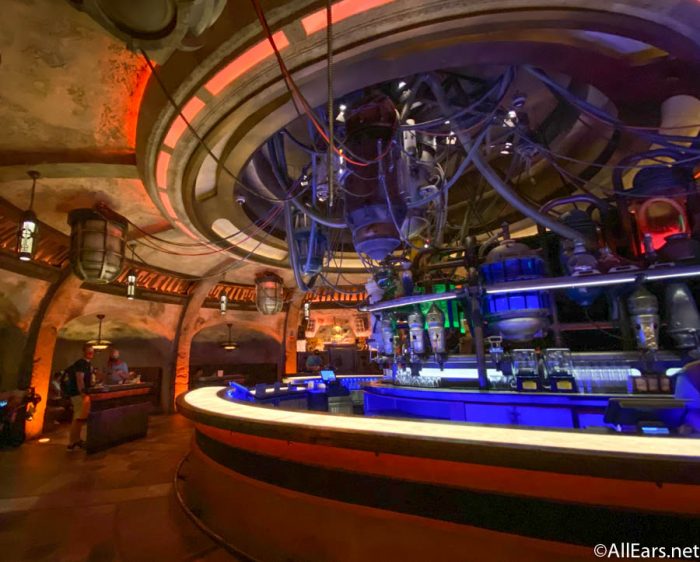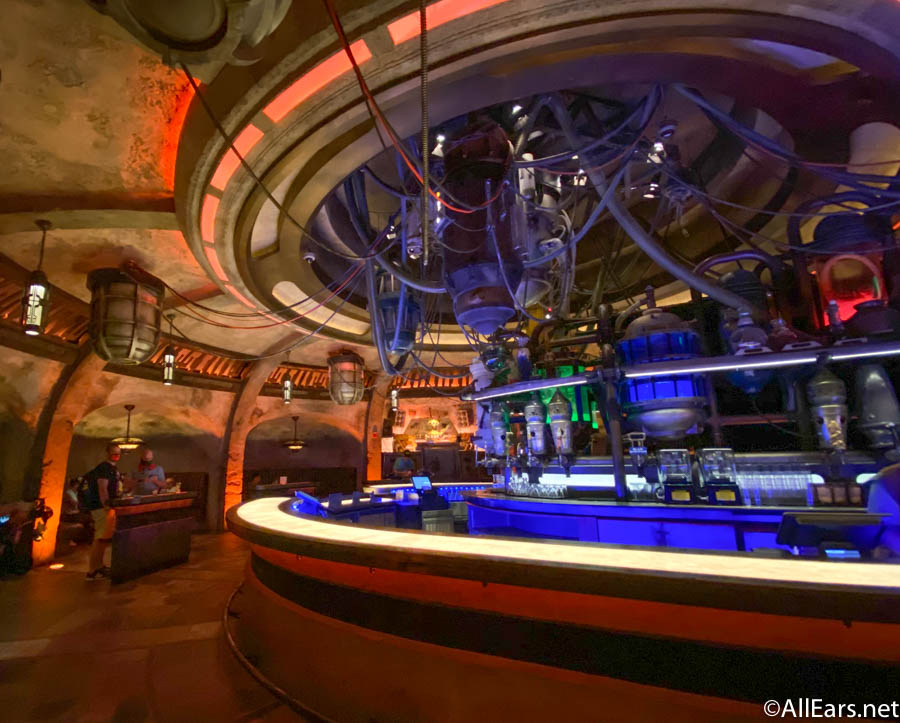 The mixture of items served in this dish is beyond strange — we're talking SPAM and shredded string cheese. Nothing really makes sense individually or together. Of ALL the possibilities — the fact that THIS was the dish specifically CHOSEN for Oga's Cantina is just not the best. 
The Batuu Bits also at Oga's Cantina don't exactly feel like the most out-of-this-world snack. While the Chermoula Dip they're now served with definitely make them better, there are still several parts of this dish that aren't our favorite or simply don't go well together.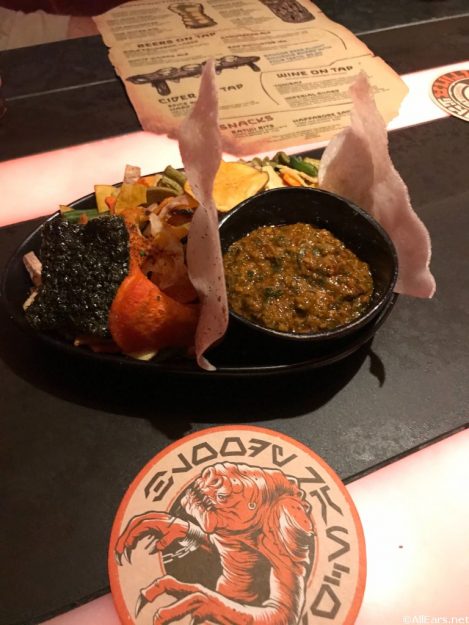 And, lastly, we have to at least mention blue and green milk from the Milk Stand in Galaxy's Edge. These are…interesting. We're not sure what exactly we imagined Luke's blue milk from A New Hope tasted like, but the fruity creations we got from Galaxy's Edge isn't it.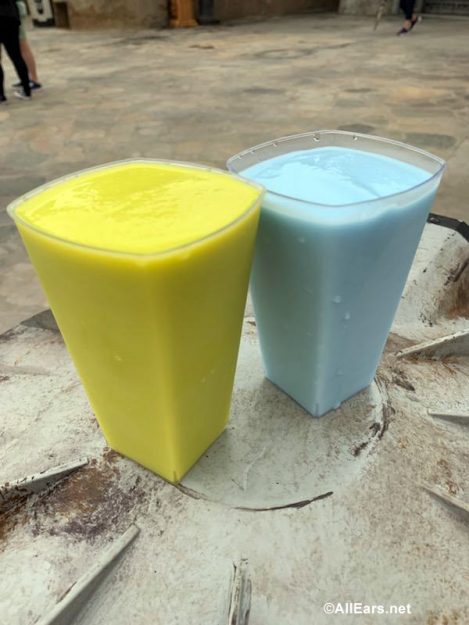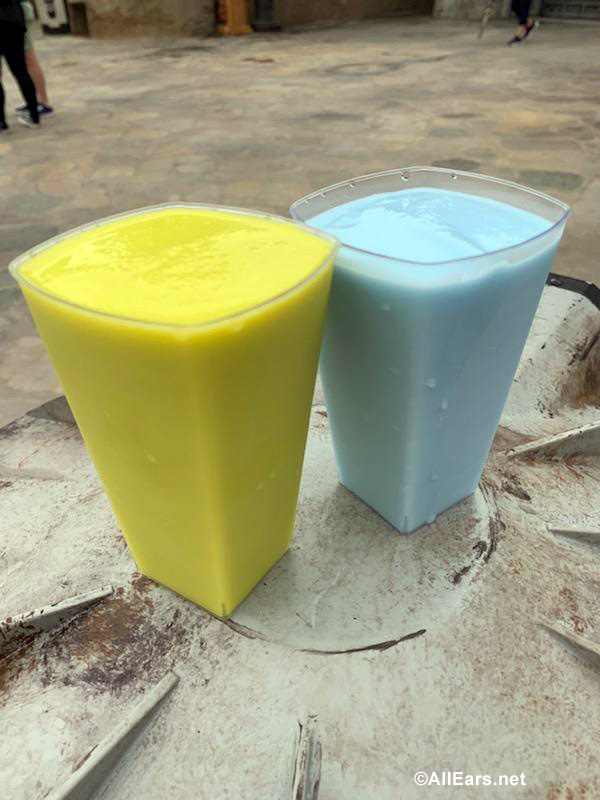 We'll say this — LOTS of AllEars readers said they would NOT try these again in Disney World, and we can definitely appreciate that. They're interesting, and we'd say it's totally worth it to get them once to say you tried them, but their unique flavors are NOT for everyone.
8. Hei Hei Cone — Aloha Isle Refreshments — Magic Kingdom
We've had a LOT of Dole whip flavors in Disney World, but one of the cutest, and one of our favorites was the Hei Hei Cone from Aloha Isle Refreshments. What's there NOT to love about this treat? From the blue cone to the Raspberry and Pineapple Dole whip on top, and (of course) the eyes and sour candy "comb" — this treat had it all! Cute, delicious, refreshing, and Insta-worthy — it was amazing.
Sadly, this treat went on an adventure of its own last year (it seems a rooster's work saving the world is never done). We're still hoping it'll make its way back to Magic Kingdom at some point, but until then we'll "make do" with the delicious Dole whip creations that are still available!
9. Space Sandwich — Liberty Inn — EPCOT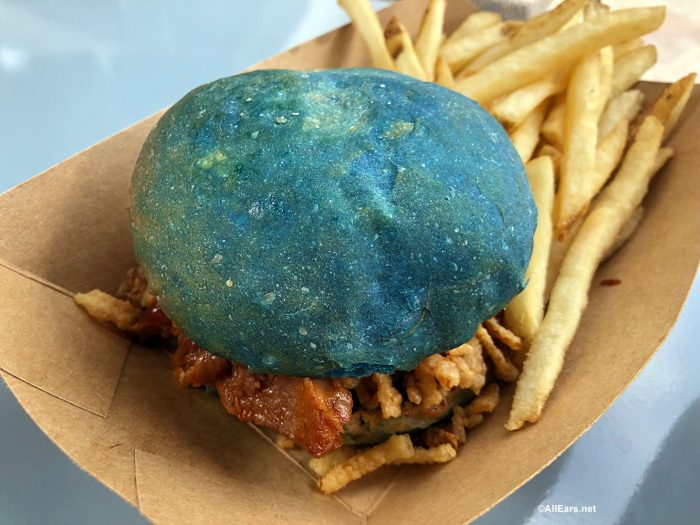 Last year, Disney offered a "Space Sandwich" at the Liberty Inn at The American Adventure (which has now been replaced by Regal Eagle Smokehouse: Craft Drafts & Brews) which was made with barbecue pulled pork topped with crispy onions and served on a Kaiser bun with french fries on the side.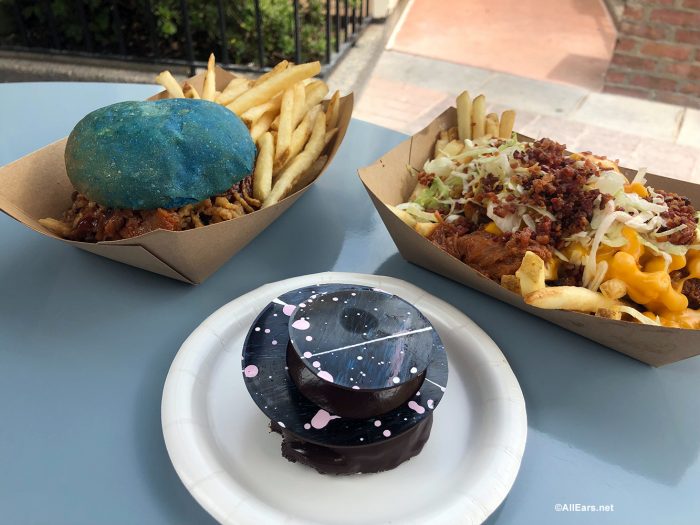 The sandwich itself was fairly basic, but that's not what qualifies it for this list. It's the "colorful" bread that did it for us. Honestly, blue and bread doesn't mix well considering bread can develop mold that actually is blue in color when it gets old. So eating this kinda felt like eating moldy bread unless you sort-of closed your eyes. We get that Disney was going for a space and stars look, but it just didn't work here for us.
This treat was released as part of a Guardians of the Galaxy celebration, and we definitely feel like Peter Quill and the Guardians deserved a better option (thankfully the other savory dish that was created for this celebration was actually quite a delight)!
10. Chicken Caesar Sandwich — Dockside Diner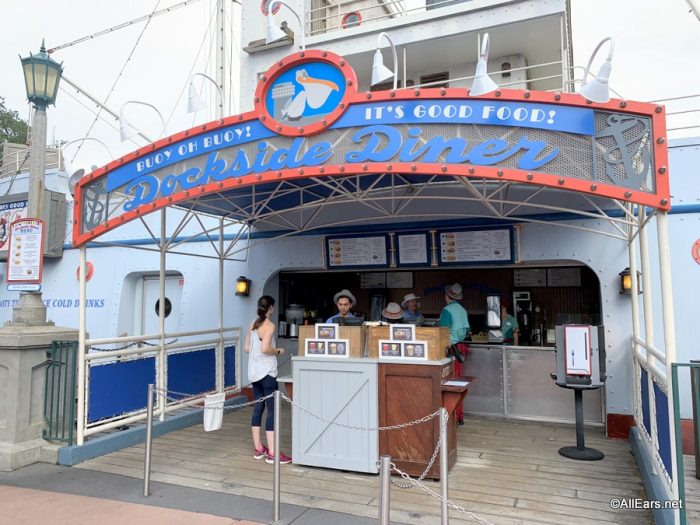 Finally, we reach the last item on our list — the Chicken Cesar Sandwich from Dockside Diner at Disney's Hollywood Studios. This sandwich featured mixed greens, parmesan, and caesar dressing surrounded by a bread roll. It's like having a chicken caesar salad in a bread bowl — all the healthiness with all the carbs — and that's the kind of deliciousness the world needs.
This item was offered several years ago and has since left the menu at Dockside Diner, but it would be great to see this one make a surprise (or ideally permanent) comeback! Salad = healthy, Bread = delicious, this sandwich = a total treat!
Well, that's our list of the Disney snacks that we think deserved better! Let us know if you agree with any of the ones on this list or what items YOU think deserved better.
Join the AllEars.net Newsletter to stay on top of ALL the breaking Disney News! You'll also get access to AllEars tips, reviews, trivia, and MORE! Click here to Subscribe!