Walt Disney World Carrot Cake Cookie Recipe
Ingredients:
1 box Carrot Cake mix
3/4 cup of water (per box instructions)
1/3 cup of vegetable oil (per box instructions)
3 large eggs (per box instructions)
8 oz of cream cheese
8 tablespoons of butter
1 cup of confectioners (powdered) sugar
1/2 cup of crushed and drained pineapple
1 teaspoon of vanilla extract
RECIPE:
You'll want to start by making the Carrot Cake recipe listed on the back of the standard box. Before you get mixing, be sure to preheat your oven to 350 °F and grease a cookie sheet.
Dop off rounded spoonfuls onto your cookie sheets and bake for about 10 minutes. Set aside to cool once baked.
In another large bowl, sift your powdered sugar.
Then, place your butter and cream cheese inside the bowl.
Drain your crushed pineapple in the sifter over your sink, before adding it and the vanilla extract to the rest of the ingredients in the bowl.
Blend the ingredients together until the frosting is creamy.
Place a tablespoon (or more!) of icing on each cookie and sandwich them together! Ta-da!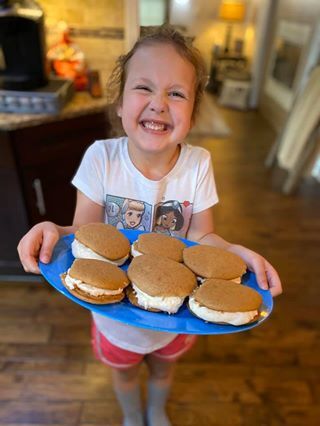 Recipe shared with us from Disney Food Blog