Reservations open today for a new dining experience coming to Pizzafari in Disney's Animal Kingdom starting July 31.
The brand-new Pizzafari Family-Style Dining Experience will allow you to experience table service dining at the counter service venue. But don't worry — Pizzafari will still also act as a quick-service location, if that's what you'd prefer.
Pizzafari Family-Style Dining will be offered daily between 5 and 8 p.m. To take advantage of the new offering, make a reservation in advance as you would for any other Disney restaurant — online at DisneyWorld.com/Dine or by calling 407-WDW-DINE (407-939-3463). Then, when you arrive at Pizzafari for your meal, check in at the podium and place your drink orders. You'll then be seated in one of the two designated dining rooms. Your dinner will be brought directly to your table family-style and will include two appetizers (Caprese Salad and Caesar Salad), three entrees (including pasta, chicken, and pizza dishes), and dessert.
The cost for Pizzafari Family-Style Dining is $19.99 for adults 10 and older, $11.99 for children 3-9, and includes non-alcoholic beverages. Beer and wine will also be available for purchase. This experience also counts as one quick-service credit on the Disney Dining Plan.
As noted above, Pizzafari will continue to act as a counter service restaurant, too. If you want to eat on the go, you'll find that the location has changed up its quick-service menu options a bit.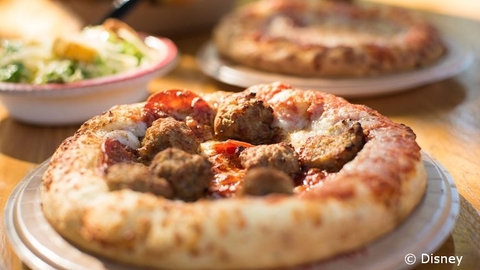 The personal pizzas are once again circular pies, available as Cheese, Pepperoni, Vegetable, or Sausage & Pepperoni. One flatbread from the previous menu remains: Shrimp Flatbread with roasted shrimp, tomato, red pepper, Alfredo sauce and pesto and topped with greens.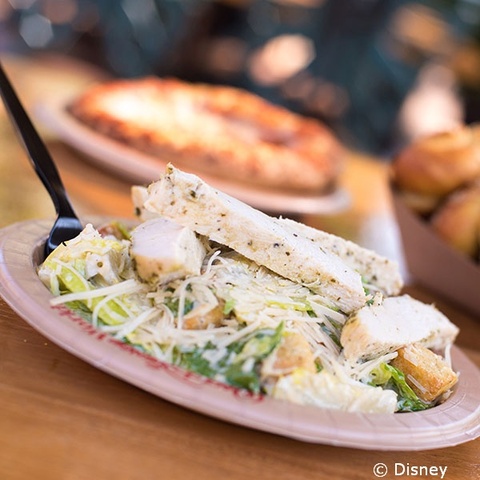 The pizzas and flatbread now can be paired with a small Caesar Salad. Also available is a Caesar Salad with Chicken and a basket of fresh-baked Garlic Knots topped with cheese and served with marinara sauce.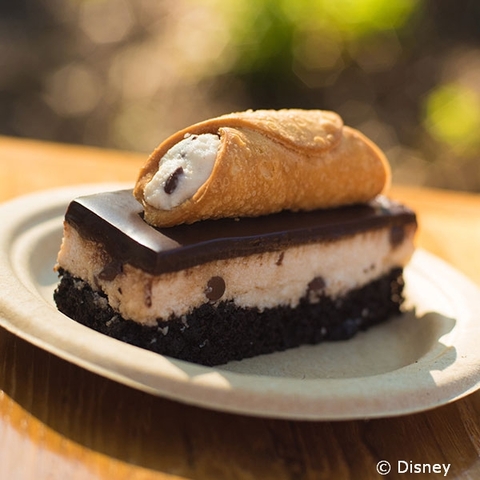 Finally, a new dessert is being offered: Cannoli Cake, which is a slice of chocolate cake with chocolate chip cannoli filling. It's topped with chocolate ganache and a mini cannoli filled with sweet ricotta cheese and chocolate chips.
Read more about Pizzafari and see photos of this location HERE.