Earlier this week, Disney's Animal Kingdom announced the new Pizzafari Family-Style Dining Experience, which allow you to make reservations for table-service dinner at this normally quick-service location.
Animal Kingdom has announced even more food news for the theme park.
Tiffins Restaurant is now serving a new fixed-price lunch menu from 11 a.m. to 3:30 p.m. that offers two courses: you have the option of an appetizer and entree or an entree and a dessert. Appetizers include Apple Walnut Salad or Spiced Chickpea Falafel; entrees include Wagyu Beef Tagine, Paella, and Roasted Chicken Breast. Dessert course features a pairing of South American Chocolate Ganache and Guava Mousse (pictured above). The two-course menu is $35 per person (plus tax and gratuities) or two table-service credits on the Disney Dining Plan. You can make reservations online at DisneyWorld.com/Dine or by calling 407-WDW-DINE (407-939-3463). Walk-ups are also accepted.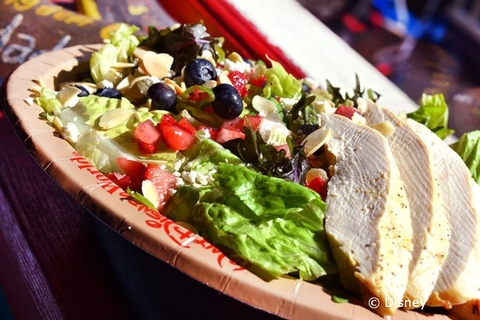 For a more casual lunch, Dino Diner in Dinoland USA has added an Italian Sausage Hoagie to its menu with broiled Italian sausage and sauteed onion and peppers, served with potato chips. Nearby Restaurantosaurus is featuring a new Grilled Chicken Salad with Summer Berries, Breaded Shrimp served with French Fries, and Shrimp & Chicken served with French Fries.
Harambe Market in the Africa section of the park has added several new dishes including a vegetarian offering: Roasted Vegetables with cauliflower, sweet potato, and chickpeas served over steamed rice with yogurt raita.
Also at this location, there's a new Pork Sausage dish with curried onion relish served on naan bread with black-eyed pea salad. A new dessert, Safari Cake, was inspired by the white-striped Okapi. It is a coconut cake made with pineapple-coconut mousse covered with chocolate.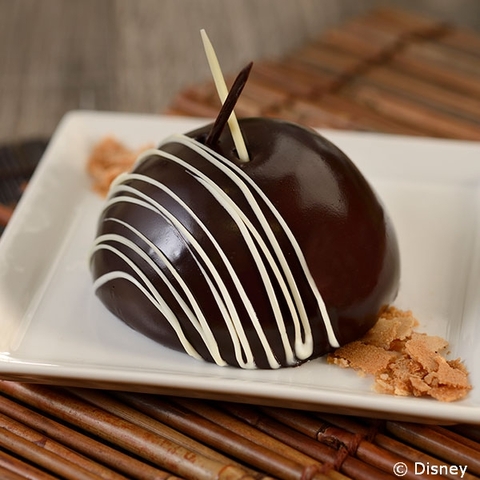 Over in Pandora — The World of Avatar, the Satu'li Canteen has added a Combination Bowl with both grilled beef and chicken to its popular Build-Your-Own-Bowl options. There are also two new base selections for the BYO Bowls: a Rice and Beans base and a Hearty Salad base.
Finally, those with a sweet tooth will enjoy the Up-inspired Cake Push Pop at Warung Outpost, which has layers of chocolate cake, green and blue buttercream, and crispy white chocolate.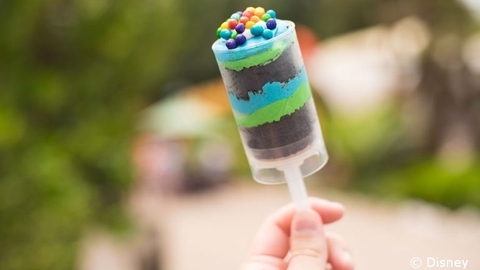 There's also a new Banana Maple Cake at Flame Tree Barbecue and a cupcake that pays tribute to Donald's Dino-Bash! The vanilla cupcake is filled with lemon-flavored white chocolate mousse and topped with buttercream, crispy pearls, and a red fondant bow.
You view all of Disney's Animal Kingdom's menus, plus see photos of the locations and menu items, in our dining database HERE.