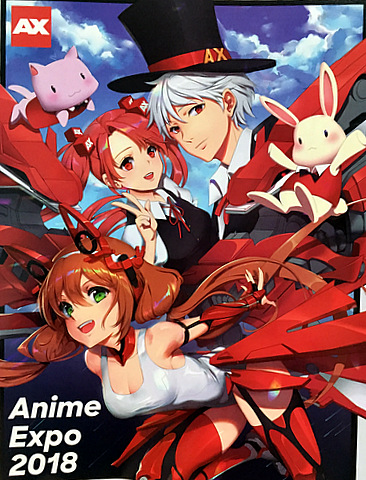 Anime Expo, the largest celebration of anime pop culture in North America, once again took place at the Los Angeles Convention Center this month. Virtually every facet of Japanese popular culture was represented with gusto as 110,000 fans devoured content for five days on video games, film, tv, cosplay, animation, music, and traditional arts.
Heading out into the convention center, the Expo encompassed two large Exhibit and Entertainment Halls that featured more than 524 Exhibitors selling goods and demoing games. For cosplayers, there were booths dedicated to costume repair and numerous photos sets, as well as historical displays from the World Cosplay Championships.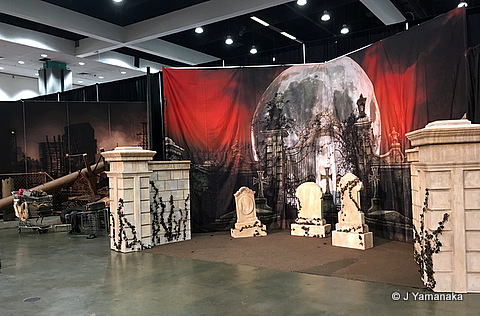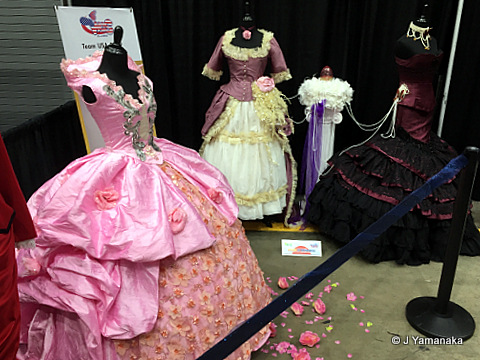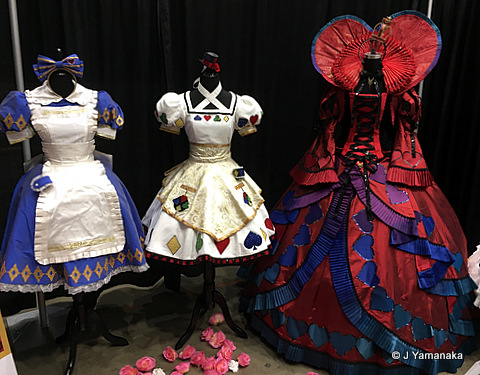 Game companies Blizzard and Square Enix had sizeable presences, offering Overwatch and Kingdom Hearts demos and merch for anyone willing to brave the lines.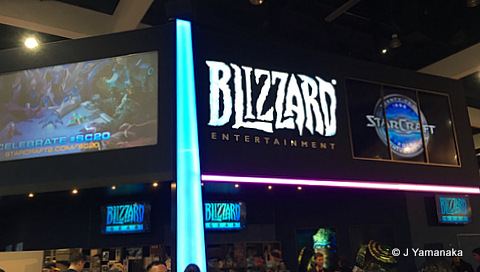 Gamers more interested in kicking it old-school could enjoy more traditional machines as well as large areas for card/board games.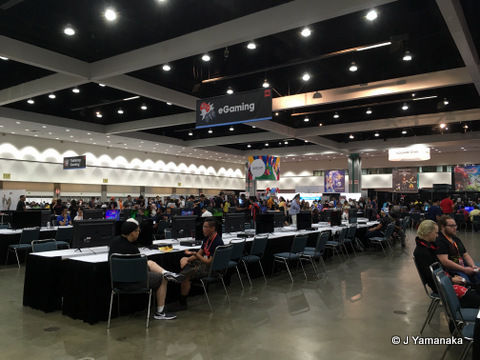 I spoke a little in Part One about some of the differences in Japanese and US pop culture–another interesting one is the huge industry there devoted to online mobile gaming for women. The general tendency here to try to gear games exclusively towards the male audience can be seen by the almost complete lack of any big companies delving into this field–which really seems like an impressive devotion to gender division, when you consider how much money they look to be leaving on the table.
[Like most of the games at E3, these games are probably neither intended for, nor particularly appropriate for children.]
In any case, after taking in the largely testosterone-sprinkled booths at E3, having a few intended to catch women's attention was an interesting change. One of the more prolific companies releasing mobile visual novels/dating sims is NTT Solmare who featured digital slot machines, a motion capture shuriken fighting game, and an optical illusion photo op.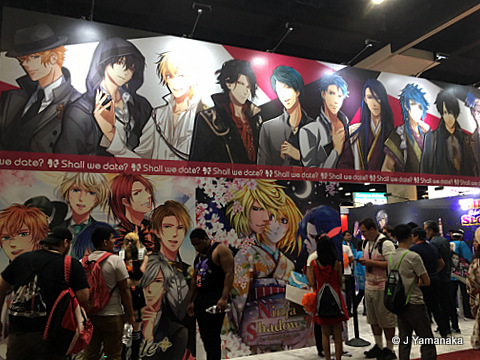 Over at the incredibly popular Cybird booth, examples were regularly held of the "kabe-don" maneuver, which is a widely used romantic trope in many Asian stories.
A slightly broader range of interests was represented at the KLabGames booth, where they had activities related to several of their games, including the phenomenally popular music-themed action video game "Utano☆Princesama Shining Live" (a cross between a dating sim and an infinitely more complex Simple Simon game,) "Bleach: Brave Souls," "Love Live! School idol festival," and their soccer sim "Captain Tsubasa: Dream Team."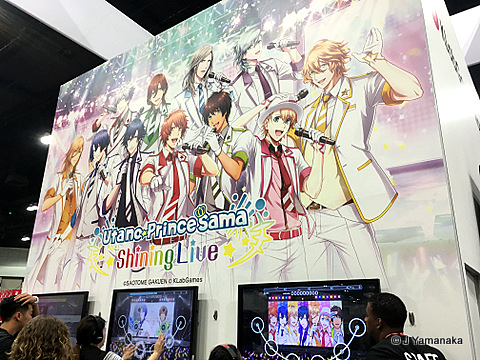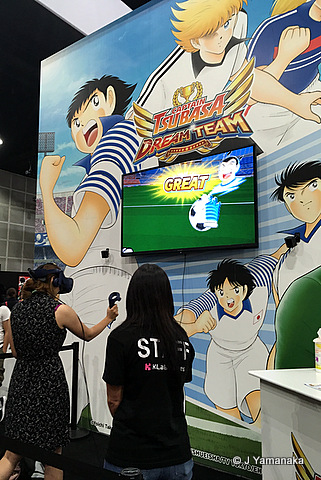 (In which we find out that I am even worse at virtual soccer than actual soccer, if that can be believed.)
As usual, there was the usual metric ton of merchandise as kawaii as anyone could wish for.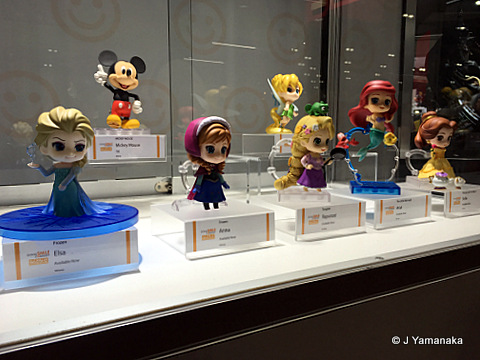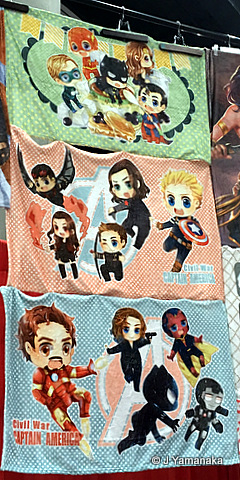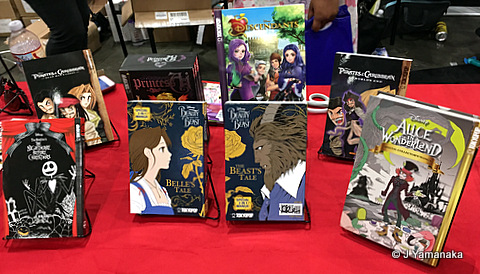 Panels and displays were held on a large array of topics from voice acting…
to martial arts…
To an in-depth discussion moderated by frequent Disney author Charles Solomon on the works of the late film director/screenwriter/producer Isao Takahata, who, along with Hayao Miyazaki, Toshio Suzuki, and Yasuyoshi Tokuma, co-founded Studio Ghibli.
–Takahata was known for the research and detail he put into his works, from Japanese folklore to the realistic depiction of the architecture and culture iconic to his settings.
–Daisy Ridley, of the Star Wars franchise, actively pursued the job of dubbing one of Takahata's lesser-known works "Only Yesterday" because of her fondness for Studio Ghibli films.
–"The Tale of The Princess Kaguya" was Takahata's last film and the most expensive Japanese film to date. It was nominated for Best Animated Feature in 2015. It illustrates Takahata's usage of space to aid in atmosphere and storytelling.
–Solomon reflected that Glen Keane once commented that the key to animation was not moving the camera, but moving the audience, and that Takahata was a master of that.
On the whole this year, I found the convention logistics greatly improved–last year the lines to get in were long enough to block traffic and make even getting a parking space a horrific ordeal. This year, although the lines were still long for the premier events, they seemed to be managed well enough where I didn't hear the same vociferous complaints as last time, despite people having to wait outside in record-breaking temperatures. (One day I walked out of the convention center after 10pm and it was literally like walking into a pre-heated oven.)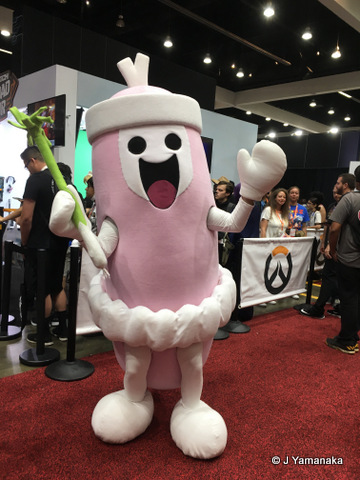 The only space that I felt really still needs some sort of streamlining is the Artist's Alley which was always so clogged with people it was difficult to look at any one table of merchandise. It would be nice if the tables had a little more space around them so you didn't end up with large mobs of people surrounding one small display of tiny charms and congesting the walkway.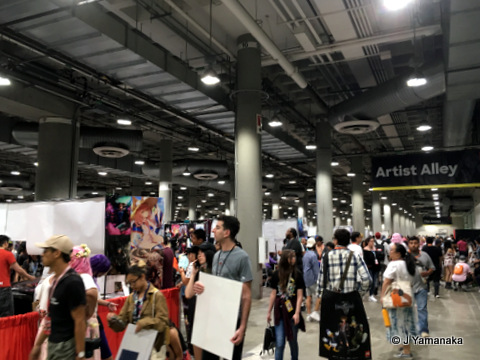 While there admittedly isn't a lot of Disney content at Anime Expo, I think there's quite a bit that might be appealing to fans of the Disney aesthetic.
Anyone who enjoys animation, particularly those who yearn for the days of hand-drawn animation, or games, or comics, or learning about other cultures will surely find something of interest here.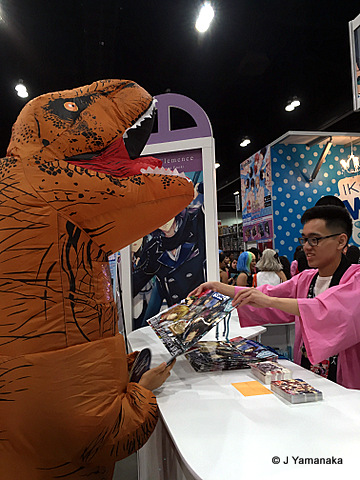 Even a dinosaur can like otome.
At $80 for five days, Anime Expo is a reasonable bargain, although of course your experience will be a lot easier if you can spring for the Premier Fan badges that allow priority access to many locations and events. Next year Anime Expo 2019 is scheduled for July 4 — 7, with Pre-Show Night on July 3. 4-day badges for AX 2019 are now on-sale at http://www.anime-expo.org/.