Disney Springs at Walt Disney World is one place I very rarely bring a tripod to at night. Mainly because there is often a restaurant reservation with family or friends involved and I like to give them a break. That does not mean my camera is left behind.
With today's digital SLR or mirrorless cameras, there is no longer any worry about using high ISO photography. Some are so good as to go up to over 10,000 ISO without much noise to clean up. My Nikon D750 is getting to be a bit "old" compared to the latest models. Yet, it still handles noise up to ISO 6400 very well and it is easily cleaned up in post-production using a good photo editor like Adobe Lightroom.
You still need use at low shutter speeds and have good camera holding technique. I highly recommend reviewing this post I wrote back in 2008, which is still relevant today called Advanced Camera Holding and features the Da Grip video from Joe McNally. As you review the Exif data in the photos I share below, using Da Grip allowed me to step down my apertures two full stops from each lens' widest aperture.
Speaking of lenses, the first two photos were taken with the trusty Nifty-Fifty. This is one lens I tell all new owners of an interchangeable camera system to get. It is one lens which comes in handy at Walt Disney World from morning to night.
The Rainforest Cafe's volcano puts on a show several times each day but is most impressive at night.
Rainforest Café volcano show at Disney Springs.
Nikon D750/50mm, 1/20s, f/5.6, ISO 6400, EV 0.
I have eaten at Splitsville but have yet to throw a ball down one of its lanes. Probably because my bowling balls are to heavy to travel with. Perhaps, someday I will rent some shoes and give it a try. The place sure looks great at night with all the neon lighting.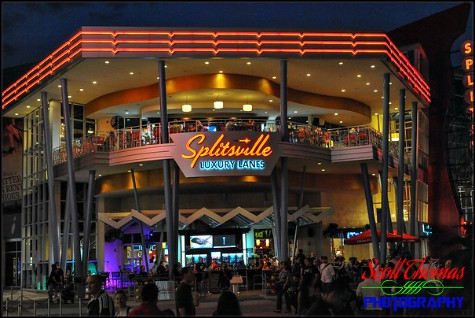 Splitsville Luxury Lanes restaurant and bowling alley at night.
Nikon D750/50mm, 1/50s, f/5.6, ISO 6400, EV 0.
On the top deck of the Paddlefish Restaurant there is an outside bar and lounge with a nice view of the Marketplace. Yes, using Da Grip and a Vibration Reduction or VR lens, it is not hard to hand-hold at 1/4 of a second. I always take several exposures to make sure I get a few sharp ones.
View of Disney Springs Marketplace from the top deck of the Paddlefish restaurant at night.
Nikon D750/16-35VR, 1/4s, f/8, ISO 6400, EV 0, 16mm Focal Length, Cropped.
The Coca Cola Store at night is very red but another impressive sight at night.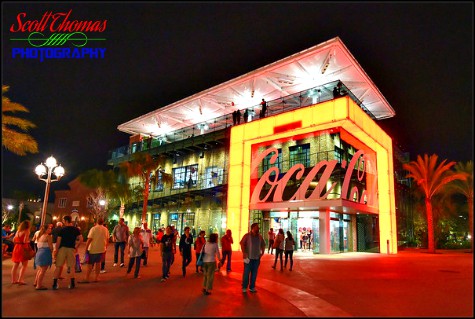 Coca-Cola Store at night in Disney Springs.
Nikon D750/16-35VR, 1/20s, f/8, ISO 6400, EV 0, 17mm Focal Length.
I encourage you to read over my past blog posts and go out and practice shooting at night without a tripod.
Now, if you want to get those long multi-second night photos, you have to use a tripod. Check out this blog post on Using a Tripod at Walt Disney World. It is not as hard as you might think it is.