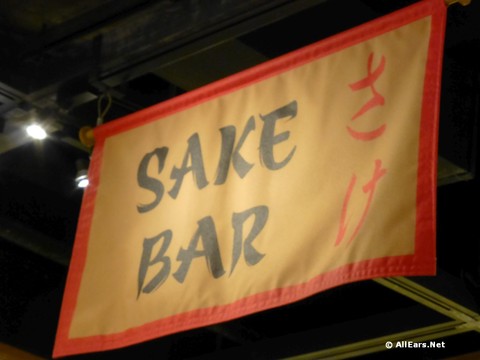 You probably know that there's a wine bar in one of the shops inside Epcot's Italy pavilion. And that you can get a variety of wines by the glass at Les Vines de France in the France pavilion. But did you know that there was a place to try a different kind of wine stowed away in the back of the Japan pavilion at Epcot?
Yes, there is a bar serving up samples of sake, the traditional rice wine of Japan.I think this is one of those hidden treasures that not many people know about, although it's been here for years. Unless perhaps you're a sake aficionado….
Which, I admit, I'm not, but I do like to try new things, and this is a good spot for that.
So how do you find this place? Walk all the way to back of Japan's Mitsukoshi Department Store. If you're standing near the Hello Kitty display, keep walking. If you're opposite the "pick your own pearl" stand, keep walking. Walk all the way back to where you'll find a wide variety of Japanese food specialty items. Items like Pocky, yummy chocolate-dipped cookie sticks, and other Asian sweets. Then, on your left, tucked into the back corner, you'll see it. The big sign that cries "SAKE BAR" overhead, and the little bar where you can sample some!
If you're like me, and know little about this alcoholic rice wine, you can start by educating yourself with the "Sake Matrix" that's on display.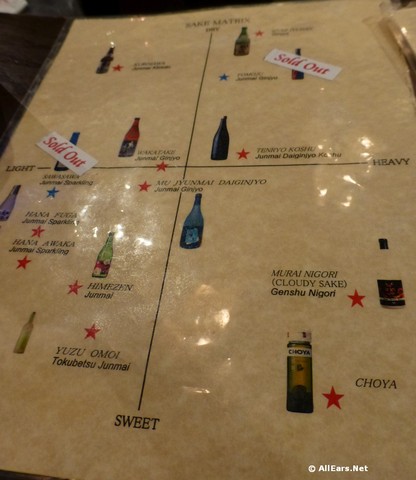 This divides the sakes that are available to try into four quadrants, classifying them from dry to sweet and light to heavy. You can learn a little more about the sakes from talking with the cast members pouring, of course, but be sure to also consult the little "cheat sheet" menu that's available. I 've not tried it yet, but I'm intrigued by the description for the Murai Nigori Genshu cloudy sake: "Very strong in alcohol with a creamy confection that can hit you like a ton of bricks if you're not careful. Sip slowly!" Forewarned is forearmed, I guess!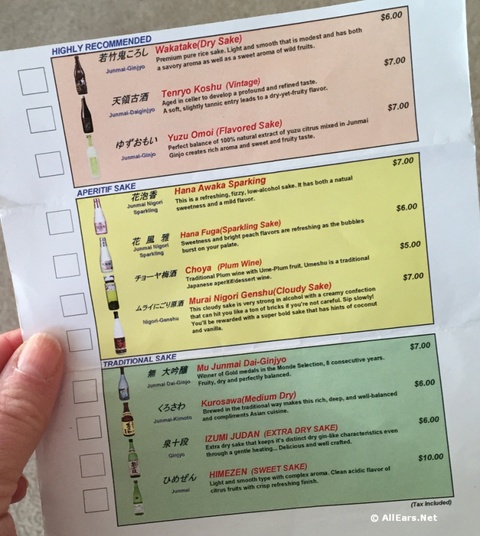 There are about 10 different varieties on hand, and samples are in the $5 to $10 range. They include the traditional aperitif plum wine, a fizzy low-alcohol sake called Hana Awaka Sparkling, and the award-winning fruity and dry Mu Junmai Dai-Ginjyo.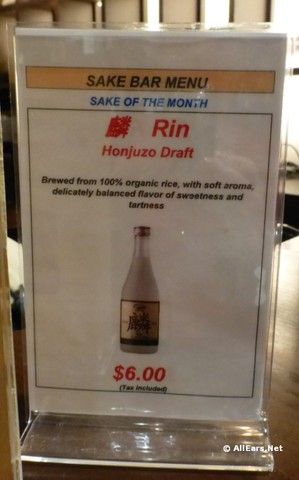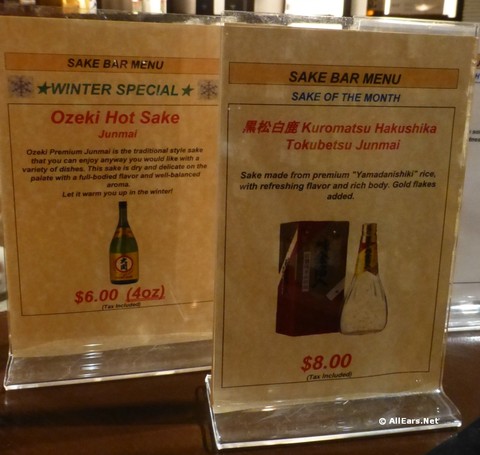 There are even a few other alcoholic beverages on offer, such as an unfiltered Ginga Kogen Beer. So far I've only tried the Wakatake, which is a pure, dry rice sake and the Yuzu Omoi, a citrus-flavored drink.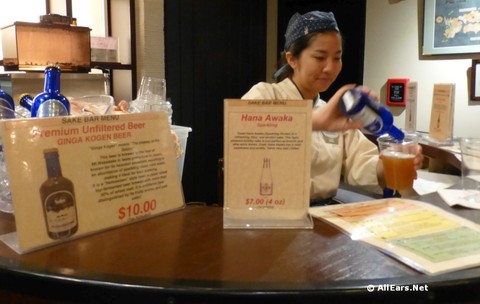 Many of these beverages, which come in beautiful, decorative bottles, can be found for sale on the opposite wall, so after you've found a sake that's to your liking, you can take some home with you!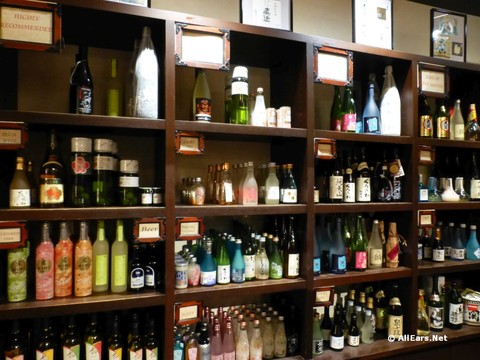 Next time you find yourself around the Japan pavilion and you're feeling a little adventurous, consider taking a meander through Mitsukoshi shop and exploring the world of sake that awaits you.
As they might say in Japan: Kanpai!