To all who come to this photo trivia game, Welcome! Along the way, the photos can make us relive memories and see details Walt's Imagineers put into everything we love in Walt Disney World!
Special announcement: I won't be posting a new challenge or the winners of this one the week of June 21st. I'm going to be out of commission that week, but I'll be back the week after that! On the plus side, you get two weeks to get the answer to this week's challenge! Thank you for your understanding and patience!
Since I won't be back until after it's over:
Happy Birthday to me! (June 20th)
Bonnie Jean, thank you to you and your sister for such a wonderful note!
Steve Knapp said that Elton John [the look-a-like] is still performing with the band! Mary Beth Tarbet is going to look for him on her next trip for me. Hmmmm… so if I went up to him and asked if he was Elton, would he have a good sense of humor about it? Claire Gregory, you try it first. 🙂 I'd love a photo with him, seriously. What a fun picture that would be! My husband would roll his eyes, but he'd take it — actually, he loves Elton John; he might get in the photo with me.
Meghan Gleason-vollmer is in Walt Disney World right now! Let's us be very jealo— I mean, let's all wish her a magical trip!
Sandie Albrecht, I will be in Walt Disney World in late December, including CHRISTMAS DAY!! Yay, baby!
Now for Challenge #385: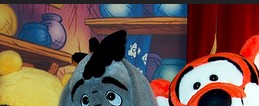 And here's the answer:


Copyright © Barrie Brewer
It's Winnie the Pooh, Eeyore, and Tigger! I said you didn't have to put the location; locations can be really tough to narrow down for a character meet-and-greet, and this one was extra difficult. This was the temporary location while they built Christopher Robbins' room in the UK pavilion. This spot was just inside the Epcot's International Gateway.
Some people brought up the Winnie the Pooh and Friends breakfast at the Crystal Palace. If anyone is going to book it, you might already know this but just in case: make your reservation BEFORE the Magic Kingdom opens. They do let you in! You will have an empty Main Street, Partners Statue, and Castle for photos!
Sharon Powell, did you recognize the location? You might have with that Winnie the Pooh dedication — right down to the email address!
I'd sing one of their songs, but there's so many good ones! Plenty of great quotes too, like Stuart Savage saying "T I double g errrr!"
Jeff Blank, what DID you do on Sunday night since you sent in your WitW answer in so early? 🙂
Dayna Guay were the first to send in the correct answer! Congratulations to Dayna and to all our winners this week! Wendy Bedard, Stacey Kelsall, Maureen Handy, Wendy Bedard, Tina G, Lyn Johnson, Aaron Sakovich , Margaret Convery, Vera And Izzy Williams , Susan Vojtik, Kyra C., Lindsey Nozal, Duskin Henard , Pat Schwier, Patty Norman, Lisa Bohannon , Cheryl Chambers, Ruth Woodhouse, Christine Roberts, Jennifer Snook, Melissa Such , Chris Horne, Jennifer Rowell, Leslie Krysinel, The Long Family, Pat Blakey, Tina Himaya, Rhonda Guffey, The Fosbenders, Olszak Family, Vanessa Sipich, Karen Ramirez , Carol Lyons, Angela Fennell, Pat Morin, Stuart Savage, Kris Nixon , Matt Petty, K Beasley, Beth Mcmeekin, Christine Brown, Dawn Miller, Mary Ann Lamay, Mark Katona, Carolyn Como, Brittany Jaynes, Brittany Jaynes, Ellen Sullivan, Mildred Popp, Dawn And Len Fiorilli , Maryann Eckenrode, Sharon Powell, Shawn Dilts, Marguerite Garofalo, Ed Adams, Robert Hildebrandt, Ruben O'meara, The States Family, Carrie Leicht, John Warner, Ken Maikowski, Phyllis, Tracey Horan, Chris, Gretchen, And Katie Barnes, Tena Anderson, Trina Noggle, Vincent Lieu, Mary Beth Tarbet, Sarah And Chris, Deb Gallo, Kay Moss, Louise Barton, Heidi Goodhue, Brian Mcwithey, Gloria Martin, Antoinette Leblanc, Andrew Carrieri, Justin Collins, Krista Serpi, The Tisdale Family, Gabriella, Terry And Matthieu, Jeff Blank, Ken Jackson, Nancy Crossman, Wayne Chadourne, Bob Patterson, Laurie Walker, Laurie Walker, Cheryl, Joyce Tofflemire, Vicki Britt, Angela Johns, Todd Johns, Claire Gregory, Liz Moreau, Hillary Waldroop, Sands Family, Shannon Murray, Jodi Cook, Karen Schlumpf, The Parker Family, Linda Ranatza, Meghan Gleason-vollmer, Carol Ney, Roxanne Kliebert, Herb Miller, Ken Jobin, Vicki Edwards, Janet T Thorn, Wendy T Faler, Dawn Bach, Tricia Petty, Nan Amor, Diane Tredore, Emily Hudson, Vanessa Stjohn, Dee Dee Kenney, Sam Rossman, Christi Ison, Bonnie Jean, Kristi Strembicki, Timothy Gallant, Ed Elder, Christi Ison, Shannon Kane, Sarah Thomas, Sharon Pierce, Elaine Kleinhenz, Paul Dickson, Carla C, Ed Suscreba, Jim & Lorie Sonnen, Linda College, Linda College, Theresa Rucando, Team Hill, Kerry A., The Gunnels Gang, Grumpy's Groupies, Susan Linck , Lee Anastasi, Les Whitten, Brian Gallant, Pam Lorenz, Pam Lorenz, Bill Mckim, Barbara Ajak, Al & Kerry Ganter, Sandie Albrecht, Deb Ragno, The Modecki's, Susan Higginbotham, Pollyanna Buff, Lori Rienhardt, Josh Weiss, Ken Savage, Daniel Record, Erin Loring, Stefanie Vandiver, Leach Family, Brenda Atkinson , Doug Olson Family, Maryann Romagnano, Bruce Hinterleitner, Rob Blundin, Joann Albrecht , Judy Simonsen, Hobbes And Snorky, Dina Grasso, Eric Johnson, Evald Olson, Erin Hammer, Paul Knott, Kathryn Hughes, Les Stewart, Smitty, Andrea Kruszewsi, Deborah Wolfe, Julia Wickware, Robert Wescovich, Larry Sprenkle, Mike Malampy( Malampy Benco Family), Luis Rodriguez, Donna Frank, Michael Mclucas And Jackie Mclucas, Jessica Gruhlke, Matt Wildey, Jim Finley, Kerri Coggins, Dave Freemyer, Rebecca Keenan, The Kertes Family, Bill Cudney , Diane Morris, The Curley Family, Michael Haeberle, Jill Merten, Kyran Smith, Tim Johansen, Hunter Armstrong, Susie Howard , Eric Enli, Adolph And Kimberly Timm, Bob Henriksen, Bob Henriksen, Diane Curfman, Kristyn Scibienski, Cathy Connors, Kelly Smith, Matt Holley, George Mundy Jr, Paul Ignudo, Chris Bauman, Chuck Everson, Joe Pfrangle, Andrew Pettit, Tricia Noble, Chuck Everson, Karrie Duffey, John Casey, Terry Fleming, Matthew Frey, Scott Sangston, Chris Kelly, Lorine Landon, Karen Costa, Maureen Tavrell, Mark Proper, Karen Bellamy, Dave Carriere, Davida, Wendy Barney, Patti Mccaffrey, Alison Rosenberger, Christopher Hall, Susan Doucette, Emma Ramsey, Emma Ramsey, Rachel Hoover, Laskowski Family, Carol Baranowsky, Ryan Foley, Mickey Eckert, Tommy Montgomery, Jason Skow, Steve Knapp, The Dieuliis Family, Jeremy Reichelt, Jennifer Mercier, Matt Earl, Christopher Thacker, Megan Krainski, Mark Franklin, Ronald Delorey, Brandi Cannon, Jo Ann Bailey, Lisa Cash, Karen Gleason, The Filiater Family, Renee Worsnop, Renee Worsnop, Jackie Graebel, Belicia Dawson, Scott Cullen, Eric Berger, Jane Johnson, Jennifer Bogdan, Joseph M. Zafia, Christy Schor, Tom Higbee Sr, Jean Bussell, John Bickers, Margie Larmon, David Ballard, Don Purney, Barclay Bakkum, Robert P. Flaherty, Jim Harrington, Reilly E. Kenney, Wendy Palmquist, Walter N. Clark, Theresa Maradei, Cheryl Costello, Barry Sklenar, Katie B, Bob Hendrix, Jan Rosato, Stacy Guarracino, Pbender, Jolynn Digiallonardo, Fred Shakeshaft, Lori Cundiff, and Krystle Dinicola!
__________________________________ _____________________
Challenge #386 Where in the world is this?
Ooooo! Some of you "complained" that last week's challenge was too easy! You know the rules of the game: if you say that, it means —
DOUBLE CHALLENGE! You get a TOUGH challenge and a tough challenge!
Wow, we haven't done this in awhile!
So first, the TOUGH challenge: where is this tree?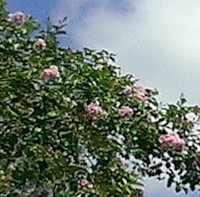 .
And second, the tough challenge — we're leaving the parks!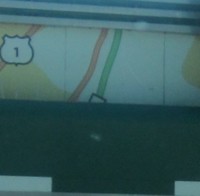 .
Get them both right and I will enter your name for the drawing twice!
Do you know? Do you have a guess? Please send in your answer, before the end of the day on Thursday, June 25th, by clicking on the blue box below.
Please do not post answers using the Feedback Form link at the bottom of this post.
See you soon, Players!


_______________________________________________________________________
Everyone who sends in a correct answer to a Where in the World Challenge this month will be entered in a drawing at the end of the month for some special AllEars® goodies!