Not sure if I am supposed to use entertainment Cast Members but I am. Main Street USA is my second favorite place to find, interact and photograph Streetmosphere cast members. You have characters like the Mayor, Town Councilors and, if you are lucky, you can meet a Suffragette (think Mrs. Banks from Mary Poppins).
Each one of them are in costumes fitting the time period of Main Street USA. Including this Town Councilor who was looking to get my vote for his upcoming election.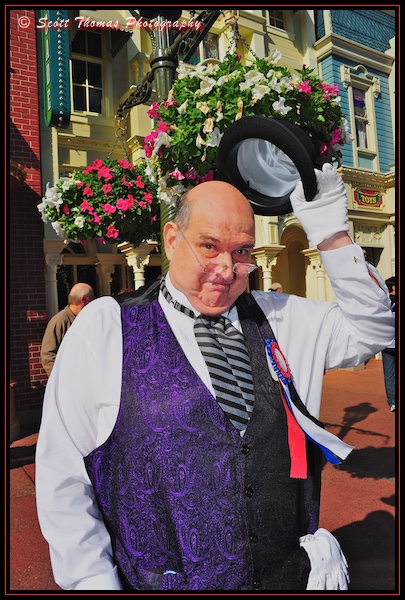 Town councilor greeting people on Main Street USA.
Nikon D700/28-300VR, 1/250s, f/16, ISO 200, EV 0, 32mm focal length, Fill Flash.
Deb will be here tomorrow no doubt showing you a real Cast Member at the Magic Kingdom.