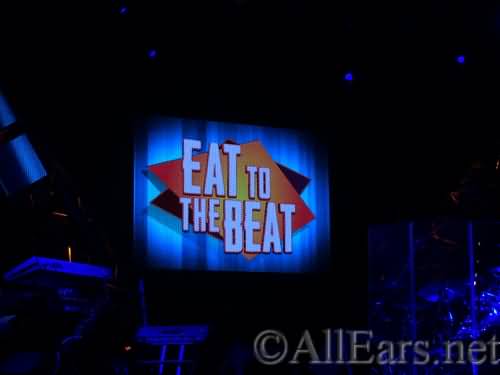 New to Epcot's International Food and Wine Festival this year are the Eat to the Beat Dinner packages. Available on select nights, for a set price you dine at a select Epcot restaurant and get a guaranteed seat in a reserved area for the concert.
THE FACTS
When you book this package, you will choose your restaurant, dining time and concert time from what is available. For your meal you will received an appetizer, entree, dessert, non-alcoholic non-specialty beverage, or a full buffet. At the conclusion of your meal you receive your "ticket" to the reserved seating area at the American Gardens theater.
For those who have done the Candlelight Processional package, it is very similar. You do NOT have to book a package to see the show. You are still able to line up for a seat, to the right of the theater as you face it.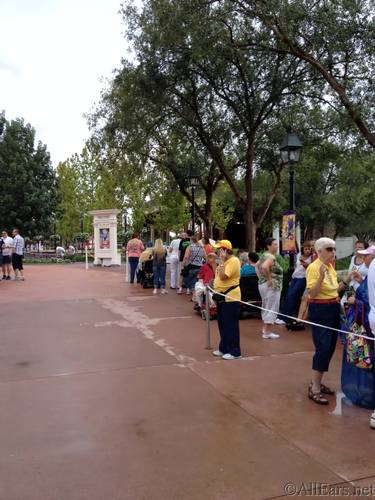 Dining Plans: While the Magic Your Way Quick Service package is not eligible, the other dining plans can be used as follow:
— Magic Your Way Plus Dining: 2 Table Service entitlements
— Magic Your Way Plus Deluxe Dining: 2 Table Service entitlements
— Magic Your Way Premium Package
— Magic Your Way Platinum Package
You can book either a lunch or dinner. Lunch is less expensive. The price includes tax but not gratuity.
Lunch prices for adults range from $34.99 (Biergarten) to $59.99 for Les Chefs de France, Tokyo Dining, and Teppan Edo. Children's meals are considerably less and range from $12.99 to $15.99.
Dinner prices for adults range from $49.99 at Nine Dragons and Restaurant Marakesh to $74.99 at Les Chefs de France. Again, children's meals are much less ranging for dinnerfrom $16.75 to $28.99.
We have all the prices listed on our Eat to the Beat Page.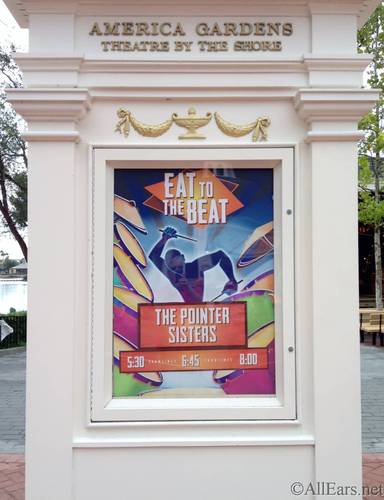 OUR EXPERIENCE
I'm not usually a dinner package person, but since this is it new in 2014, I wanted to give it a try. The reason I typically don't do the packages is because it is way too much food for me and so I don't feel as though they are a good buy, again, for me.
Even though I booked the package on the first day of reservations, Via Napoli was not available as a dining location for the first night of the Pointer Sisters. So, we opted for Tutto Italia.
There was a special check-in kiosk right next to the regular check-in desk at Tutto Italia. We were told to return to the kiosk after our meal with our paid receipt and we would receive our "tickets" for the reserved seating. You get a sticker to put on your shirt to identify you for your concert time.
The price for this location is $66.99 per person including tax but NOT gratuity.
The food was very good except for the Sole. Linda felt while the flavors were very good, the fish itself was undercooked. We both agreed the winner of the evening was the Tortino di Zucchine. In fact, we would go back just for that! Our server was very good and the manager that assisted with my food allergy went over the top. All in all a very good dining experience.

My meal came to: $55.00
Appetizer: Fiori di Latte Calda – House-made whole milk mozzarella served with warm roasted pomodorini, extra virgin olive oil and focaccia $18.00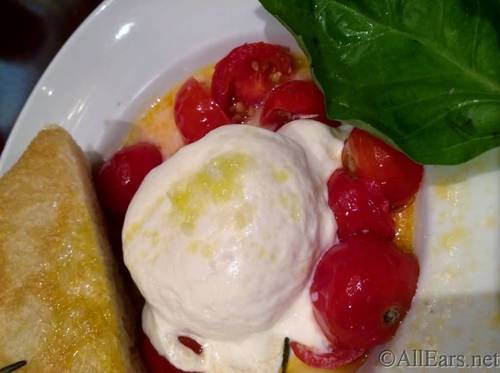 Entree: Pollo al Forno – Roasted chicken, rosemary, lemon, farro risotto, Pancetta $26.00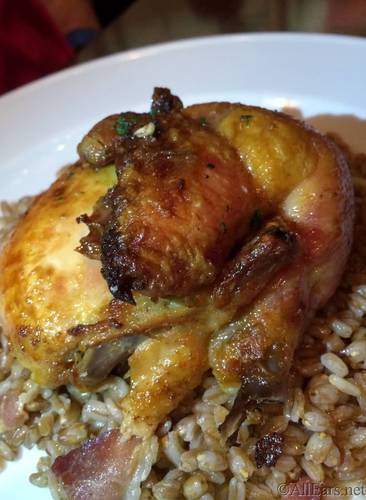 Dessert: Mocha Tiramisu – Mascarpone, Espresso, Savoiardi biscuits, chocolate $11.00
Linda's meal totaled: $52.00
Appetizer: Tortino di Zucchine – Baked zucchini, pomodoro, mozzarella, Parmesan $13.00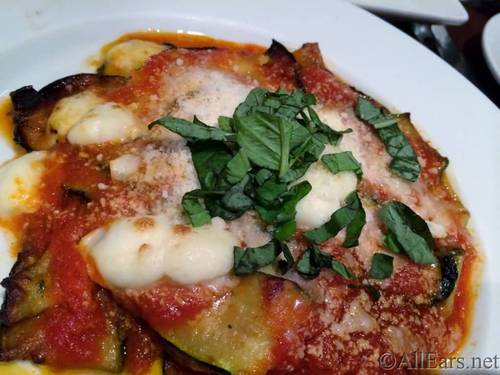 Entree: Filetto di Sogliola – Filet of sole, cream sauce, white asparagus, lemons, capers $30.00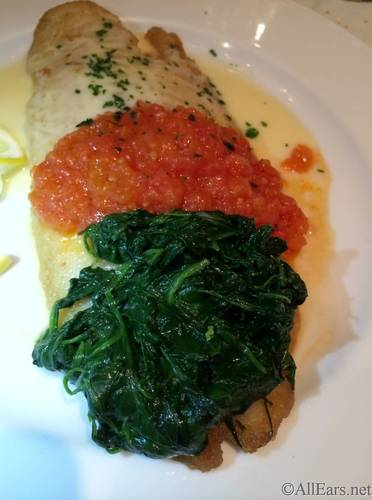 Dessert: Cannoli – Crisp pastry filled with sweet Ricotta, chocolate, candied orange $9.00
For two persons our bill was $142.69 before gratuity. Our server was quite good so we tipped $25 bringing our total to $167.79 or $83 and change each.
The food at Tutto Italia was very good however we wouldn't have had the same items were we paying with cash. We would have never ordered dessert and probably would have just ordered one salad appetizer to share. In fact, given that it is Food and Wine time, we would have just noshed at a couple of the marketplaces for dinner. Or perhaps eaten lighter at a quick service location. It was too hot out for such a heavy meal.
The reserved seating in the American Gardens theater was REALLY nice. We were in a great location, about 5 rows back, left of center stage. We were under cover, also very nice since it had been pouring rain off and on most of the evening.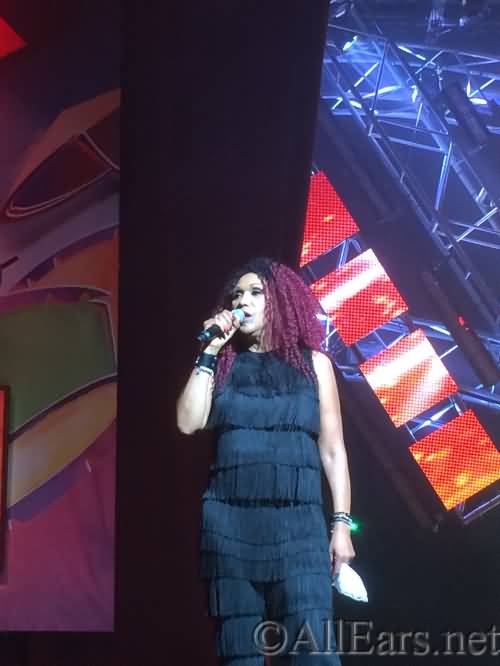 Folks were in line for the package seating a good 45 minutes or more prior to the concert. For us, it was very nice to arrive about 20 minutes before show time, the line for reserved seating had already emptied into the theater and we still had good seats.
Also, if you are a Disney Chase Visa holder, stop by the lounge. Sometimes there are reserved concert seating tickets you can get for the day of on the weekends. Those seats are the last 2 rows of the front section.
THE BOTTOM LINE
Just like everything else, it is all about what is of value to you and what are your priorities.
Once you purchase the package you are locked in. There are no refunds. If we didn't have the package we may have skipped going to the show we did and probably would have tried the following night. As I said, it was raining, at times quite hard.
So the question is, how much are you willing to pay for a reserved seating area that is under cover.
If there is an act you have been longing to see and don't want to miss them, then this package may work for you.
If you are concerned about the weather (rain), then perhaps this package is for you.
If you don't want to wait in the standby line for a fair amount of time, then perhaps this package is for you.
However, for the first week of concerts, the standby lines have not been bad. The only thing has been the unpredictable rain storms.
Let us know what you think about the package. Worth it or not?!