A few weeks ago I wrote a blog about the Disney Worldwide Conservation Fund and how you can be a Conservation Hero. While I was browsing the Internet, doing research for the blog, I came across an intriguing web page. The headline read "Butterflies by Swamp Buggy at Disney Wilderness Preserve"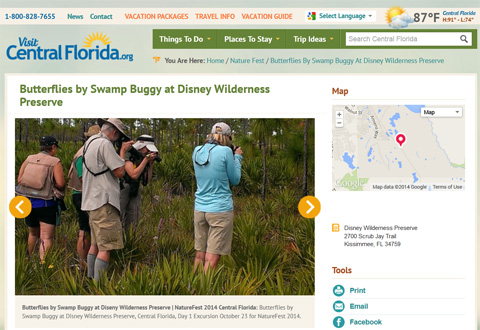 My first thought was, "What better way to enjoy the peace and tranquillity of nature than by chasing butterflies through a wilderness preserve with a swamp buggy?"
My mind drifted back about 15 years to the vacation Carol and I enjoyed at Pelee Island, Canada's southernmost point.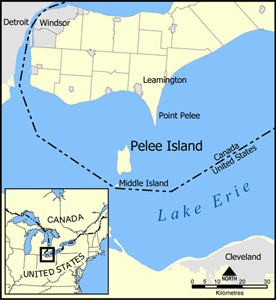 Every summer Pelee Island is teeming with Giant Swallowtail butterflies and we spent a glorious, sunny summer afternoon snapping pictures of swallowtails. I still have vivid memories of Carol, camera in hand, bounding through farm fields following flitting butterflies. Butterflies can flit faster than Carol can bound so her antics kept me entertained all afternoon!
My second thought was, "Disney Wilderness Preserve? What's that?"
Did you know that there is a big Disney conservation project just minutes from Walt Disney World?
You are not alone . . . neither did I. Not many people are aware of the Disney Wilderness Preserve, just 15 miles from Walt Disney World. It's at 2700 Scrub Jay Trail in Kissimmee.
It's a huge preserve, about 12,000 acres – almost 19 square miles!
The project began in 1992, before the Disney Worldwide Conservation Fund was established. The Walt Disney Company heard that an 8,500 acre cattle ranch located at the head of the Greater Everglades Watershed was going to be re-zoned for extensive residential and commercial development. This would have destroyed a huge tract of natural wetlands, as well as habitat for many endangered plants and wildlife.
Disney acted quickly and quietly to preserve this sensitive property. Working with The Nature Conservancy, the State of Florida, and a number of other groups, The Walt Disney Company purchased the property to mitigate its expansion and transferred it to the Conservancy. They were instrumental in the creation of a nature preserve dedicated to wetlands conservation on an unprecedented scale. After the initial purchase The Walt Disney Company provided funds for restoration and wildlife monitoring on the property and they continue to endow a number of on-site projects.
How successful has the project been? On their web site, The Nature Conservancy refers to it as "A Model Preserve" and goes on to say, "Land that was heavily logged and ranched for decades has been restored to very near to its original state and once again resembles the descriptions left by the area's first Spanish missionaries."
Sounds good to me – sensitive wetlands preserved as natural animal habitat rather than littered with factories, roads, houses and strip malls. Just another heroic initiative that makes me proud to be a Disney fan!
But let's get back to the swamp buggy and the butterflies. I mentioned the web site to Carol; she immediately said, "We're there in October, let's sign up!" So we did!
This is one of many events which makes up Central Florida NatureFest, an Outdoor and Photography Festival organized each year by the Central Florida Visitor's and Convention Bureau. The cost is a mere $5.00 per person!
Here's how they described it. "Fall is the best time for butterflies in our area when wildflowers are abundant. Disney Wilderness Preserve is a mosaic of habitats such as marshes, lake edges, open meadows, flat woods and roadsides. All of these areas are attractive to butterflies. To be expected here are swallowtails, sulphurs, hairstreaks, crescents, fritillaries, skippers and more.
The Disney Wilderness Preserve is a vast and beautiful natural site and the best way to travel in these parts is by Swamp Buggy. So all aboard the Swamp Buggy and be ready to hang-on while your guides point out butterflies and nature's beauty. This is a spectacular excursion that everyone can enjoy."
Our friend and fellow Fort Wilderness camper Al, from Missouri is joining us. Carol is keen on the butterflies but Al and I are really looking forward to that swamp buggy ride!
I hope to do a blog about the Butterfly/Swamp Buggy adventure so stay tuned! If I can get any good action shots of Carol bounding after butterflies I'll be sure to include them!
In the meantime, here are a few pictures provided by VisitCentralFlorida.org and The Nature Conservancy.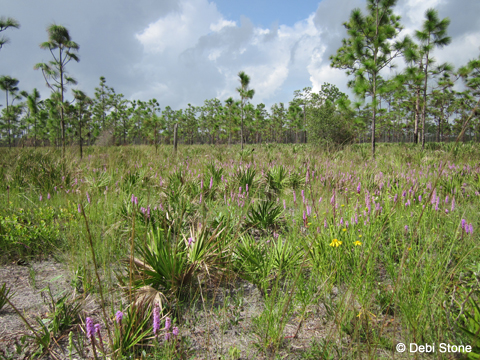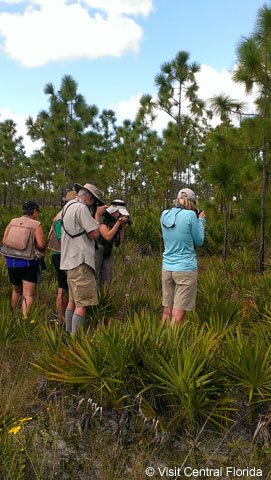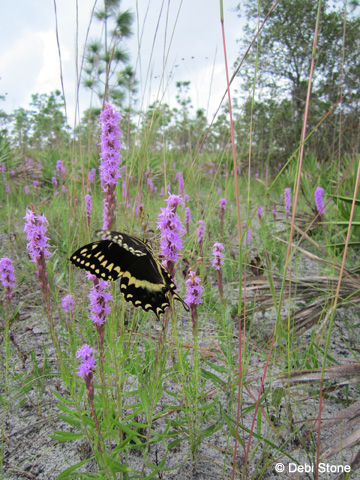 Giant Swallowtail

Zebra Swallowtail
Can you enjoy the Disney Wilderness Preserve? Yes, you can. The preserve is open daily Sunday-Friday (closed Saturdays and most major holidays) 9 a.m. – 5 p.m. There is no entry fee, but donations are always welcome.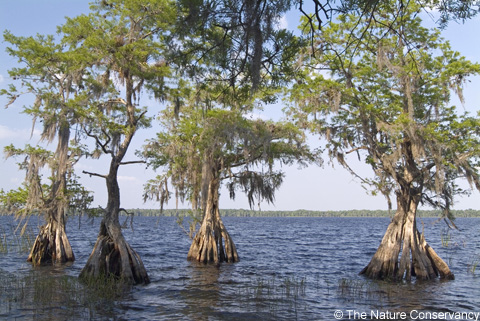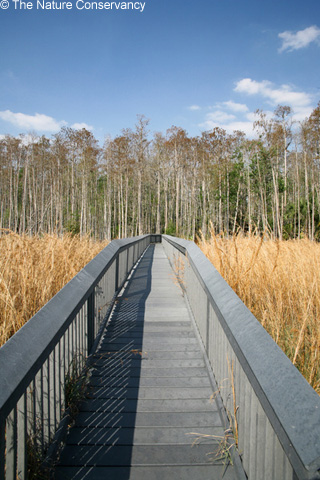 The 2 1/2 mile hiking loop takes you past the shore of Lake Russell and then offers a closer look at the preserve's natural communities. What will you see? The landscape and foliage includes: cypress swamp, freshwater marsh, scrub, flatwoods and oak hammocks.

Lake Russell at Reedy Creek
There is a rejuvenated longleaf pine forest with a lush understory of native grasses, saw palmetto and other shrubs. The rejuvenation is the result of "prescribed fire" on the land. They have used "controlled burns" to remove invasive plants that are not native to the area. These fires have resulted in an amazing return to the type of pine forests those first Spanish missionaries saw.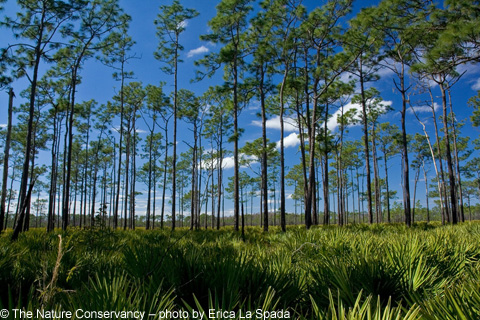 Key flowers include the fall-flowering ixia, Catesby's lily and terrestrial orchids.

Rose Rush

Pickerel Weed
Animal life includes bald eagle, red-cockaded woodpecker, wood stork, sandhill crane, northern harrier and crested caracara. The preserve is also home to the southeastern big-eared bat, Sherman's fox squirrel, eastern indigo snake and gopher tortoise. The Florida panther has even been documented crossing the site!
Read about the Disney Wilderness Preserve HERE.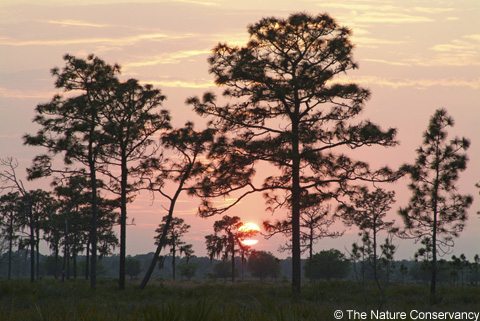 Next time you visit Walt Disney World, set aside a day for a hike at the Disney Wilderness Preserve.
It looks awesome, I cannot wait to experience it first-hand!
Sincere thanks to VisitCentralFlorida.org and The Nature Conservancy for agreeing to share their photos!