When I last wrote it was after the annual EPCOT Trade Celebration of 2013, Disney had announced the theme of the 2014 event but not the dates. Well the dates were announced earlier this year and registration opened April 22, 2014. The dates were September 5th, 6th and 7th and the event was described by Disney as:
"Make an entrance when you arrive in style at our award-worthy Imagination Gala – A Magic Carpet event! Join us as we honor our 'bests' in Disney films, storytelling, characters and attractions with an Imagination Award, represented by none other than a Golden Figment."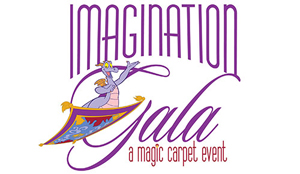 The usual pre-event activities occurred; I sat at my computer on registration day, waiting for the clock to strike 1:00 p.m. E.S.T. when the link to the registration form opened on the site. I signed up for all the event options. The breakfast options sell out so you have to be quick. This is what was available:

(Click on the image for a clearer view)
Tuesday September 2nd
My adventure began very early as I headed off to my 10th EPCOT Pin Event – 3 o'clock – in the dark early. I had a 7:30 a.m. flight out of Syracuse which was great since it got me into Orlando by 10:00 a.m. and I had a whole day to play with my friends from Canada who had arrived earlier, on the weekend. Everything went smoothly, I picked up my rental car and texted my "roomie" Carrie that I had landed. Gabe drove her over to the All Star Movie Resort to meet me just as I finished checking us in.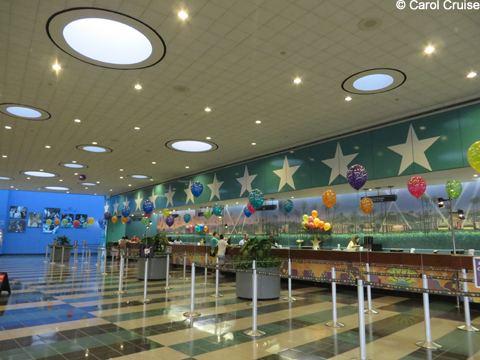 We dropped our stuff off in the room then went to the food court for a quick bite and checked out the store. After that we hopped in the car and headed over to the Magic Kingdom, it was about 2:00 p.m. and we wanted to see the 3 o'clock parade.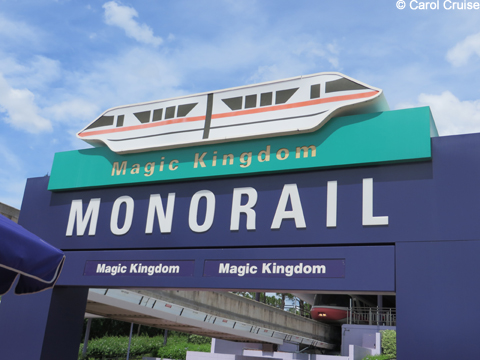 We met up with Susan and Allison in front of the Trading Post in Frontierland and had a great view; the only problem was the heat. Oh my goodness is was hot!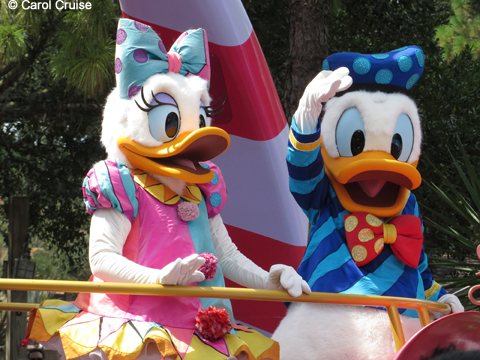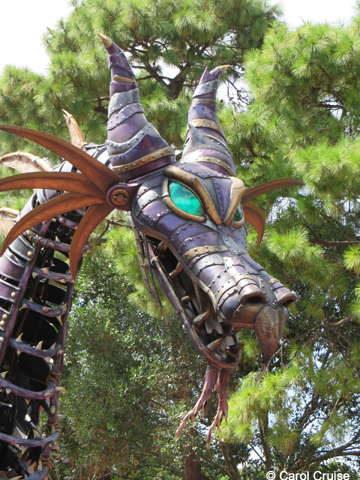 After the parade we all went to the Sunshine Tree Terrace for a Citrus Swirl, it was so refreshing and gave us the strength to move on. Carrie and I wanted to ride the Seven Dwarfs Mine Train so we got in the line and waited about an hour for the ride. It is very cute but I wouldn't wait an hour for it again. We then made our way down Main Street and over to Downtown Disney where we had dinner at Earl of Sandwich.
A quick trip to the Character Outlet and Publix finished off the evening.
Wednesday September 3rd
I got up and strolled over to the food court to get coffee for Carrie and myself. After our coffee we packed up and loaded the car and drove over to the Beach Club Villas to check in for the rest of the week. It was another very hot day and we had decided to spend it enjoying the pool and relaxing in preparation for the marathon of trading that would start the next day.
Our room was ready so we were able to unpack and settle in; once that was accomplished we headed to the pool, stopping at Beaches & Cream for lunch first.
After a great lunch we wandered around the pool scouting out a good spot to set up for the rest of the afternoon. We swam and even went down the water slide; it was great fun and a wonderful relaxing afternoon.
We had dinner plans, so after getting cleaned up we started making our way to Olivia's at Old Key West, but first I had to make a quick stop at the Meadows Trading Post in Fort Wilderness to pick up a couple of new Fort pins that you could only get there. We met our friends by 6:00 p.m. and had the best dinner and an enjoyable time talking and laughing with Susan, Allison, Gabe, Sandy, Jenn, Ann, Mike and Carrie.
So much fun that I forgot to take a picture of our group. After dinner we went back to Board Walk Villas, had a quick swim and got ready for the next day.
Thursday September 4th
The day started very early, we had to be at Hollywood Studios for 8:30 a.m. to meet up with the breakfast club. This was the 4th Annual Artist Breakfast that is organized by Janis Lavender and John Rick from Central Jersey Disney Pin Trading. It is not a Disney event but the guests of honor are design artists from the Disney Design Group. I have attended this breakfast every year and I have to say that this was the best one yet.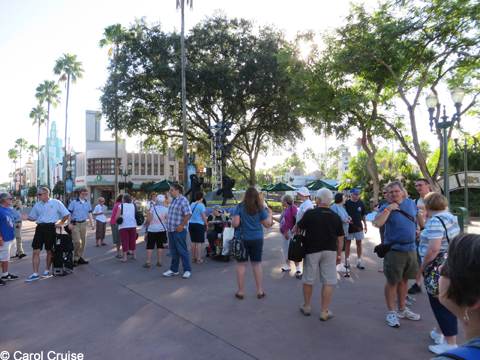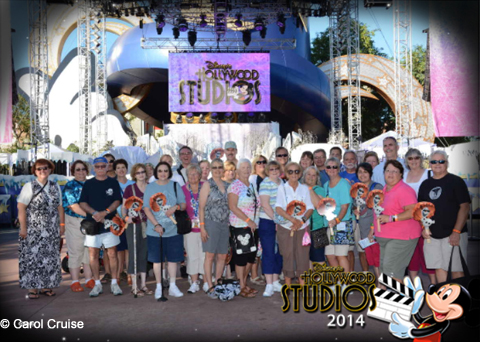 We all met just outside the gates, then a cast member came and escorted us into and through the park to our special venue. This year the breakfast was held in the Backstage Prop Shop. It was so interesting, sitting there among the props and remembering where we had seen them in use years ago.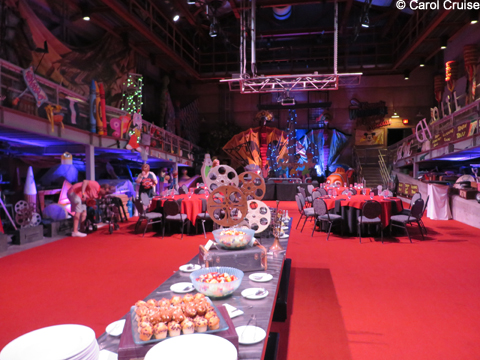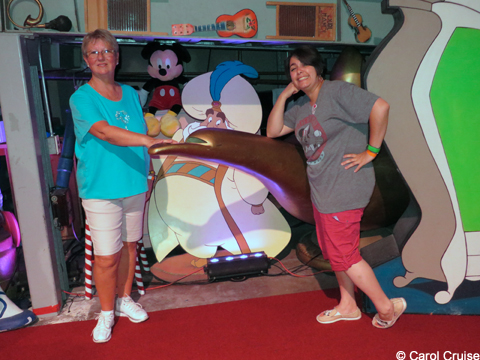 The food was very good and there was lots of it, more than we could eat. The artists entertained us with stories of their experiences and answered questions from all of us. All too soon it was time to move on.

The organizers and artists: Left to right – Ron Cohee, David & Janis Lavender, Derek Lesinski, Alex Maher, Quynh Kimbell, Sheila & John Rick
Carrie and I decided to spend a little time at the Studios before going to registration.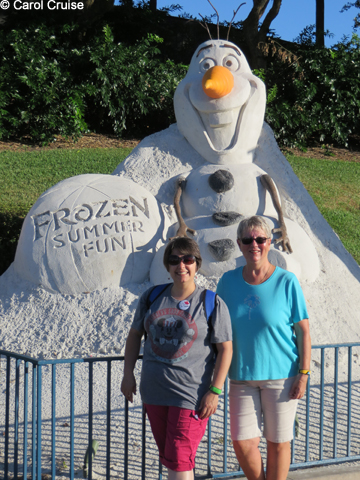 We wandered through Oaken's Frozen Funland and Trading Post, rode Toy Story Midway Mania, and saw the Frozen Sing-Along Celebration.
After that we made a quick stop in the Art of Animation store where I had a little visit with Ink and Paint artist David Rippberger and ended up buying another cel.

(click on the agenda)
The early registration for the event was held at Coronado Springs and we were receiving texts that the line to pick up your merchandise was up to 2 hours, so we were in no hurry to get there. The registration opened at 10:00 a.m. and would stay open until 7:00 p.m. We arrived around 2:00 p.m. and the line wasn't too bad; we only waited about and hour to get our merchandise.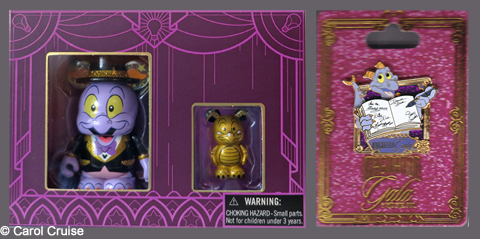 These are the welcome gifts I received when I registered. The Figment vinylmation is a Limited Edition and the pin is a Limited Edition of 1100.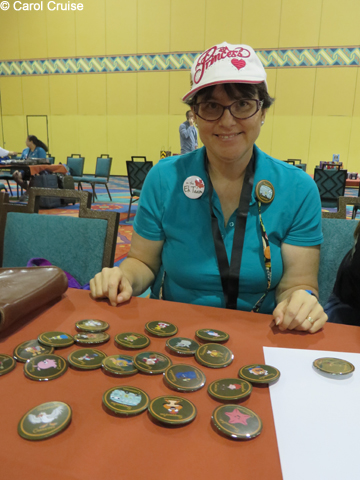 This is Aimee with the buttons she made for our group, depicting the "Supporting Actors" from Disney animated films.
Everyone was disappointed this year about the mystery boxes not arriving on time. Apparently there was a mix up with the shipping instructions and they did not get to the event on time. The Mystery Boxes are always a fun part of the trading process. Each box contains 2 pins; one pin is a limited release and the other pin may be a mystery chaser, Limited Edition 250. When everyone has opened their boxes the trading begins and you try to complete the set.
Half of the conference room was set up with tables for trading and there were lots of traders there, with both pins and vinylmations. This year the trading room was only open to registered guests, no public hours, and it closed at 7 p.m., earlier than previous years. For me, I liked the change. After the trading our group headed to Downtown Disney for a tasty dinner at Earl of Sandwich.
Friday September 5th
We hit the ground running. It was a quick walk to the International Gateway and our breakfast started at 8:00 a.m. We thought that if we got to the line around 7:30 a.m. all would be good. No so; as we came down the hill to the entrance people were lined up and not moving. There was no security and the cast members were not letting anybody in. I would say there were about 250 very unhappy people in this line.
Eventually security and the sniffer dog showed up and they started letting us enter the park.
Once through the security and ticket area we headed towards World Show Place where the event is always held. We expected to be able to get in a single line that would take us through the gates and on to breakfast, instead we hit a mob, trying to get by 4 cast members with clipboards manually ticking off our names.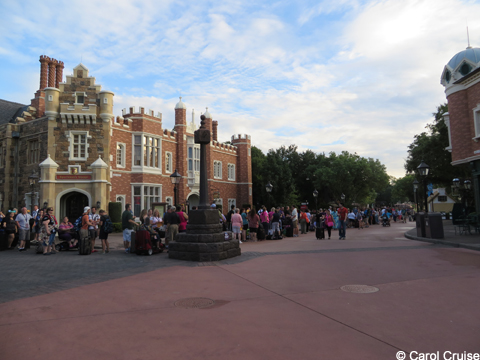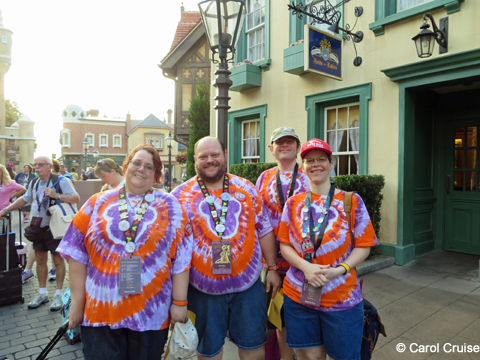 I ran into a couple I had met the previous year, Trish & Eric, from Ohio. They had enjoyed themselves so much last year that they brought some friends along to join in the fun.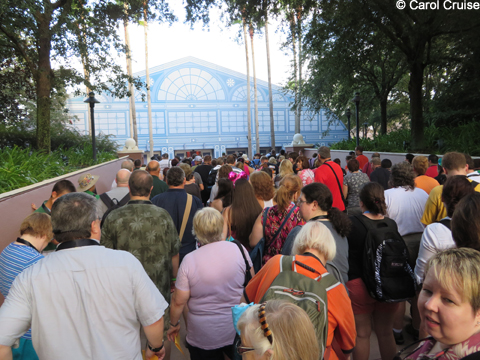 Whatever happened to technology? Why couldn't we just show the credentials that we had to wear?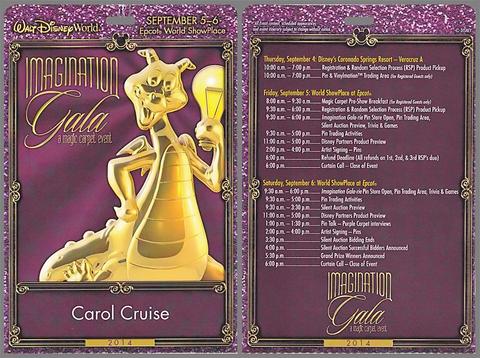 Eventually we got into the venue and they announced that they would extend the breakfast and event by 15 minutes to compensate for the disorder that we had endured.

Everyone at the breakfast received this special pin, a Limited Edition of 500.
The breakfast was okay, but the main benefit of going to the breakfast is to get an early start at the trade boards. We all do this to get the special "event pins" that you can only find on the boards – they are not sold anywhere.

These are the six special "event pins". Each one is a Limited Edition of 1000.
We always spend a lot of time standing in lines! Once you have all the special pins, there were six this year, then you can concentrate on looking for pins that fit into your collection. There were plenty of great pins this year, many Artist Proofs and Pre-productions pins to be found.
After the special breakfast ended at 9:45 a.m. the doors opened to the remainder of the registered guests. The lines grew longer and the average wait to get to the boards was 2 hours.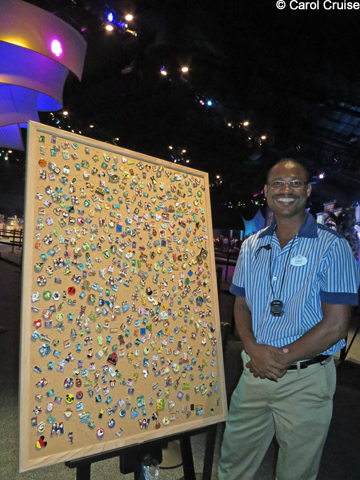 We left the event at 6:00 p.m. and wandered back to Beach Club Villas. We dropped our stuff off and decided that since it was raining and miserable out we would just go over to Sweet Tomatoes for some dinner and call it an early night.
Saturday September 6th
Saturday was much like Friday; the only difference was that the event didn't start until 9:30 a.m. so we got to sleep in a bit.

The line prior to opening stretched from the rose garden all the way to the World Showplace entrance, between Canada and the United Kingdom.
The displays pictured above and below showcased some upcoming pins and vinylmations from Disneyland, Disneyland Paris, Disneyland Hong Kong, Walt Disney World and the Disney Soda Fountain.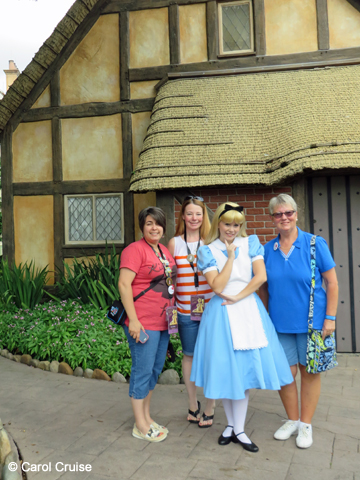 We met Alice on our way to lunch at Rose & Crown.

Carrie, Kelly and I took a break and had a wonderful lunch at Rose & Crown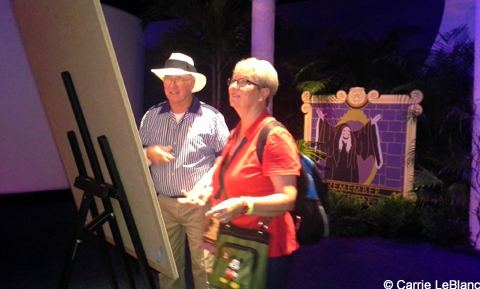 Jeanne Lewis took the stage to announce what was coming in 2015!
The pin portion of the Trade Celebration concluded at 6:00 p.m. Overall it was a successful event although the lines were much too long and I am not sure that will ever change.

Our parting gift for the Pin Event was this 4 Pin Boxed Set, a Limited Edition of 1100.
I was disappointed in the décor, it was less elaborate than previous years. Also, in years past there were groups of entertainers who wandered the floor interacting with traders. There was no interaction with characters this year; all of the entertainment took place on the stage and that got tiresome after the first hour of the first day. It seemed like they had a couple of hours worth of material and they just repeated it over and over and over again during the three day event. It quickly went from entertaining to annoying!
I really liked the surprise pins this year, better than previous events and I found that the boards had a much better selection of pins. The merchandise was good, although the mystery pin debacle was disappointing. The food at the breakfast was better than previous years. As in past years there were good things and not so good things that happened but it was still a fun time and an opportunity to spend a couple of days with good friends who share my interest in pin trading. I am already planning my return next year.
We finished the day off by going to Hollywood Studios for a quick bite at Min & Bill's Dockside Diner. We shopped a bit and then watched the Frozen Fireworks display. It was wonderful! I hope that they keep them going for a while; I would love Gary to be able to see them in October when we are back.
Sunday Sept 7th
This day was the vinylmation portion of the Trade Event, my favourite part. I admit it; I have fallen in love with these little guys and prefer trading and collecting them, for me it's more fun than pins.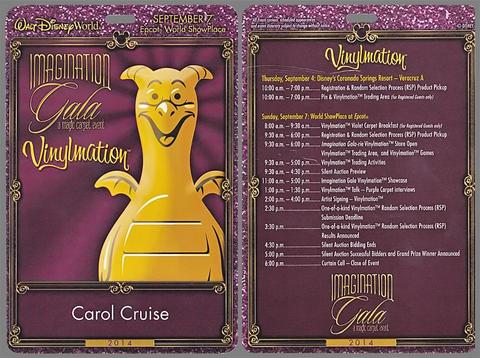 We were signed up for the breakfast so we got to the entrance about 7:30 a.m. There was a line but the dog and security officers were on duty and things were moving. We were manually checked into World Show Place and immediately proceeded to a trading line.

Everyone at the breakfast received a gift, this Limited Edition Minnie vinylmation.
There were several lines set up, most had a mystery box and an open box and you could trade one from each. There were 2 lines that had spinner boxes where you could trade only one. We stuck to the "double trade" lines.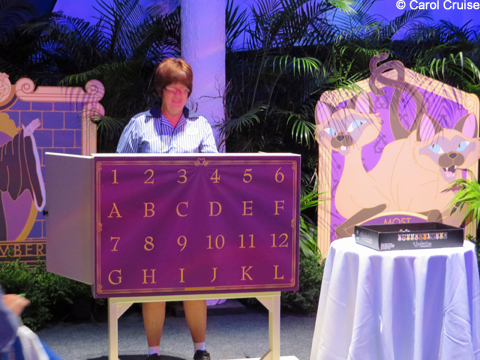 The big challenge this year was to find the surprise cast chasers; there were four. Blue Hat Chip & Dale were the easier chaser to find while the Orange Hat Chip & Dale were rarer. The lines were not too bad during the breakfast hour and a half but at 9:30 a.m. when the rest of the registered guests arrived they got a bit longer, on average about a one hour wait (better than the pin boards).
While we were in line they announced some special releases. A Figment eachez and a Clarice eachez. What "eachez" means is that the vinylmation release is limited, they are in a blind box, and 1 in 10 will be a variant. Of course everyone wants the variant but sometimes I think the regular vinylmation is better looking. Carrie and I decided to stay in the lines while about 1000 people opted to go get in the merchandise line to try and buy one of the special releases. This allowed our lines to move faster and we were both successful in getting our chasers.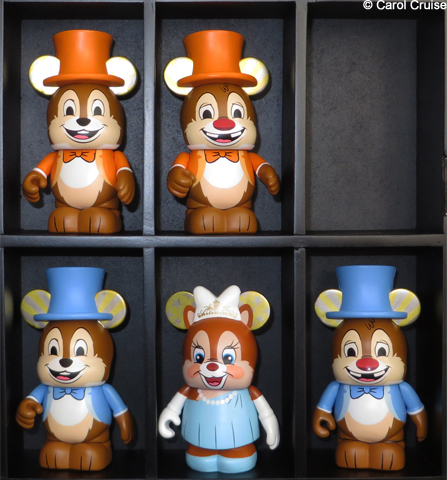 The four Chip & Dale vinylmations are surprise cast chasers, Clarice is an echez.
Once we had achieved the goal of getting our chasers we continued trading in the lines. If we got lucky enough to be close to the box when they did a refresh we were pretty much guaranteed to get a good trade. They refreshed the boxes about every 25 to 35 minutes. Once I got a few good pulls from the box I headed into the back room to see what I could trade for. This is where you can actually trade for vinylmations that you want to add to your collection.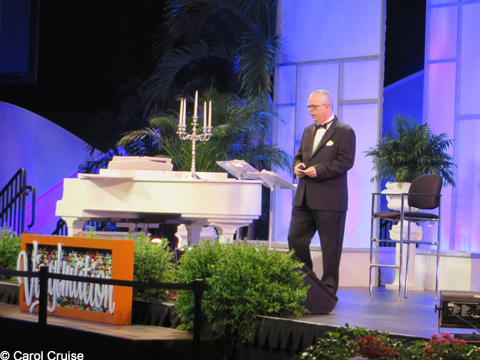 Thomas Scott, Graphic Designer, took the stage to announce new vinylmations we could expect in 2015!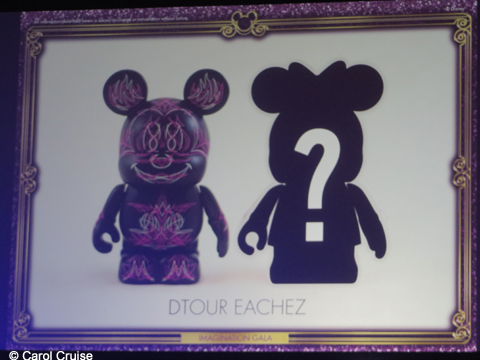 The event closed at 6:00 p.m. and I walked away a happy camper. I got lots of good vinylmations to add to my collection; I was able to trade for one of the special release vinylmations, Clarice (Limited Edition 1000). I got one of the 900 regular version not one of the 100 variants. I wasn't able to get a Figment.
My thoughts on this portion of the event are the same as the pin portion of the event, the entertainment was lacking. It was actually the same as the previous 2 days so by day three it was very annoying. The food was good and the cast members were great but the lines were long and it would be nice if they did a few more refreshes of the boxes. I really liked the surprise chasers and that there were four, in previous years there was only one. Overall it was a good event and I look forward doing it again.

The theme for the 2015 event was announced – genEARation D ! No dates yet!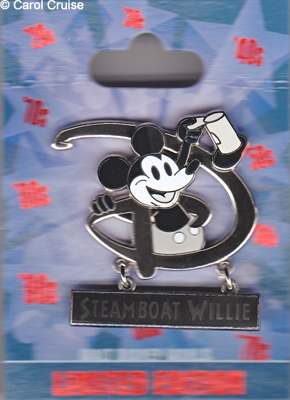 There will be a "genEARation D" pin released each month leading up to next year's event. Steamboat Willie was the first of the series, released at the event, a Limited Edition of 500.
Carrie and I were both tired and had to go pack so we said our goodbyes to the gang and slowly walked back to the Beach Club. We dropped our stuff off and went down to Beaches & Cream for dinner. We finished off the evening with ice cream.
Monday September 8th
We were moving slow; we had time to enjoy a coffee and then finish off the packing. Carrie was catching the Magical Express so we said our goodbyes. I had the day to hang around so I took my luggage over to check-in for my flight and then decided I would walk over to EPCOT.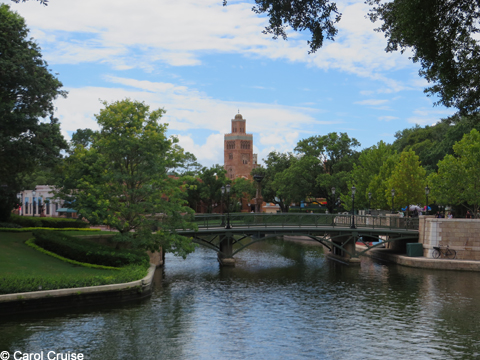 I wandered around a bit but it was very hot so I decided to go to Downtown Disney and have lunch at Earls. After lunch, I wandered around for a while and decided I might as well head to the airport and sit there.
My flight home was uneventful; Gary was waiting in Syracuse to pick me up. Another event come and gone, time to start planning next years – as soon as they announce the dates!!