Have you ever wondered what it would be like if Adventureland had been located on the east side of the Magic Kingdom? To walk the length of Main Street and then turn right if you wanted to ride on the Jungle Cruise. There was no reason the Imagineers couldn't have done this. After all, the Walt Disney World property was all virgin land. The planners could have arranged things pretty much anyway they wanted. Given this scenario, perhaps the Polynesian Resort would sit where the Contemporary now stands to add a tropical background to this exotic land. Well, this possibility isn't as farfetched as you might think. It could have happened. As we know, the Imagineers used Disneyland's basic layout when planning the Magic Kingdom.
But you're saying to yourself, Disneyland's Adventureland is located in approximately the same vicinity to the Hub as the Magic Kingdom's version of this land – on the west side of the park. But this almost wasn't the case. The concepts for Disneyland's Adventureland began their existence on the east side of the park. This can be seen in an early Herb Ryman sketch and a Marvin Davis map. If you could actually read these maps, you would see that "True Life Adventures" (what would become Adventureland) is to the right of the Hub, approximately where Space Mountain and the Autopia sit today. Circus Land was slotted to be where the Jungle Cruise would eventually be located.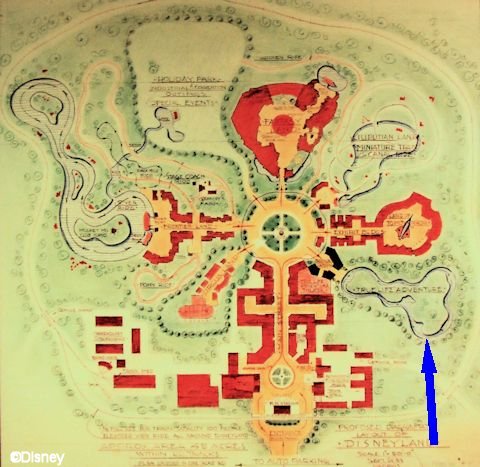 So why did the Imagineers change their minds and move this land? Two reasons: space and a stand of eucalyptus trees.
As ideas for "True Life Adventures" increased, it was realized that Adventureland would need more space to hold all of Walt's ideas. The Ryman sketch had this exotic land squeezed between "World of Tomorrow" and Main Street. This area was far too confining.
After the property for Disneyland was purchased, planners found a windbreak of giant eucalyptus trees that had been planted around the turn of the century. Ironically, these trees helped determine the location of Main Street as it was decided that they would make a nice backdrop behind City Hall and help delineate between "civilization" and the "jungles of the world." Thus, Adventureland was moved to its current location on the west side of the park.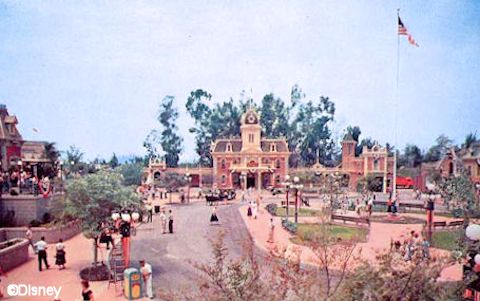 These eucalyptus trees still stand today.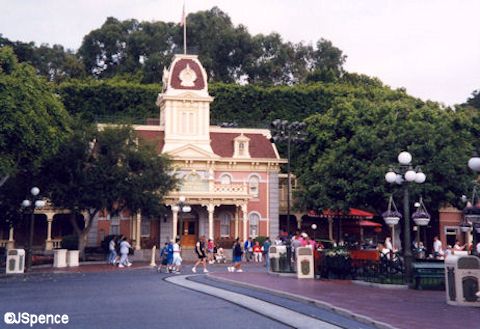 One of the original ideas for the Jungle Cruise had guests traveling down only one river, the Suwannee if Africa. But Harper Goff knew that the attraction needed more variety and pitched the idea of a skipper taking guests down a collection of exotic rivers found all over the globe. The working name for this attraction was "Tropical Rivers of the World." This proposal transformed Adventureland into a non-specific location. During the design phase of Adventureland, Walt said:
"The spirit of adventure is often linked with exotic tropic places. To create a land which would make this dream reality, we pictured ourselves far from civilization, in the remote jungles of Asia and Africa. The result is Adventureland, 'the wonderland of nature's own design.'"
The vast majority of the land set aside for Adventureland was taken up by a single attraction, the Jungle Cruise. This left very little pedestrian space to convey the vast exotic locales Walt wanted guests to experience. All Adventureland really consisted of was a narrow walkway that led from the Hub to Frontierland (now New Orleans Square). There was very little space in which to excite your senses. The Swiss Family Treehouse and the Safari Shooting Gallery didn't' open until 1962 and Walt Disney's Enchanted Tiki Room didn't debut until the following year. Even today, Adventureland's main thoroughfare is a very confining area.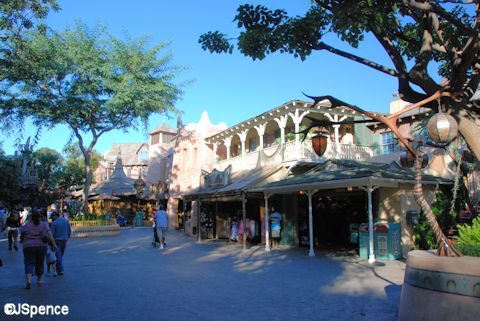 When planning the Magic Kingdom's version of Adventureland, the Imagineers wanted to correct this shortcoming and create an area that allowed guests to be immersed in the faraway lands that most of us only dream of experiencing. To that end, they created a much larger pedestrian expanse where visitors can be totally immersed in their surroundings.
The Crystal Palace acts as the transition piece that ties Main Street and Adventureland together. Based on the San Francisco Conservatory of Flowers, New York's Crystal Palace, and Kew Gardens in England, this Victorian structure helps visitors prepare for the colonial architecture they're about to experience around the next corner.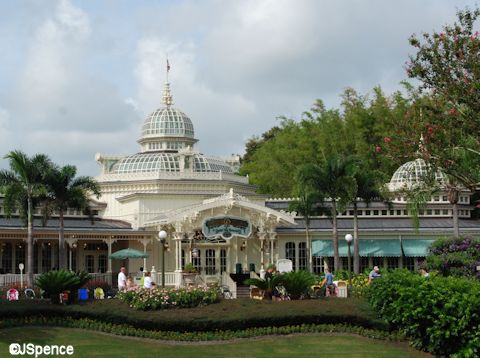 The main entrance into Adventureland is via a wooden bridge radiating off of the Hub. Up until a few years ago, this bridge was arched to allow the Swan Boats (1972-1983) to pass beneath. The bridge's wooden planks were also ribbed to reduce guests slipping when the walkway was wet. This made for a noisy and difficult journey for those in a wheelchair or pushing a stroller. However, when age dictated that the bridge be completely rebuilt, this arch was removed and the ribbing eliminated. This created a level walking surface with no annoying obstructions. Now it is a much easier journey into Adventureland.
If you look at these next two pictures carefully, you can see the rise in the bridge in the first picture and the flattened surface in the second. It's more obvious if you look at the railing.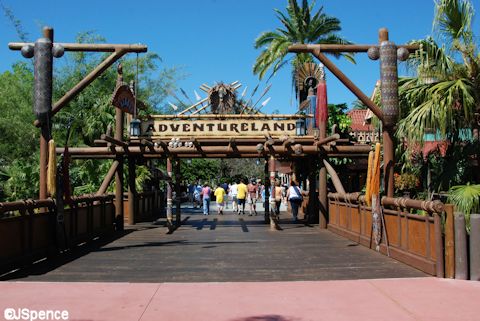 But before you get to this bridge, the entrance to Adventureland has another welcoming landmark. To the right of the pathway is a planter made out of volcanic rock. This is a wonderful spot to pose group pictures. And just like the bridge, this planter has gone through a few changes over the years.
When the Magic Kingdom opened in 1971, the planter sported a prominent "Adventureland" sign. In subsequent years, the sign was moved to a less obvious position at the back of the planter and several tiki poles were added. Today, the sign is gone completely.
The Adventureland entrance arch has also undergone a few changes. The current incarnation (third picture) features a more sinister look with a large collection of spears and the addition of human skulls.
As you enter Adventureland, you'll find Bwana Bob's to the left. This outdoor shop sells a few Adventureland-themed items, but mostly generic Disney souvenirs. Bottled water is also available.
Across from Bwana Bob's is a lovely covered patio. This area has been used as a meet-&-greet area in the past, but currently this space offers a FastPast+ distribution point.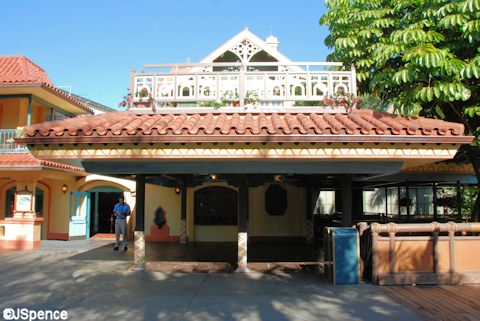 Next to this patio is "Tinker Bell's Magical Nook." This is the spot to meet Tink and some of her fairy friends.
Inside these doors guests wait in a switchback line until it's their turn to enter the magical world of fairies. Usually on hand are two of these enchanted creatures and families are given ample time with both to pose for photos. As always, a Disney photographer is on hand and can take pictures with either their camera or your own. This meet-&-greet area often has a long line. If this venue is on your kids' bucket list, arrive early.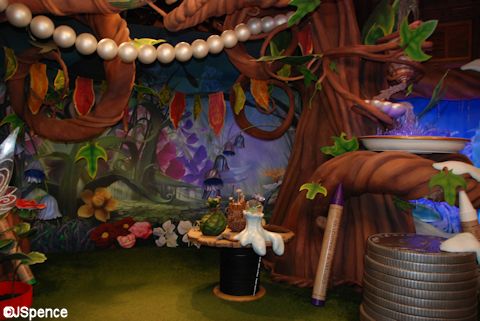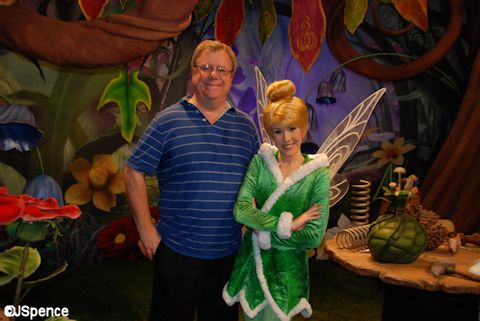 Thematically, Tinker Bell's Magical Nook has no business being in Adventureland. What do fairies have to do with the "adventurous" climes of the world? This attraction belongs in Fantasyland. However, Disney had an unused building going to waste and decided to fill it with a popular commodity.
So why is this building hear? In the early years, this space was occupied by a counter-service restaurant called Adventureland Verandah. It featured indoor and outdoor seating, the outdoor being on a "verandah" that overlooked the Swan Boats as they passed by. Much of this verandah has since been boarded up (decoratively).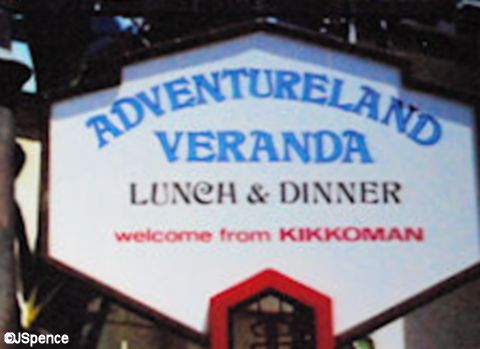 Adventureland Verandah was an opening-day restaurant that served fried chicken and hot sandwiches. In 1977, Kikkoman took over sponsorship and the food took on a Polynesian/Asian-ish flavor offering items such as teriyaki hamburgers topped with pineapple slices.
In 1993, the Adventureland Verandah began closing two days a week. Soon after, it was open only seasonally. And in 1994, it closed for good Рalmost. In 1998, Pecos Bill Tall Tale Inn & Caf̩ closed for an extensive refurbishment and the Adventureland Verandah opened for a few months to fill this void with a limited menu.
I miss the Adventureland Verandah. It was perhaps the most relaxing spot in the Magic Kingdom to enjoy a meal. The energy level was subdued here. When sitting on the verandah, I felt miles away from the hustle and bustle of the throngs rushing around just beyond the Swan Boat canal. The only other spot in the Magic Kingdom that came close to this relaxed atmosphere was Aunt Polly's on Tom Sawyer Island, and sadly, it is gone too.
Across from Tinker Bell's Magical Nook is the smoking area for Adventureland. It is positioned behind planters to create a wide separation from those that partake and those that don't.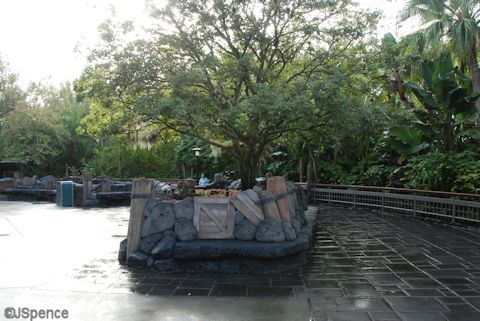 This is a good time to start appreciating the architecture found in the area. It would be difficult to pinpoint any one locale or nationality's influence on these structures for these buildings represent the colonization of Africa and Asia by many European nations.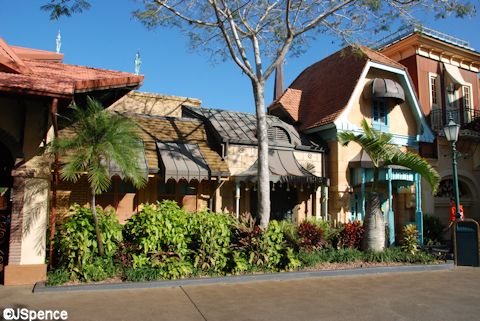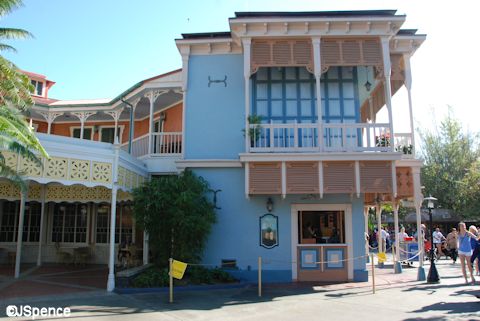 Having grown up with Disneyland's rather simple Adventureland, I was always impressed with this next structure. Its intricate detailing always amazes me. If I ever were to move to a Caribbean island, I would want my house to look like this. Notice if you will, this structure has seen several different color schemes over the years.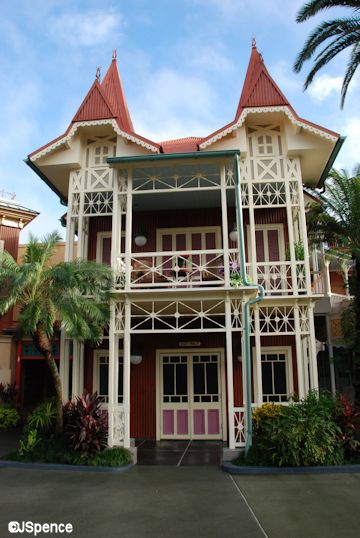 Tucked in amongst all of these buildings is one of the Magic Kingdom's best resting places. Covered, protected from winds, and fan cooled, this hideaway offers guests a wonderful spot to get off your feet and give your aching dogs a rest. Disney tour guides also use this spot to stop and explain Adventureland to their followers. If you time your respite right, you can listen in on some of their interesting facts.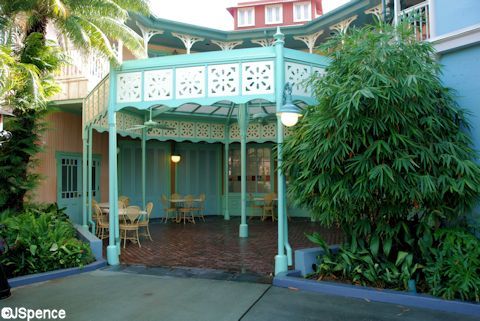 Of course, no discussion of this area would be complete without mentioning Aloha Isle, home of the famous Dole Whip. Loved by many, detested by some, this spot always has a long line. Personally, I don't think they're worth the wait, but I know many, many people would disagree with me. For those few of you unfamiliar with this taste treat, it is soft-serve pineapple sorbet. It can be served float-style, with pineapple juice, or all alone. To see their full menu, click here.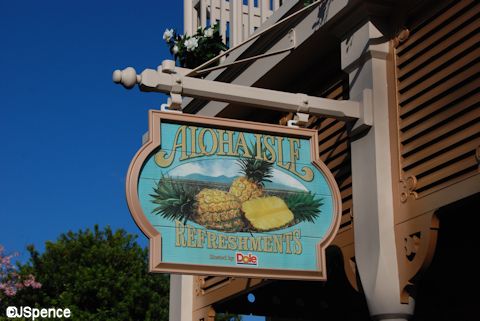 That's it for Part One. Check back Thursday for Part Two.