Beep. Beep.
Driver, you are clear.
Every Disney Parks regular knows the drill and most of us probably answer to honking cars at home with the scripted response. Let's face it, we're special and we love trams. Trams take our aching bodies and blistered feet back to the vast white line-painted endless cement lot where our cars are parked. Or if you're in California, trams take you to the drop-off point near the parking garage and countless escalators leading up to the land of personal automobiles.
Trams also drop us off in Downtown Disney so we can window shop before going through security. Or if you're in Florida, depending on the theme park, trams take you to The Ticket and Transportation Center, or near the security check point and main entrance.
Trams have rules, too. Kids can't sit near the doors. There's no eating, drinking, or smoking on the tram. Should something fall from the tram, alert a Cast Member who will retrieve it for you or find someone else to do it. I'm not sure what really happens, I've never seen anyone lose anything while the tram is in motion. Share your experiences with the rest of us.
That's all I have to say about trams right now expect that I still want a toy version because I'm a Disney Parks geek. Dang! I should have asked for one for my birthday! I must be slipping in my old age.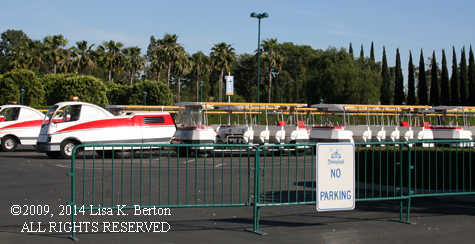 I wonder if those trams were ever towed.
Come on over and "Like" my Facebook page or follow me on Twitter, my handle is lisano1.