Yesterday (March 12, 2014) I was an invited guest at a special event held at Raglan Road located at Downtown Disney. For those of you not familiar with this establishment, Raglan Road is an authentic Irish restaurant and pub. It is owned and operated by Great Irish Pubs Florida, Inc., an Irish-owned company. If you're looking for authenticity in Irish cuisine, this is your place.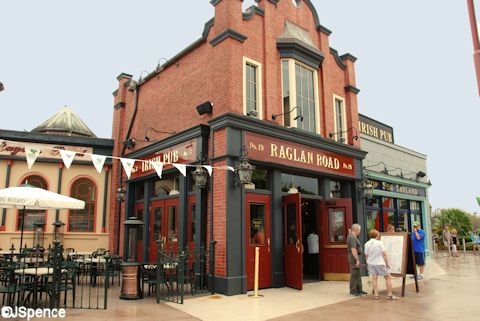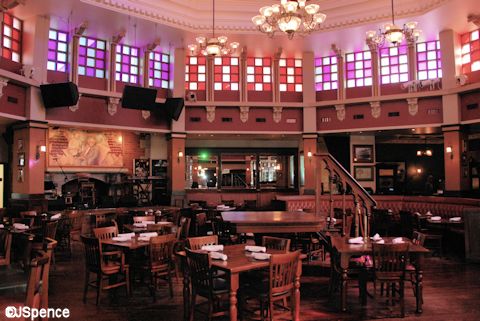 The purpose of this event was to kick-off a new cookbook written by Neil Cubley and Kevin Dundon (recipes by Kevin Dundon). But before I get to that, I would like to describe the event.
I arrived a little before 1pm and was shown to the press table, which was meticulously set for the four-course meal we were about to enjoy.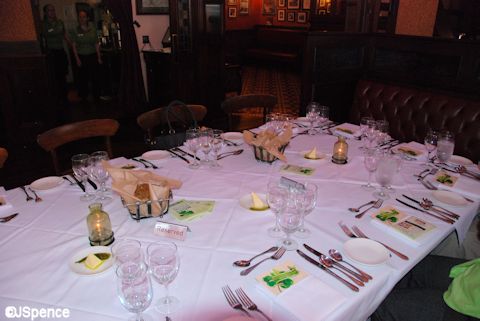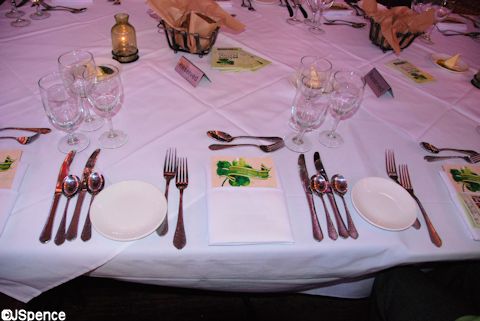 A few moments later, Chef Kevin Dundon appeared on stage and introduced himself. He has a disarming smile that immediately makes you like him and feel at home.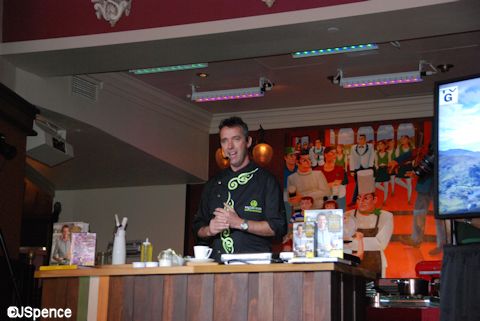 Kevin is an award-winning Irish celebrity chef, television personality, and author. He has been featured prominently on both the "Guerrilla Gourmet" and "Heat" television series. He is also the author of "Kevin Dundon Great Family Food," "Recipes that Work," "Full on Irish: Contemporary Creative Cooking," and "Kevin Dundon's Modern Irish Food." Needless to say, he knows his way around a kitchen.
Kevin began the afternoon by creating Espresso of Courgette & Almond Soup. This was paired with a glass of Domaine Chandon, Brut from the Napa Valley. Each step of the cooking process was explained in detail and projected on a nearby screen.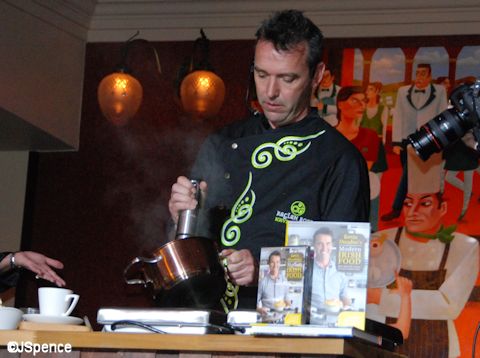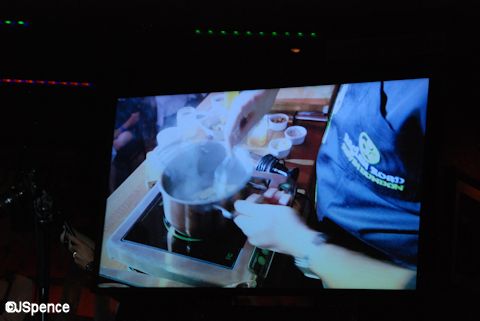 One thing you learn about Kevin very quickly is that he likes butter. Lots and lots of butter. He used it generously in several of the dishes he prepared. (I don't know how he stays so thin.)
Once he finished his demonstration, the waitstaff presented us with our own serving. It was scrumptious.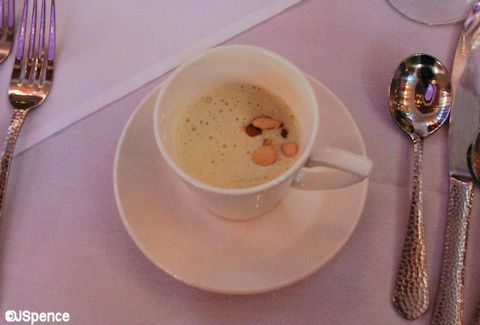 For those of you who don't know, anytime soup is served in a bowl or cup with handles, it's perfectly proper to forgo the spoon and drink it – which is how I enjoyed my serving.
The second course was Homemade Potato Gnocchi with Seared Scallops & Crispy Pork Belly. This was paired with a glass of Voceret, Estate Bottled, Chablis from France. Once again, Kevin walked us through the cooking process.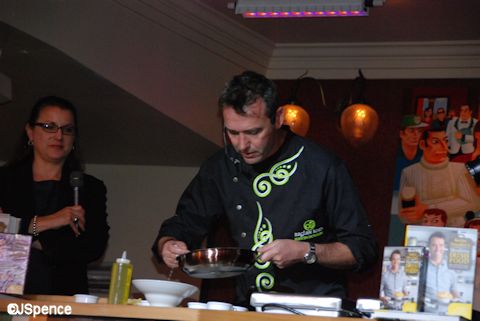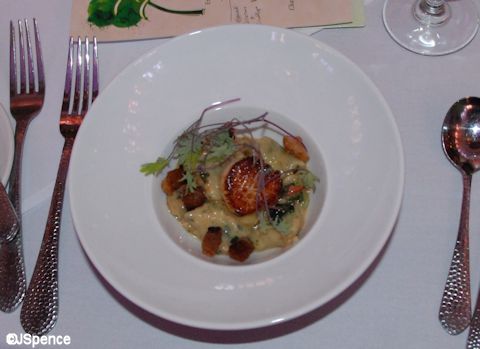 I like scallops, and these were good. But the potato gnocchi was to die for. I could have forgone the scallop altogether and made a meal on the gnocchi alone.
Since both the gnocchi and scallops were seared during preparation, Kevin used this opportunity to tell us about his personal brand of cookware. His pans have a non-stick surface that allow budding chefs to cook without oil. When I had a chance to chat with Kevin after the event, I asked him where my readers could learn more about and purchase his product. Not surprisingly, he has a website. If you're curious about his pots, pans, bowls, and utensils, click here.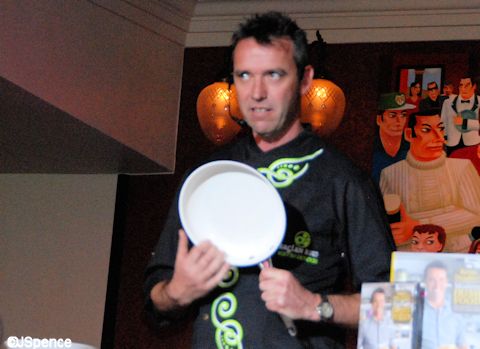 The main course of the afternoon was Pulled Corned Beef & Cabbage Infused with an Asian Broth. This dish was paired with Chalone Estate, Pinot Noir, Chalone, from the Monterey region of California.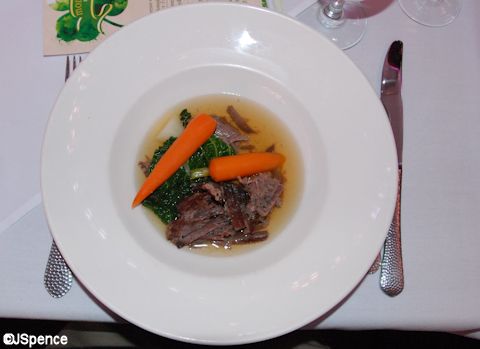 When I think of corned beef and cabbage, I think of a heavy meal. This definitely was not. It was quite light and flavorful. Kevin said this meal goes well with a hangover as it is something your stomach can face after imbibing a little too much. I agree.
Dessert was Upside-Down Steamed Orange Pudding with Caramelized Clotted Cream. Kevin used oranges, since that is what Florida is known for, but he said that any number of fruits could be used instead. This was served with Inniskillin, Ice Wine from Canada.
As one server placed the dessert in front of us, another followed close behind ladling on the clotted cream. This dish really was heaven on earth.
I know. It's a tough job. But someone has to go to these tastings. LOL
After lunch, those of us in the press party were taken into a smaller, private room. Here we were each given a copy of Raglan Road's newest cookbook, "I'd ate the Back Door Buttered Ma!"
I admit, the cover of this book and the title are a little different. But let me explain it to you as it was explained to me.
It seems that in Ireland, hungry children will often beg their moms for a snack before suppertime. A common appeasement there is a butter and jam sandwich. But when mom doesn't necessarily believe their hunger is all that great, the child will counter with something like, "I'm so hungry ma I could eat the back door buttered." I have to admit, it's a cute story and the book's cover would definitely get my attention.
Like most cookbooks, the recipes are broken down into their appropriate categories like Soups, Salads, Fish, Chicken, etc. But unlike many cookbooks, the pages of this book are not glossy, but rather have a matte finish. This gives the accompanying photographs an understated appearance. And by using under saturated colors, the pictures become works of art rather than pictures of food. The photographs are very appetizing.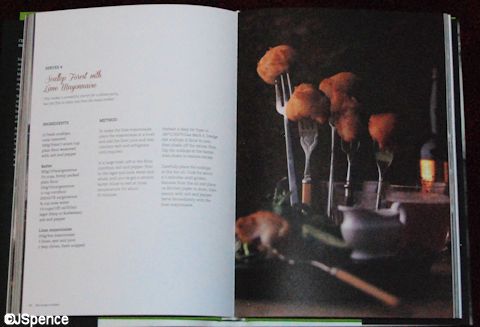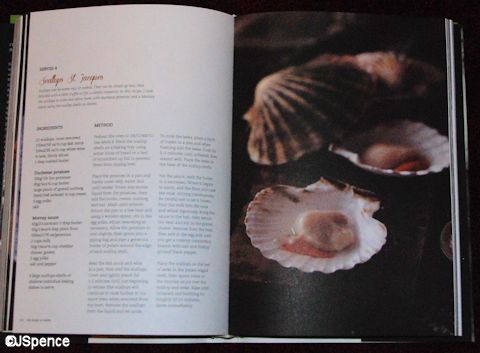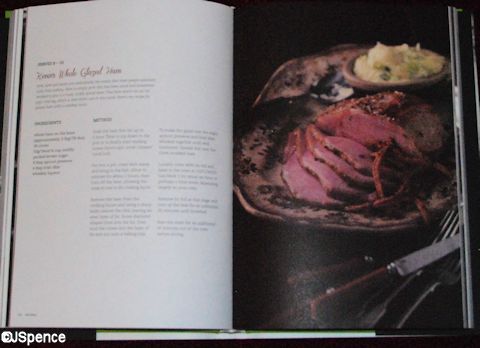 But "I'd ate the Back Door Buttered Ma!" is more than just a cookbook. It is also an anthology of stories and poems about Irish life, food, and traditions. This is a "real" book that someone could sit down and read and learn about Ireland.
"I'd ate the Back Door Buttered Ma!" will be sold in the Raglan Road gift shop and also through their webpage. At the time of this article, other retailers had not been determined.