What is your favourite park at Walt Disney World?
What are your "must-do" rides or activities?
What are the things you only do once in a while?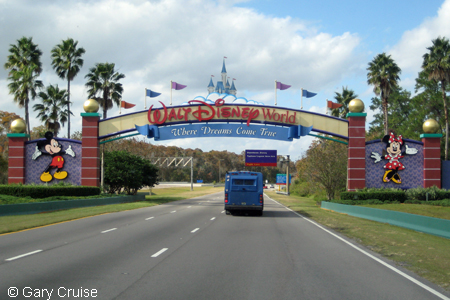 One of the greatest things about Walt Disney World is the diversity of experience you can enjoy there. With the four theme parks, two water parks, golf courses, hotels, campground, scores of restaurants and all the surrounding attractions there is virtually no limit to the things you can enjoy.
Many of our friends who, like Carol and I, are frequent visitors have established some favourite attractions and activities, things they "must-do" every time they visit Walt Disney World.
Here's my list of favourites. Let's start with my favourite park, the Magic Kingdom.
Why does this park top my list? Well, it's the classic, the first Florida park. This is where I first took my children in 1977. It is chock-full of good memories and will probably always be my "special place"! I remember the huge grins on both my daughter Michelle and son Steve's faces as we rode Dumbo together all those years ago. They loved It's A Small World and Peter Pan's Flight.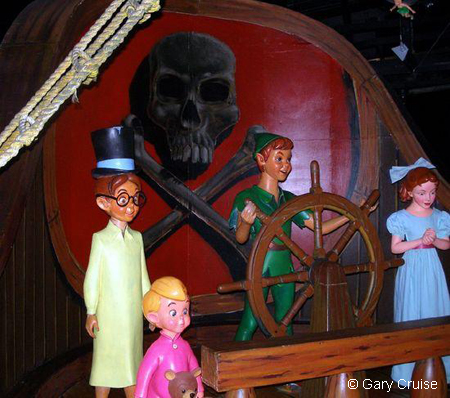 About two years ago my son Steve took his family and they stood in line for 90 minutes to see Peter Pan. His comment? "What a hokey ride . . . why did I stand in line an hour and a half for that?" It will never be hokey for me because I'll always remember Steve's reaction when we rode it together in 1977. Peter Pan is one that Carol and I ride every visit.
The Haunted Mansion and Pirates of the Caribbean are two more that we never miss.
These rides are not "hi-tech" like some of the newer attractions but they still transport me to another world or another time. As I ride I sing along with the 999 happy haunts and the scallywag pirates. "Yo-ho, Yo-ho, a pirates life for me!" As we pass through Adventureland we are always compelled to savour a cold treat. Carol heads to Sunshine Tree Terrace to pick up a Citrus Swirl while I scoot to Aloha Isle for a Pineapple Float. We meet in the middle somewhere and try to achieve simultaneous brain-freezes.
We take a spin with Buzz Lightyear almost every trip.
This ride brings out the worst in us. We become ultra-competitive, each trying to outscore the other as we blast Emperor Zurg into the next galaxy! It's great fun!
We enjoy many of the other rides as well but we don't feel compelled to enjoy them every time we visit. Once in a while is good for most of them. Of course, Wishes, the fireworks spectacular, is a "must-do" as well. We try to position ourselves at the back of The Hub, near Casey's Corner to get the best view of the show with Cinderella Castle in the foreground. That leads me to the one other snack we always stop for . . . a Casey's hot dog. Yum!
Many will probably be surprised at my second place ranking. Disney's Animal Kingdom ranks second for me. Why? Well, it's all about the animals.
Both Carol and I love seeing the animals. We walk all the back trails around the Tree of Life to see and photograph things most visitors miss. Hint: If you walk these trails at noon you will often see cast members feeding the animals and the animals will be front and center for you. There are plenty of photo-ops around noon on the Tree of Life Trails.
Kilimanjaro Safaris is an irresistible draw for us. We sometimes ride it twice, once in early morning and then again just before the park closes. Hint: You can get better pictures from the back row of the truck, but be prepared for the bouncing! It's the bumpiest seat!
Carol is not a fan of roller coasters; she does not like the upside-down experience, but for some reason she really enjoys Expedition Everest. I don't understand why, but I'm glad she does. We ride together once and that's enough for her. I sometimes go directly to the single-rider line and take another spin.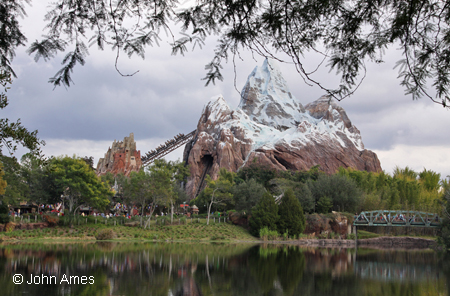 After coaxing for a while I finally convinced Carol that coasters are smoother and less stressful if you raise your arms and stop fighting against the rocking and shaking motion. Once she tried it she agreed with me and now she often rides with her arms in the air. The only problem is that she cannot stop giggling when her arms are up. So if you see a woman on Everest, arms in the air and giggling like crazy – that's Carol!
Flights of Wonder is another great show we always enjoy. It always surprises us how many people walk by and skip this awesome performance. The need for conservation is delivered in an entertaining and inspiring fashion. Carol has co-starred in the show four times.
When they ask for volunteers in the owl segment she is always up and waving her hands. Another regular stop is at the gibbon habitat near Kali River Rapids; we love to watch them swinging around their island. If you ever hear them calling to each other you will never forget the experience!
If we have lunch at Animal Kingdom it is almost always egg rolls from the quick service counter at Yak & Yeti; try them – they're great!
Third for me is EPCOT. This park is all about education . . . but the learning at EPCOT is all bundled up in a package of fun so you really don't notice. Educators need to look into this to see how it's done . . . learning can be fun!
Our first "must-do" is the very first attraction, Spaceship Earth.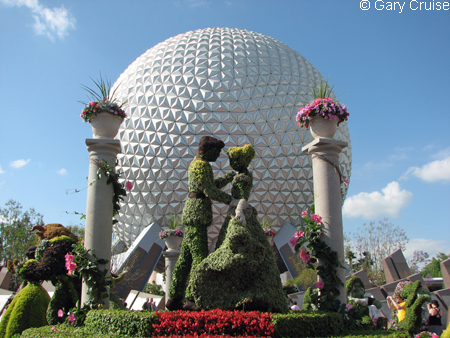 History, communication and science in one easy lesson; we seldom miss it. Another regular is Soarin'.
I like the hang-glider ride more than Carol does, but she humours me and rides along with me. It all evens out when I stifle my yawns as I wander through Germany's Der Teddybar shop with her.
We always look for Off Kilter, the celtic rock group who play beside the Canada pavilion, we both enjoy them.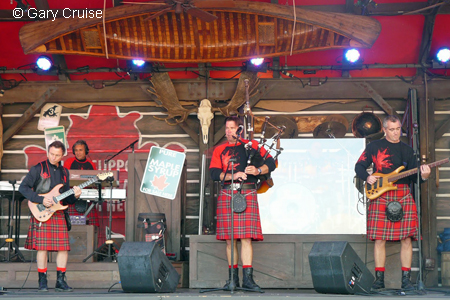 When I hear the Jamitors or The British Revolution I stop to listen while Carol dashes off to shop. Our interests aren't always the same but there are so many things to do that we can both enjoy ourselves at all times.
Dining at EPCOT is great, there are so many good restaurants, but our favourite is Canada's Le Cellier. We seldom miss having dinner at Le Cellier.
Last, but certainly not least is Disney's Hollywood Studios. This is also a wonderful park full of many terrific attractions, rides, sights and sounds. I love the "Streetmosphere", the many street entertainers who put on such entertaining shows.
I can sit and watch them again and again, which works out well because Carol can shop again and again!
Studios is home to the newest ride at Walt Disney World, Toy Story Midway Mania. Similar to Buzz Lightyear it's a giant video game that places you in the middle of the action. We try to ride Toy Story several times each trip if we can.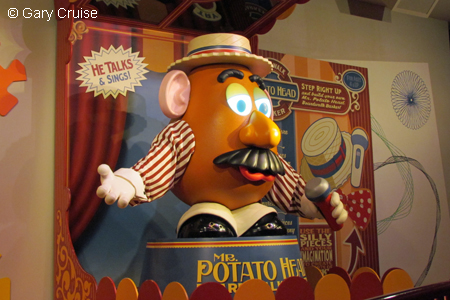 We don our 3D glasses and turn into shooting demons, each of us once again striving to totally annihilate our beloved spouse. "I am not your mother . . . break those plates!"
We both enjoy the Tower of Terror and after riding it Carol generally heads down Sunset Boulevard to explore the Villains in Vogue shop while I head to the single-rider line for a spin on Rock 'n Roller Coaster.
Another "must-do" at Studios is a trip to the Animation Courtyard and a visit with David Rippberger, the Disney Ink and Paint artist who works in the Animation Gift Shop. David creates the hand painted animation cels which Carol collects and we like to visit with him to keep abreast of what's coming up next.
Our final irresistible lure at Studios is a relatively new discovery for us. Italian sausage in a bun at Min & Bill's Dockside Diner. We shared our first sausage in a bun about a year ago . . . as soon we bit into it we agreed we would never share one again. They are just too good to share! Don't miss this delicious lunch treat.
Of course no vacation would be complete without a trip to Downtown Disney. I always take my book along and find a spot to sit while Carol shops.
I read and people-watch while she scours through the Art of Disney Shop, the Disney Days of Christmas Shop and of course Disney's Pin Traders. Once she has worked up a good appetite she joins me and we head directly to the Earl of Sandwich.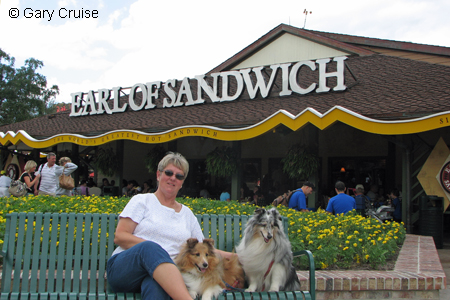 This place has elevated the simple sandwich to an art form. Wow they're good! We often get back to "Earl's" several times during our stay!
There is so much to do outside the parks that I may make that the subject of another blog sometime. For now I will just mention two more of our favourite "non-park" things. First is dinner at 'Ohana in the Polynesian Resort . . . we never miss it. Great food, great location, great value! If you time it right and get a window table you can watch the Wishes fireworks extravaganza from your table. They pipe in the soundtrack too!
Second is a camping favourite, if we're staying in our RV at Fort Wilderness Resort and Campground we head to the beach at the campground a few evenings during our stay. There is a nice little patio beside the dock and we relax at a patio table as we watch Wishes. They pipe in the soundtrack here as well and as an added treat the fireworks are reflected on the waters of Bay Lake. It's a terrific place to watch the show with no crowds! Shortly after Wishes is over the Electrical Water Pageant sails past . . . what a great way to end a day!
So those are a few of my favourite things! There are so many things to do at Walt Disney World that it just never gets stale for us and I doubt that it ever will!
What are your favourite things?