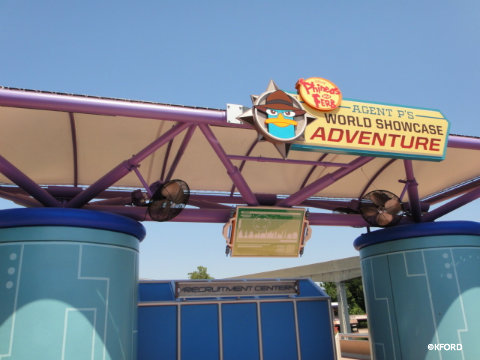 Epcot's scavenger hunt through the global pavilions, Kim Possible World Showcase Adventure, reopened last week as Disney Phineas & Ferb: Agent P's World Showcase Adventure. Recently, my kids and I accepted two missions from Phineas & Ferb's pet platypus so we could check out the new version of this game.
I'm calling it a new version because Agent P is just about the same game as Kim Possible. Disney has not changed the basic clues, for the most part, within the countries. Instead, the update comes from the new characters, which certainly are more recognizable for today's young Disney Channel viewers.
Guests begin playing by stopping by one of four recruitment centers — near Showcase Plaza, Italy, United Kingdom and Norway — and a cast member will swipe one ticket per group and issue a F.O.N.E. (Field Operative Notification Equipment) device. If the game is not crowded, guests initially will be given three countries from which they can select a mission. After some simple instructions, you're on your way.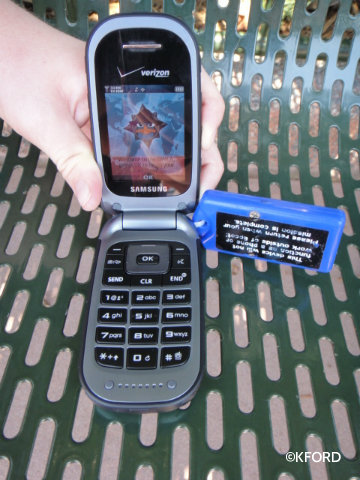 We noticed a welcome improvement with this version: Guests can start playing Agent P immediately, if space is available. With Kim Possible, guests received tickets indicating their start times later in the day. Agent P can accommodate about 30 guests per country at a time, a cast member told me. Guests have the option to continue playing with another mission, if slots are open.
Our roles as secret agents first took us to France, where we were charged with helping Agent P defeat his nemesis, Dr. Doofenschmirtz. Each mission has between five and ten assignments with code names. France has some cute clues, including one where the secret agents are instructed, "Say fromage!" when their pictures are taken. If you select this country, be sure to play until the end, because there is a clever surprise from Agent P on the last assignment.
When choosing the country of your mission, you might want to consider whether you'd like to play indoors or outside. In France, the assignments are all outside in the blazing Florida sun or afternoon rains. But in Mexico, where we landed on our second mission, the game was played inside the cool pavilion.
My elementary-school-age children really enjoy these types of scavenger hunts at Walt Disney World and they're big fans of Phineas & Ferb, so this was a fun attraction for them.
I think, though, that the other game of clues at Walt Disney World — Sorcerers of the Magic Kingdom — has a big advantage over Agent P. Each portal in the Magic Kingdom is a different experience for every guest because of the way he or she plays the cards. With Agent P, the clues are the same for everyone, so if a line forms during the assignments, you see the clues unlocked by the party ahead of you.
Still, Agent P is a great way to entice kids' into the World Showcase pavilions. Each mission only lasts about 30 minutes, so it's not a big time commitment, and kids of all ages can play this game, with a little help from their parents or older siblings.