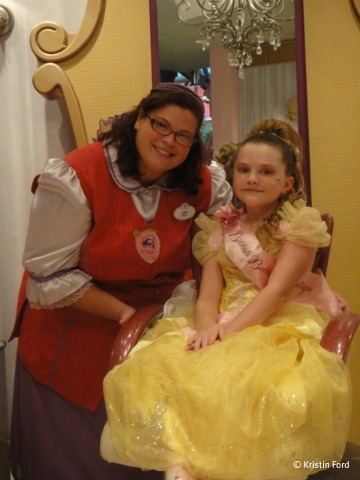 My daughter and her Fairy Godmother in training at the Downtown Disney location.
If your children love to play dress-up, you won't want to miss Walt Disney World's fantastic experiences for transforming guests into princesses and pirates. Both the Bibbidi Bobbidi Boutique and The Pirate's League have just introduced new makeovers and packages, too.
We surprised our 9-year-old son and 7-year-old-daughter with appointments last fall on the day we planned to attend Mickey's Not-So-Scary Halloween Party. Both experiences were wonderful, and they got to wear their new looks until midnight. Today, in Part 1, I'll offer some tips for the Bibbidi Bobbidi Boutique. On Thursday, I will take you inside The Pirate's League.
Walt Disney World has two Bibbidi Bobbidi Boutique locations — inside Cinderella Castle at the Magic Kingdom and inside World of Disney at Downtown Disney Marketplace. Most recently, our appointment was at World of Disney, though my daughter had a makeover at Cinderella Castle when she was younger. On party nights, the Bibbidi Bobbidi Boutique and The Pirate's League can get busy, so book ahead of time, if possible. You can make reservations up to 180 days in advance at 407-WDW-STYLE (407-939-7895).
Sitting in the royal chair after the FairyTale Princess makeover at Cinderella Castle.
For our family, planning a trip to the Bibbidi Bobbidi Boutique starts with making sure my daughter has a Disney princess gown and accessories that fit. The Boutique offers a complete Castle package that includes a costume, but it runs about $200. For us, it's a better value to have my daughter wear her own gown or change into it once she gets to there. She usually has at least a few princess dresses that she wears into the Disney World theme parks for the fun of it. (Because of this, I am always on the lookout for deals. I stop by the Disney Store at my local mall to get after-Halloween sales, and sometimes the same Walt Disney World dresses can be found at a fraction of the price on eBay.)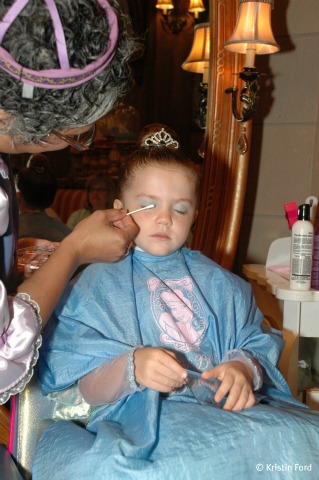 Nothing says princess like blue eye shadow, right?
Honestly, my daughter has never complained about not picking out a dress at the Bibbidi Bobbidi Boutique because she is so excited about the main event — getting her hair, nails and makeup done by a Fairy Godmother in training. That Crown package, which also includes the BBB sash, now runs $59.95. You can save $5 if you skip the nail polish (Coach package), but my daughter loves that part and the girls get to keep the bottles of polish afterward, so it's not even a consideration for us to skimp on this feature. In addition to the polish, girls take home a pretty pink gift bag that includes the makeup, a pink comb and face gems that were used during their transformation. On the two occasions my daughter has visited the Bibbidi Bobbidi Boutique, she has clutched that little pink bag like a purse for days afterward, and then it sits in a place of honor on her nightstand, where she can admire and reuse all her goodies.
Getting her nails done and keeping 2 bottles of polish costs just $5 more.
Recently, the Bibbidi Bobbidi Boutique introduced a new package, whose price point falls in between the Crown and Castle — the Courtyard for $89.95. It features an exclusive hairstyle, a princess cinch bag, Bibbidi Bobbidi Boutique T-shirt and a tutu. (The BBB T-shirt is available in youth sizes from S to XL and adult sizes S to XL. The BBB tutu is available in two sizes, small and medium.) Plus, girls will receive the makeup, nail polish, sash and face gems that other packages include.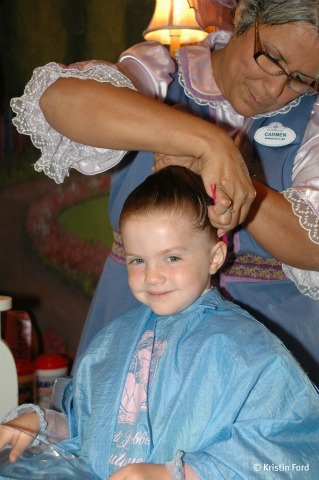 This 'do proved painful for my daughter, but she was happy during the preparations.
Girls can choose from three hairstyles at the Bibbidi Bobbidi Boutique: Disney Diva, Pop Princess and Fairytale Princess. When my daughter was 4, she chose the FairyTale Princess, which is where the hair is smoothed into a bun and topped with a tiara and jeweled Mickey hair clip. It's very pretty, but it's also very tight and my daughter complained within minutes of the hairstyle being finished. As soon as we snapped her finished portrait, she took it out. If your child has a tender head or gets frequent headaches, you may want to choose another style.
One of the Disney Diva hairpieces.
On her most recent visit to the Bibbidi Bobbidi Boutique, my daughter selected the Disney Diva hairstyle. Her hair was pulled back again, but we asked her Fairy Godmother in training to keep it looser. This style adds a long hairpiece in the back that comes in various colors and has tiny braids and Mickey Mouse-shaped embellishments. The front of the hairpiece is teased, and jeweled Mickey hair pins finish the look. My daughter was much happier with this look. She — and her doll — have worn the hairpiece and clips numerous times since her special appointment, too.
The studio at Disney's PhotoPass Center at Downtown Disney Marketplace.
Both locations do have multiple PhotoPass photographers to help you capture your child's transformation, and you are welcome to use your own camera as well. Each time, I had planned to purchase Disney's PhotoPass CD, and when I alerted the photographers, they were willing to take extra images. If you are at the World of Disney salon and would like formal finished portraits, head to the nearby PhotoPass center. That site has a gray backdrop and a chaise lounge for your child to pose like royalty. Be sure to bring any props you might like. For example, my daughter brought a rose to hold when she was wearing her Belle costume. (For tips on maximizing your PhotoPass CD purchase, see my previous article at /blogs/guestblog/2012/03/_the_price_of_a.html) At the Magic Kingdom, be sure to stop by the Town Square Theater to have your daughter's photo taken with her favorite princess.
To see other details about Walt Disney World's Bibbidi Bobbidi Boutique, visit the AllEars.net resource page at /btp/bibbidi.htm