by AllEars.Net Guest Blogger Lori Edelman
It all started with a lottery. When my name was drawn, I had no idea of the real journey we were about to begin. I had thrown my name in the hat for a chance to sail on the maiden voyage of Disney's new ship: the Disney Magic. Lo and behold, we got a spot! Room 2114. (I remember the number because it matched the last 4 digits of my original cell phone number!). So, in July 1998, we got to sail our first maiden voyage.
On the Magic, we shared our dinner table with a fun group from Michigan. One gal was a travel agent and through her we were able to continue our journey of maiden voyages. In August 1999, we sailed the maiden voyage of Disney's second ship: the Disney Wonder.
And now we continue! Only a few more days and we sail the maiden voyage of the newest ship in the fleet: the Disney Dream.
Over the last weeks and months, like many of you, we have followed the progress of the Dream as she was put together, first floated out, and then sailed across the Atlantic to her home in Port Canaveral. Michael and I both tearfully watched the ship's christening last Wednesday from the Cruise Line's website. At the same time, I was messaging with All Ears Deb who was lucky enough to be in attendance. What a thrill! Technology has come a long way since our first maiden voyages in 1998 and 1999!!!!
In a few short days, the three of us will rendezvous in Orlando for our adventure. Originally, this was just a trip for Michael and me. Our oldest son is married and out on his own. Our youngest is a freshman at the University of Oregon — Go Ducks! We told him, "sorry, but you can't miss a week of college". However, in a very poignant email letter to me, he convinced me to change my mind. I am such a sucker! Really though, how many parents have a 19-year-old son that wants to go on vacation with them? He said it was our fault for making him love all things Disney; he went on the first 2 maiden voyages with us and he wants to go on the next 12 with us. So, as a parent, I ask you, how could we say no?
The All Ears team has done an awesome job introducing us to the Dream from the christening through the media cruise. I loved Laura's Aqua Duck video! Please follow me and my family on our next maiden voyage adventure!
Aaron received an "onboard credit" for his birthday….get it?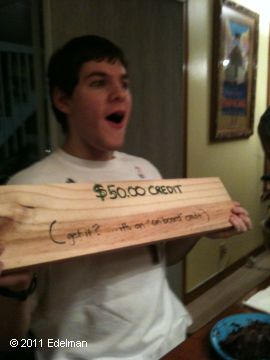 Michael and Aaron, Panama Canal 2008

Lori, Panama Canal 2008