If you're like me, one of the best parts of any vacation is finding new places to eat. Well, we found lots to enjoy on our too-short stay on the new Disney Dream.
For families, the Dream offers your basic fast-food options at Cabanas and Flo's Cafe, with counters themed after various characters from the Disney-Pixar film "Cars," both located on Deck 11.
Cabanas is a food court, with 16 specialized food stations, each designed like a beach cabana with colorful awnings. Disney details decorate the area, including a flock of seagulls from the Disney-Pixar animated film "Finding Nemo." Two hand-crafted mosaic tile walls — each more than 25 feet in length — depict an underwater scene from "Finding Nemo." In the evenings, the restaurant transforms into a table-service casual dining experience, where dinner entrees are cooked to order.
Since a picture is worth a thousand words, here are some photos to give you an idea of the area and the fare.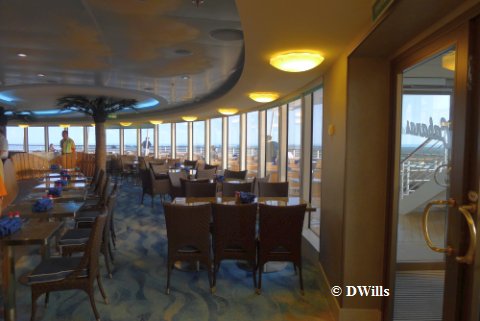 Flo's Cafe, which includes Luigi's Pizza, Fillmore's Favorites and Tow Mater Grill, is for those looking for a quick bite to eat near Donald's Pool on Deck 11. Pizza, sandwiches, and the like are on the bills of fare.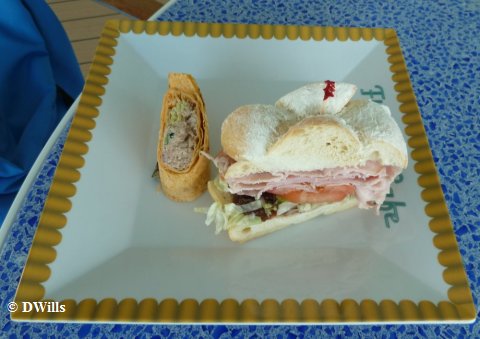 There are also frozen treats available in the Donald's Pool area on Deck 11. Eye Scream (with a Monsters Inc. theme) and Frozone Treats (The Incredibles) feature ice cream and smoothies, respectively.
When it comes to table service restaurants, the Dream has several moderate spots that range from simple to elegant.
The Enchanted Garden is a casual restaurant inspired by the gardens of Versailles. By day, the restaurant feels like a brightly lit conservatory, not unlike Walt Disney World's Crystal Palace. There are trellises with green arches, and custom glass "flower" light fixtures drop down from above. More than 600 light panels arch across the ceiling like a glass canopy.
At night, the ambience magically transforms to an evening scene with a twinkling field of stars overhead. The light-fixture flowers "bloom" and become infused with color, wall sconces open to become beautiful folding fans, paintings are illuminated in a nighttime perspective and the centerpiece fountain is basked in shimmering light.
Breakfast and lunch are buffet, dinner is full-service, with specialties such as grilled New York strip steak, pan-seared sea bass and lobster ravioli.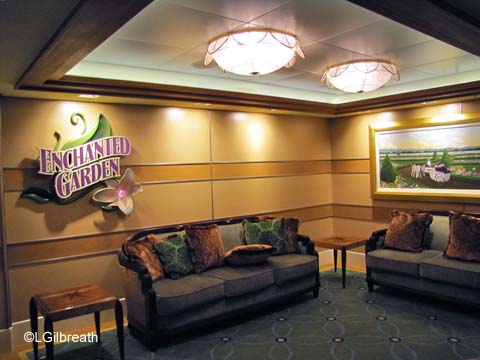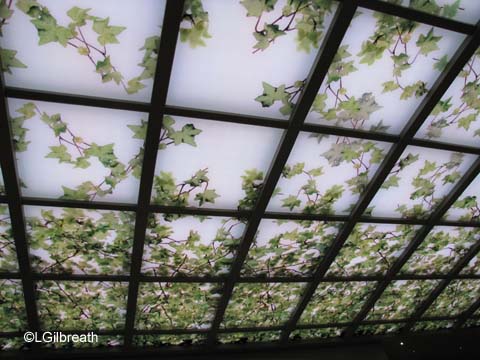 Royal Palace is inspired by classic Disney films like "Cinderella," "Snow White and the Seven Dwarfs," "Beauty and the Beast" and "Sleeping Beauty." There's a hand-blown centerpiece chandelier with glass slippers and marble floors, and gold accents around the room.
At Royal Palace, guests feast on dishes such as lobster and jumbo shrimp, escargot, Dijon-roasted rack of lamb and beef tenderloin with lobster medallions. The wine list features an excellent selection of Old World wines. Breakfast, lunch and dinner are served at this restaurant.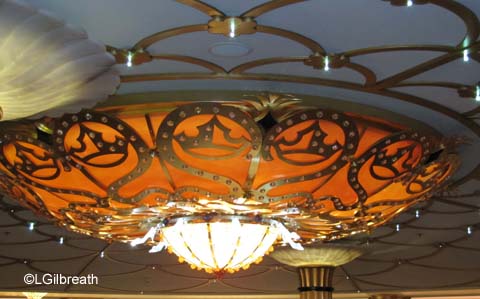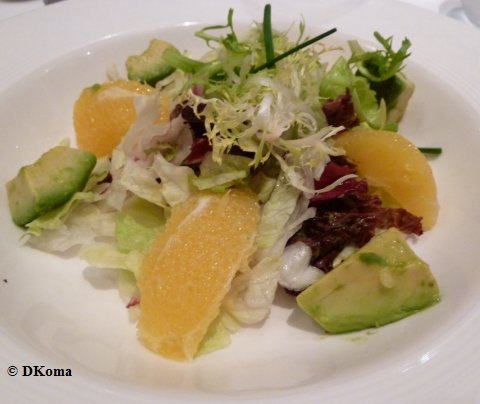 Animator's Palate is a "re-imagined" version of the signature Disney Cruise Line restaurant that brings the magic of Disney animation into the dining room. The venue is decorated with an animator motif, reinforced by pillars throughout the restaurant fashioned like huge pencils and brushes. There are character sketches, maquettes (three-dimensional character models), film strips and other tools of the animation trade. Scenes and characters from popular Disney and Disney-Pixar films adorn the walls. As a special nod to Mickey Mouse, the contemporary dining room features red and yellow colors and a trademark design — Mickey Mouse pants with two bright yellow buttons.
But after diners are seated, the restaurant is transformed: You're magically transported to an undersea world with views of a coral reef all around, setting the stage for a special visit from Crush, the sea turtle from the Disney-Pixar film "Finding Nemo." More than 100 video monitors on the walls of the restaurant are involved in the dinner show experience. Crush character swims from window to window, "working the room," engaging guests in real-time conversation about his life and world.
The cuisine combines fresh flavors with culinary flair, with selections such as smoked salmon tartare, stir-fry vegetables, lemon-thyme chicken and a trio of veal. Wines from California and the Pacific Rim complement the menu.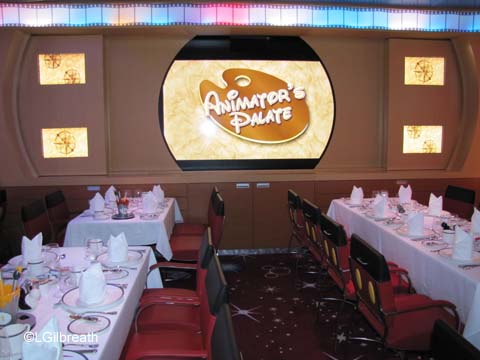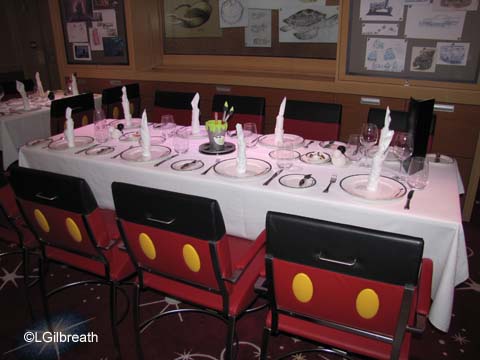 Of course, you can always dine in your room. Room service offers you the chance to feast on fresh, made-to-order meals in the comfort of your stateroom.
But if you're looking for something a little more refined, the Dream can accommodate you. Two "adult" dining options are sure to please.
I was lucky enough to dine at Palo the second night of our two-night cruise. I knew from reading about Disney's Magic and Wonder that Palo was an upscale Italian restaurant exclusively for adults, but I had no idea that the whole experience there would be so special.
Palo features a semi-circular design, with floor-to-ceiling windows and raised banquettes along one side. Custom art, warm wood tones and rich red, green and gold jewel tones create a refined, Italian-inspired décor.
Palo features both antipasti selections and six different kinds of pizzas to start with. It also has fresh pastas, seafoods and meats prepared with Italian touches. Desserts include classic tiramisù and Palo's signature chocolate soufflé, which I must admit is worth the half-hour wait it takes to prepare!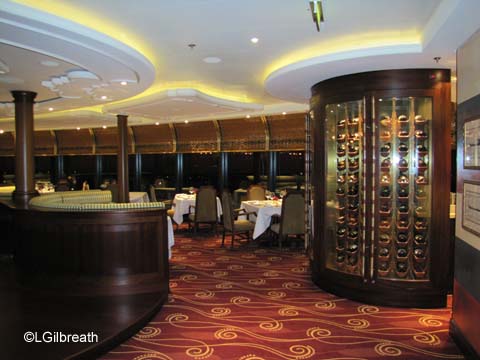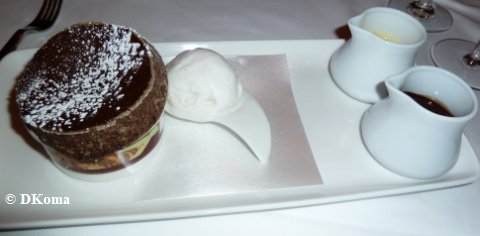 Finally, there is Remy. Remy, Remy, Remy. While I didn't have the chance to experience an actual meal in this exclusive restaurant, billed as the Disney Cruise Line's first-ever premier dining spot, I did attend a private tasting there, which allowed me a glimpse of the decor and a few bites of what's on offer.
From the outset, you know this is a special place. Dining at Remy requires an additional charge of $75 per person, in addition to the cost of wine and alcoholic beverages. Wine pairings selected from the French list are an additional $99. Plus there's a dress code that requires men to wear a dress jacket, dress pants and shoes (ties are optional). For the ladies, cocktail dresses, evening dresses, pant suits or dressy skirts and blouses are the options.
Located on Deck 12 Aft, across from Palo, Remy features French-inspired, gourmet cuisine by two award-winning chefs, Chef Arnaud Lallement from l'Assiette Champenoise, a Michelin two-star restaurant just outside Reims, France, and Chef Scott Hunnel from award-winning Victoria & Albert's at Walt Disney World Resort. The entire concept is executed by executive chef Patrick Albert.
The decor borrows, subtly, from the hit Disney-Pixar film "Ratatouille." The softly lit main dining room with seating for 80 is designed in art nouveau style, while the famous Remy character is subtly and artfully integrated into the design of the upholstery. A private Chef's Table dining room, Chez Gusteau (inspired by the fictional Paris restaurant in "Ratatouille"), seats eight. Guests also may be seated in the glass-walled wine room, Remy's Vault, amid more than 900 bottles of wine.
Dinner at Remy starts with a signature chilled Taittinger Champagne cocktail made tableside, followed by eight to nine small courses complemented by a stellar wine list. Menu items include smoked bison with fennel salad and blood oranges; lobster with vanilla, bisque and lobster roe foam; wild loup de mer; Australian Wagyu; a tomato tart with Parmesan espuma; coastal turbot with vin jaune sauce and gnocchi, and young pigeon pie with foie gras, spinach and tomato. Desserts include a vanilla-poached pear and a dark chocolate praline with cocoa sherbet.
From Remy's Vault, 22 wines are selected as the best of the best, presented by white-gloved sommeliers in an elegant velvet box that opens like a book with the name of each wine engraved on a silver-plated plaque. The list includes a 1947 Château Cheval Blanc, another nod to "Ratatouille" (the wine requested by the movie's food critic). Considered one of the best vintages in the world, a single bottle of Château Cheval Blanc retails for $25,000.
As you can see, dining on the Disney Dream, does indeed range from the sublime to the ridiculous!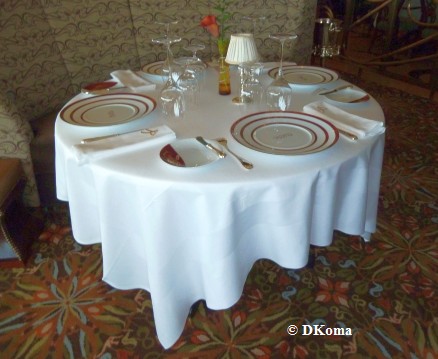 You can find the menus for many of these restaurants HERE. (More menus are being added daily, as fast as I can type!)
NOTE: Members of the AllEars Team were invited on this media cruise, which was paid for by the Disney Company.