While on the Disney Dream Christening Cruise, I spoke with David Duffy, Creative Director for Entertainment and Port Adventures Disney Cruise Line.
David shared an overview of what Entertainment is in store for guests on the Disney Dream.
The Walt Disney Theatre has been greatly enhanced from the Magic and Wonder ships and now seats 1,340 guests and includes a balcony.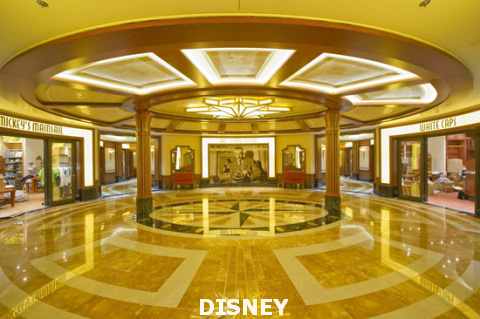 The basic show line up on the 3-night cruise will be Villains Tonight, Golden Mickeys and Disney's Believe.
The biggest news is the new centerpiece show created just for the Disney Dream, Disney's Believe! This heartfelt story includes an "enchanting score and lavish production". You'll find some original characters and songs along with some favorites.
Golden Mickey's has also been updated and enhanced to include new characters and songs.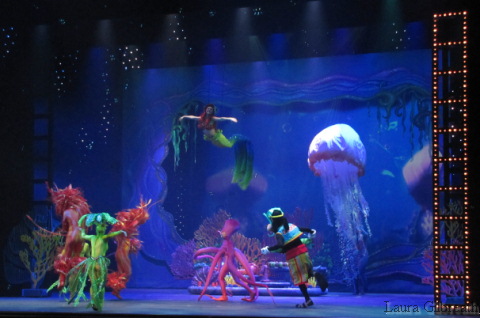 On the 4 and 5 night Disney Cream cruises —If there is a current first run movie – it may be featured in the Walt Disney Theatre. If a movie is not current, look for a variety of specialty act. Plans are still underway for the night time entertainment on the Dream 5 night cruises.
Adult Enrichment programs will be much different then those currently on the Wonder and Magic. There will be an enhanced adult enrichment series and also a family enrichment program. A new cooking series called "Anyone Can Cook" will adult only and family cooking sessions. These are fashioned after Walt Disney Pictures Ratatouille!
Jeff Kurti has written a new book entitled "Welcome Aboard, The Creation of the Disney Dream". Jeff has created a multimedia presentation called the Making of the Disney Dream which will be another program offering.
A new Animation Program is being developed. The Disney Cruise line obtained the rights to theme the program based on the "The Illusion of Life: Disney Animation" By Ollie Johnston, Frank Thomas.
David also noted that Pin Trading will continue on the Disney Dream!
There is much more to share about the entertainment on the Disney Dream – as we learn more and experience some of the programs, we will share that information with you.