Families vacationing with children of any age are familiar with the many associated perils — from the refrains of "Are we there yet?" and "I'm bored!" from the older kids, to the disasters of running out of formula, or baby food, or diapers in the younger ones.
You need not worry about encountering these dangers on the Disney Dream, which clearly illustrates how Disney has listened and responded to guests' concerns and suggestions for improvements.
Disney has a special space for every age group, and each has its own unique characteristics.
"it's a small world" Nursery
Starting with a place for the littlest ones, there's the "it's a small world" Nursery. Located on Deck 5 midship, infants and toddlers ages 3 months to 3 years can enjoy a whimsical world inspired by the classic Disney theme park attraction and original artwork by Disney Legend Mary Blair.
A boat in the center of the room "floats" on a river pattern along the soft-surface floor and is surrounded by colorful, kid-sized tables and chairs for toddlers to enjoy crafts, books and games.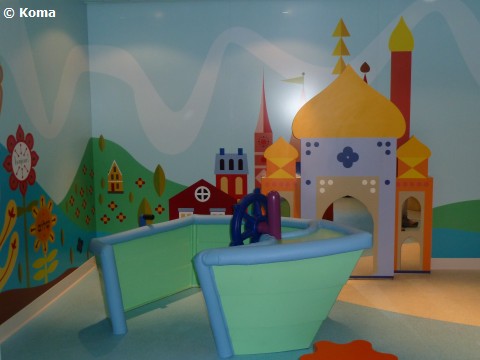 Upon entering the nursery, which operates until 1 a.m., parents and children can meet and interact with counselors. Parents wishing to check on their children without disturbing them can glimpse into the nursery's main play area through a one-way window. The ratio of counselors to children here is the government-mandated 1:6.
In the nursery's main play area, children are surrounded by three-dimensional façades resembling the nursery's namesake Disney attraction. Interactive, hands-on features such as horns that honk, wheels that spin and buttons to press are sure to delight curious kids. There's even a collection of Disney character costumes for dress-up time.
The nursery has strollers for the counselors to use, in case there are children who prefer to snooze or sit in those.
At the back of the nursery, a separate room with a serene motif and a calm, quiet atmosphere is reserved for naptime.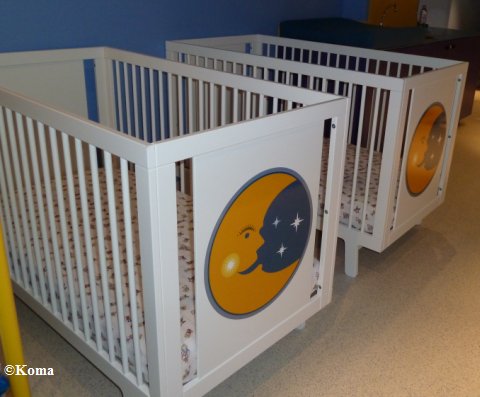 Disney's Oceaneer Club
Located next door to the nursery, also on Deck 5 midship, Disney's Oceaneer Club is open to 3- to 10-year-old children.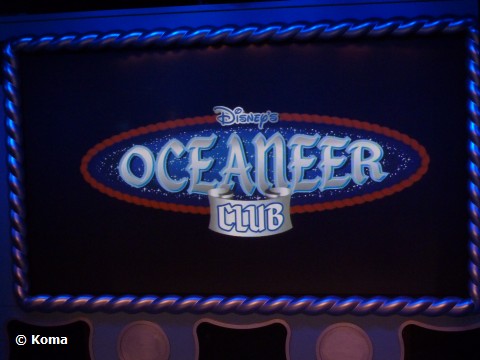 Before children can even enter into this magnificent space they have to wash their hands — just one of many ways that Disney is trying to stop the spread of nasty germs on the ship. To make it a little more fund and interesting, they have special machines to do the cleaning for them. The children insert their hands into the opening's, soap and water is applied and voila! They are good to go.
The central rotunda is the main gathering place. Here, Disney characters created with fiber optics twinkle across the ceiling. The focal point of the rotunda is a stage where children can create and star in their very own theatrical performances, participate in storytelling sessions and meet such Disney characters as Tinker Bell and Peter Pan.
The rotunda has a 103-inch plasma screen for watching movies and for interactions with Crush, the sea turtle from the Disney"¢Pixar motion picture "Finding Nemo." Crush stops mid-stream in his digital undersea environment to chat, play and joke with kids in live, unrehearsed conversations.
Also located in the rotunda is a Magic PlayFloor. A cruise industry first, this interactive floor allows children to engage in group activities where their movements control the action. There are 16 games that can be played on the Magic PlayFloor, with such descriptive titles as "Carl's Stomp 'n' Pop" and "Goofy's Grasshoppers."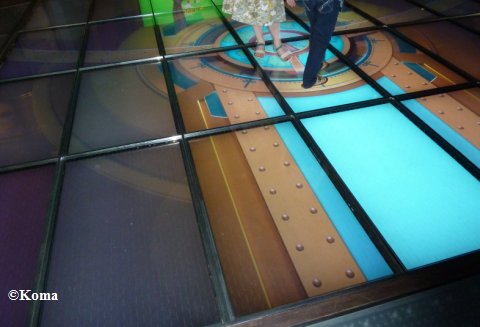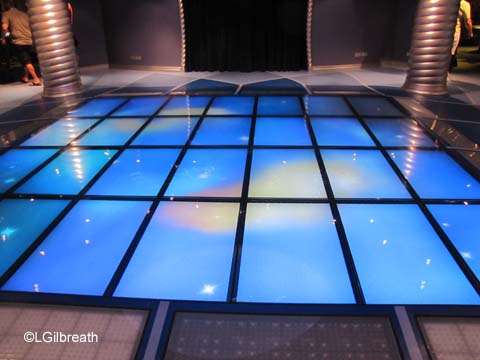 Disney Cruise Line youth counselors also will use the Magic PlayFloor during storytelling times, so children can "fly" over the streets of London with Peter Pan, help their frog feast on a bug banquet themed to "The Princess and the Frog" and race cars around a track just like Lightning McQueen from "Cars."
In Andy's Room, the world of the Disney"¢Pixar "Toy Story" films comes to life. Inside the vibrantly colored room, kids experience the feeling of being toy-sized as they play among larger-than-life characters from the animated film.
Children can rearrange features on Mr. Potato Head, crawl through the coiled body of Slinky Dog and get behind the wheel of an oversize, remote-controlled race car.
Monster's Academy is a fun, interactive space inspired by the Disney"¢Pixar film "Monsters, Inc." The centerpiece is an elaborately themed play structure for climbing that is fashioned after the film's scare floor, where monster pals Michael "Mike" Wazowski and James P. "Sulley" Sullivan work.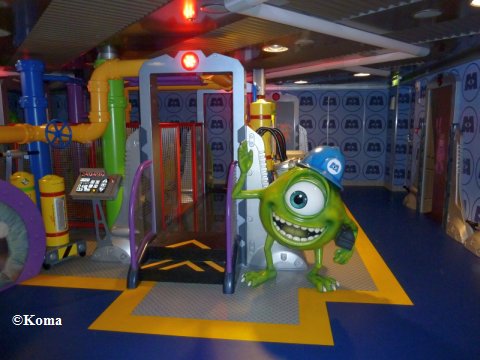 Computers integrated into the walls in each of these areas feature unique, interactive games, themed to the area. In Nemo's Pod, for example, the games feature the characters from that film. In Pixie Hollow, the computer games feature the Disney Princesses and fairies.
In Pixie Hollow, children are transported to the enchanted land inhabited by Tinker Bell and her fairy friends. A pixie tree stands in the room, its branches extending overhead with hundreds of fairy lights twinkling among the leaves and hummingbird-sized fairy houses hanging from the boughs. Children can make crafts while sitting on stools shaped like acorns and mushrooms, or dress up in fanciful costumes.
Explorer Pod is inspired by the Disney"¢Pixar animated film "Finding Nemo." Surrounded by a seascape and seeming to emerge from a pool of water, a bright blue-and-yellow submarine surfaces in the center of the room. Inside, children can explore and play games at 16 interactive computer stations.
Outside of the sub, eight computer stations provide gaming fun as the familiar flock of seagulls from "Finding Nemo" looks on.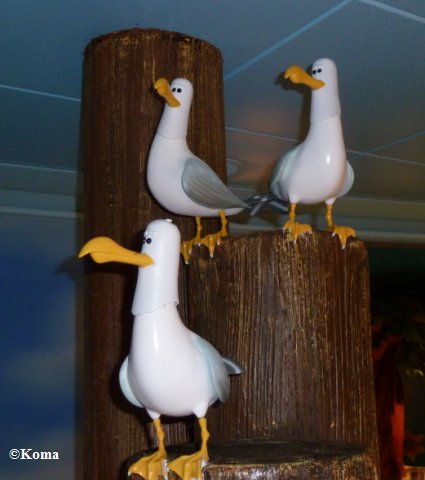 Disney's Oceaneer Lab
Disney's Oceaneer Lab takes 3-to-10-year-old children on a journey of discovery and exploration.
Upon entering the main hall, located on Deck 5 midship, children feel as though they are embarking on a great adventure. Rich woods, brass fixtures and deep blue and red tones complement the room's seafaring details such as maps, maritime instruments and nautical artifacts. An illuminated celestial map of constellations glows overhead. At the main hall stage, kids can create and star in swashbuckling performances, hear stories of great expeditions and watch movies. Utilizing the same techno-magic that brings Crush to life in Disney's Oceaneer Club, Disney's Oceaneer Lab features special scheduled visits by Disney's mischievous animated alien Stitch. Playful pandemonium ensues as he engages with children in unrehearsed antics. From his spaceship, the cuddly but naughty alien interacts with young guests, chatting with them and using props from his spacecraft surroundings to create hilarious fits of havoc.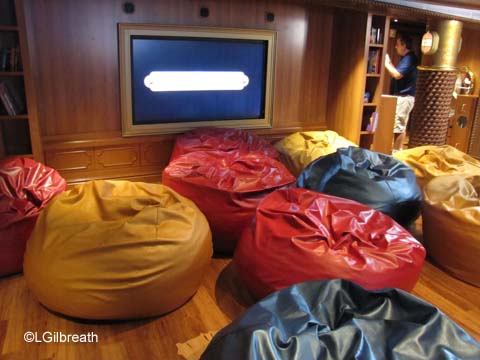 Located in the main gathering space is another Magic PlayFloor. Here, children step into the futuristic world of Tron with a team-based game, leap over lasers with Stitch and scramble around the perimeter of the floor to control the tilt of a virtual maze.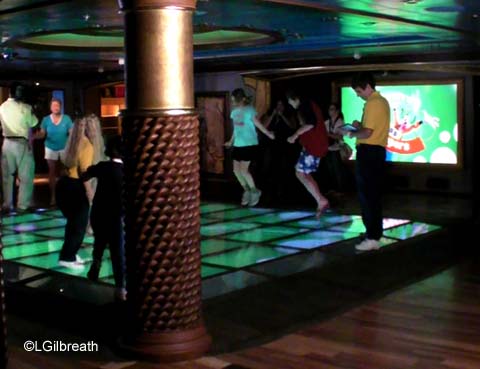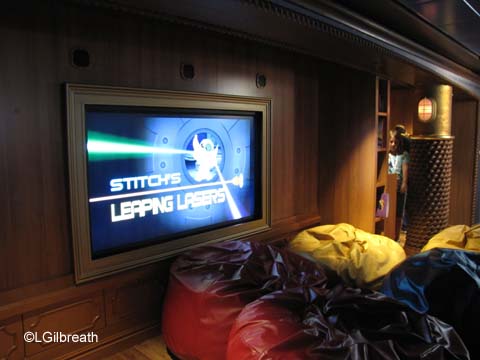 The Animator's Studio draws out the character inside all kids. Incorporating elements from both classic and modern animator's studios, the room is filled with maquettes (three-dimensional character models), animation books, a light box table, drawing accessories, computer stations and other tools of the animation trade. Children can use their imagination to create original, hand-drawn art or learn how to sketch their favorite Disney character. With the help of a counselor and an animation simulator, kids can bring to life computer-animated characters.
The Sound Studio is designed for children who appreciate and are inspired by music. Kids who dream of being a musical star can create their own original tunes using special song-making software. After composing their music and lyrics, they can record their hit.
The Sound Studio also has listening and music download stations featuring top hits and current recording artists.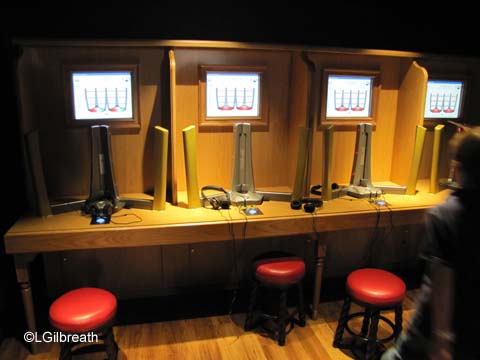 Connecting the Oceaneer Club and the Oceaneer Lab are two Workshops.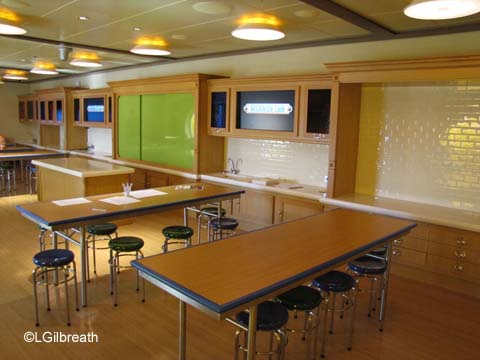 Counselors there told me they do lots of arts and crafts activities in one room, including cookie baking, and Flubber making. (You remember Flubber — the magical bouncing material originated in Disney's classic "The Absent-Minded Professor" and its remake, Robin Williams' "Flubber.") In the other workshop, kids can get busy with "sloppy science" experiments, making volcanoes and the like. They even hold some basic animation classes there and serve food.
Parents of children with allergies or other special needs will be happy to learn that the counselors come from a wide variety of backgrounds, including pediatric nursing. The two counselors I spoke with, Nikki and Steve, told me that they treat every child as an individual case, ensuring that they check every meal they serve. They also encouraged parents to let the counselors know of any special considerations, such as a child with mobility issues or autism. As they said, they work to make sure no child is excluded, and the more information they have in advance helps them do their jobs better.
Deb Wills had a chance to speak with Imagineer Stef Pickens about the Oceaneer's Club and Lab on the Dream, below:
All of this is just, as I said, for children up to 10 years old. After listening to guest comments and suggestions over the years regarding activities for slightly older children, Disney has responded by creating new spaces just for teens and tweens on the Dream. We'll take a look at these spots, the Edge and Vibe, soon!
NOTE: Members of AllEars.Net were invited media guests of Disney on the ship's Christening Cruise, January 19-21.