As I'm sure you'll agree, one of the great pleasures in life is meeting up with friends and family at Walt Disney World. Recently, I joined my wife Vickie, my sister Donna and our friend Amy in World Showcase at Epcot. The crowds at Disney World this summer have been erratic. Some days see the usual large numbers of visitors for this time of year, but other days are less crowded. This day at Epcot was not that crowded.
We studied the Times Guide and planned our afternoon. At the United Kingdom pavilion, the musicians in The British Invasion band were decked out in their Beatles Sgt. Pepper's colorful outfits. Nearby in Canada, the Off Kilter guys in their kilts were especially energetic and humorous. I usually try to catch a performance by the Voices of Liberty at the American Adventure.
In the next photo, Donna is standing at the podium at the right rear of the rotunda on the first floor inside the American Adventure pavilion. She's in front of the painting which has a classic Mickey made of holes at the top of a vertical beam behind the workers.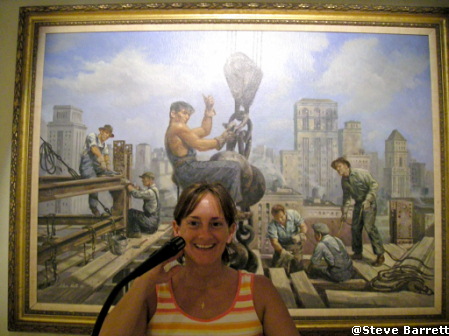 We enjoyed a terrific performance from one of the Summer Concert bands at the America Gardens Theatre. On the stage today, "52nd Street" pounded out the music of Billy Joel. They are outstanding musicians! We topped off the evening at Jellyrolls, and our son Steven joined us. Scott, one of the best piano entertainers you'll ever hear, played a favorite request of ours: Rainbow Connection by Kermit the Frog. Awesome! The photo below, from left to right, shows me, Amy, Vickie, Donna and Steven at the BoardWalk Resort.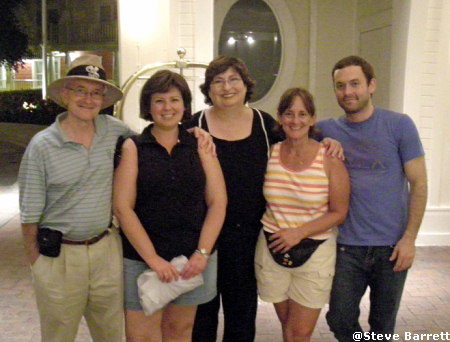 Later, I spotted Mike Scopa at the Flying Fish Cafe. Happy Birthday, Mike!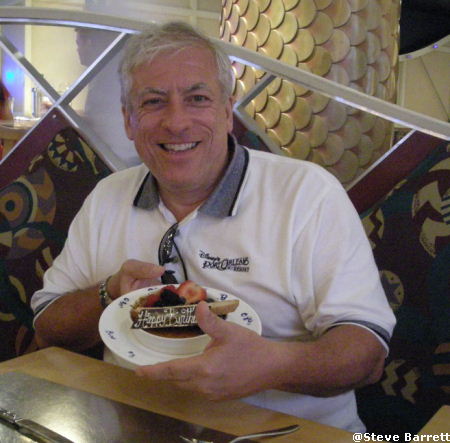 Read more about Steve's Hidden Mickey finds on AllEars.net
Steve maintains a Catalog of Hidden Mickeys on the Hidden Mickeys Guide.