One of the great events at each year's MagicMeets is the silent auction for the Make-A-Wish Foundation® of America. This auction is run by Lou Mongello's Dream Team Project volunteers and features hundreds of items for people to bid on. So far the auctions have raised $32,000 for Make-A-Wish. It's a beautiful way to share the Disney spirit!
Last year I was asked to donate something and I chose a professionally framed 16×20 inch print from one of my Animal Kingdom photos. This year I am again donating a framed print. A replica you can see below. This is a photo you may have seen here before as I used it when I talked about using tripods at Walt Disney World earlier this year.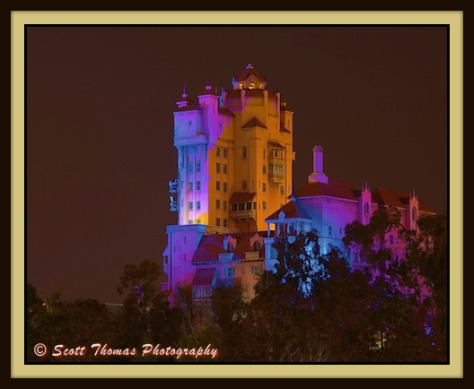 Replica of framed Twilight Zone Tower of Terror print.
Nikon D70/18-200VR, 25s, f/18, 200 ISO, EV +0.3, 80mm Focal length
When you decide to make a print of one of your digital images, you have to process it a bit differently than if you were going to display it in a digital frame or on the Internet. For instance, you must sharpen it differently and more aggressively. Have in mind the size you want to print it at and crop accordingly. For the Tower of Terror photo, I knew I was going to print it at 16×20 so I cropped it for an 8×10 (which is the same ratio as a 16×20). Set the DPI (dots per inch) at a minimum of 300. The human eye can not tell the difference beyond 300 DPI. As a comparison, most web images are at 72 DPI which create much smaller file sizes and load faster on our screens.
If you want to make sure what you see on your screen is what you'll see come out on your printer you should color calibrate both the computer's display screen and printer. You should check out your software's manual and supporting websites to get specific information regarding preparing your images for printing.
I use an online printer who color corrects and sharpens as needed before printing. For this year's auction print, I chose to use Kodak Professional Endura Metallic paper which is supposed to produce a striking, three-dimensional-like image. I'll let you know! I will have a local professional frame shop do the framing. What's nice about working with a local frame shop is you can bring the print in and match it up with a sample of hundreds of framing materials to find just the right one for the photo.
For those of you attending next week's MagicMeets, I'll be around photographing and helping out at the AllEars.net booth. Stop by and say "Hi!".