This is my last set of January, 1972 pictures. I do have others, but they are of things that have changed very little over the years, such as Main Street and portions of Fantasyland, and really aren't of any historical interest. Enjoy!
This first picture is of the Haunted Mansion. The first interesting detail is the lack of trees. Although you can't see it in this picture, in the early years, the building that actually houses the attraction was visible from inside the park. Also notice that the queue doesn't have an awning over it. Remember, Walt Disney World was designed by people who lived in California. They hadn't yet learned that the sun is brutal in Florida, as are the rainstorms.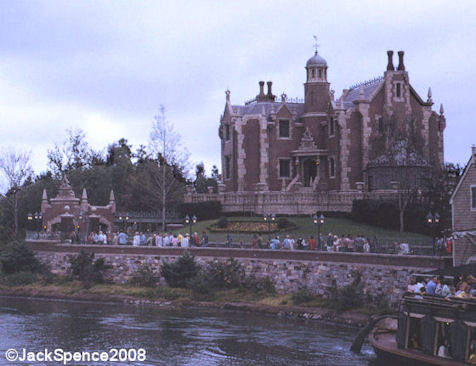 This next picture was taken from the Skyway of the Mad Tea Party. Notice that the teacups do not yet have a roof overhead. Same California designers.
The third picture is of the "Pearly Band." These entertainers were a regular fixture at Disneyland and then the Magic Kingdom after Mary Poppins debuted. If you remember, a "pearly band" played in the animated portion of the movie. I can't remember the last time I saw this group. They are playing in front of Mr. Toad's Wild Ride in Fantasyland, the current home of the Adventures of Winnie the Pooh attraction.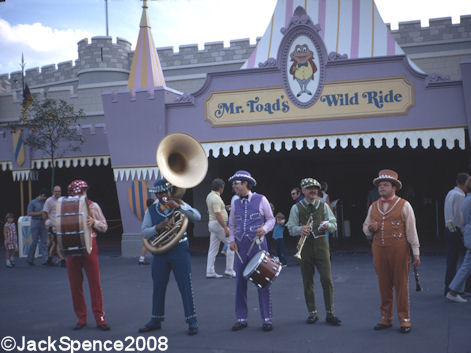 This fourth picture, also taken from the Skyway, is of Tomorrowland under construction. The Carousel of Progress would eventually be built here. Like Disneyland in 1955, when the Magic Kingdom opened in 1971, Tomorrowland was just a shell of what it would finally become.
I took this final picture of a popcorn vendor because of the costume he was wearing. I had never seen this outfit as the Disneyland vendors wore different apparel. Eventually, this look would find its way to California. Like the pearly band, this costume is now just a memory.
Also notice the spires that marked the entrance to Tomorrowland. The design called for columns of water to cascade from these towers. However, even a slight breeze would send droplets all over the walkway and they were often turned off to save giving the guests a shower.